5 Tips for Growing Perfect Peppers. Peppers are a prolific and rewarding crop. There are SO many varieties and heat levels to choose from. Peppers are easy to grow if you have the correct conditions for them and follow these easy tips. Peppers, like tomatoes love warmth and do have a few requirements to keep them happy and productive. Very productive!
We grow peppers in both our greenhouse and outdoor garden. We enjoy the early greenhouse crop right about now! our first ripe peppers this year are the Tiburons pictured below from our greenhouse. Later in the fall our garden will produce lovely peppers as well! We enjoy fresh peppers here from July through December with the help of our greenhouse.
We have grown several types of peppers over the last several years. We enjoy peppers up to heat level four. This includes Thai Bangkok peppers. We are not big fans of the extremely hot varieties, like ghost peppers, so we have no experience in growing them.
Choose Appropriate Pepper Varieties and Good quality seed:
Get off to a good start by researching the endless varieties of peppers out there and choose the ones you will truly use and enjoy. Dave Loves the IDEA of really hot peppers but he knows we won't use them. So he just admires them in the catalog 🙂 Dave's favorite seed catalog is Johnny's seed.
He forces himself to stick to the peppers that we will use and are well suited to our USDA zone 8a climate zone. He also researches varieties of peppers that are resistant to our local plant diseases and will tolerate our local climate.
The sweet varieties are ready in about 90 days. The Hotter types of peppers are very slow to mature. Some taking up to 150 days to ripen. Check your pepper variety seed packet or pepper start for instructions on germination, planting tips and maturity.
Use fresh seed! Old seeds will have a poor germination rate. For interesting info on starting seeds go to Germinating Seeds By Lunar Cycle.
Dave grows peppers both in his greenhouse and in our outdoor garden. He hoops his young peppers in plastic as you see above in our outdoor garden to keep the peppers warm. Once they get big he will remove the plastic hoop.
In the greenhouse he uses ventilation to push the overheated air up and away from the peppers and keep the heat more even for them. Dave uses automatic waterers in both the garden and greenhouse. This year we are trying out the lasagna method of gardening. It should work great with pepper plants!
Dave amends his soil often to keep the peppers well fed. He pinches off the blossoms on the peppers when they are under 15 inches high to put the energy into the roots and leaves and produce a stronger healthier plant.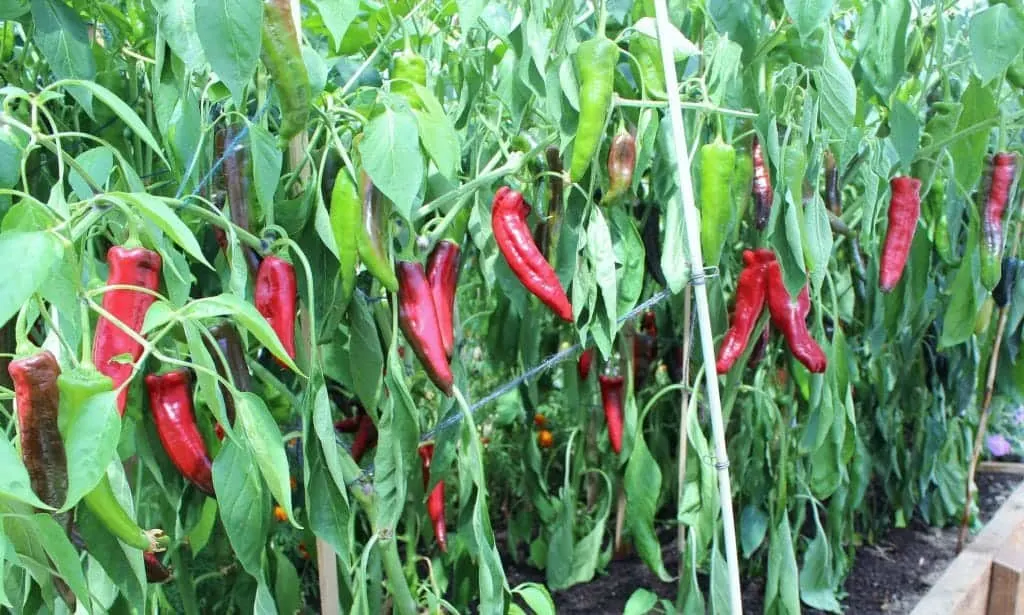 5 tips essential to harvesting gorgeous, flavorful fruits from your peppers plants.
We have more than five tips for growing peppers in this post. However, The following five tips are particularly important to growing peppers.
5 Tips For Growing Perfect Peppers:
Sun – All peppers need full sun for 6 to 8 hours a day on average. If you have less sun that this look for pepper varieties that can tolerate less sun. There won't be many.
Temperature – peppers love to be in a 70 to 85 degree environment. Too cold, below 60 or too hot, above 90 degrees F. and the blossoms will fall off and the bushes will have poor blossom set. Pepper bushes will grow new blossoms and thrive when the temperature is back in their happy zone. To minimize extreme temperature fluctuations we cover ours with plastic hoops when they are young or keep them in the greenhouse until Dave deems the weather safe for his pepper babies. The greenhouse needs to be well ventilated to avoid extreme temperature climbing on hot days. The lowest temperature a pepper can tolerate is 50 degrees. Don't expect much from them below that.
Watering-be consistent. Peppers need even watering to produce the best fruits. Peppers, like tomatoes are susceptible to blossom end rot. This is most often seen in plants with poor watering. Letting the plants get very dry and then dumping the water to them is a classic mistake resulting in blossom end rot. Maintain an evenly moist soil. NOT soggy soil or the peppers will do poorly. Mulching the plants is very helpful and using an automatic drip watering system.
Organically fertilize your peppers. Peppers benefit from slow release fertilizer. Compost is a great slow release fertilizer. Carefully dig some well-rotted compost into the top couple of inches of the roots under the leaf circle of your plant periodically during the growing season. Epsom salts applied sparingly is also beneficial to your peppers.
Pinch them off! When peppers are very young they need to put their energy into plant growth, not pepper growth. As much as it rends your heart; pinch off the flowers until the peppers are about 15 to 20 inches tall. This promotes a healthy vigorous plants with lots of peppers for you later in the season.
A FEW ADDITIONAL TIPS FOR GROWING PERFECT PEPPERS:
Use Neem's Oil for a safe organic insecticide.
Dave gets LOTS of aphids in the greenhouse every spring. Neems oil, ladybugs and insecticidal soaps are great for killing off our huge population of pests and getting them back under control. Peppers can withstand a small population of aphids but keep ahead of those bugs or the plants will become weak and be susceptible to disease.

Our final Pepper tip is for the table. You have produced magnificent peppers. Don't pick them green!
Harvest when your peppers are fully ripe. Peppers can be harvested green and often are. But the best flavor is experienced when the peppers are allowed to ripen fully. We have always allowed our peppers to fully ripen and we love the flavor! You won't get that flavor in a store. Production peppers are picked green to keep the plant producing constantly and for transport and long term storage purposes.
We find if we pick our homegrown peppers on the first day or so they are fully ripe the pepper plant keeps producing for months!
Here are some of the peppers we have grown over the last several years: We love every one of the pepper varieties we have grown. Try some out!
TUESDAY IN THE GARDEN BLOG HOP!
It's our Tuesday in the Garden Blog Hop! This week our members are each discussing a plant we enjoy growing and sharing our experience in garden guides and tips. Be sure to check out all the blogs linked at this post bottom to discover our favorite garden plants and how we grow them successfully!
Please Click on every link and visit these knowledgeable fun garden blogs. Every one of them has valuable information to share on growing garden produce. And the gardens are amazing! Enjoy!
Angie the Freckled Rose
SimplifyLivelove
Pin it: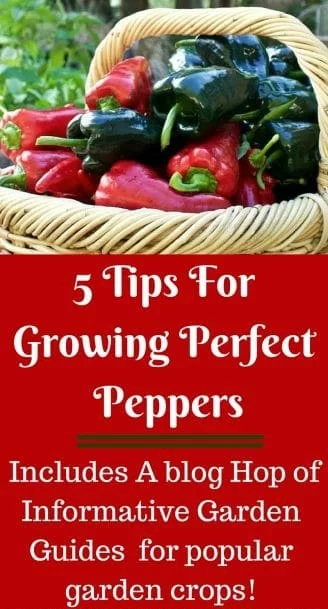 Click here for Johnny's Seeds Catalog