Our Spicy Tomatillo Dip is a perfect match for your tortilla chips and party table. Bringing together creamy avocado and sour cream, fresh jalapeno peppers, bright green tomatillos, lime juice, and a symphony of spices for a flavor filled dip that packs a punch.
Our vibrant green dip is perfect for traditional tortilla chips, pita chips, naan bread, and as a hot addition to your favorite burrito or fajita dinner. The ingredients pair wonderfully with a variety of dishes from the southwest.
This could easily be converted into a creamy spicy green salsa recipe with only a few adjustments. We love it both ways because the flavors remain the same, and the versatility of the texture allows for freedom in how you serve and enjoy this recipe.
This spicy tomatillo dip can be as spicy or mild as you desire, the heat is easily controlled by the type of peppers used, as well as the amount and how they are prepared. We used fresh, de-seeded jalapeno peppers for a spicy undertone that mellows over time.
The flavors are bright and vibrant which makes this dip perfect for pairing with mild foods like tortillas, refried beans, smoked Mexican meats, and creamy cheeses.
We love to serve this dip at a taco bar, or on the chip table where folks can enjoy it alongside a variety of foods and flavors.
Is tomatillo sauce the same thing as salsa verde?
In the United States, Mexican salsa verde is often referred to as tomatillo sauce, or green salsa. The terms are very interchangeable because the ingredients are essentially the same, combining bright green tomatillos with traditional salsa ingredients like cilantro, lime juice, jalapeno, and onion.
What do tomatillos taste like?
Tomatillos are rather unusual fruit, and have a noticeable uniqueness in flavor and texture. They have a slightly higher acidity and less sweetness than tomatoes, making them popular in Mexican and Hispanic cultural dishes. Because they are brighter and more acidic in flavor, they are most often used in salsas and hot sauces.
Is red tomatillo sauce hotter than green tomatillo sauce?
Yes, typically the red sauces have a higher heat index than most green salsas or sauces. This is usually because the green salsas are made with green peppers and milder accompanying ingredients. A tomatillo hot sauce recipe can be made much hotter than we have, simply by increasing the amount of peppers used.
Most often, a tomatillo recipe will be considered a verde sauce that can be enjoyed chilled or spread onto burritos, fajitas, and used as a dipping sauce without much intensity.
What can you eat with a spicy tomatillo dip?
We created this recipe as a party dip, but it can be tweaked and enjoyed in a multitude of ways on various dishes. Here are some of our favorite ideas for how you can enjoy this spicy tomatillo dip.
Enjoy it with tortilla chips, naan bread, pita chips and more as a dip
Add it to your favorite burrito
Serve alongside fajitas or for a taco bar
Create a Mexican green hot sauce recipe with it and use it on enchiladas
Make it a verde hot sauce recipe and drizzle it over quesadillas, taquitos, or chili
Turn it into a tomatillo hot sauce red by incorporating your favorite red chilis and peppers.
Making Spicy Tomatillo Dip Recipe
Avocados provide the creamy base for this dip, and the sour cream provides a slight tang, and luscious consistency.
Add all the ingredients into your blender and pulse until smooth. Serve with tortilla chips, naan bread, pita chips, or spread on your favorite burrito. For the best melding and mellowing of flavors, refrigerate overnight in an airtight container before serving.
This dip will hold well in the fridge for one day, but we don't recommend keeping it much longer than that. The avocado will begin to discolor, and the consistency of the dip will begin to break down. It's best served within a few hours of making the dip.
Here is your printable recipe card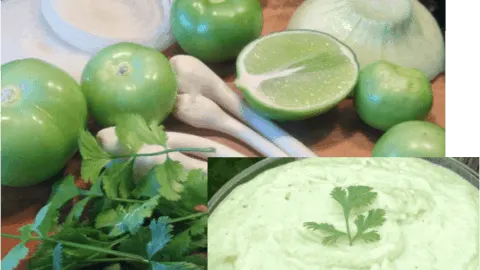 Yield:

20 servings
Spicy Tomatillo Chip Dip Recipe
Beautiful Spicy Tomatillo Chip dip is a perfect match for your tortilla chips and party table. This beautiful chip dip recipe is for the sophisticated palate. The combination of ingredients is a powerhouse of flavor sensation. If you love spice, lime and cilantro this one's for you!
Ingredients
2 large avocados
5 tomatillos
1/2 onion
4 cloves fresh garlic
1 jalapeno seeded, unless you really like it spicy!
1 tablespoon chopped fresh cilantro
1 tsp salt
1 tsp pepper
juice of 1 lime
1/2 Cup sour cream
Instructions
Remove husks and stems from tomatillos
Place all ingredients into your food processor or blender
Process until smooth
Serve with tortilla chips
Refrigerate leftovers in an airtight container
Nutrition Information
Yield
20
Serving Size
1
Amount Per Serving
Calories

50
Total Fat

4g
Saturated Fat

1g
Trans Fat

0g
Unsaturated Fat

3g
Cholesterol

3mg
Sodium

121mg
Carbohydrates

3g
Fiber

2g
Sugar

1g
Protein

1g
Click on any of the pictures below to explore these recipes too
Follow Us:
We enjoy meeting you on our social networks. Follow us on Facebook, Pinterest, Instagram . Tag us with your pictures of our recipes and comment on how it went for you. We would love to see what you do with them.
We often like, comment and share your posts of our recipes on our daily Instagram stories.
Ask questions and rate the recipe in the comments section below. Please share what you did with this recipe. We are always looking for more and better ways to make homemade food. Other cooks love your ideas!
Recent Posts:
Adapted from: delicious by dre