Homemade Pizzas on Indian Naan Bread are quick to make and easy to personalize using our homemade pizza sauce, your favorite naan bread, and whatever toppings you desire. This mini naan pizza recipe can be made with pre made breads for a quick meal that is fun to assemble and absolutely delicious.
Naan breads provide a wonderful source of fiber and protein, with a slightly tangy flavor due to the yeast and yogurt traditionally used to leaven the bread. It has a mild, slightly nutty flavor common among flatbreads, and pairs well with pizza topping ingredients.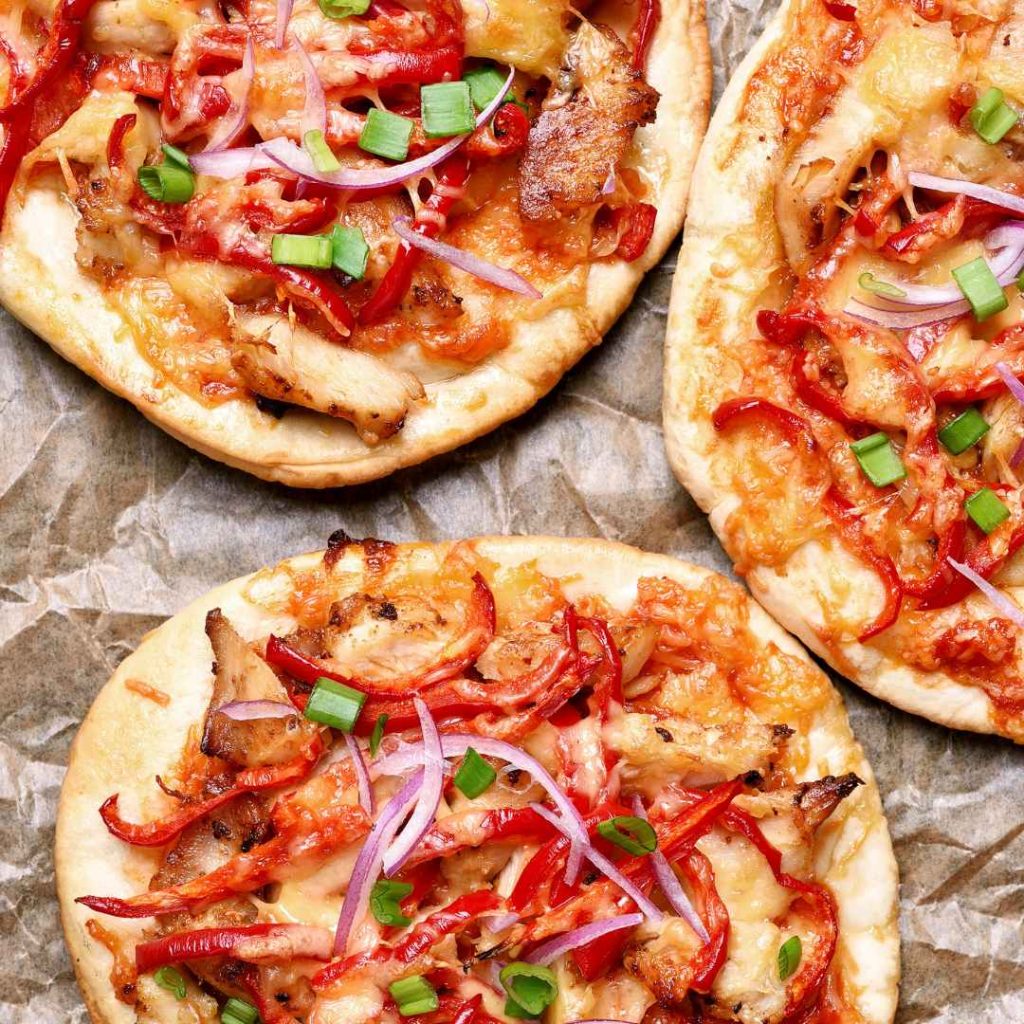 What's the difference between pita bread and naan bread?
Though they are both flatbreads, and very similar overall, there are differences between these Eastern breads. Indian naan bread is usually more tender and moist than pita, this is due to higher amounts of ghee, butter, or oils that are used. Naan bread is also higher in sodium than pita which yields a richer flavor.
Greek pita bread is made from smaller amounts of the same ingredients, and herbs or spices can be added to it for added flavor. Pita breads are also baked in a way that creates pocket throughout the middle where naan bread is softer and thicker. The texture of pita bread is often denser, thicker, and chewier than naan making it ideal for tearing and dipping.
Is naan bread similar to pizza dough?
Naan bread makes a wonderful vehicle for traditional pizza toppings because it is very similar, with a few differences that definitely make it stand out compared to traditional pizza dough.
Naan bread is made with yogurt which gives the dough a soft, tender texture and a slight tang that is satisfying and complex. When dairy is added to dough it impedes the proteins ability to link and develop high amounts of gluten, making it tender and less chewy.
Naan will remain very flexible and soft even after it is baked, whereas pizza doughs can be baked thin and cracker like, or thick and chewy. Crispy naan bread pizza can be achieved, but should never be thin and cracker like.
Is naan or pita bread better for pizzas?
Deciding whether to use pita or naan bread for your personal pizzas is more of a personal preference. Both options are a great size for individual pizza pies, and share similar flavors. Naan bread however, is enriched with yogurt which will soften the texture and yields a less chewy pizza.
We love homemade pizzas on naan bread for this reason. They have a slight tang due to the yogurt which plays beautifully with the slightly sweet, acidic tomato based sauce; and won't break apart when you are eating them because you are having to tear them apart.
Why do you sprinkle water on naan bread?
Naan bread, although softer than pita bread or some traditional thin pizza crusts, will harden after they are baked. To keep your naan bread soft and easy to chewy it is best to eat them as fresh as possible, and warm from the pan.
If your naan bread is firmer than you would like, sprinkle a bit of water onto the surface and bake for a few minutes to soften them up. Homemade pizzas on Indian naan bread should be strong enough to pick up and enjoy without it falling part or sagging.
What are the best pizza toppings?
We all love an excellent pizza packed with the traditional toppings and served piping hot, and homemade pizzas on Indian naan bread are no exception. However, homemade pizza gives you the opportunity to change up the toppings and use whatever you like in whatever combination you like. Here are some of our favorite ideas for pizza toppings and combinations.
Traditional pepperoni, Canadian bacon, crumbled sausage and bacon
Cooked grilled chicken, strips of steak meat
Diced peppers both sweet and hot
Onions, black olives, and fresh tomatoes
Spinach, basil, or arugula
Mozzarella or freshly grated parmesan cheeses
Traditional tomato sauce, pesto sauce, bbq sauce, white garlic sauces, or herb infused olive oil
Mushrooms, artichoke hearts, and green olives
Fresh diced pineapple, peaches, even apricot
What goes first on homemade pizza?
Traditionally speaking the sauce is layered on first, followed by the cheese, and then the toppings…any maybe a bit more more cheese. This method allows for the cheese and toppings to have contact with the direct heat, which will cook them thoroughly while melting and browning the cheese.
Homemade pizzas on Indian naan bread can be kept very simple, or prepared in the traditional way. It's all up to your personal preferences.
Can you bake naan pizza on a pizza stone?
Naan pizza can be baked directly on the oven rack, on a baking sheet, or a pizza stone. If you are using pre-made naan breads, really you are just baking to warm and crisp the bread while cooking the toppings and melting your cheese. A pizza stone may yield a crisper, firmer crust along the bottom of your naan pizza, but it's absolutely optional.
If you are preparing a naan bread from scratch, you can use either a pizza stone or a baking sheet to pre bake the bread before assembling your pizza. Traditionally, naan bread is baked in a tandoori oven which is a large oven made out of clay. Tandoori's use charcoal to create a small fire in the pit, and the temperature is controlled by how much oxygen is let in or out of the oven.
Most of us don't have a way to make traditional tandoori naan pizza at home, but you may be able to find an authentic Indian restaurant that can give you the experience.
How can you make naan pizza healthy?
Naan bread pizzas are very similar to traditional pizzas in the caloric range, the toppings used, and the ability to make them however you want. Although they are made from an enriched dough, you can definitely improve the overall nutrition of your naan pizza by using fresh, high quality ingredients.
Here are some ideas for ways that you can improve your homemade pizzas on Indian naan bread and keep the calories low.
Naan pizza, vegetarian style is arguably the healthiest low calorie option. Consider making a bruschetta style naan pizza with sauce, basil and a fresh mozzarella cheese.
Opt for a low sugar sauce like olive oil rather than a store bought tomato sauce
Use high quality ingredients to reduce fillers, additives, and preservatives in your diet and improve digestion.
Mind your portion sizes. Although these naan pizza a wonderful as personal pizzas, they don't always need to be eaten in one sitting.
Make your own sauces to reduce the amounts of sugars and salts
What can you serve with naan pizzas?
Other than the difference in the crust, homemade pizzas on Indian naan bread are exactly like a traditional style pizza, so enjoy it with your favorite sides and beverages. Here are some ideas to get you going.
A hearty loaded pasta salad
A refreshing skinny Moscow mule or ice cold beer
Homemade bruschetta bread or garlic knots
Roasted asparagus for a healthy option
Mac n cheese
A side of homemade applesauce for a sweet option
A selection of fresh, seasonal fruit
Homemade Pizzas on Indian Naan Bread
Using good quality pizza tools will make your pizza baking experience so much easier. Be sure to find yourself a pizza cutter, a pizza board to assist you in removing your pizza from the hot oven as well a place to rest and slice your pie.
Lay the naan bread out on a baking sheet, slather on some pizza sauce, layer on the cheese, and sprinkle your toppings. We love to enjoy naan pizza vegetarian style, but they are wonderful with any and all traditional pizza toppings. Make them however you desire, and enjoy!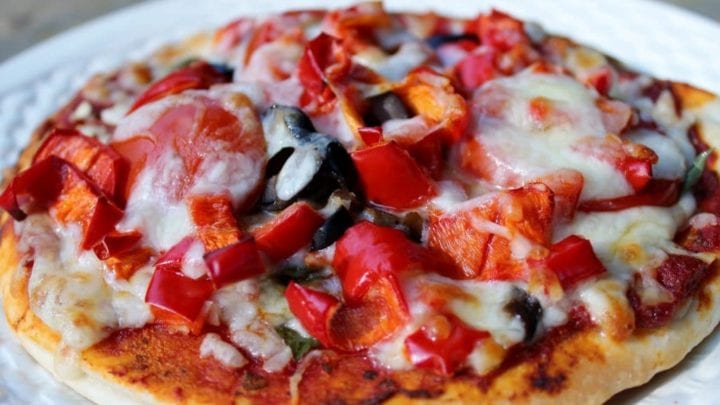 Yield:

1 serving
Homemade Pizzas on Indian Naan Bread
Homemade pizzas on Indian Naan bread is a fun, quick, delicious, high-​fiber, low-​fat dinner and really easy! The homemade pizza sauce recipe is here. Use whatever topping you desire. I have made a list of what we used but add whatever you like!
Ingredients
1 10 inch Indian Flatbread bread (Known as Naan-east Indian cuisine)
1/8 Cup pizza sauce (I'm using my homemade pizza sauce)
1/4 Cup bacon cooked and crumbled
1 Tablespoon Garlic, minced
2 Tablespoons onion minced
2 Tablespoons black olives, sliced
1 Cup tomato, diced
2 Tablespoons fresh basil leaves
2 Tablespoon fresh pepper, sliced
1 Cup mozzarella cheese, shredded
1 Tablespoon Italian seasoning
Instructions
Preheat oven to 400 degrees
Put skillet on medium and cook bacon thoroughly
Crumble the bacon and set aside
Spread pizza sauce on the naaan bread
Sprinkle a thin layer of cheese over the pizza sauce
Layer toppings as desired
Add cheese over the toppings lightly and sprinkle with Italian seasonings
Bake 10 minutes at 400 degrees
Broil a few more minutes until cheese if slightly browned
Nutrition Information
Yield
1
Serving Size
1
Amount Per Serving
Calories

872
Total Fat

37g
Saturated Fat

18g
Trans Fat

0g
Unsaturated Fat

16g
Cholesterol

108mg
Sodium

1881mg
Carbohydrates

90g
Fiber

11g
Sugar

11g
Protein

47g
If you are looking for other scrumptious homemade pizza recipes
We have a well rounded selection of homemade pizza dough recipes and a decadent homemade pizza sauce. Click on any of the pictures below to explore the recipe.
You may also enjoy our homemade Italian herb pizza crust or our keto approved fathead pizza dough recipe.
Follow Us:
We enjoy meeting you on our social networks. Follow us on Facebook, Pinterest, Instagram . Tag us with your pictures of our recipes and comment on how it went for you. We would love to see what you do with them.
We often like, comment and share your posts of our recipes on our daily Instagram stories.
Ask questions and rate the recipe in the comments section below. Please share what you did with this recipe. We are always looking for more and better ways to make homemade food. Other cooks love your ideas!
Recent Posts: