This fun Smirnoff Red White and Berry drink is a tantalizing layered cocktail that combines Smirnoff red white and berry vodka, blue curacao, grenadine, and lemonade for a delicious summer drink. We served this one is a glass rimmed with pop rocks for a stunning presentation that elevates the bold colors, and brings a fun pop to the experience
The citrus and cherry flavors are iconic to an American summer, and this drink is perfect to serve at Independence Day parties, summer bbq and sports gatherings, or any occasion that calls for these iconic colors to be showcased.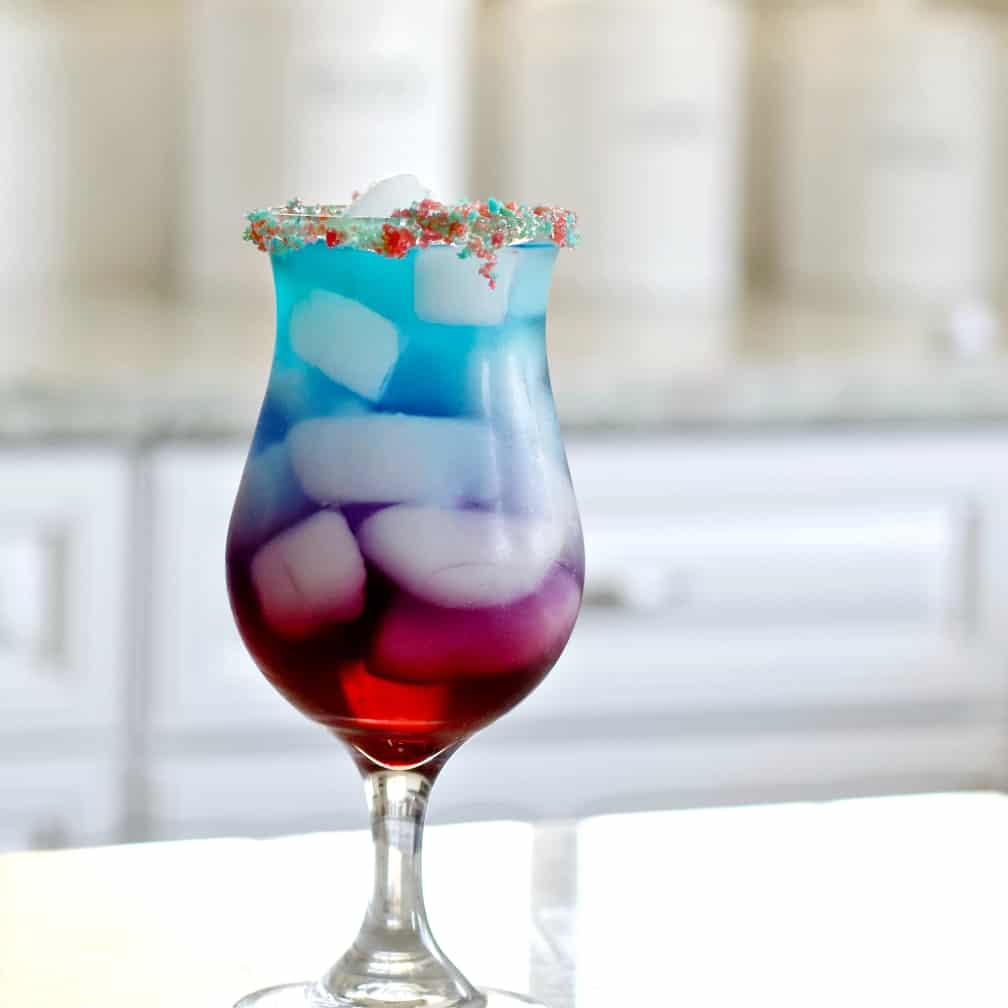 Watch our full video tutorial to see how this layered drink is made
Smirnoff has an array of infused vodkas that we love to create drinks with. If you are looking for another delicious mixed vodka drink check out our Smirnoff peppermint twist hot chocolate.
Red white and blue Smirnoff vodka presents as the perfect infused alcohol for building fun drinks like this one. The delicious vodka can be enjoyed straight, or as a mixer for a variety of beverage creations. The cherry, raspberry, and citrus flavors are bold and balanced; making it a great option for shots.
This seasonal vodka is also popular as a seltzer, and often sold as a Smirnoff red white and berry 6 pack.
How do you make a Smirnoff Red White and Berry Drink?
This is a limited edition vodka that comes out just for the summer months. It's released in June, just in time for the 4th of July holiday. Red white and berry vodka is sweet with cherry citrus and blue raspberry flavors all blended into a dynamite flavor combination. If you enjoy sweet drinks you will love this vodka.
The lemonade is very easy to make with lemon juice sugar and water. You can adjust the proportions if you like it sweeter or less sweet. We have included the proportions needed to make your own lemonade in the notes section of the recipe.
Because this drink includes grenadine and blue curacoa, it does need the addition of a tart lemonade to balance the sugars and mellow out the sweet flavors.
How do you create a layered drink?
Creating a layered drink is all about the order that you pour the liquids based on the sugar content of each. Heavier liquids will fall to the bottom, while liquids with less sugar will be able to sit on top of the high sugar ingredients.
In this drink, grenadine holds the highest sugar content, so it will be poured into the glass along the inner sides allowing it to fall to the bottom of the glass. The curocao and lemonade will be combined and shaken in your cocktail shaker, and poured in the glass first.
For this drink, the white of the 'red white and blue' is achieved with the ice cubes in the glass. The blue curacao and lemonade mixture give the blue; while the grenadine will be added gently and will represent the red once it settles to the bottom of the glass.
The pop rocks react with the liquids around the edge of the glass, giving a festive crackle and pop as you drink this fun, themed cocktail. They are of course optional, but if you are looking to elevate the experience of this drink, the pop rocks will do it.
How do you rim a cocktail glass?
Rimming the edges of glasses for cocktails is a popular way to garnish the drinks. Here is a look at how to rim the glass for your Smirnoff red white and berry drink.
Try to use red and blue pop rocks candies
Mix the candies together on a small flat plate
Rim the glass with honey by inverting the glass into a shallow pool of honey on a separate plate *Simple syrup and similar liquids were not strong enough to hold the candies to the rim, which is why we used honey*
Once you have the honey on the rim, set the glass upside down into the pop rocks candies and push the candies around the rim until fully coated
Be careful as you are pouring and assembling this drink, as the pop rocks will crackle and pop when liquids hit them.
Is the Smirnoff red white and berry drink expensive to make?
The Smirnoff red white and berry drink is a very affordable mixed cocktail that can serve as an excellent party beverage. Smirnoff vodka is a popular and affordable brand, making it a wonderful alcohol to use for mixed drinks, and at parties. Smirnoff red white and berry price averages $16-$20 for a full sized bottle in most stores and websites.
The lemonade can be made from fresh lemons, water, and a bit of sugar which is an inexpensive option for this ingredient. Blue curacao and grenadine are both very affordable syrups for mixed drinks.
Assembling the Smirnoff red white and berry drink
Fill your rimmed glass with ice and set aside.
Pour ice into your cocktail shaker.
Measure out your vodka, lemonade and curacao and pour each into the cocktail shaker.
Shake the cocktail until it is very cold.
Pour the blue mixture into your ice filled glass.
Measure out your grenadine.
Pour the grenadine down the sides of your glass to form the bottom layer of red.
If you don't want to add the pop rocks, you can garnish this drink with themed straws and other patriotic decor to accentuate the colors and elevate the theme.
Yield:

1 cocktail
Firecracker Holiday Drink
Listen to the pop rocks 'rockets' explode as you sip this tasty and beautiful Red white and berry drink. It's fun patriotic refreshment made with Smirnoff Red white and berry vodka.
Ingredients
1 oz. Smirnoff Red white and berry Vodka
3/4 oz. curacao
1/2 oz. Grenadine
3 oz. Lemonade
Instructions
Rim your glass: (optional)
Put a dollop of honey on a flat plate. Roll the lip of your glass through the honey until the entire rim is coated.
On a separate flat plate mix together the blue and red pop rocks.
Set your coated glass rim into the pop rocks. Push the pop rocks around the rim until the rim is completely coated with pop rock candy. Set aside.
Make the cocktail:
Fill your cocktail shaker with ice.
pour the curacao smirnoff and lemonade into your shaker.
Shake until very cold.
fill your rimmed cocktail glass with ice.
Pour your cocktail into the rimmed cocktail glass.
Garnish Suggestions:
Mint Leaves
Cherry
Berries of your choice on a bamboo pick
Notes
You will need red and blue pop rocks and either honey or light corn syrup if you decide to rim your cocktail glass.
Homemade Lemonade Recipe:
If you do not have lemonade on hand, you can make your own:
Ingredients:
3/4 cup water,
2 tbsp lemon juice
2 tbsp sugar.
Instructions:
Mix together.
You will need 3 oz of lemonade for the cocktail.
Recommended Products
As an Amazon Associate and member of other affiliate programs, I earn from qualifying purchases.
Nutrition Information
Yield
1
Serving Size
1
Amount Per Serving
Calories

303
Total Fat

0g
Saturated Fat

0g
Trans Fat

0g
Unsaturated Fat

0g
Cholesterol

0mg
Sodium

19mg
Carbohydrates

37g
Fiber

0g
Sugar

32g
Protein

0g
Follow Us:
We enjoy meeting you on our social networks. Follow us on Facebook, Pinterest, Instagram . Tag us with your pictures of our recipes and comment on how it went for you. We would love to see what you do with them.
We often like, comment and share your posts of our recipes on our daily Instagram stories.
Ask questions and rate the recipe in the comments section below. Please share what you did with this recipe. We are always looking for more and better ways to make homemade food. Other cooks love your ideas!
Recent Posts: