Instant Pot Beef and Broccoli is full of asian flavor and umami richness. The secret to success with this recipe is the fresh ingredients and the flavorful sauce.
It's all so easy with your instant pot.
Make this beef and broccoli dinner in either of two ways. Make this dinner as a slow cooker dinner. Let it simmer and fill your house with delicious flavors.
OR we show you how to cook it in about 40 minutes with the sauté and manual pressure functions.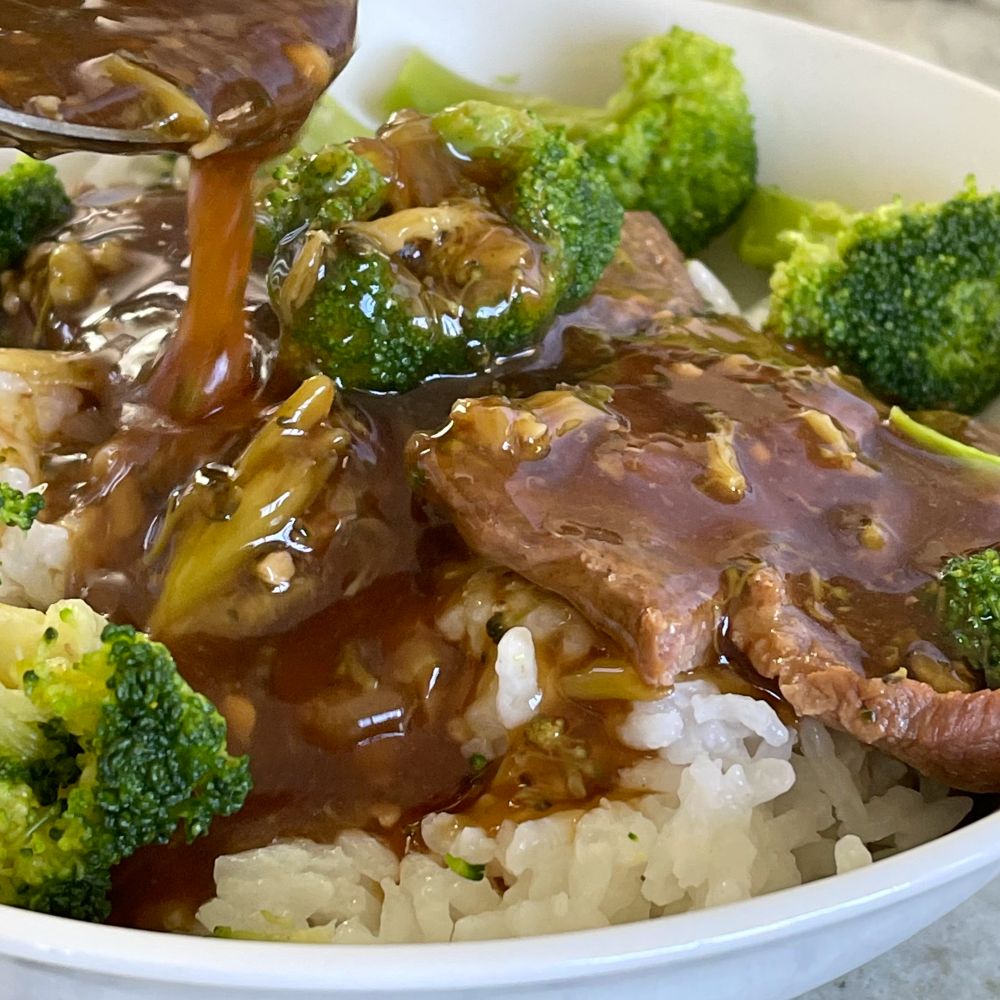 In a hurry? This dinner is so good and done with about 40 minutes of kitchen work.
I've made this recipe for years. Originally as a beef and broccoli crockpot dinner. That was before the instant pot arrived on the scene.
Slow cooking is still a great method for this recipe. Slow cooker beef and broccoli is about as easy a dinner as you can make. And the family will love it.
In our printable recipe card you will find instructions for both methods. We also made a video recipe demonstration of the quicker instant pot method.
Let us know your favorite way to make this dinner.
More delicious Instant Pot Dinner Ideas:
Visit our Instant Pot Recipes Section to find LOTS of delicious recipes to make in this amazing kitchen tool.
Instant Pot beef and broccoli dinner Recipe Notes:
Ingredient Notes:
Use plain sesame oil or find a sesame oil with some spice to change up the recipe.
The broccoli can be either fresh or frozen.
Try adding a tablespoon or so of chopped roasted red peppers to enhance the flavors.
Feel free to adjust the sauce ingredients to your taste. Spice it up or down, adjust the sweet as you like. That's the fun of homemade.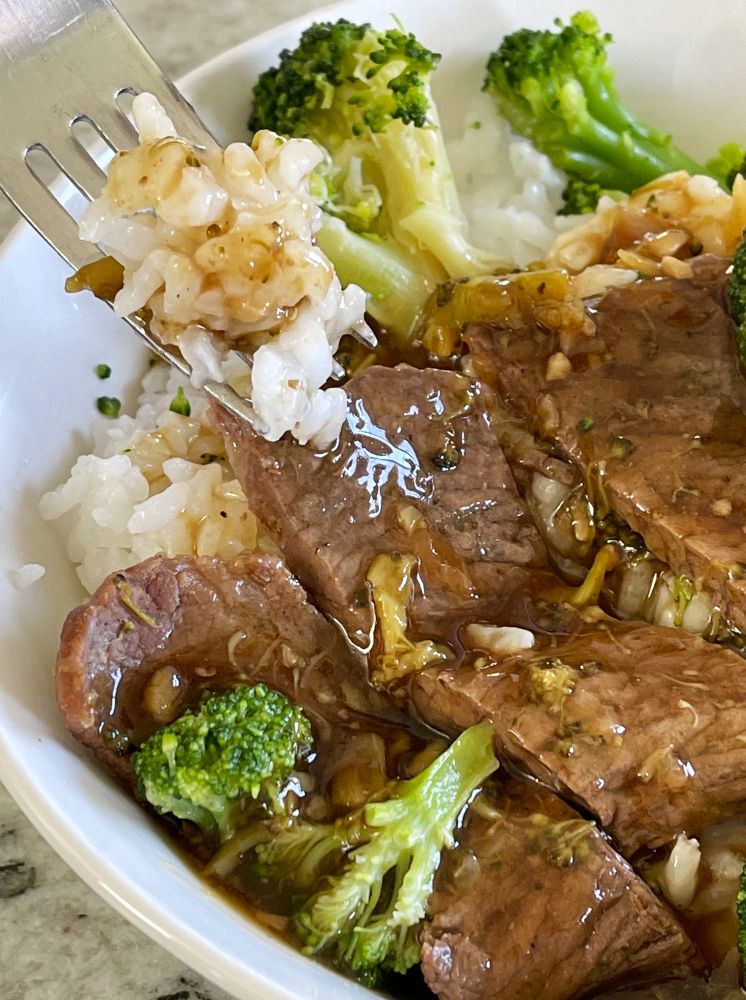 Your Printable Recipe Card:
Here is your Printable Recipe Card.
Please also watch our video recipe demonstration for a complete step by step visual guide to this recipe.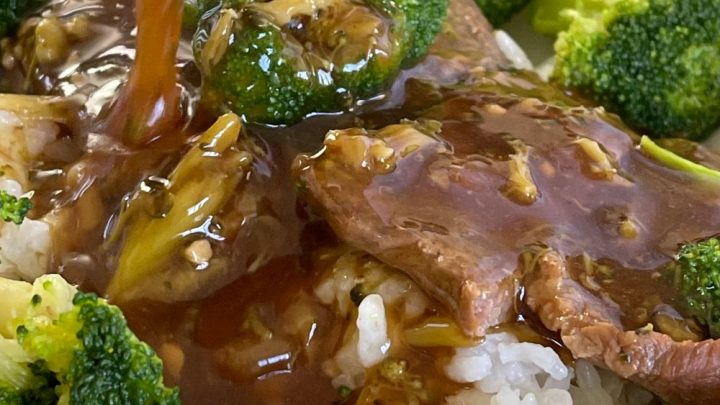 Yield:

8 Servings
Instant Pot Beef and Broccoli Dinner
Beef and broccoli with a rich umami Asian style sauce is easy to make in an electric pressure cooker. Or any slow cooker. Pour it over cooked rice or riced cauliflower. This is an excellent family weeknight dinner.
Ingredients
2 lb. chuck roast (cut into thin strips)
1 Tablespoon olive oil
1 tsp. salt
1 tsp. pepper
For the sauce:
1 Cup soy sauce
3 Cups concentrated beef broth
2/3 Cup brown sugar (to taste)
2 Tablespoons Sesame Oil
1 Tablespoon garlic minced
1 Cup onion minced
1 Tablespoon of ginger (fresh minced)
Finishing:
3 Cups broccoli florets (fresh or frozen)
4 Cups Cooked rice
4 Tablespoons cornstarch (mixed with 1 cup reserved sauce)
Instructions
Quick Method:

There are a lot of small steps in this method then the slow cooker method. But it's a yummy quick weeknight dinner for the family.

Prep:
Chop the onion, garlic and ginger.
Set a pot on high with four cups of chicken broth or water.
Measure out the rice and set aside.
Chop the fresh broccoli-set aside.

Make the sauce and begin the rice:
Begin rice so it's done in about 20 minutes.
Whisk the soy sauce, sesame oil, brown sugar and beef broth together. Set aside.

Cooking:
Set the instant pot to Sauté high. Add the oil.
When the oil is hot add the sliced meat (if raw)
Season the meat with salt and pepper and Cook until slightly browned. (three minutes a side) Remove meat to tray.
Add chopped onion, garlic and ginger to instant pot.
Cook about three minutes.
Pour the sauce into the instant pot.
Whisk the vegetables in to the sauce.
Add the meat back in.
**Layer the raw broccoli on top of the meat.
Lock and seal the lid.
*Set the instant pot to 5 minutes high pressure.

Finish the sauce:
When the instant pot is finished quick release.
Remove the meat to a tray.
Whisk the cornstarch slurry into the hot sauce in the cooking pot.
Set the instant pot to sauté high.
Let it come to a boil for one minute and thicken until it coats the back of your whisk or spoon.

Serve:
Assemble this dinner by putting the cooked rice on the bottom of a plate or bowl.
Layer the meat over the rice.
Arrange the broccoli florets over the meat as desired.
Pour sauce over the top.

Slow cooker Method-Assembly:
Put the raw beef into the slow cooker. (you can brown the meat beforehand but it is not necessary with this method)
In a medium bowl whisk together the soy sauce, concentrated beef broth, brown sugar, sesame oil and garlic, onion and ginger.
Pour over the sliced beef and set the slow cooker on high heat. Cook three and a half hours.
Slow Cooker finish allow 30 minutes additional time:
After three and a half hours, In a small bowl, stir together cornstarch and sauce from the crock pot until smooth. Add to the crock pot. Stir well.
Add broccoli to the crock pot. Stir to combine.
Cover and cook an additional 30 minutes on high (the sauce has to boil for it to thicken).
During this time cook your rice separately.
Serve over hot cooked rice..or try brown rice quinoa blend. Just replace beef broth for the chicken broth in the recipe.
Notes
This is a good recipe for using up leftover roast or sirloin steaks. If you use cooked leftover beef SKIP the sauté step for the meat and use that function to cook the onions, garlic and ginger only.
It's easy to pick up a pack of thin sliced beef used in stir fry. That's what you see pictured. If you keep the slices thin the pressure cooker is completed in five minutes.
*If you use raw thick cuts of beef you may have to increase to 7 minutes or more. Thick cuts will also work well for slow cooking.
**You can cook the broccoli in with the meat for five minutes. but it will be slightly overcooked and brown rather than bright green and firmer.
Best to steam the broccoli separately to retain the firm green attractive look, texture and taste of the broccoli.
Nutrition Information
Yield
10
Serving Size
1
Amount Per Serving
Calories

439
Total Fat

18g
Saturated Fat

6g
Trans Fat

1g
Unsaturated Fat

10g
Cholesterol

76mg
Sodium

1877mg
Carbohydrates

42g
Fiber

3g
Sugar

15g
Protein

29g
Recipe Inspiration from Table for Two Blog