The Gin and Tonic is a classic, invigorating carbonated drink with hint of juniper and other botanicals (according the the gin you choose) and Citrus.
A bit of sweetness from the tonic water blends the flavors into a wonderful fizzy cocktail.
G & T s are popular as a happy hour drink. But you can make one anytime you want a vibrant fresh drink.
Gin lovers will enjoy this fizzy mixed drink. Your favorite Gin will really shine through.
As in most things homemade, For the very best results…
You may have to play around with the flavors of both the Gin and the tonic water to get it just right for you.
Fortunately, gin blends well with most tonic waters. But Gin brands all have unique blends of botanicals.
And the tonic waters also vary greatly in flavor profiles too. You do you.
What is a gin and tonic?
The ever popular gin and tonic is a refreshing alcoholic drink with an interesting history.
The ingredients are just gin and whatever tonic water you prefer with a hint of lime (or lemon) to taste.
The G and T originated in India in the late 1800s. It was created by the army of the East India Company to combat malaria.
Europeans had a tough time with malaria.
The Gin and tonic provided some relief and became a standby medicinal drink of the day. If it didn't cure you, you could still enjoy the drink. 🙂
Unfortunately, the efficacy of a G AND T as a malaria cure has not stood up to modern science.
So these days we drink it for enjoyment.
Gin and Tonic Glasses:
The balloon glass in it's many forms are considered a classic G and T glass. Here's a whole page of Amazon choices for you.
Hi ball glasses are also popular for the G & T. Basically, choose a glass that works for you.
We used a 6 oz. stemless martini glass for our recipe.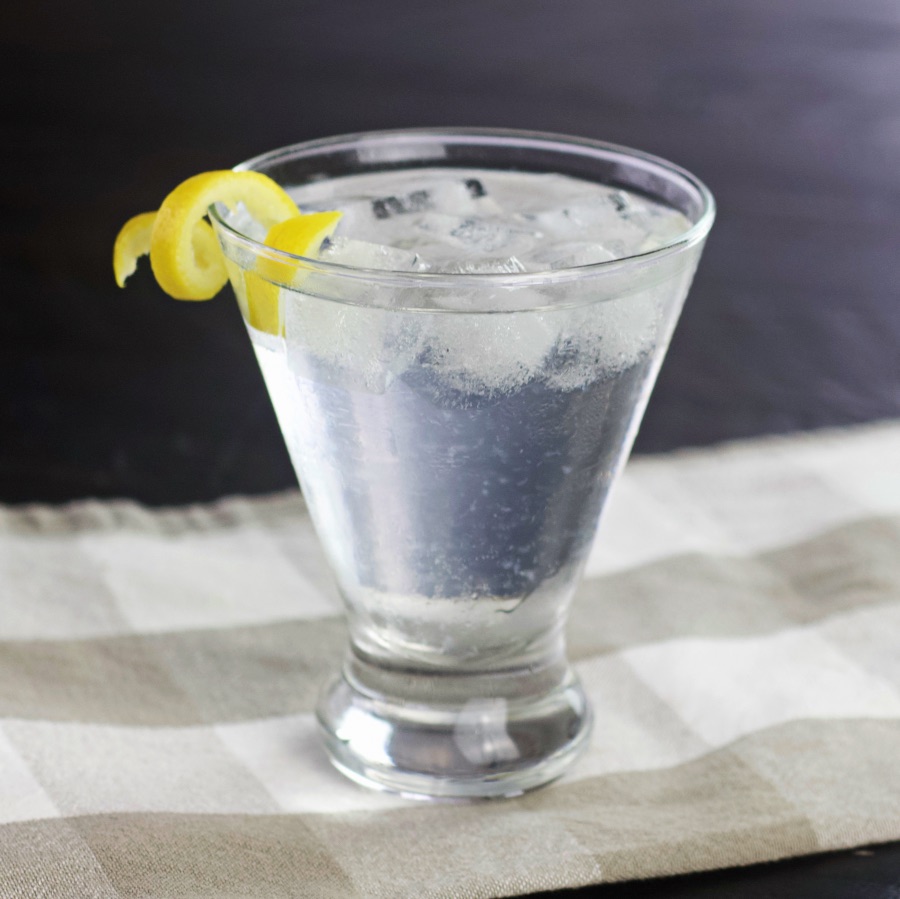 Gin and Tonic Calories:
Wondering how many Calories are in a gin and tonic? If you use a full calorie tonic water, our gin and Q tonic recipe has 139 calories. Here's the breakdown.
Calories in Gin: 90 proof Gin has 110 calories / 1 1/2 shot.
Calories in Tonic Water: They vary. But a full calorie Q tonic water adds around 23 calories into your drink. This depends on how much and which tonic water you choose.
Lemon and Lime fill out the calorie count for our 139 calorie total.
How to reduce The Calorie Count in a Gin and Tonic:
The most effective way to reduce the calories in a gin and tonic is to use a low calorie tonic water. There are several on the market.
Tonic water contains carbonated water, sweetener and quinine. In regular tonic water, the sweetener is high fructose corn syrup. High fructose corn syrup is high in carbs. Basically tonic water is like drinking any soda.
Like soda, you can find diet options for tonic waters.
Some tonic water have zero calories like Schweppes Diet tonic Water. However, they often contain aspartame or Sucralose as a sweetener. Aspartame and Sucralose both have health effects.
For a light tonic water we enjoy light Q tonic waters. They have 20 calories in an 8 oz can rather than the regular tonic water calorie count with 45 calories. Which adds only about 10 calories to our gin and tonic.
Total calorie count of a light gin and tonic using Q brand is 125 calories or so. to really squeeze the calories out of this Gin drink use a zero calorie tonic water for 115 calories.
How to Make a Gin and Tonic:
The gin flavor shines through so be sure to use a gin you enjoy. We chose the old standby Beefeaters, London dry gin.
It blends well with tonic waters of all sorts.
This recipe is simple to adjust in proportion. It doubles easily for a large glass. But remember, if you want to capture your particular favorite recipe blend for later, write down the exact measurements and brands you choose when you get it right.
If you want a classic G and T, the ratio of gin to tonic is around 1:1 and 1:3 respectively. But this is all about taste. Feel free to adjust the ratio to whatever you personally enjoy.
This is a pour and stir drink. No shaking involved.
Put ice in a glass,
Add the gin
Fill the glass with tonic water.
A Squeeze of fresh lemon or lime juice will brighten the flavors, if you like that.
Stir and serve.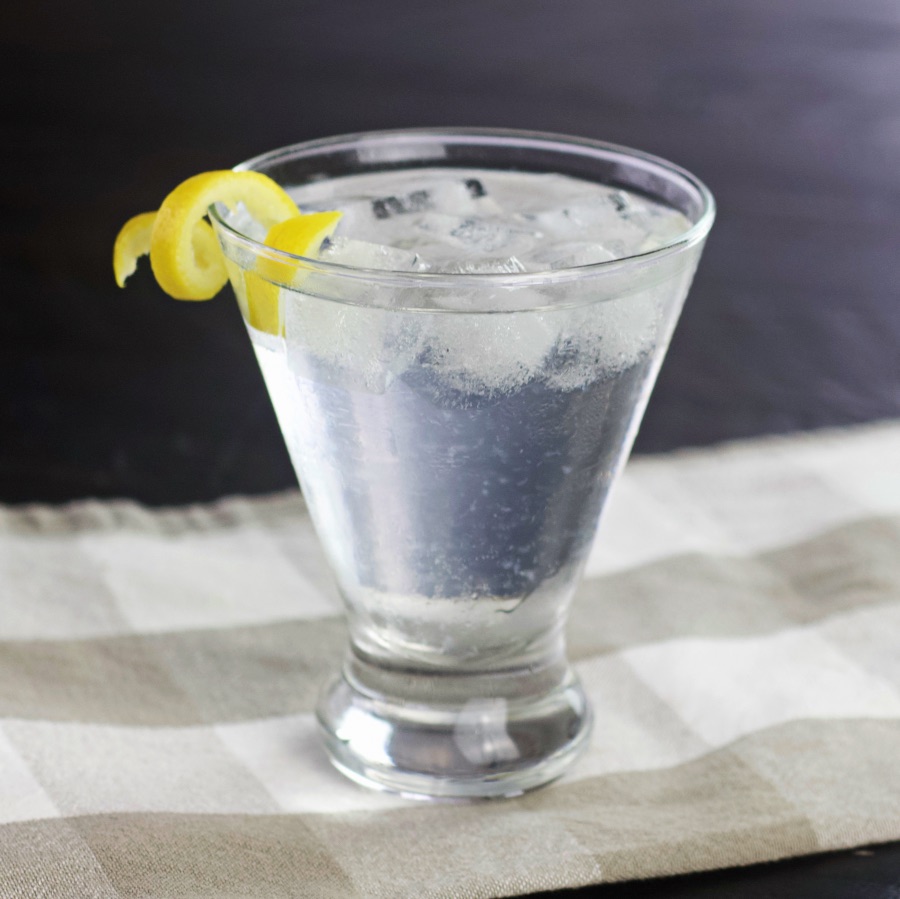 Yield:

1 drink
How to Make a Gin and Tonic
A gin and tonic is a two ingredient mixed drink. We add a sqeeze of citrus but that is completely optional. This is a popular refreshing and low calorie alcoholic drink when made with a low calorie tonic water.
Ingredients
1 1/2 oz. gin
4 oz. tonic Water
1 tsp. lemon juice (fresh squeezed)
Instructions
How to Make a gin and Tonic:
Add ice to a 6 ounce glass (we used a stemless martini glass)
Measure and pour in the Gin.
Fill the glass with tonic water
Add a sqeeze of fresh lemon or lime juice.
Garnish Suggestions:
Fresh lemon or lime wheel on side of glass
Lemon twist on glass edge.
Notes
For a large 12 oz. glass this recipe easily doubles.
To reduce Gin and tonic calories use a light tonic water. Our video includes some suggestions for you.
Keep in mind you are in control of the flavor of this drink and it's intensity. Adjust the basic recipe to suit yourself. It's all the beauty of making your own alcoholic drinks. 🙂
Nutrition Information
Yield
1
Serving Size
1
Amount Per Serving
Calories

139
Total Fat

0g
Saturated Fat

0g
Trans Fat

0g
Unsaturated Fat

0g
Cholesterol

0mg
Sodium

16mg
Carbohydrates

11g
Fiber

0g
Sugar

11g
Protein

0g
More Gin Drinks:
If you love gin cocktails, here a few more we think you'll enjoy.
Follow Us:
We enjoy meeting you on our social networks. Follow us on Facebook, Pinterest, Instagram . Tag us with your pictures of our recipes and comment on how it went for you. We would love to see what you do with them.
We often like, comment and share your posts of our recipes on our daily Instagram stories.
Ask questions and rate the recipe in the comments section below. Please share what you did with this recipe. We are always looking for more and better ways to make homemade food. Other cooks love your ideas!
Recent Posts: