Beautiful Spicy Tomatillo Chip dip is a perfect match for your tortilla chips and party table. This beautiful chip dip recipe is for the sophisticated palate. The combination of ingredients is a powerhouse of flavor sensation. If you love spice, lime and cilantro this one's for you! Great with salty tortilla chips.  This is a good partner for tequila or poker night!
Our garden is very productive. Our cucumbers are coming in by the bucket loads. I made
crisp cucumber salsa
with them recently and we did love it! And
cold cucumber soup
 with yogurt and dill, a very yummy summer soup! Our tomatoes and peppers are going gangbusters too!
And…We grew Tomatillos  this year. We have never grown them before, and may never again. They just are not resonating with Dave. I sort of pushed him into growing three buckets of tomatillos out on the pepper patio by our greenhouse.
He ignored them mostly, so I took care of them. The poor things hated growing in those buckets. They finally eeked out a tomatillo or two amongst the group. Not happy tomatillo plants 🙁
That is my sad tale of our tomatillos. The ones you see in the single picture I have of them are the total harvest of our tomatillo experiment. There were many cruel trials for those plants. Drought and aphids and others….green tomatoes work better for us!
On the bright side, our onions, tomatoes and garlic are fabulous! They made a lovely contribution to this recipe!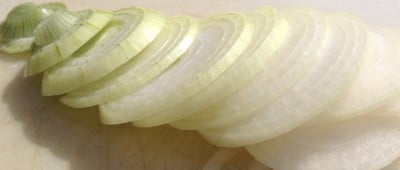 Because I worked all summer to bring the measly tomatillo crop to harvest; I decided they deserved to be showcased in this Beautiful dip. Tomatillos (and a few of our green tomatoes), limes and Avocados give the dip that gorgeous color! Jalapenos and cilantro really step up the Mexican flavors!
Spicy Tomatillo Chip Dip Recipe:
Add this beautiful green, spicy dip to your snack table! Your cilantro lovers will be smiling! Here's the Walkthrough for Spicy tomatillo Chip Dip Recipe. Main thing to remember! Make it the night before to let those flavors blend. Enjoy!
The limes are  beautiful! But they pack a punch. The original recipe called for the juice and zest of one lime. I did that; but in my opinion, that is too much lime taste. Take those lovely skins off (or use them at your own discretion)!
Avocados provide the creamy base for this dip. Healthy and luscious. I added sour cream for some richness (and to tone down the lime a bit). Omit it if you like, you'll still have a good, creamy dip.
Add all the ingredients into your blender and pulse until smooth. Serve with tortilla Chips. For the best melding and mellowing of flavors refrigerate overnight in an airtight container before serving.
NOTE: I made this dip for our fourth of July party. It gave me an education on the diversity of our taste buds!  You'll want to serve spicy tomatillo Chip Dip to lime and cilantro lovers. I was so surprised how divided the party group was. I did a poll on this dip. That's the only reason I'm sharing this recipe! The lime and cilantro lovers declared it outstanding. The cilantro no sayers, gave it a thumbs down. So be prepared to offer something else on the table for your non cilantro fans. ( I think loving cilantro is a genetic thing. Some really do! Some really don't!)
Spicy Tomatillo Chip Dip Recipe
Ingredients
2 large avocados
5 tomatillos
1/2 onion
4 cloves fresh garlic
1 jalapeno seeded, unless you really like it spicy!
1 tablespoon chopped fresh cilantro leaves(to taste)
1 tsp salt
1 tsp pepper
juice of 1 lime
1/2 cup sour cream
Instructions
remove husks and stems from tomatillos
place all ingredients into your food processor or blender
process until smooth.
refrigerate leftovers in an airtight container (or in canning jars)
Pin it:
Adapted from: delicious by dre