If you're a fan of tacos and looking for a creative twist on the classic dish, then you'll love this recipe for taco pie with Doritos. This savory and satisfying pie is loaded with all the flavors you know and love from traditional tacos, but with an added crunch and a fun, pie-like presentation.
It's perfect for a weeknight dinner, game day gathering, or any occasion where you want to serve up something delicious and a little bit different. So grab a bag of Doritos and let's get cooking!
Rich and hearty Cheesy Dorito pie is a delicious cheat dinner. It features a canned Cresent roll dough crust, and a yummy Mexican style ground beef filling.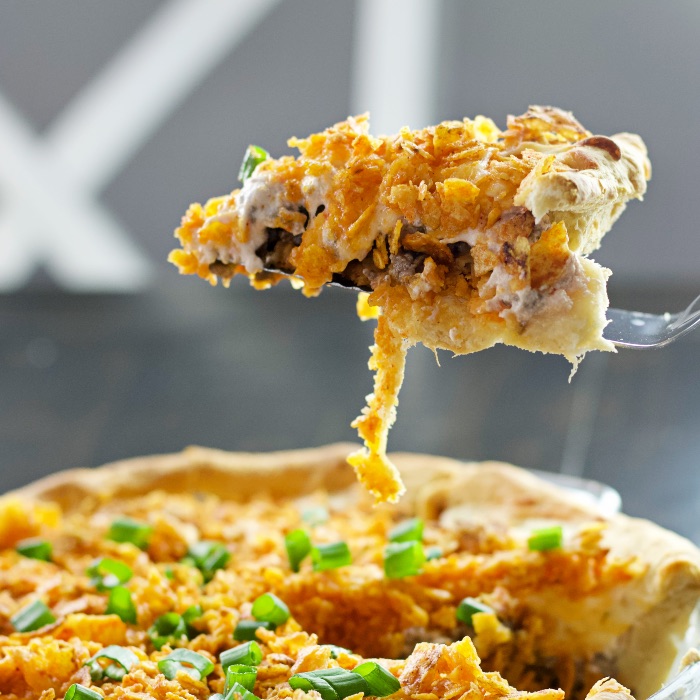 A lot of the ingredients you probably already have in your cupboards or fridge. If something is missing, this Mexican style pie is easy to flex with what you have on hand. I added some notes into our recipe card on substitutions and ways to avoid that trip to the store you probably don't want to make. 🙂
The cresent roll crust is so easy. Just roll the dough and fit it into your pie plate. Cresent roll pie crusts are not only very easy. They taste great too.
Taco Pie with Doritos
Taco Tuesday is all about celebrating beloved Mexican dishes. Taco Tuesday has become a cultural phenomenon in recent years. It's a fun and festive way to enjoy a delicious meal from Mexican cuisine with friends and family.
It's a great opportunity to try new variations of tacos or experiment with different recipes like this one that are not tacos but are still delicious and offer a fun blend of Mexican flavors.
Even though taco pie with Doritos is not a classic taco, it is still a fitting addition to the menu. Add it to your Taco Tuesday meals and enjoy this taco-inspired dish.
Taco pie with Doritos is a fun and flavorful twist on traditional tacos that is sure to please your taste buds.
Taco Pie With Doritos Recipe Notes:
This easy Dorito taco bake is loaded with flavor, proteins and carbs. Customize it to your liking with different add ins to the recipe, various toppings, salsa and side dishes.
Substitutions and Add in Ideas:
To add more food value to Dorito pie recipes, try ground turkey or chicken instead of beef. Add diced peppers, onions, black beans, corn or diced tomatoes to the filling for more nutrition, flavors and textures.
Or Change this taco pie with Doritos into a new flavorful meal by simply using a different variety of Doritos, such as spicy nacho or cool ranch.
Can you make this recipe without a dough crust?
You can make taco pie with Doritos without the crust and reduce the carbs by a considerable amount. Omit the crescent dough crust if you like. It will be more like a fractured chip casserole rather than a crusty pie, but still delicious.
No cresent roll dough handy? Try our Coconut oil blind baked pie crust recipe OR our sourdough pie crust recipe. They are both excellent choices for this meal and easy to whip together.
To make this recipe crustless:
Crush half of the Doritos and press them into the oiled pie plate.
Spoon the beef layer over the chips.
Sprinkle 1/2 cheeses over the meat layer.
Top with remaining cheese and bake.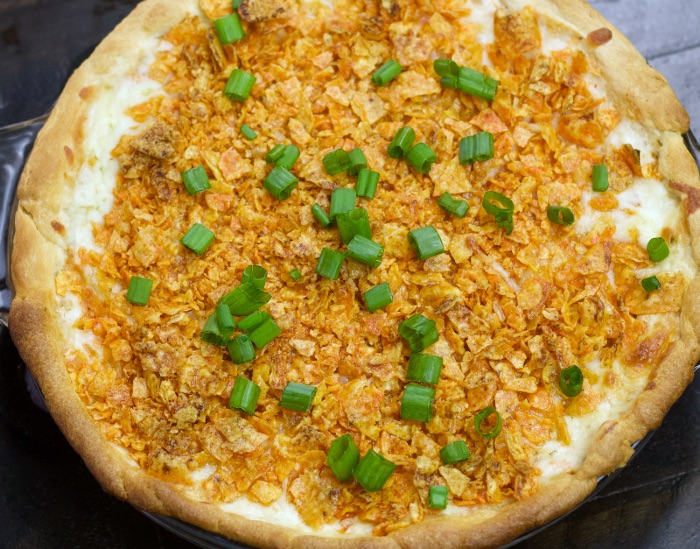 Sides For Taco Pie:
Taco pie with Doritos is a hearty and flavorful main dish. It pairs well with a variety of sides and toppings. Here are a few ideas:
Guacamole: This creamy and flavorful dip made with avocado, lime, and cilantro is the perfect accompaniment to taco pie. You can serve it alongside the pie or spoon it directly on top for an extra burst of flavor.
Salsa: A fresh and spicy salsa is another great choice to serve with taco pie. You can use store-bought salsa or make your own with diced tomatoes, onions, jalapeños, and lime juice. Here's our recipe for a quick blender salsa and here's an interesting cucumber salsa that would be good with this recipe.
Salad: our simple spinach Avocado salad with a tangy vinaigrette is a refreshing contrast to the rich flavors of the pie. It includes toppings like sliced avocado, diced tomatoes, or crumbled cheese to the salad for added texture and flavor.
Rice: A side of fluffy white or brown rice is a classic choice to pair with Mexican-inspired dishes like taco pie. Our brown rice-Quinoa blend would work well also. You can add in seasonings like cumin, garlic, or lime juice for extra flavor.
Cornbread: For a Southern twist on the meal, try serving your taco pie with a side of our Mexican cornbread. The sweet and savory flavors of the cornbread complement the spiciness of the pie nicely.
Chips and dip: If you're hosting a party or feeding a crowd, you could set out a platter of chips and dips like queso, spinach and artichoke dip, or hummus for guests to snack on alongside the pie.
Serve Taco pie with Doritos on its own as a main dish, or paired with sides such as a green salad, guacamole, or salsa. Take it to a potluck. This dish travels well and is universally popular.
Storing This Taco Pie:
Leftovers can be stored in the refrigerator for up to a week if covered so it won't dry out. Reheat in the oven if a large amount is being reheated and you want to crisp it up or microwave single servings.
Dorito Pie is a very tasty dinner recipe that kids and Dads love. 🙂 It really hits the cozy comfort food place in your soul. The family will devour this savory pie.
And it's easy on the cook. This recipe takes about 15-20 minutes to prepare, plus another 20-25 minutes to bake. So you'll have it on the table in under an hour with very little trouble.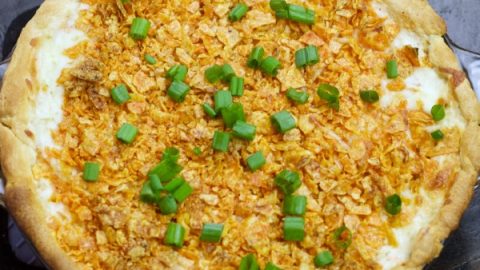 Yield:

10 servings
Taco Pie with Doritos Recipe
Rich and hearty Dorito pie is a delicious dish. This incredibly simple dinner recipe features a cresent roll crust, cheese dorito chips baked with a yummy crunchy gound beef filling. Have it on the table in less than an hour.
Ingredients
3 Cups Nacho cheese Doritos (divided)
1 can cresent roll dough
1 lb. hamburger
1 Tablespoon of taco seasoning. (one packet)
1/2 Cup water
1 fresh pepper (any heat)
1 Cup sour cream
1/4 Cup salsa (any heat)
1/4 Cup melted butter
2 Cup Pepper jack Cheese
Instructions
Preheat oven to 400 degree F.
Set a skillet on the stove on medium heat.
Crumble the hamburger into the skillet and mince it into small pieces.
Brown the hamburger.
Drain the meat if necessary.
Stir in one packet of taco seasoning into the drained hamburger and add 1/2 cup water.
Simmer until it thickens some, stirring occasionally and set aside.
Meanwhile, Lay the cresent roll crust into a greased 9 inch pie plate.
Fit the dough around the pie plate. Finish the edge as desired.
Pour the chips into a plastic bag and crush them into small pieces.
Layer half of the chips into the bottom of the pie plate.
Layer the cooked seasoned hamburger evenly over the crushed nachos.
Mix together the sour cream and salsa.
Layer the filling over the chip bed
Evenly sprinkle the cheese over the filling
Layer the remaining chips over the cheese.
Pour the melted butter over the chips.
Bake 20 minutes.
Notes
It is very simple to substitutes and add your ideas into the recipe.
Substitutions:
Greek Yogurt for sour cream
cheddar cheese for the pepper jack
Regular doritos (or other toritlla chip) for the nachos doritos.
Substitute diced chicken for the beef. (can add bacon for a smokier flavor)
The cresent dough crust can be made with either a can of cresent dough or a can of cresent ROLLS dough. Just overlap and fit together the triangles of dough as needed to fit your pie plate.
You can also use any other dough pie crust you prefer. We also love this pie with the coconut oil blind baked pie crust OR our sourdough pie crust (freeze the extra dough for later or make 1/2 of the recipe).
Additions:
fresh peppers can be added to the hamburger sauté or sour cream mix.
Use rotel tomatoes instead of salsa (watch this doesn't make the sauce too lumpy or loose.)
Add onions to the hamburger sauté.
1-14 oz. can corn (mix into cooked hamburger)
1 14 oz. can black beans (mix into cooked hamburger)
1 14 0z. can diced tomatoes (omit the water in the recipe if using and add into cooked hamburger)
If you have more ideas on how to make this recipe We'd love to hear them. Please comment below and let us know how you make this recipe. 🙂
The video below is our recipe demonstration of how we made this Dortio Pie recipe:
Nutrition Information
Yield
10
Serving Size
1
Amount Per Serving
Calories

281
Total Fat

17g
Saturated Fat

7g
Trans Fat

0g
Unsaturated Fat

8g
Cholesterol

48mg
Sodium

865mg
Carbohydrates

15g
Fiber

1g
Sugar

1g
Protein

18g
More Delicious Comfort Food Dinner Recipes:
When the cold weather hits it's time to pull out the comfort foods like cheesy hamburger pie and Mexican Manicotti. Her are a few more delicious casseroles for the family.
Follow Us:
We enjoy meeting you on our social networks. Follow us on Facebook, Pinterest, Instagram . Tag us with your pictures of our recipes and comment on how it went for you. We would love to see what you do with them.
We often like, comment and share your posts of our recipes on our daily Instagram stories.
Ask questions and rate the recipe in the comments section below. Please share what you did with this recipe. We are always looking for more and better ways to make homemade food. Other cooks love your ideas!
Recent Posts: