This Delicious, Zesty Quinoa Salad refreshes your palate with a zingy vinaigrette. Fresh lemon juice, red wine vinegar and herbs combine into a palate pleasing dressing.
Quinoa is a handy and healthy ancient grain. It has a rich history of sustaining civilizations for millenia. I added this delicious grain seed to our diet decades ago.
I often use quinoa as a side dish mixed with brown rice. It's very simple to make and flavorful. You can add different broths or vegetables to it and change it up to accompany so many main dishes.
After feeding my family quinoa for decades I can tell you it is very easy to work with. Your family will enjoy it in this salad.
Quinoa has a much higher nutrition profile than either potatoes or rice. Quinoa is high in protein and fiber. It's also gluten free.
It's a perfect base for this nutritious, filling and flavorful salad.
This quinoa salad is an example of how using this interesting seed will expand your palate. And provide a wonderfully healthy dish to your menu.
Quinoa Salad Notes:
This is a delicious, simple healthy salad. We give you this recipe, however feel free to change it up to suit yourself. Here's a few ideas.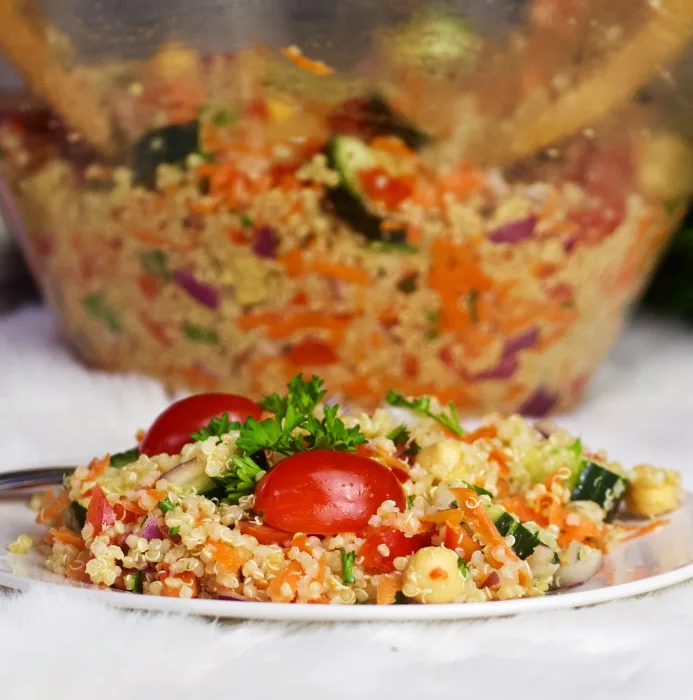 Substitutions:
Black beans can replace the chickpeas
use any heat pepper you prefer. We chose a bell but if you like spicy, do spicy. 🙂
Red onion is colorful and milder than a white onion but either will work for this salad.
cherry tomatoes can replace grape tomatoes or, in a pinch, finely chop a large tomato.
Any cucumber will work finely chopped.However, English cucumbers are best, in my opinion, since they have a good firm texture and clean crisp flavor.
Quinoa comes in several colors including white, black and red. And you will find quinoa mixes with all three colors. Any will color will work in this salad. They all taste the same and cook the same.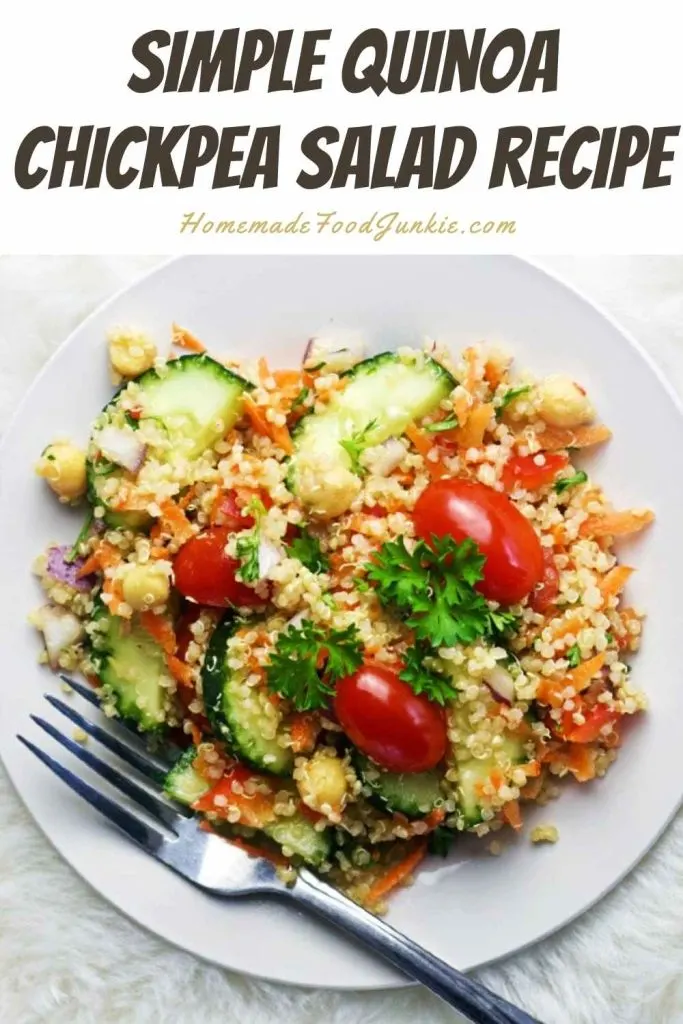 Timing this Salad:
It's really all about the quinoa. This is an excellent recipe for using up cold leftover quinoa. This will also save you lots of time for this salad recipe. You avoid the cooking and chilling. So I build this recipe with the chilling already done.
But if you need to start with uncooked quinoa follow the instructions below.
Cooking Quinoa:
If you are sourcing your quinoa from a bulk section in your local grocery. Or if your package does not say rinsed on the label … You may want to soak your quinoa a few minutes.
Then rinse it under tap water through a tight mesh sieve. This gets the saponins off it before cooking. Saponin is a bitter substance that naturally coats quinoa.
Some people have a sensitivity to saponins. to be on the safe side, do the soak and rinse.
I don't rinse and soak quinoa because I buy Costco quinoa. It is pre-rinsed and ready to cook. Most groceries carry the rinsed quinoa.
I cook quinoa like rice on the stove top. I use two parts liquid to one part grain proportion. Bring the liquid to a boil. Add the quinoa, Let it boil a minute or so and then reduce heat to simmer for 10 to 15 minutes. It does cook faster than rice.
You can also cook quinoa indoor instant pot. It's so easy. Learn how in this post!
For this salad you need to completely chill the cooked quinoa before assembling the salad.
Yield:

6 servings
Zesty Quinoa Salad
Additional Time:
15 minutes
Total Time:
1 hour
15 minutes
Zesty Quinoa Salad is full of delicious and healthy ingredients. This salad makes a lovely light meal or side dish.
Fresh herbs and lemon add life and texture to the wonderful vinaigrette dressing.
Ingredients
Vinaigrette:
1/3 Cup Olive oil
3 Tablespoons lemon juice (fresh squeezed is best)
2 Tablespoons Red Wine Vinegar
1/3 Cup parsley (fresh chopped)
1/4 Cup Cilantro (fresh chopped)
2 cloves minced garlic
1 tsp. salt
1/2 tsp pepper
Salad Ingredients:
3 1/2 Cups Cooked and chilled quinoa *(see notes)
1 red bell pepper
2 Cups English cucumber (quartered)
1 1/2 cup grape tomatoes -sliced
1/2 Cup shredded carrots
1/2 Cup chopped red onion
1 14 oz. can chickpeas (drained and rinsed)
Instructions
Salad Prep Ahead:
Cook and chill the quinoa ahead.*See Notes for cooking quinoa
Chop the cilantro, garlic, and parsley.
In medium bowl combine all the vinaigrette ingredients. Set in fridge to cool until salad assembly.
Salad Assembly:
Prepare the vegetables and chickpeas:
Score the cucumber with a fork down the sides for interest. Slice the cucumber into quarters.
Slice grape tomatoes in half.
Grate the carrots
Dice the bell pepper and red onion
Rinse and drain chickpeas
In a large salad bowl:
Pour in the cooked, chilled quinoa.
Add all the prepped vegetables on top of the cold quinoa.
Pour the herbal vinaigrette over the top of the salad ingredients.
Toss the salad until all the quinoa is completely mixed into the vegetables and the vinaigrette is thoroughly combined.
Serve.
Notes
Substitutions:
Use any color rinsed and cooked quinoa.
Use black beans to replace chickpeas
regular cucumbers can replace the English cucumber
Any type of tomato can be used finely chopped.
If you prefer a spicier salad use a spicier pepper. To taste.
White onion for red onion. (Flavor will be more powerful though).
Timing:
The time this salad takes to make is all about howlong the quinoa takes to cook and chill. If you have fully cooked quinoa leftovers in your fridge this salad is a snap to make in about 15 minutes.
*Cooking Quinoa:
If you have to cook the quinoa for the salad you will need 1 /1/2 Cups uncooked quinoa and 3 cups water (or your choice of vegetable broth).
Boil the water and quinoa in a saucepan on high. Immediately redue heat to simmer.
Cook covered 10 to 15 minutes until quinoa is cooked. (or use your instant pot. See instructions in this post.
Chill quinoa in fridge until cold. 60 to 90 minutes.
Nutrition Information
Yield
6
Serving Size
1
Amount Per Serving
Calories

269
Total Fat

15g
Saturated Fat

2g
Trans Fat

0g
Unsaturated Fat

12g
Cholesterol

0mg
Sodium

567mg
Carbohydrates

29g
Fiber

7g
Sugar

7g
Protein

7g
Follow Us:
We enjoy meeting you on our social networks. Follow us on Facebook, Pinterest, Instagram . Tag us with your pictures of our recipes and comment on how it went for you. We would love to see what you do with them.
We often like, comment and share your posts of our recipes on our daily Instagram stories.
Ask questions and rate the recipe in the comments section below. Please share what you did with this recipe. We are always looking for more and better ways to make homemade food. Other cooks love your ideas!
Recent Posts: