Beautiful blue Curaçao makes this Winter cocktail feel cold without ice in the glass. This champagne cocktail is also a winter vodka cocktail.
Don't let the the bubbles mislead you. This drink has a lot of alcohol.
Treat it with respect. Make a toast or sip it slowly at an event or with a friend. Perfection.
It looks deliciously wintry when garnished with sugared blueberries.
Chill the glasses ahead and dip the (slightly wet) glass rim in sugar for even more frosty ambience.
This is a very simple champagne cocktail to make. There is no fuss at all. You can have two cocktails ready in 2 or 3 minutes. It won't take long at all to whip up enough to serve at a small dinner party.
If you have a winter wedding, bridal shower, holiday or other special event, this winter cocktail is a good candidate. It's excellent for toasting New Years!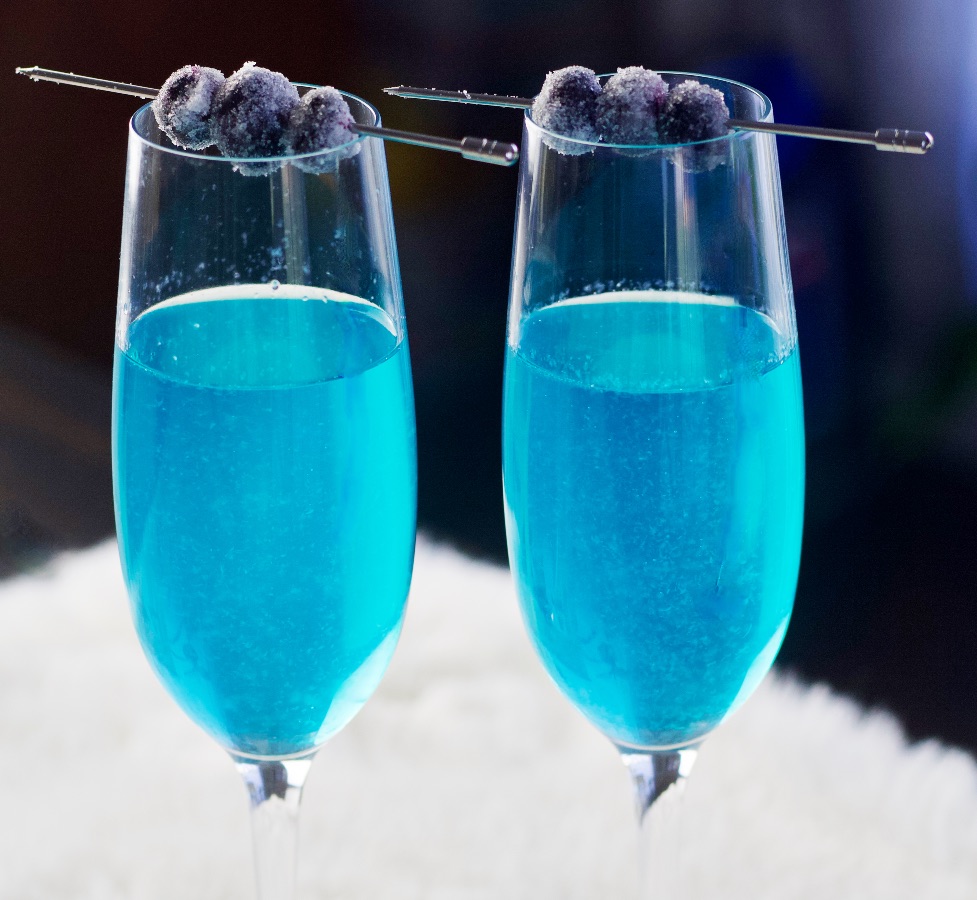 Some of our Best Winter Cocktails:
The best winter cocktails evoke the season of ice and snow. They are also delicious. We have cozy warm ups like our Kahlua and Bailey's Coffee drink and the Peppermint Hot Chocolate Zinger.
The Winter White Rumchata is an elegant white rum cocktail that fits the winter vibe perfectly. Warm flavors in winter white.
Mistletoe Margarita, Peppermint Shake with Schnapps and Crown Royal Maple Cocktail are all excellent choices for winter cocktails.
Please let us know your favorites!
Icy Winter Cocktail:
Our Icy winter Cocktail looks beautiful as a place setting at a special winter event. Or on a toasting tray.
We added curaçao for the sweetness and the beautiful blue color. The combination of these elements works great together.
However, We do have a few tips for the very best experience with this drink.
We recommend you use a smooth, higher grade vodka. A cheap harsh vodka will give you a sharp flavor that is not desirable. Choose a sweet sparkling white wine or champagne like Prossecco or Moscato rather than dry.
A sweet Champagne or sparkling white wine blends well with the lemon juice, vodka and curaçao to create a lovely bubbly drink you will enjoy.
Total Wine has a good selection of wines and champagnes if you are buying online. 🙂
This drink is a better toasting cocktail than party hardy drink. There is a lot of alcohol in the Icy Winter Cocktail. Just one of these is all you will need. 🙂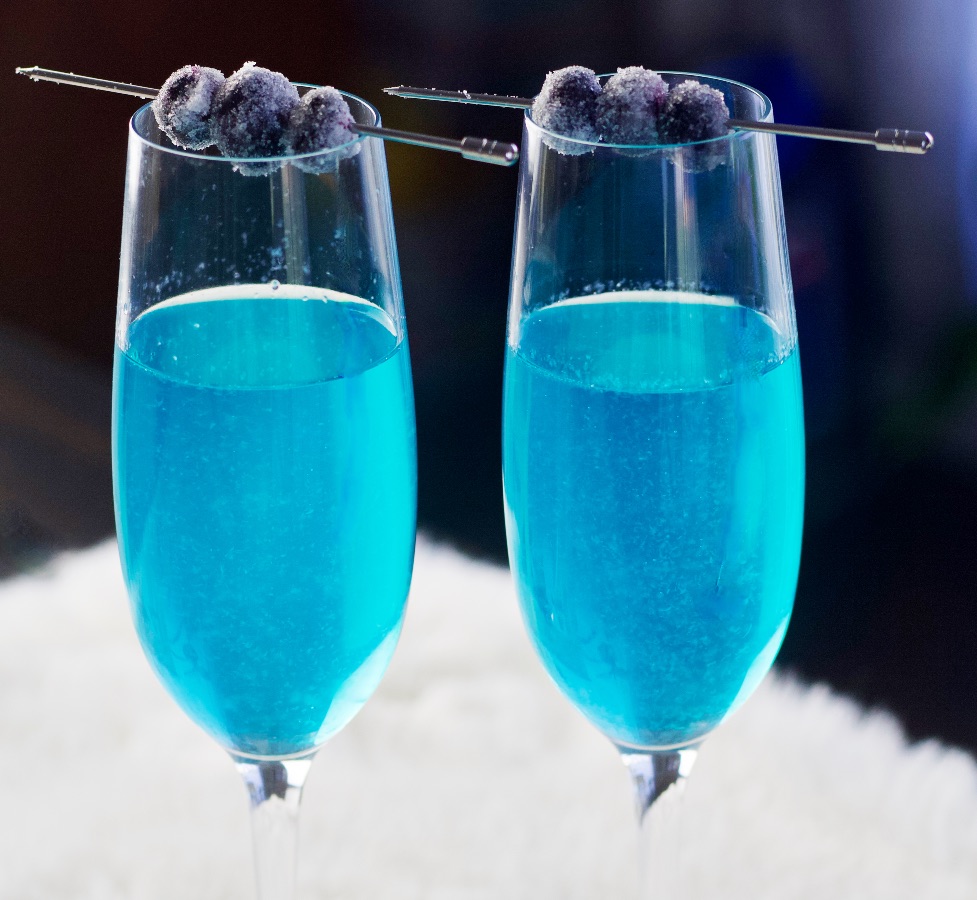 Yield:

2 cocktails
Icy Winter Cocktail Recipe
Icy Winter Cocktail is a well blended champagne cocktail made with vodka, curaçao and sweet sparkling wine or champagne. This is a perfect toasting drink or winter evening sipper.
Ingredients
2 oz. Vodka (choose a smooth flavored vodka-we used absolut)
1 oz. blue curaçao
1/2 oz. lemon juice ( fresh squeezed is best)
5 oz. Champagne (sweet not dry, Prosecco or Moscato)
Instructions
fill your shaker with ice
Add the Vodka, curaçao and lemon juice to the shaker.
Seal and Shake the cocktail until the shaker is very cold.
Strain the shaker contents evenly into two champagne flutes
Fill the glass (gently) to the top with champagne
Garnish as desired. We used three sugared blueberries on a cocktail pick set over the glass.
Notes
For the best flavors, use a smooth vodka and a sweet sparkling white wine or champagne. Dry is going to give you a harsh taste in this drink that is not pleasing
Watch our video below ro see how we made this winter cocktail.
Nutrition Information
Yield
2
Serving Size
6 oz.
Amount Per Serving
Calories

126
Total Fat

0g
Saturated Fat

0g
Trans Fat

0g
Unsaturated Fat

0g
Cholesterol

0mg
Sodium

6mg
Carbohydrates

2g
Fiber

0g
Sugar

1g
Protein

0g