The Peppermint hot chocolate stinger recipe is a warm cozy drink for cold weather. Even hot coffee plays it's part in making this delicious light alcoholic drink a beautiful warm up for any event.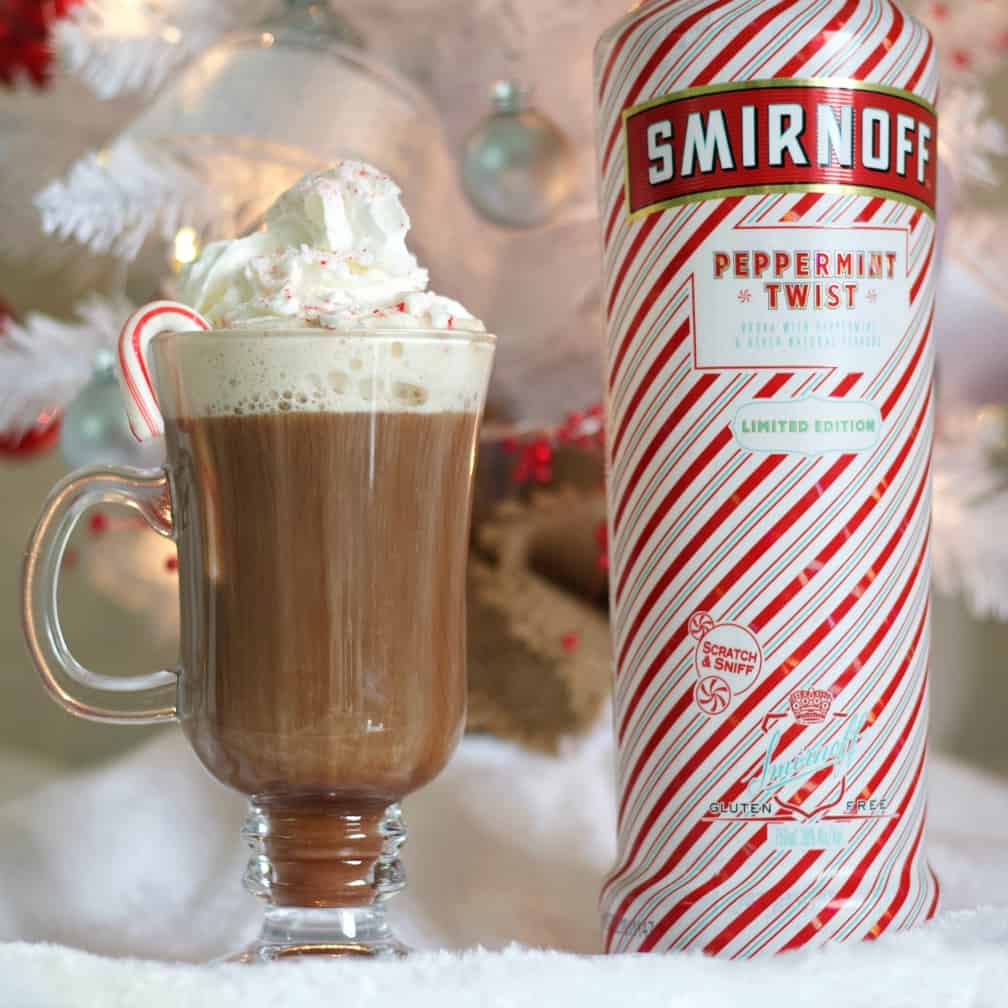 This peppermint hot chocolate drink recipe happened because…I LOVE the smirnoff peppermint twist vodka bottle. I just had to buy it. And THEN I had to figure out a recipe to use it in. Here's a good one!
I truly love the decorative bottles alcohol companies are coming up with. Last summer I fell in love with the Smirnoff Red White and Berry bottle.
So I made it a fantastic Red white and Blue firecracker Cocktail. It's a beautiful layered red white and blue drink. It's great for all the red white and blue events in your life. And that pretty bottle is now in my house.
Same goes with the Peppermint Twist vodka. I'm a big fan of this vodka. 🙂
Hot Chocolate Stinger:
Smirnoff peppermint twist drink recipes are not thick on the ground at the moment. Happily, I have a hot chocolate cocktail recipe that uses peppermint schnapps.
I simple substituted my beautifully packaged peppermint vodka and viola! A gorgeous winter Smirnoff peppermint twist recipe from me to you. Enjoy.
I'll be looking for more drink recipes to use up peppermint vodka all though the year. Maybe I'll try some in my Peppermint milkshake instead of schnapps. That is a deliciously indulgent drink. Perfect dessert cocktail or summer chiller.
If all you have on hand is peppermint schnapps you can make a Peppermint Schnapps Hot Chocolate. Just do a one to one substitution for the peppermint vodka in this recipe and proceed with the recipe.
Let it warm you on chilly nights. This is a VERY light cocktail. There is just enough alcohol in it to call it an adult beverage.
More Delicious Coffee And Chocolate Drinks:
All of these cocktails will give you a lovely somewhat indulgent dessert cocktail vibe. They all are different and delicious ways to kick back and relax after dinner with coffee and chocolate.
This is a perfectly safe alcoholic coffee drink (If you stick to a reasonable number) to enjoy with a friend while watching the lovely flakes of snowfall or dreary grey rain. It's a cheering drink.
The amounts of alcohol we call for in this recipe creates a very light stinger. If you beef up the amounts your cocktail flavors will change… and so will the buzz. Careful there!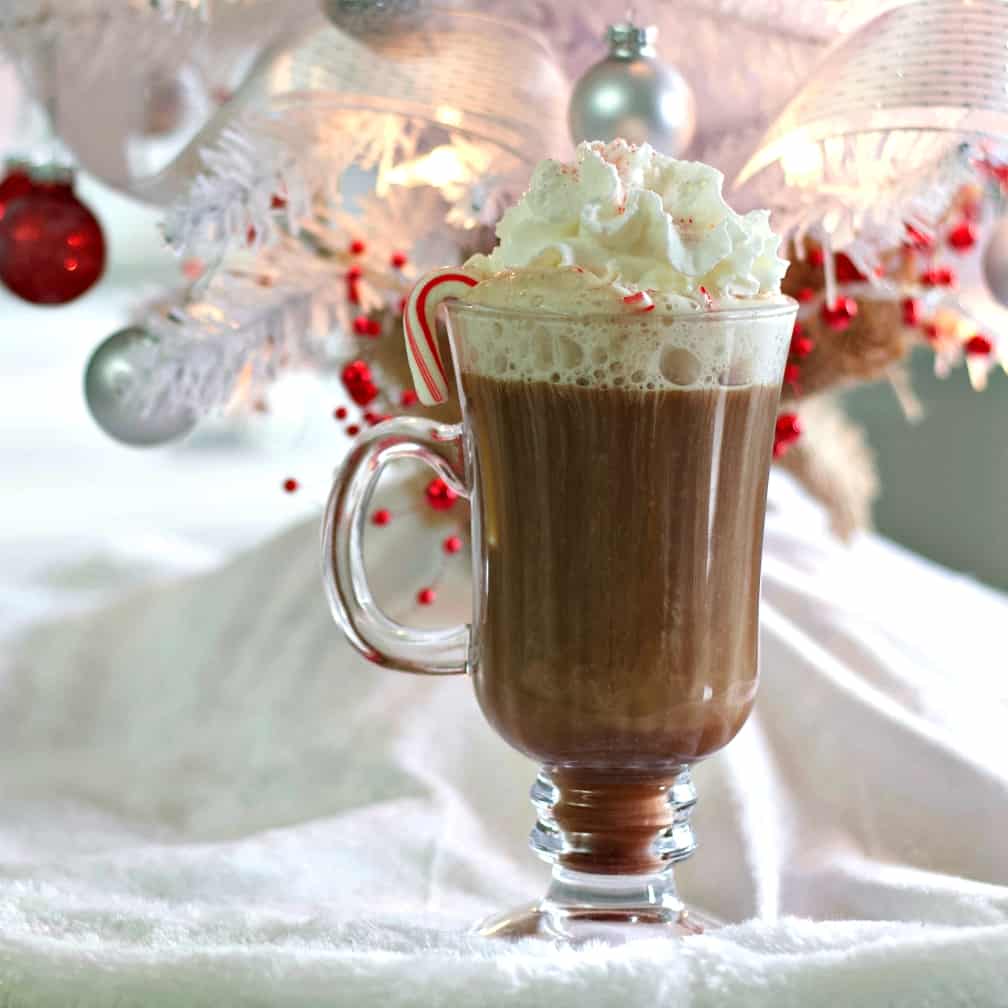 How to make a Peppermint Hot Chocolate Stinger: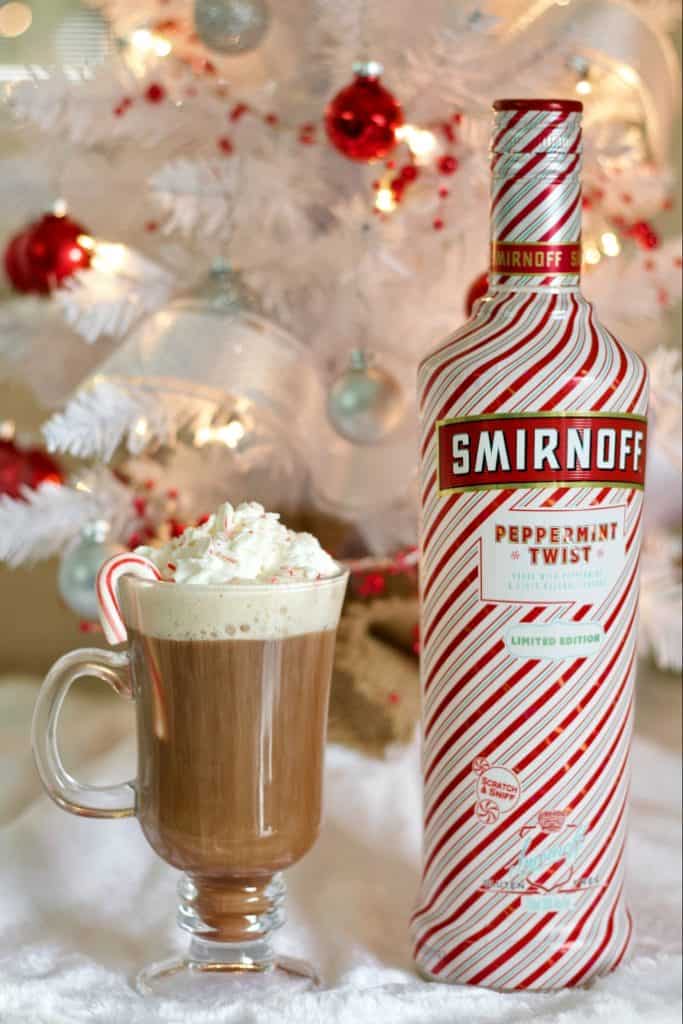 Ingredients for this Smirnoff Peppermint Twist Hot Chocolate Alcoholic Drink:
This alcoholic coffee drink with peppermint, hot chocolate and creme de cacao is great for a fireside chat, after dinner drink or serve it for a light dessert cocktail.
Fresh brewed coffee
Hot Chocolate
Smirnoff Peppermint twist vodka (to get that pretty bottle). 🙂
Hiram Walker Creme De Cacao (any brand of dark chocolate Creme de Cacao will work)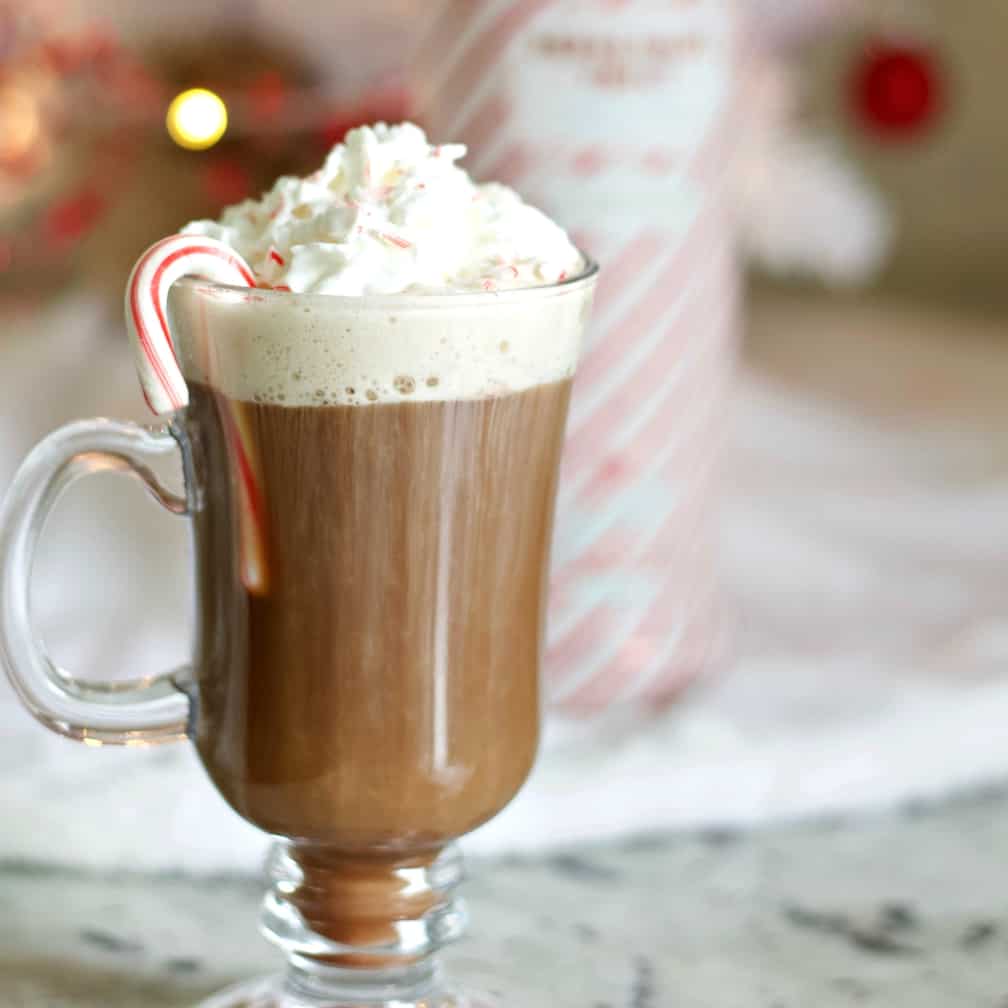 How to Make this Peppermint Hot Chocolate Vodka Drink:
Here is a quick visual guide to making this delicious drink. Making the hot coffee and hot chocolate will take all the time.
Then just pour, stir and garnish. So simple and incredibly yummy. Please also watch our video demonstration.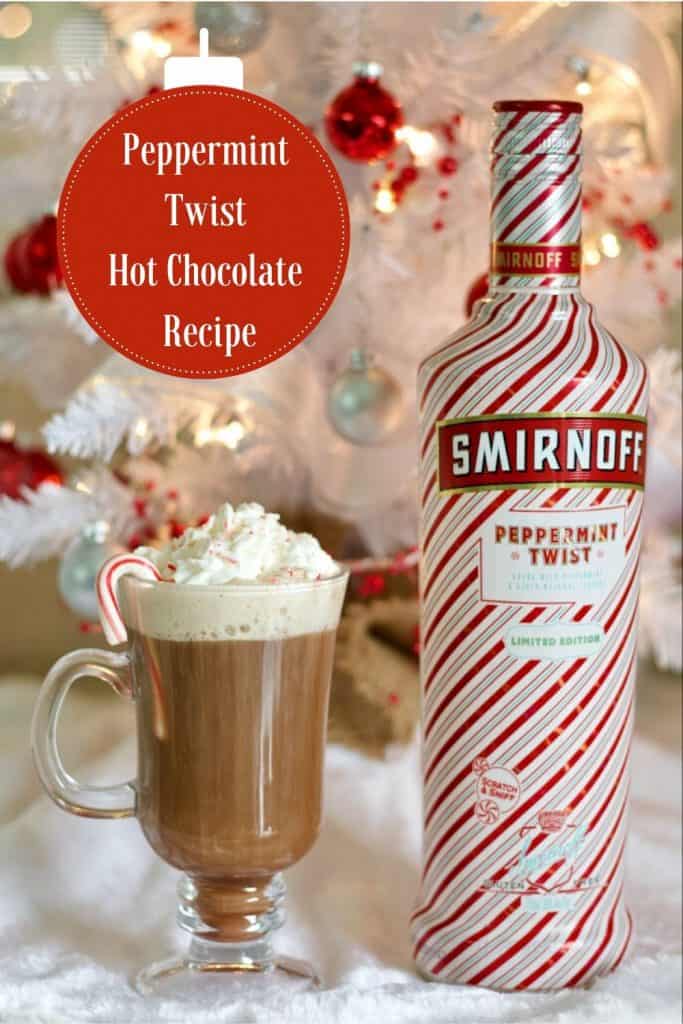 Your Printable Recipe Card: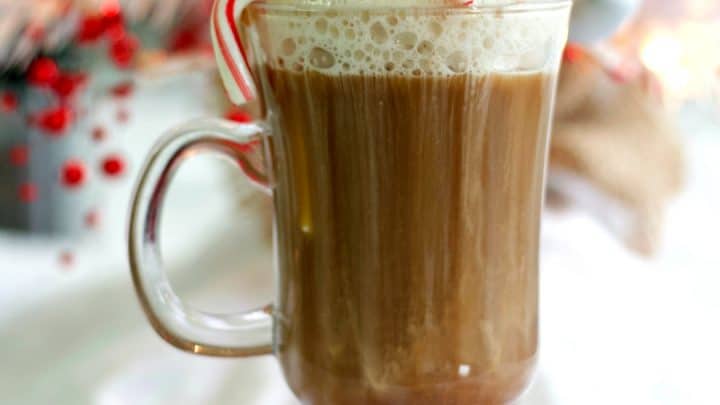 Yield:

1 Peppermint Hot Chocolate
Peppermint Hot Chocolate Stinger
A refreshing but cozy drink with all the flavors of winter. Smirnoff Peppermint Twist Vodka, Creme De Cacao and coffee create a gorgeous alcoholic hot chocolate drink perfect for a fireside chat or after dinner coze.
Ingredients
3 oz. hot coffee
2 oz. hot chocolate
1 oz. creme de cacao
1/2 oz. Smirnoff peppermint twist Vodka
Instructions
Measure and pour the crème de cacao into a heat proof mug.
Pour in the peppermint Twist Vodka
Add the fresh brewed hot coffee.
Stir.
Garnish as you prefer. Look at our notes section for instructions on how we garnished this coffee drink.
Notes
Our Garnishing Suggestions:
whipped cream
crushed candy cane
one whole mini candy cane

Instructions:
Stir the drink to mix the ingredients together
Spray on whipped cream to make a pretty top.
Sprinkle with 1/2 tsp. crushed candy cane
set one whole candy cane on the side of the glass.
Serve immediately

More Garnish Ideas:
Add mini chocolate chips to the whipped cream top
Chocolate covered espresso bean on the whipped cream.
Mini Marshmallows can replace the whipped cream (Or be added to it)
Also mix the marshmallows with the mini chocolate chips for fun.
Tie on a bright festive ribbon to the handle
Recommended Products
As an Amazon Associate and member of other affiliate programs, I earn from qualifying purchases.
Nutrition Information
Yield
1
Serving Size
6.5 oz.cocktail
Amount Per Serving
Calories

218
Total Fat

1g
Saturated Fat

0g
Trans Fat

0g
Unsaturated Fat

0g
Cholesterol

0mg
Sodium

57mg
Carbohydrates

20g
Fiber

1g
Sugar

16g
Protein

1g