Easy and delicious! No heating up the stove either. This recipe is Quick N Easy, eggless, Low-Sodium, and Gluten-Free. Toffee Bits N Chocolate Ice Cream is fast becoming a favorite with my hubby. That's good because this recipe is ready to eat in just 30 minutes soft serve (he loves it that way). Did you forget to plan ice cream ahead? This recipe can save you!
This ice cream recipe is so ridiculously easy! A bag of Heath bits is all the add-ins necessary to make a completely fabulous frozen dessert in a hurry! By the Way, this is NOT a sponsored post 🙂 But Heath bits candy is REALLY good in ice cream!
Easy Toffee Bits N Chocolate Ice cream has some BIG BENEFITS!
It's SUPER quick and easy to make
It remains scoopable, even after days in the freezer!
It has way fewer calories than a custard base ice cream because, well, no eggs!
My Caramel Toffee Bits Ice Cream is also fabulous and has no egg custard in it. It also uses Heath Bits. But I added caramel sauce into that one. Caramel sauce changes the flavor profile significantly, to a more butter brickle flavor. It also contains sugar instead of maple syrup. And has a few more calories. But it is amazingly delicious! If you have caramel sauce on hand, like our homemade Buttermilk Caramel sauce, and are out of pure organic Maple syrup; hop on over to that recipe.
Easy Toffee Bits N Chocolate Ice Cream is REALLY easy to make, uses maple syrup for a better quality sweetener and has fewer calories than Caramel Toffee Bits ice cream.
This recipe is a spin-off of the Cherry mint ice cream recipe I made with my granddaughters. This is the same wonderful base with a completely different flavor profile. Enjoy!
Note for our Gluten-Free Readers:
My recipe app says this recipe is gluten free. I went on the Hersey company dietary needs page (linked below). They claim all Heath products are gluten free 🙂
Here is the ingredients list for heath bits for those with allergies or special needs:
Not healthy stuff, but very yummy in this ice cream treat! (someday I'll try my hand at making a Heath bit substitute blend without all the yucky stuff.)
Ingredients: Milk Chocolate (Sugar; Cocoa Butter; Chocolate; Nonfat Milk; Milk Fat; Lactose; Soy Lecithin; Salt; And Vanillin, Artificial Flavor); Sugar; Palm Oil; Dairy Butter (Milk); Almonds (Roasted In Cocoa ButterAnd/Or Sunflower Oil); Contains 2% Or Less: Salt; Artificial Flavor; And Soy Lecithin.
I am so SOLD on Maple syrup as a sweetener for ice cream.
It is healthier than cane sugar, being lower on the glycemic index.
AND It does not freeze in the same way that cane sugar does. Pure organic Maple syrup is the key reason this ice cream is easy to scoop, even after several days in the fridge freezer!
Another great benefit to maple syrup is its flavor. Maple syrup enhances the caramel flavor that is such a lovely compliment to the Heath bits.
This recipe does need maple syrup to keep it creamy and scoopable. Regular sugar will freeze harder. So if you use cane sugars, expect to let the ice cream sit on the counter at least 10 minutes to soften and you will miss the warm maple syrup flavor. Sad truth!
Easy Toffee Bits N Chocolate Ice Cream Recipe:
Easiest Ice Cream Ever!
Whisk the wet ingredients together
Pour them into your Ice Cream Churn
Add the Heath Bits when the ice cream is almost done
Eat when soft set or freeze until it's hard.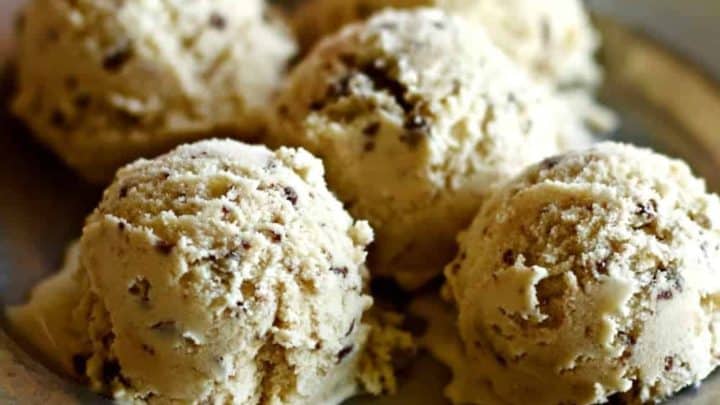 Yield:

8 servings
Easy Toffee Bits N Chocolate Ice Cream
Easy Toffee Bits N Chocolate Ice Cream is REALLY easy to make, uses maple syrup for a better quality sweetener and has fewer calories than Caramel Toffee Bits ice cream
Ingredients
1 1/2 Cups heavy cream
1 Cup whole milk
1/2 Cup pure maple syrup
1 1/2 tsp. vanilla
I 8oz. bag heath bits
Instructions
Whisk together the heavy cream, whole milk, maple syrup and vanilla
Pour the mixture into your ice cream churn. Set a timer for 15 minutes
After the timer goes off the ice cream should be almost set but still soft and a bit loose
Add the entire bag of Heath bits, a little at a time into the churn. Set your time for 10 minutes
When the timer goes off the ice cream is soft set
Eat immediately or store in an airtight container in your freezer up to a week
Nutrition Information
Yield
8
Serving Size
1
Amount Per Serving
Calories

379
Total Fat

26g
Saturated Fat

16g
Trans Fat

1g
Unsaturated Fat

8g
Cholesterol

69mg
Sodium

118mg
Carbohydrates

34g
Fiber

0g
Sugar

32g
Protein

3g
Pin it: