Instant Pot Hambone Bean Soup is a rich meal that is a fantastic way to use up leftover ham and get as much as you can from that nutritious hambone. Create this lovely Instant Pot Ham and Bean Soup with leftover ham, beans, veggies, potatoes, and spices.
For the ideal health result choose a ham that is grass fed, organic and naturally processed if you can find one. Large smoked ham hocks will also make good Hambone Soup.
Watch Our Video on how to make this delicious, healthy Hambone Bean Soup!
What kind of soup can be made from a Ham Bone?
Ham soups are full of rich, smokey flavor and can be a nutritious meal when you make your own stock from the hambone. This recipe is one of the most popular ways to use ham in a soup. It makes a hearty Instant Pot Bean Soup that is versatile and inexpensive.
Split pea soups are another popular recipe that are common during the cold months. These creamy legume soups come together easily and deliver protein, fiber, and collagen for a delicious well rounded meal.
Our Navy Bean and Ham Soup is one of our most popular CrockPot soups. Our Instant Pot Beef Soup makes a hearty instant pot 3 bean soup, combining a range of beans and veggies for another delicious and satisfying dinner.
How long does it take to cook a Ham Hocks in the Instant Pot?
To reap the nutritious benefits that Hambones and Ham Hocks have to offer, you want to cook them in the Instant Pot for about 120 minutes followed by a quick release. The bones need to be cooked down to a soft consistency. This allows the marrow, vitamins and nutrients to seep out and create a hearty broth.
Use either your instant pot slow cook function after making your hambone broth, or make it with your soup function on high pressure.
In a stock pot, this Hambone Soup from Leftovers Recipe can take a day to finish. Using the instant pot brings the cooking time down to about three hours total. The electric pressure cooker has revolutionized our kitchens.
How long can you keep a Ham Bone for soup?
If you have a leftover ham bone you can store it in your fridge for 5 days. Use it to make nutritious Ham Soups and hearty bone broths. If you are not ready to use it, it can be frozen for up to 3 months. Store it in an airtight, freezer safe bag. When you are ready to make soup with it, simply remove it from the freezer and place it in your Instant Pot, Crockpot, or stock pot.
Instant Pot Ham Bean Soup Recipe Notes
Grass Fed Bone broth is very good for you. Our Instant Pot Bone broth post goes into that further and gets more detailed about making bone broth in general.
Cooking bones to the crumble or brittle point releases valuable health components into the broth.

Like minerals, amino acids, gelatin, collagen, chondroitin and hyaluronic acid.
TIP: Adding cider vinegar to the bones aids in the extraction of minerals.

Your soup will gain an intense rich flavor by using the bones for your soup base.
You will be squeezing every last nickel out of your expensive company ham.
The instant pot will shut itself off and automatically go to the warm setting for up to 24 hours. This makes is easy for you if you work or have to be away from your kitchen all day.
The instant pot will automatically natural release and hold the pot on warm for you after it finishes. The ham bones will keep adding flavor and goodness to your hambone broth while you are away. Just finish the soup when you are available.
Hambone Bean soup only needs 30 minutes under pressure, a natural release of 15 minutes and then quick release. Dinner is done and on the table in under an hour.
Do you need to soak dried beans before cooking them in the Instant Pot?
You do not need to soak dried beans before cooking them in the Instant Pot. The Instant Pot is a fantastic time saver when cooking with beans. Dried beans are very inexpensive and so good for you. Learn more about why eating dried beans benefits you in this academic article.
Hambone soup instant pot meals are very simple and you can leave the pot alone making bean soup, instant pot no soak recipes a breeze.
If you choose to substitute your favorite dried bean adjust the cooking time if needed. Beans usually cook in 25 to 35 minutes. You can still make the soup as directed. Adjust the soup function to the amount of time your dried beans need to cook.
How do you thicken Ham Bone Bean Soup?
If you are looking for a thicker, creamier consistency to your Ham Bone Bean soup you can make a roux out of flour, cornstarch, or even cornmeal. Use the ratio of 3 Tbs flour, cornstarch or cornmeal to 1 Cup water or broth. Mix it to a smooth texture and add it to your soup. Allow the soup to cook on low until it has thickened to your desired consistency.
Looking for more bean soups? Try these
Instant pot Bean and sausage soup
Instant pot Four bean Beef Stew
Instant Pot Hambone Bean Soup ready to make soup.
The secret ingredient to this soup is the Smoky Sweet Mesquite seasoning. This one is from Costco. You can buy it on Amazon if you are not near a Costco. We really love this spice and find so many uses for it.
If you cannot find it you can substitute McCormick's Smokehouse Maple Seasoning. Its found at most grocery stores. That little bit of smoky sweetness brings a richer fuller flavor to this recipe you will love.
Your Printable Recipe: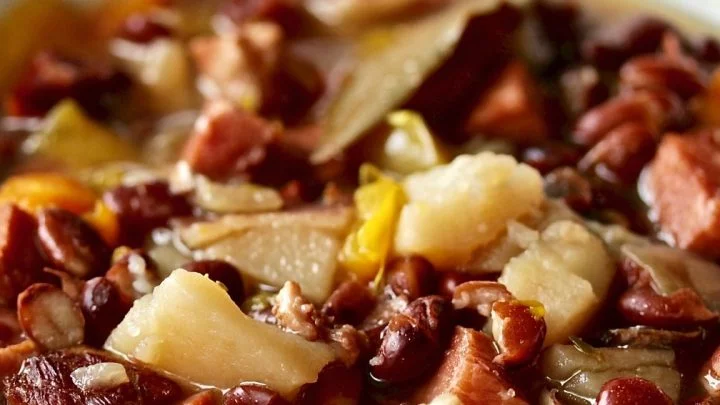 Yield:

12 - 2 cup servings
Instant Pot Hambone Bean Soup
Cook Time:
2 hours
30 minutes
natural pressure release and pressure build:
30 minutes
Total Time:
3 hours
15 minutes
Instant Pot hambone bean soup is a richly flavored soup made with dried beans, ham and veggies in a hambone broth. This very healthy soup makes a yummy meal that will last for days or feed a big crowd. Made it in your instant pot this recipe saves you time, kitchen work and money!
Ingredients
1 meaty hambone stripped of meat, (some meat is ok on the bones-just cut off the excess)
3 quarts water, (More as needed to finish the soup)
1 medium onion, diced
2 cloves garlic, diced or smashed
2 large bay leaves
2 cups dried beans, I used pinto
2 Cups Chopped cooked ham, I used leftover spiral ham
2 large carrots, chopped into bite sized pieces
6 medium red boiler potatoes, chopped into bite sized pieces
1 Cup Sliced crimini mushrooms, or any variety you like
3 sprigs thyme , (or about 2 tsp dried)
1 Tablespoon Sweet mesquite seasoning, (or Smokehouse Maple)
1 tsp. salt, (to taste)
1 tsp. pepper, (to taste)
1 tsp. Apple cider vinegar
Instructions
Instructions:
For the Hambone Broth:
Put the hambone, vinegar, bay leaf, onion and garlic into the instant pot. Cover with the water.
Seal the lid and press the manual button. Cook on high pressure. Adjust the time to 120 minutes. Quick Release when the pot is finished.
Strain the broth and pull out the ham bone.
Your broth is ready to make soup.
NOTE:
If you filled your instant pot to the maximum fill line you will have extra broth.
I always make more bone broth than I need for this soup. I freeze the extra (about a quart) for my next bean soup.
Ham broth freezes really well in a ziplock freezer bag or other freezer container.
Remember to label the freezer bag with the recipe name and date.
For the Hambone Bean Soup:
Pour ham broth into the instant pot to about one third full.
Rinse the beans and pick out any debris. Pour them into the instant pot.
Add all the remaining ingredients.
Pour in additional bone broth to reach the Maximum fill line if needed.
Lock the lid and press the soup function key. Set to 35 minutes.
Leave the pot alone 15 minutes after the pot dings to tell you it's done. Then quick release and remove the lid.
Adjust seasonings to taste. Serve with salt and pepper and delicious Homemade dinner rolls.
Notes
This soup is perfect for using up extra vegetables you may have in the fridge. For example, Peppers and tomatoes are good choices for this soup.
Nutrition Information
Yield
12
Serving Size
2
Amount Per Serving
Calories

218
Total Fat

3g
Saturated Fat

1g
Trans Fat

0g
Unsaturated Fat

2g
Cholesterol

30mg
Sodium

1038mg
Carbohydrates

34g
Fiber

5g
Sugar

6g
Protein

16g
Follow Us:
We enjoy meeting you on our social networks. Follow us on Facebook, Pinterest, Instagram . Tag us with your pictures of our recipes and comment on how it went for you. We would love to see what you do with them.
We often like, comment and share your posts of our recipes on our daily Instagram stories.
Ask questions and rate the recipe in the comments section below. Please share what you did with this recipe. We are always looking for more and better ways to make homemade food. Other cooks love your ideas!
Recent Posts: