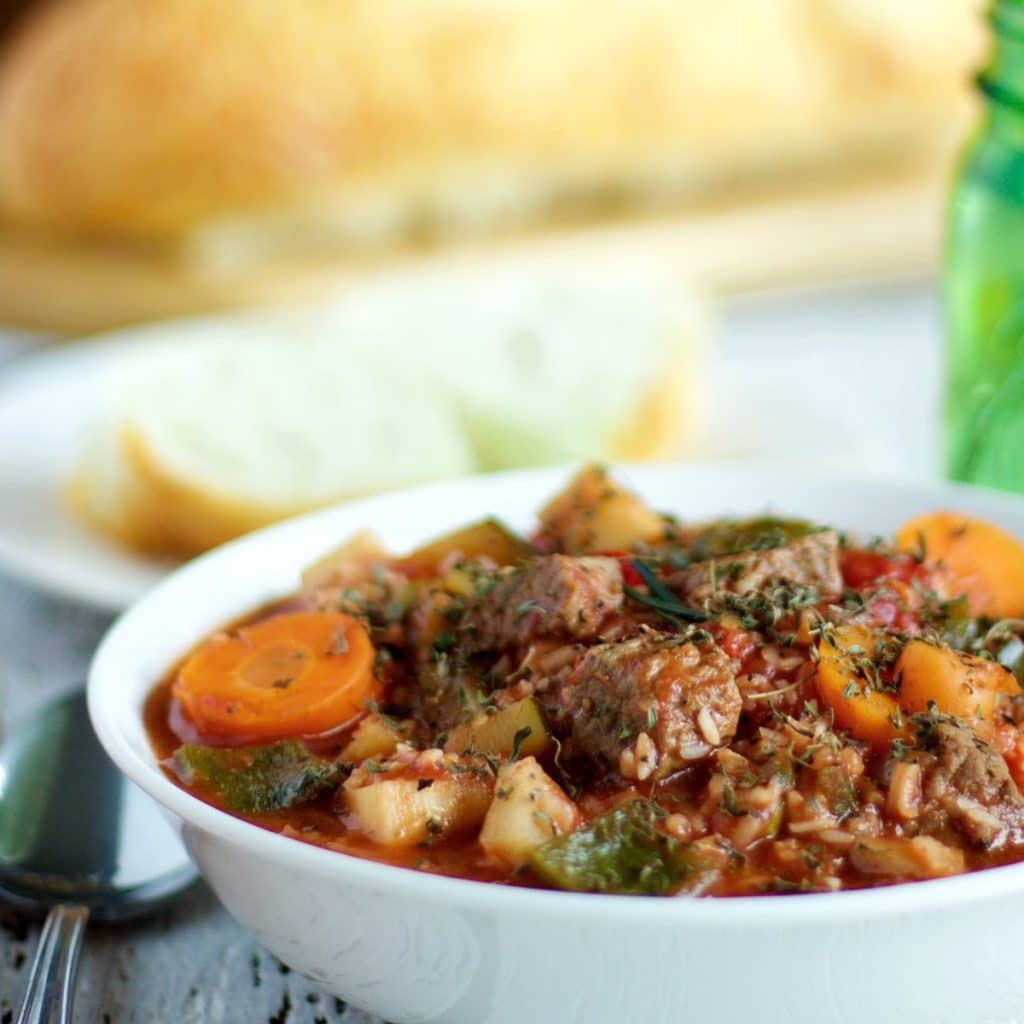 Crock Pot Beef and Rice Stew uses fresh produce right out of your local farmer's market, food co op or garden. Add in a few extras with a pound of stew meat and a bit of rice. Viola an easy dinner for a busy day. And SO healthy! Low-​Fat, Low-​Sugar, Dairy-​Free, Gluten-​Free.
This is the cozy warm soups and stew time. Days are shorter and cooler, inviting heartier meals. I have TONS of gorgeous fresh produce filling up my fridge as Dave continues to bring new garden goodies in every day. Carrots, zucchini, peppers, tomatoes, kohlrabi and Parsnips, to name a few!  Our garden is very good to us this time of year. It just makes sense to make these into easy crock pot dinners, green juice, and salads like our fall garden salad. We eat so cheaply this time of year, and so healthy!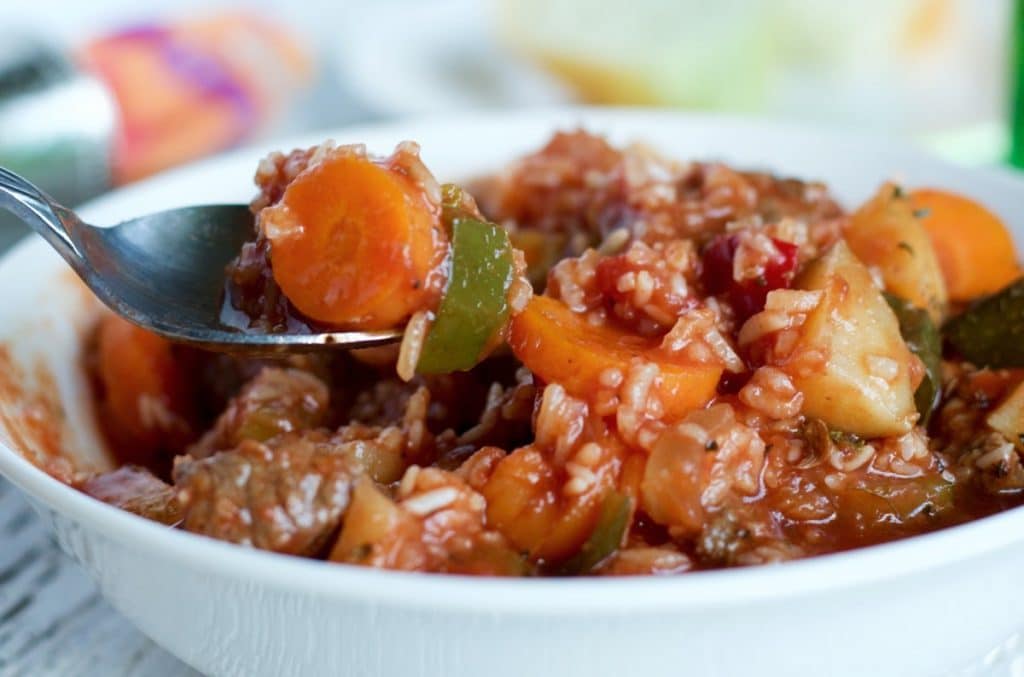 Today all these garden vegetables are going into this savory Beef and Rice Stew. YUM!
Crock pot stews are so easy. In fact, stews are way easier, and safer, to make in a crock pot than in the huge, old soup pots I always had bubbling away all day on my stove, when the kids were little. Big pots on the stove need tending every once in a while or the stew burns on the bottom. Crock pots are designed to be left alone all day, without burning dinner. I really love that!
Here's How To Put Crock Pot Beef and Rice Stew Together:
I choose to brown my meat to keep in that excellent beef flavor in the meat itself. Also, I season the meat as it's browning to add a bit of extra zing to the stew. Actually, I made this stew with Kayti, at her house. So she browned the meat with her spices. Feel free to use your favorites if you don't have what we are using.
Chop those veggies! I put a list into the printable about all the veggies we are using. But the possibilities are endless. By Google's definition a stew is "a dish of meat and vegetables cooked slowly in liquid in a closed dish or pan." How vague is that? Slow cooker…veg and meat! Well this IS a beef stew. So beef is non-negotiable. However….
You might choose beef… and rutabagas or turnips (which my mom always used), or any vegetables you find handy.  Let me know your favorite stew veggies in the comments below!
Put it all in the crock pot: Place the browned beef in the crock pot and layer the veggies(chopped small) over the top. Pour the liquids in last. Let it cook on high for three hours.
In the last hour, add a cup of rice and cook till the rice is tender. Serve it up!
The rice really builds this stew into a complete meal in a cup or bowl.  This filling stew doesn't need a lot with it. That's handy for Dave and I. We are often busy in the garden or at other work. This easy meal for dinner is perfect for intense work days. It also makes really good leftovers, which I like. Lunch for the next day is just needing a zap in the microwave.!
An easy delicious dinner. It's a meal in one pot! If you feel like working a little for an excellent homemade dinner roll, try this one! Otherwise pick up your favorite artisan bread to soak up those lovely juices.
Total Time: 4 hours, 30 minutes
Ingredients
1 lb. Beef stew meat.
1 Tablespoon of season all
1 Tablespoon garlic salt
1 Tablespoon onion powder
1 Tablespoon bay leaves
1 large carrot sliced into rounds
1 large parsnip cut into 1/2 inch cubes
1 Cup Zucchini Chopped into 1/2 inch cubes
1 large rib celery, chopped small
1/2 large yellow onion
1 clove garlic minced and smashed
2 fresh peppers chopped small
1 large russet potato cut into 1/2 inch cubes
1 Cup rice (we are using organic white rice)
1 can tomato sauce
1 can diced tomatoes
4 Cups beef bullion
Instructions
Brown the beef in a skillet on medium heat. Season the beef with Season-all salt(we are using Morton's), garlic salt, onion powder, and crushed bay leaves. (Fresh herbs like oregano, bay leaves and others herbs to your taste can be substituted for the seasonings as desired) Prepare the vegetables as directed. Place the beef with it's juices into the crock pot. Add the vegetables. Open the cans and dump them into the pot. ADD water to the empty cans and pour one can of water from each can into the pot. Add the bullion and set the crock pot on high for four hours or low for eight. ONE HOUR BEFORE SERVING. Add the rice and one more cup of water or bullion to desired for soupiness. Serve with crusty bread or rolls.