Passion fruit iced tea with lemonade mixed in to deliver a fresh drink with a kick! This iced tea will leave you feeling refreshed all summer long. 
I'm trying really hard to increase my liquid intake this year. I'm really awful at hydrating. I have an addiction to coffee, so I tend to get started on that in the morning and drink it all day. It's really dehydrating to just drink caffeine all of the time. So I'm trying to channel my addictions into drinks that are a little more rehydrating. So I decided to do an experimental process with summer drinks. First on the list was this awesome strawberry lemonade drink that I made last week. YUM! It was an absolute success! so I was excited to try this passion fruit iced tea that everybody raves about.
This drink is really easy to make. I went to the store and bought a bunch of Tazo passion fruit tea bags and some lemonade. You can make your own lemonade from scratch if you have a little extra time. I cheated and went with store bought this time. You simply steep the tea in a gallon of boiling water, add in the sugar and the vanilla. Cool the tea and then add in the lemonade! I also made ice cubes out of the tea and lemonade so I could cool my drink down without it getting all watery.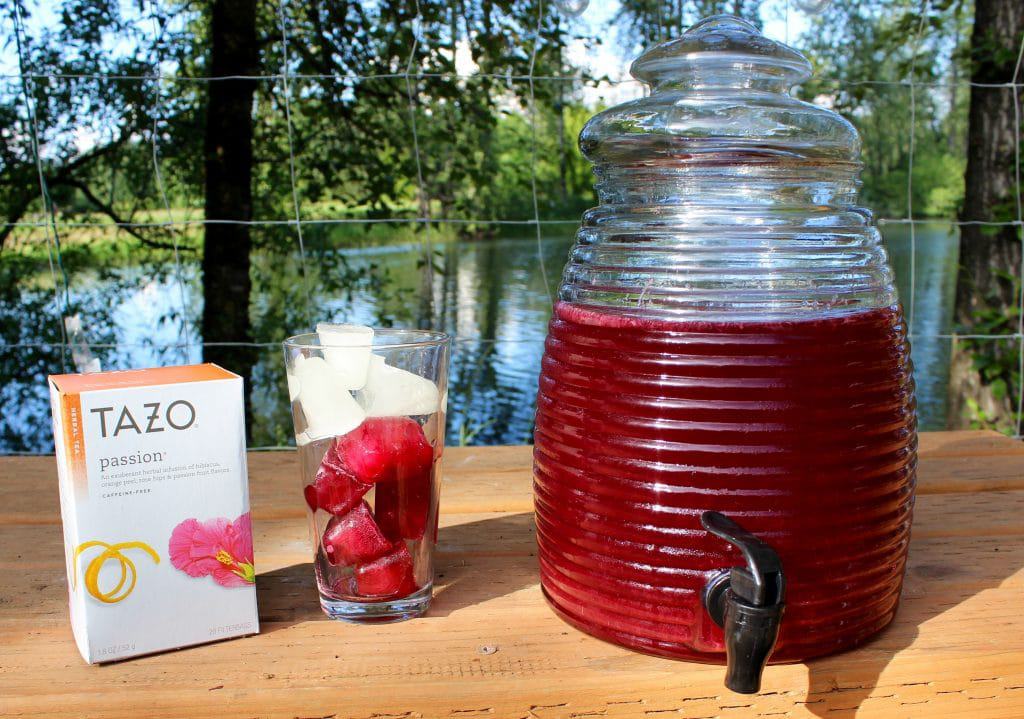 Ingredients
20 Tazo passion fruit tea bags
32 oz lemonade
1 tbsp vanilla extract
1 cup granulated sugar
Instructions
Bring 1 gallon of water to a boil.
Add in the tea bags and let steep for 7-10 minutes
Remove from heat and stir in sugar and vanilla.
Chill in the fridge for 1-3 hours or until cool.
Finally, add in the lemonade and mix together.
If you would like, save aside some tea and lemonade and make them into ice cubes.