Enjoy this delicious blended Iced coffee drink recipe. Baileys Irish Cream, Kahlua and Cold brew coffee are the big players in this coffee cocktail.
The Kahlua and Baileys Iced Coffee is a delicious and easy to drink to make on a hot day. This yummy cocktail mixes Baileys and Kahlua together. Cold Brew makes this a very easy drink to pull together. Garnish with a swirl of whipping cream and some Hershey's syrup for a truly decadent drink.
It's a wonderful afternoon pick me up on a warm day. Drink it with a friend. Or have it for an after dinner cocktail.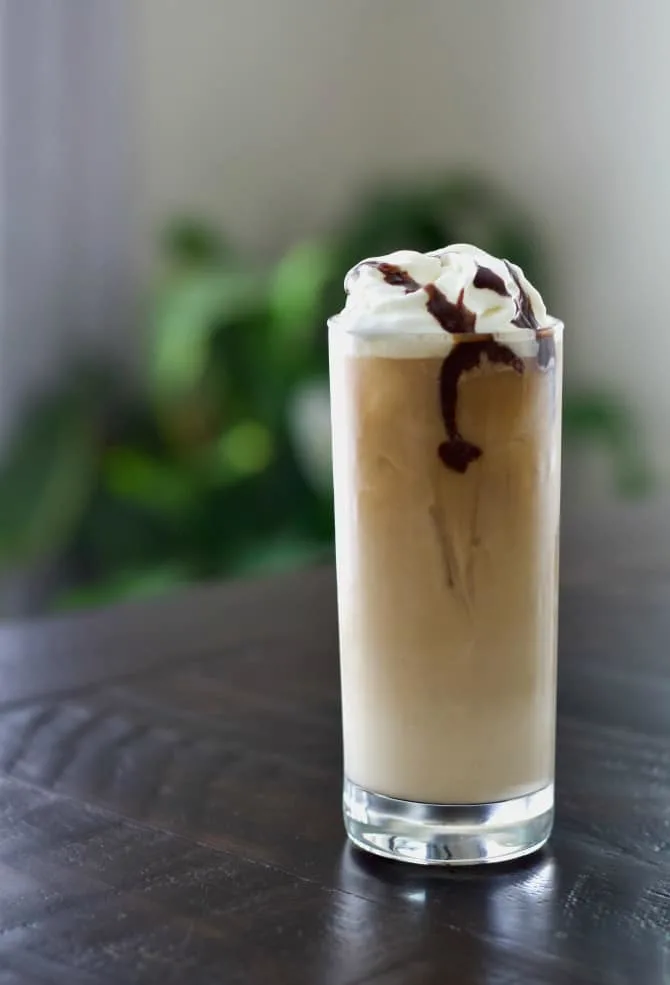 I'm a huge coffee drinker. In fact our whole family goes through a LOT of starbucks dark roasted coffee beans in a year.
When cold brews came out I immediately got hooked on those too. Cold brews are wonderful in coffee cocktails like this one.
Baileys and Kahlua are SO incredibly good with cold brew. and the combo makes a wonderful iced coffee.
I made this drink recipe for all of the coffee fans. This coffee cocktail can be adjusted to your personal preferences with ease.
What Alcohol mixes with Iced Coffee?
Iced Coffee is delicious when mixed with the right alcohol. Kahlua and Baileys are our favorite choice, but they are certainly not the only options. Here are a few of our favorite alcohol additions to iced coffee:
Bourbon (Maple is a delicious choice)
Triple Sec
Vanilla Vodka
Whipped Cream Vodka
RumChata
Tequila
Whiskey
Espresso Liqueur
Chocolate Liqueur
Butterscotch Schnapps
Is Kahlua good in Iced Coffee?
Kahlua is a great addition in Iced Coffee. Kahlua is a rum based coffee liqueur. This delicious Liqueur is made with real Arabica coffee beans. Kahlua is sweet and smooth and only 20% proof, making it an easy addition in with hot or iced coffee.
Adding Baileys in will make it a creamier iced beverage. Baileys is a cream based liqueur made from Irish Whiskey. Baileys has a warm and sweet tone to it that mixes great into coffee. Baileys will give your iced coffee an alcohol based creamer addition.
Does Kahlua need to be Refrigerated?
Kahlua is a shelf stable Liqueur that does not require refrigeration. The best place to store Kahlua is in a cool dark place. Kahlua will start to go bad 18 months after opening.
What is the difference between Baileys and Kahlua?
Baileys and Kahlua are both Liqueurs, but they have different alcohol bases and flavor additions. Kahlua is a rum based liqueur that is infused with 100% Arabica coffee beans. Sugar is also added to Kahlua to make it into a sweet liqueur. Baileys is a cream liqueur that is made from Irish Whiskey. Baileys has cream and cocoa added to it.
More Coffee Cocktails:
Here's a few more coffee drink recipes you may enjoy. For a complete selection of our cocktail recipes please check out our cocktail section.
you can make this drink about as decadent as you like. Eliminate the garnish if you are a purist and just want the coffee.
However, the whipped cream and chocolate syrup really take it up a level in flavor. Something about all the creaminess and chocolate with strong coffee.
I used a straight sided tom collins glass since this is a cold coffee drink. Use an irish coffee mug if you would rather. Either will work fine.
Kahlua and Baileys Coffee Drink:
This iced coffee recipe is so smooth and sweet. We do love our sweet cocktails as you know. The coffee is a nice pick me up to mix in with the relaxing and delicious liqueurs.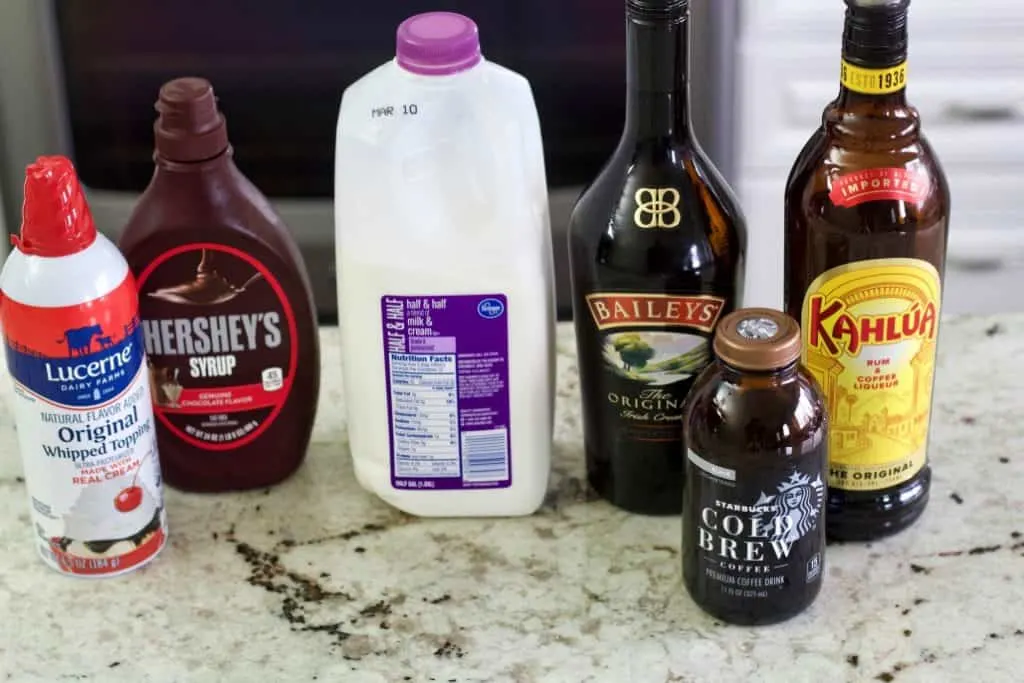 Ingredients:
Starbucks cold brew coffee
half and half
canned whipped cream
hershey's chocolate syrup
other garnishes as you prefer
How do you Make Kahlua Iced coffee?
Here's a quick visual guide to walk you through the simple steps of making this Baileys and kahlua drink.
Fill Shaker with Ice
Measure and Pour Kahlua
Measure and Pour Baileys
Add Half and Half (Vegan milk options can also be used)
Seal Cocktail Shaker and Shake for 30 seconds
Add Ice to glass
Strain Cocktail into glass
Fill with Cold Brew Coffee
Garnish with Whipping Cream and Chocolate Syrup
Please also watch our video demonstration of this recipe for a complete walkthrough. Our printable recipe card is at the bottom of this page.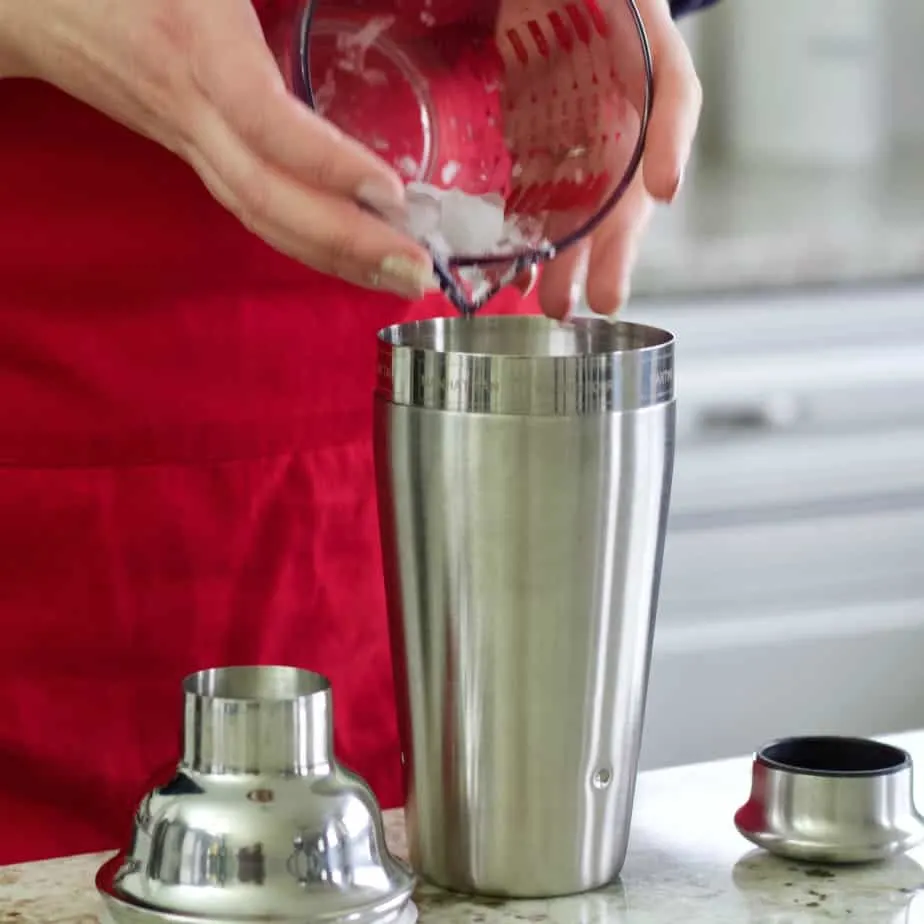 We love seeing what you do with our recipes. Tag us with your pictures on Instagram @homemadefoodjunkie, or share your experiences with us on our FB page.
Please rate this recipe and leave us questions, comments and suggestions below. Thank you for participating in our Homemade Food Junkie community. Have a great day!
Helpful Amazon Products:
Your Printable Recipe Card: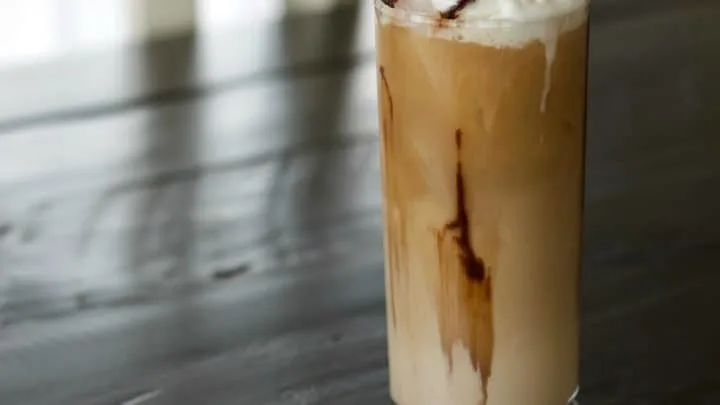 Yield:

1-12 oz. Iced Coffee
Baileys and Kahlua Iced Coffee Drink Cold Brew Recipe
Enjoy this delicious blend of Baileys Irish Cream, Kahlua and Cold brew coffee. A wonderful afternoon pick me up, drink with a friends or after dinner drink.
Ingredients
1 oz. kahlua
1 oz. Baileys irish cream
2 oz. half and half
Instructions
Fill your cocktail shaker half full of ice.
Add the kahlua, baileys irish cream and half n half into your shaker.
Shake vigorously until very cold. (about 30 seconds).
Strain the cocktail into a 15 to 20 oz. glass half full of ice.
Pour the cold brew into the shaken ingredients.
Stir to mix.
Garnish with whipped cream and chocolate syrup as desired.
Notes
Garnish suggestions:
Spray canned whipped cream on top of the iced coffee drink
Drizzle Hershey chocolate syrup over the whipped cream as desired.
Add shaved chocolate
Serve with a square of dark chocolate o the side.
Nutrition Information
Yield
1
Serving Size
12 oz.
Amount Per Serving
Calories

289
Total Fat

7g
Saturated Fat

4g
Trans Fat

0g
Unsaturated Fat

2g
Cholesterol

21mg
Sodium

45mg
Carbohydrates

25g
Fiber

0g
Sugar

25g
Protein

2g
Follow Us:
We enjoy meeting you on our social networks. Follow us on Facebook, Pinterest, Instagram . Tag us with your pictures of our recipes and comment on how it went for you. We would love to see what you do with them.
We often like, comment and share your posts of our recipes on our daily Instagram stories.
Ask questions and rate the recipe in the comments section below. Please share what you did with this recipe. We are always looking for more and better ways to make homemade food. Other cooks love your ideas!
Recent Posts: