Creme Brûlée is a simple French dessert with an elegant Five Star Restaurant status. Creamy baked single serving custards with crisp burnt sugar tops. Hear your spoon breaking through the caramelized sugar crust into creamy custard perfection. Yum! Custard lovers, this is for you.
Ever been to a nice restaurant and ordered Creme Brûlée? It's usually served at the the swanky joints. We don't hang out in those much. But we DO love our homemade Creme Brûlée. In my opinion you can make Creme Brûlée easily at home and it tastes AMAZING.
Update: Dave and I were treated to a night out and lovely dinner by our kids for my birthday. We ordered Creme Brûlée. Dave had ginger and I had Chai flavor. So good. BUT our homemade version tastes just as good and has the same excellent creamy texture. Promise. Although I am going to be experimenting with some spices in the future for some new flavors. 🙂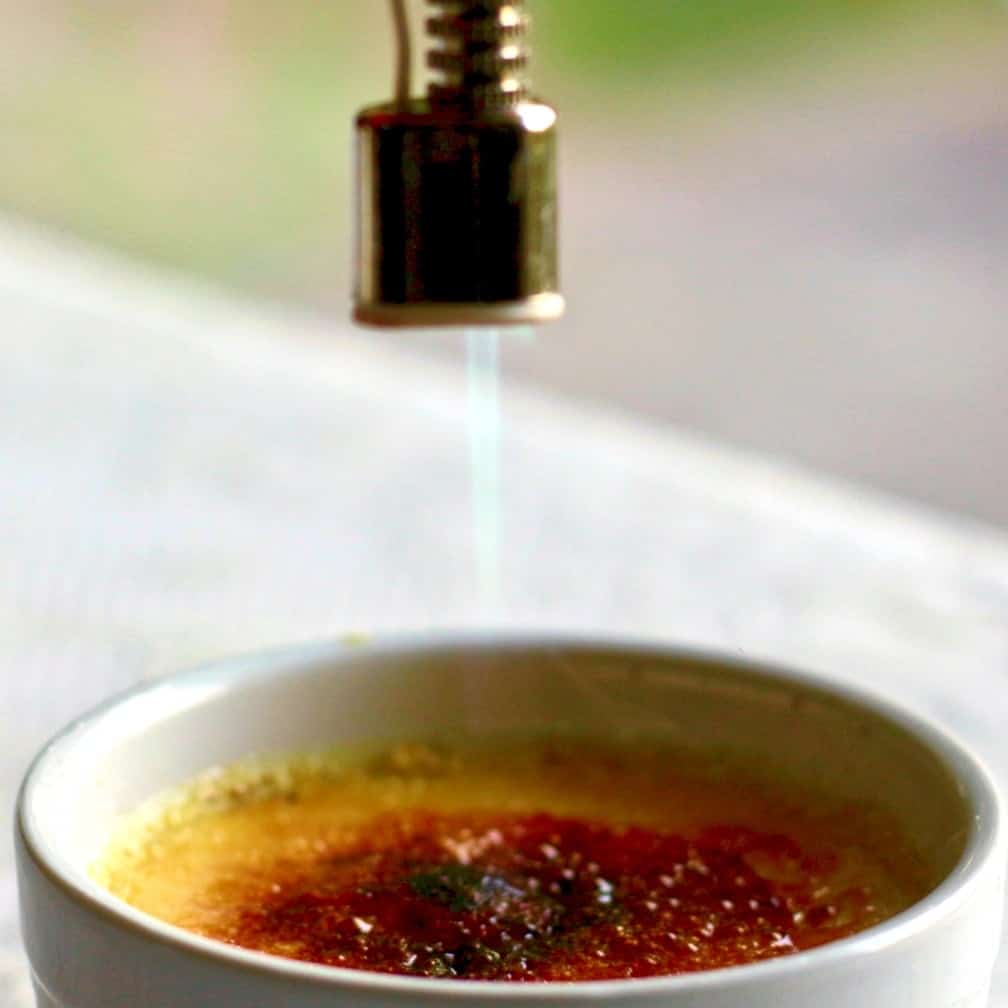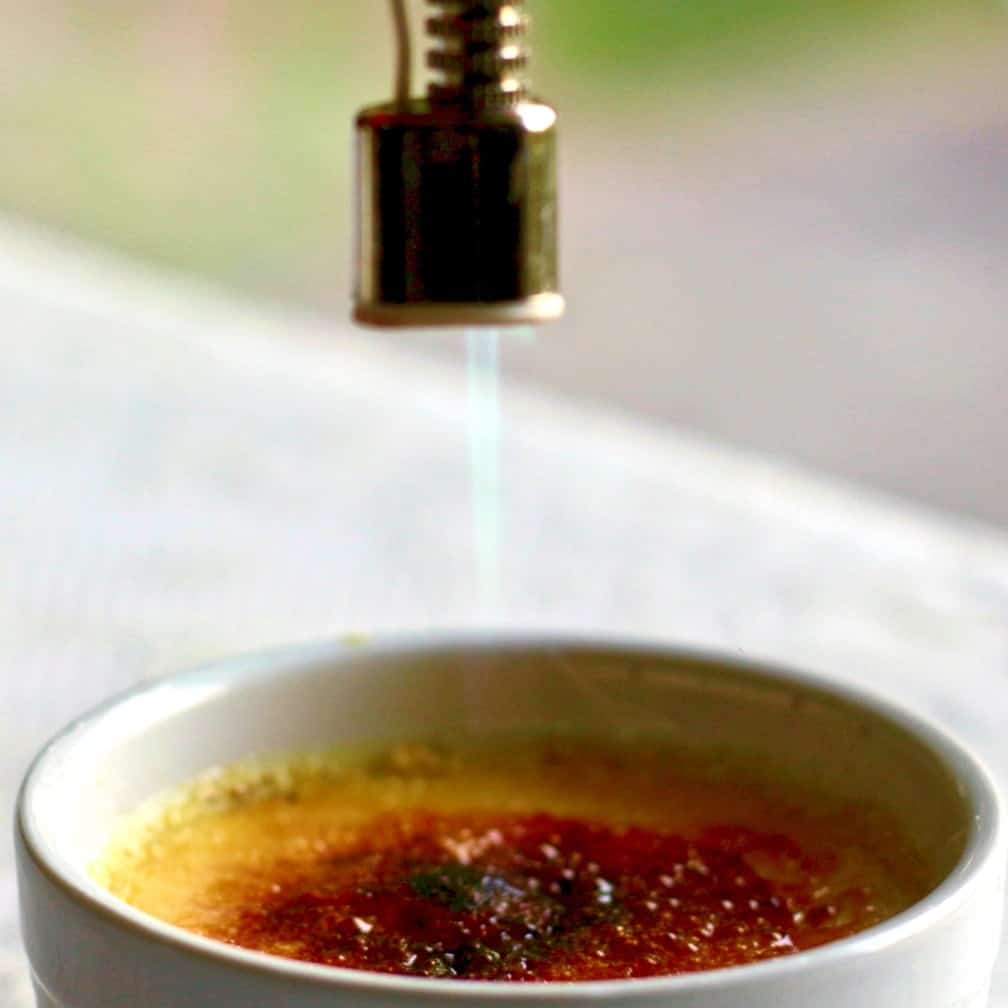 Use a kitchen torch to caramelize the sugar and make a yummy crust.
Eating at home saves you so much money. You won't miss those spendy upscale French menus (too much) when you make this yummy creamy dessert recipe.
You can round up only FIVE ingredients usually found in your kitchen and whisk a batch of Creme Brûlée into being. After it chills and sets you simply caramelize the sprinkled sugar top and TORCH IT and serve!
This recipe is SO easy in the oven. That's the method I'm using for this scrumptious treat. There are recipes out there for instant pot Creme Brûlée. We tried them and…why? It doesn't save you much in time and the results are…iffy in my opinion.
You know I LOVE my instant pot for our Many instant pot recipes. I jumped right in and tested this recipe in my instant pot but this is one recipe we prefer making in the oven. We have used this oven method several times and find it reliable and simple. So that's why we are giving it to you. The custard comes out perfect.
Creme Brûlée Recipe Tips:
You just need to babysit this recipe ONE time. To figure out how many minutes your oven requires to make the custards perfect. Every oven has differences. So our instructions on the oven time will be subject to your oven.
For example, Mine is hot and Kaytis oven is cool. So we give you the oven time just a bit shy of what we consider enough for my (hot) oven. If it works for you great. If your custard is still too jiggly (look at the video to determine the proper jiggle for this custard) add five minutes to the time and check it again. Repeat until your custard is perfect. Remember it will continue to set up as it cools so don't over bake!
About the vanilla: Currently vanilla prices are as high as heaven due to production problems that look to be ongoing for the foreseeable future. This recipe can be made with vanilla beans if you don't mind the price. We used extra rich vanilla extract and it was wonderful. Please try to use REAL vanilla if you can for best results in this recipe.
To use a vanilla bean instead of extract:

Slice the bean longways and scrape out the tiny black beans in the pod center. Get all that yummy gooey vanilla gunk out and dump it into your milk/cream mixture.
Now let it soak 1/2 hour before you scald the milk/cream/vanilla beans to really get the flavor in it.
Proceed with the recipe except omit the vanilla extract instruction.

Don't waste the pod either.

It makes wonderful vanilla sugar. Just immerse your vanilla bean pod into your sugar canister. Wow! Great smell and flavor. You can use vanilla sugar for the Creme Brûlée sugar top if you like.
Bake the Creme Brûlées in a WATER-BATH for best results and texture. Any deep oven safe pan (Like a roasting dish or large casserole dish) will work for this as long as you can add water to halfway up the side of your Creme Brûlée ramekins.
The custards can be baked a day ahead and stored (covered) in your fridge. Complete the Sugar topping AT SERVING. This gives you the best crust. If you top the Creme Brûlée ahead and chill it, the crust will soften. This is not the preferred result.
Torch the sugar top instead of broiling the sugar under your oven broiler
Creme Brûlée is best served with a hardened caramelized top with a cool rich creamy custard under it. This is traditionally how it is meant to be served. It's so good!! I tried to broil the top a couple of times. The WHOLE custard heated. So I put it in the fridge to cool to a handleable temperature. We ate it warmed through and enjoyed it. BUT this is not traditionally preferred. So I bought a kitchen torch. Much better result!
Note: The video says to add six tablespoons of sugar to the custard. The actual recipe only uses four in the custard. The additional two tablespoons are for the sprinkled sugar top. Also the video doesn't state this but CHILL the custards until set BEFORE making the sugar crust on top.
Handy Kitchen Tools for this Recipe and just generally useful kitchen items all round.
Make this classy elegant dessert in to a household favorite. It's easy to make, uses up extra egg yolks, has many variations and everyone loves it!
Nutrition Facts:
This recipe can be made much LOWER CARB and calorie by replacing the 4 Tablespoons of sugar with swerve or eliminating them. I have made Creme Brûlée custard with no sweetener at all. It still tastes like a lovely rich custard.
You will still need a sugar sprinkle to caramelize the crust on tops. So you will get some sweet from that. I find it a nice balance.
Your Printable Recipe: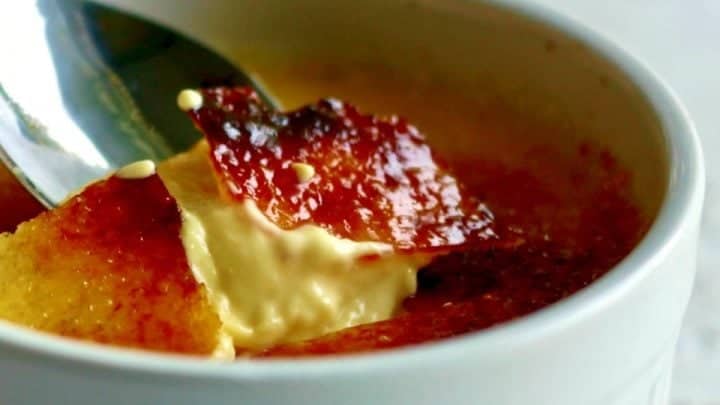 Yield:

6 4 oz. servings
Creme Brûlée
chilling and finishing the top:
2 hours
10 minutes
Total Time:
2 hours
55 minutes
A simple but elegant dessert. Creme Brûlée takes only a few minutes to make. Let it set a few hours. Finish the top and serve. Perfect for custard lovers.
Ingredients
6 large egg yolks
6 Tablespoons raw sugar
2 Tablespoons brown or white sugar for topping, we used white. You can also mix white and brown 50/50.
2 Cups Heavy Cream
1 Cup milk, we used whole milk.
Instructions
Preheat oven to 325 degrees F (150 degrees C).
Beat egg yolks, 4 tablespoons white sugar in a mixing bowl until thick and creamy. Set Aside.
In a 2 quart saucepan whisk the cream and milk over low heat to almost boiling (about 180 degrees). Remove from heat.
Strain the scaled cream/milk mixture to remove any solids.
SLOWLY (only a dribble), whisk the hot strained milk/cream into the egg mixture a little at a time (this process tempers the eggs to avoid overcooking them) until well blended.
Skim the foam off the top of your custard with a spoon.
Pour the hot custard into six 6 oz. ramekins or whatever oven safe dish you prefer.
Bake in a *water bath for 30 minutes or until the Brûlées jiggle slightly in the middle like jello (jigging like water means they are not done yet. Increase the oven time in five minute intervals until the proper jiggle is attained).
Remove from oven and cool in the water bath for 15 minutes.
Remove the Brûlées from the water bath (I used rubber tipped tongs) and chill them in your fridge until set (2 to 24 hours).
AT SERVING:
Remove the Brûlées from your fridge and sprinkle the top of the custards evenly with white sugar or a 50/50 combination of white and brown sugar until the custard top is completely covered.
With a kitchen torch caramelize the sugar by heating the sugar until you see the sugar begin to darken and bubble. Work the torch in circles from center to edges of baking dish. As is cools the top should form a brown hard crust over the cold custard that is easily broken with your spoon.
Serve with spoons once the top is cooled and hardened.
Notes
NOTES: When you burn the top and then re-refrigerate the custards, the top will become soft again, which isn't as pleasing." Do NOT put the Brûlées under the broiler to caramelize the sugar. This will also heat the custard. For best results pull the chilled Brûlées out of the fridge and use a kitchen torch to caramelize the sugar as instructed. The custard will remain cool as it should for a proper presentation of this French dessert.
Nutrition Information
Amount Per Serving
Calories

188
Pin It:
Recipe Source: NY Times article