Mediterranean Stuffed Pork Chops fused with our old traditional favorite bread stuffing made into a completely new meal! Thick one inch center cut pork chops stuffed with veggies and surrounded by bread stuffing with a dijon mustard sauce. Yum! Fusion Stuffed Pork Chops is a healthy low sugar complete meal!
I found inch thick center cut chops on sale and they looked so good…. I bought them! I had a hankering for stuffed chops with the typical bread stuffing. But I also found a yummy looking recipe (which I adapted) from Giada at the food network. A Mediterranean/American fusion meal was the result. This recipe requires no extras. It's very tasty and filling as it is.  You can omit the stuffing if you want low carb and gluten-free. Not too much fuss and ready in under an hour. Just add your favorite drink!
As you may know, I'm a complete convert to delicious, flavorful sun-dried tomatoes. Add them to a meal for extra zip. Even better is the sweet concentrated tomato flavor of home dried tomatoes, marinated in fresh herbs, dried peppers and olive oil. Add them into this recipe with the filling I made. Yummy! The bread stuffing is just regular old stuffing in a bag. (I had some left from Thanksgiving I needed to use). But what I did to it never happened in any bird I have ever stuffed!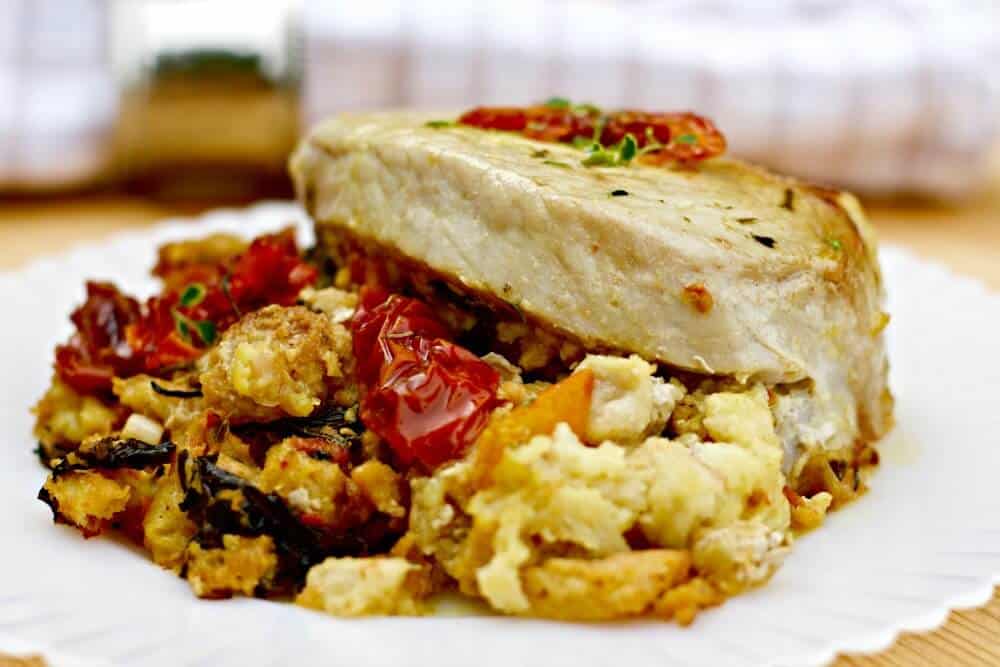 I used our garden Kale, lemon thyme and garlic for the veggies. I had feta cheese in the fridge. It was really tasty in this stuffing. Those are our home-grown dried, marinated tomatoes.  So yummy!!
[tweetthis hidden_urls="pic.twitter.com/TebNHR8VLm"]Fusion #Stuffed #pork #Chops is a #healthy #lowsugar complete meal! #dinner #healthyrecipes [/tweetthis]
Fusion Stuffed Pork Chops:
Let's Make it:
You can use other veggies if your prefer or have them on hand. I love kale because it holds up well to the heat of cooking.
Fusion Stuffed Pork Chops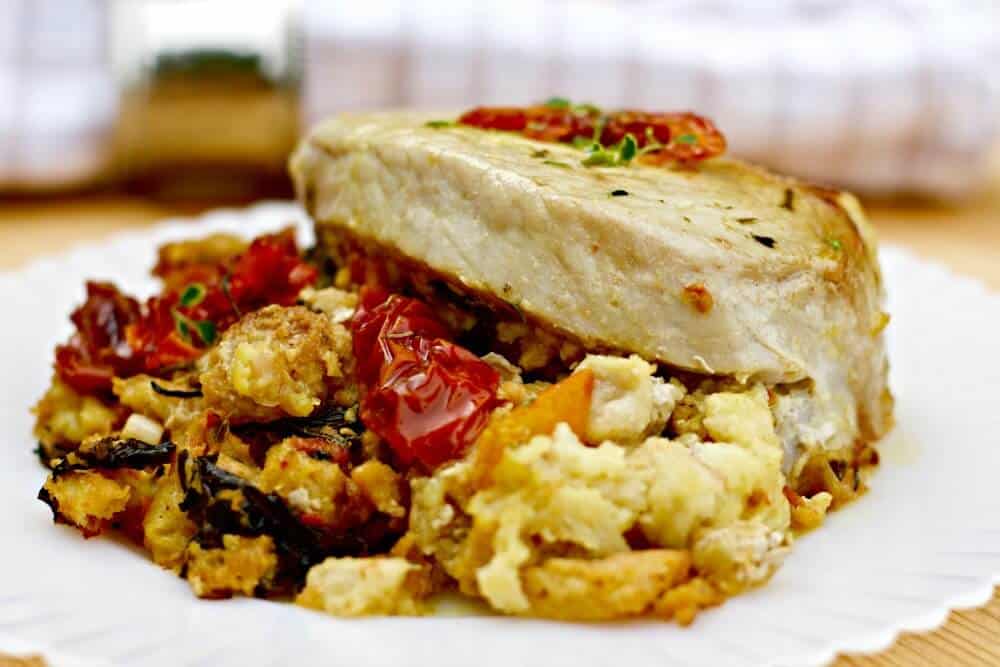 Ingredients
1 tablespoon olive oil
2 cloves garlic, minced
12 sun-dried tomatoes, diced (more for garnish)
4 Cups Kale- chopped small
1 teaspoon fresh lemon thyme (more for garnish)
1/4 cup feta cheese
2 Cups stuffing mix
2 Cups Chicken broth
4 inch thick center-cut pork chops
2 tablespoons lemon juice
1 Tablespoon Dijon mustard
Instructions
Warm the olive oil in a large saute pan over medium heat.
Add the garlic and cook until fragrant, about 1 minute.
Add the sun-dried tomatoes, kale and thyme. Cook until the kale is tender, about 5 more minutes.
Transfer the mixture to a medium bowl. Add the Feta cheese, stir until combined and set aside.
Cook the sliced pork chops in the saute pan until golden and cooked through, about 4 minutes per side.
Make the sauce by putting the chicken broth, lemon juice, and mustard into a one quart saucepan.
Use a sharp knife to cut a pocket into the thickest portion of the pork chops, making a good sized pocket in each.
In a small bowl, combine the bread stuffing with 1/2 of the sauce. Stir until combined and let sit until needed.
Return the remaining broth to the stove, on low, to continue to reduce to a thin sauce.
Leaving the pork chops in the pan. Open each chop slit pocket and stuff with the veggie mixture. Place the prepared bread stuffing around the sides and cook covered until the middle of the chop is thoroughly cooked and the stuffing is as browned as you prefer.(about another ten minutes)
Serve with the mustard sauce on the side.
Pin it:
Adapted From Giada at the Food Network and what my momma taught me:)