Healthier Dark Chocolate M&M Cookies are soft and chewy with a robust chocolate flavor and pops of bright color. Made with coconut oil and organic sugar, these cookies use high quality ingredients that improve the taste and texture tremendously.
These healthier dark chocolate m&m cookies are perfect for kids parties, summer picnics, or any event where pops of color would be a fun addition to elevate the theme. Our recipe yields roughly 30 cookies making them perfect for a family treat, or a shareable dessert; and because they are dairy free when made as directed, they can be enjoyed by everyone.
M&M cookies are always a crowd pleasing favorite, and using dark chocolate M&M candies will enrich the chocolate flavor immensely. Many people wonder 'are dark chocolate m&ms healthy,' well, they are still candy, and the ingredient list for these candies isn't the healthiest. However, they do contain less sugar than regular M&M candies, and best of all, a richer chocolate flavor that is well loved.
Carbs in dark chocolate m&ms is only slightly better than the traditional ones, but the improvement in fewer sugars and fillers is a for sure win, so we are considering these healthier dark chocolate m&m cookies.
We wanted to make a cookie that used healthier ingredients along with the dark chocolate candies, so we brought in coconut oil and organic sugars in order to improve the overall quality of the cookies while still delivering a delicious treat.
Although cookies are popular and relatively simple to make, they do require attention to detail and a few basic baking techniques to get the soft, fluffy texture that we all love. Here are our top tips to follow when baking our healthier dark chocolate m&m cookies.
Always work with room temperature ingredients unless directed not to in the specific recipe. Butter, eggs, cream cheese, and any other cold ingredients will mix better if they are warm and soft. This will create a smooth texture that bakes evenly because of the dispersement of the ingredients.
Use fresh, high quality ingredients that haven't expired. This is especially important for the leavening agents like baking soda and baking powder which are necessary for giving the cookies lift and fluff. Eggs, flour, and flavorings need to be as fresh as possible for optimal results as well.
Be careful not to over mix the cookie dough. Over mixing will break apart the ingredients and result in flat, dense cookies. Cookie dough needs to be mixed only until the ingredients have combined. We recommend gently folding in the candies by hand with a large spoon.
Baking too hot, or too long will dry out your cookies because of the exposure to high heat, as well as the extended time. When baking cookies make sure you bake at the proper temperature, and for the shortest time called for to start with. Check the cookies when they are done and continue baking if needed.
Storing your cookies properly will extended the freshness, flavor, and moisture of the cookies. Place the fully cooled cookies into an airtight container and keep in a dark, cool place for up to 3 days.
The coconut oil and organic sugar help digest these healthier dark chocolate m&m cookies, while keeping the delicious flavor of chocolate chip cookies. We wanted to make a dairy free cookie that more people could enjoy, and this one is perfect.
Use organic eggs and flour and these cookies get even better. Organic, high quality ingredients will take cookies into a healthier range simply because the processes to manufacture them is less, and the added fillers are usually much less.
Whenever possible we use healthier options for sweeteners and oils in our recipes. Our maple date bars and pineapple carrot cake both use maple syrup and other natural sweeteners for improved health and quality of the recipes.
Recipe for Dark Chocolate M&M Cookies
This recipe originally came right off the M&M package, which was used for inspiration. Due to the changes, the dough was a bit drier. The package says to chill it an hour or overnight, but we are using coconut oil which harden quickly at low temps, so it only needs to be chilled for about 15 minutes.
When baking these healthier dark chocolate m&m cookies, set your oven to 350 and keep an eye as these cookies can bake quickly depending on how hot your oven bakes. Our baked though in 8 minutes, which is the minimum expected time.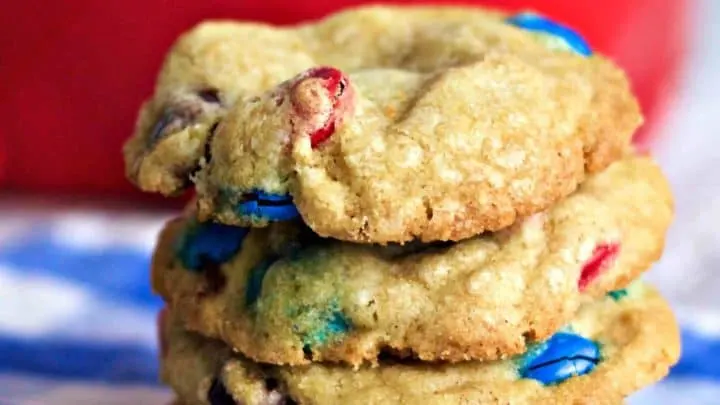 Yield:

30 servings
Healthier Dark Chocolate M&M Cookies
Healthier Dark Chocolate M&M Cookies are dairy free with Coconut oil and organic sugar . These cookies are wonderfully textured, chewy and so tasty!
Ingredients
1 Cup coconut oil, melted
2/3 Cup brown sugar
2/3 Cup sugar
1 egg
1 1/2 TSP. vanilla
2 Cups flour
1 1/4 Tsp. baking soda
1/4 Tsp. salt
1 1/2 Cups dark chocolate M&M baking chips
Instructions
Preheat the oven to 350 F
In a stand mixer or large bowl with a whisk, combine the coconut oil, sugars, egg and vanilla
In a separate bowl sift together the flour and salt
Gradually add the dry ingredients to the wet. Mixing until combined. the dough will be very thick and stiff
Add in the M&Ms
Chill for about 15 minutes in the fridge if needed
Make round balls of dough, roughly 1 1/2 inches in diameter
Place on a prepared baking sheet 2 inches apart
Bake for 8-10 minutes until slightly browned
Allow the cookies to cool slightly on the baking sheet before removing them to a wire cooling rack
Nutrition Information
Yield
30
Serving Size
1
Amount Per Serving
Calories

206
Total Fat

12g
Saturated Fat

8g
Trans Fat

0g
Unsaturated Fat

2g
Cholesterol

7mg
Sodium

84mg
Carbohydrates

23g
Fiber

1g
Sugar

15g
Protein

2g
Follow Us:
We enjoy meeting you on our social networks. Follow us on Facebook, Pinterest, Instagram . Tag us with your pictures of our recipes and comment on how it went for you. We would love to see what you do with them.
We often like, comment and share your posts of our recipes on our daily Instagram stories.
Ask questions and rate the recipe in the comments section below. Please share what you did with this recipe. We are always looking for more and better ways to make homemade food. Other cooks love your ideas!
Recent Posts: