This old Fashioned Pineapple muffin recipe is a Vintage recipe. I updated this gem with a coconut oil twist. This muffin recipe makes moist slightly sweet muffins with a pineapple burst in every bite.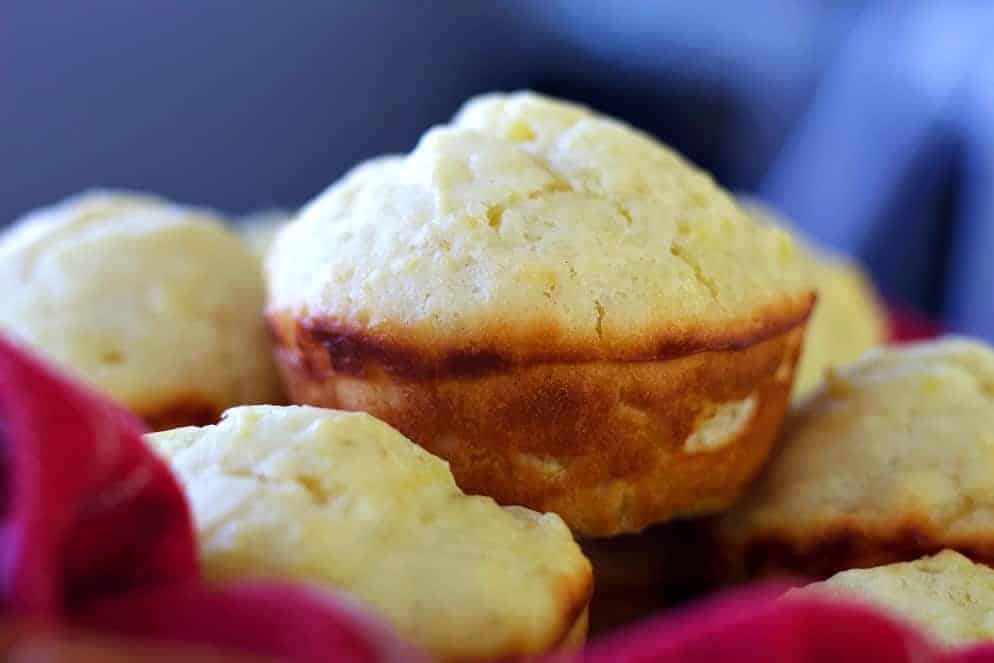 Old Fashioned Pineapple muffins are quick and easy to make. Pineapple muffins compliment many meals and make a great snack or breakfast.
This pineapple muffin recipe is an adaptation. I found the original recipe in my Great grandma Anderle's American Woman's Cookbook published in 1947.
This book will teach you LOTS of stuff. Like how to cook game meats, make sweetbreads, and bake lots of yummy recipes. In the old ways.
Watch Kayti Make Old Fashioned Pineapple Muffin Recipe:
Looking for more Delicious Recipes? Check out All of our Bread and muffin Recipes!
Grandma Anderles' Story
Whenever I use G. Grandma Anderle's cookbook I remember… she made the BEST hash and she always had baking powder biscuits! My brother and I went to visit her once in awhile when we were kids. Grandma Cash took us over there.
When you came to Grandma Anderle's house you were expected to eat. A lot! Insulting the cook wasn't done. In her house Grandma Anderle ruled the kitchen with a cast iron skillet. And she knew just how to use it!
A farm wife all her life; Great Grandma Anderle took her duty to feed the family very seriously indeed! A tiny, five foot nothing, round little woman, she bustled contentedly about her kitchen; serving her family and working the farm with Great Grandpa. She was a wood cook stove master!
Grandma Anderle came over to Whatcom County, Washington around the turn of the 20th century, at the behest of my Czechoslovakian Great, Great Grandpa. He bought and paid for her passage, sight unseen, to bring her over from Czechoslovakia to marry his son.
Grandma Andrles kitchen was the center of her world. She spoke Czech her whole life. Her children grew up in English and always translated for her.
She wanted nothing to do with changing her ways. To her, love was about feeding her family. It was her job. Her identity. Refusing the food she prepared never went well. 🙂
We LOVED eating at Great Grandma Anderles house. She was an amazing cook. These light soft pineapple muffins have excellent flavor and texture.
Old Fashioned Pineapple Muffins Recipe:
These homemade muffins reflect the era they were made in. I adapted this recipe to replace the milk with fresh Greek yogurt. Shortening is an awful fat. So I replaced it with coconut oil.
The result? This version is moister, more tender and flavorful. Perfect with butter and jam for breakfast or dinner. Enjoy!
TIPS:
Oil your muffin tins. Cupcake liners are NOT recommended for these muffins. They will pop right out of a well oiled muffin tin once baked.
Mix until all the ingredients are Just moistened and combined. Overmixing will cause these muffin to be dense.
Baking time is about 15 minutes to 20 minutes. It depends on how full your muffin tins are and how hot your oven is. Bake until a toothpick inserted into the center of the muffins comes out clean.
Freezing Pineapple Muffins:
These muffins Freeze great in ziplock Freezer bags with as much air sucked out as you can. The main thing is keep air off them so they don't dry out in the freezer.
Label and date the bag.
Stores well in freezer at least 2 months.
If you purchase Items from our Affiliate Links we may receive a small commission at no extra charge to you. Thank you for supporting Homemade Food Junkie.
Your Printable Recipe Card: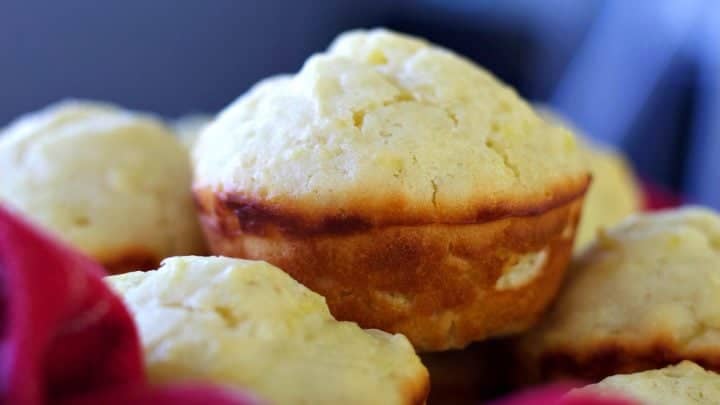 Yield:

18 muffins
Old Fashioned Pineapple Muffins
This Vintage recipe with a modern coconut oil twist makes moist, slightly sweet muffins with a pineapple burst in every bite! Old Fashioned Pineapple muffins are quick and easy to make. Pineapple muffins compliment many meals and make a great snack or breakfast!
Ingredients
2-1/2 Cups sifted all purpose flour
1/2 tsp. salt
1/3 Cup Sugar
4 Tsp. baking powder
1 Cup nonfat greek yogurt
1 egg
1/3 cup coconut oil-melted
1-20 oz. can crushed pineapple
Instructions
Preheat oven to 400 degrees F.
Grease muffin tins
Sift flour, salt, sugar and baking powder together in a large bowl. In a separate, medium bowl combine the remaining ingredients, and then add them quickly to the dry.
Stir just enough to dampen the ingredients.
Pour into greased muffins tins(DO NOT USE CUPCAKE LINERS!)
Bake for 15 to 20 minutes or until toothpick comes out clean
Cool on a cooling rack
Serve warm with butter or pineapple jam
Recommended Products
As an Amazon Associate and member of other affiliate programs, I earn from qualifying purchases.
Nutrition Information
Yield
18
Serving Size
1
Amount Per Serving
Calories

147
Total Fat

4g
Saturated Fat

3g
Trans Fat

0g
Unsaturated Fat

1g
Cholesterol

11mg
Sodium

182mg
Carbohydrates

24g
Fiber

1g
Sugar

10g
Protein

3g
Pin it: