Our Crock Pot Cranberry Dijon Pork Roast is made with a scrumptious roast, fresh cranberries, dijon mustard, pure maple syrup, and a splash of apple cider vinegar for a delicious dinner that comes together in no time. Full of robust flavors and a tender, juicy texture; this is one of our favorite main dish recipes.
Roasts are fantastic cuts because they are easy to prepare and cook. Your crock pot takes nearly all of the work and cooks it to completion in a little as four hours. This crock pot cranberry dijon pork roast makes a fantastic meal for a busy weeknight. It feeds a large crowd and can be served with a variety of side dishes.
Enjoy this cranberry pork loin recipe with a warm homemade dinner roll, cheesy scalloped potatoes, and a fresh kale apple salad.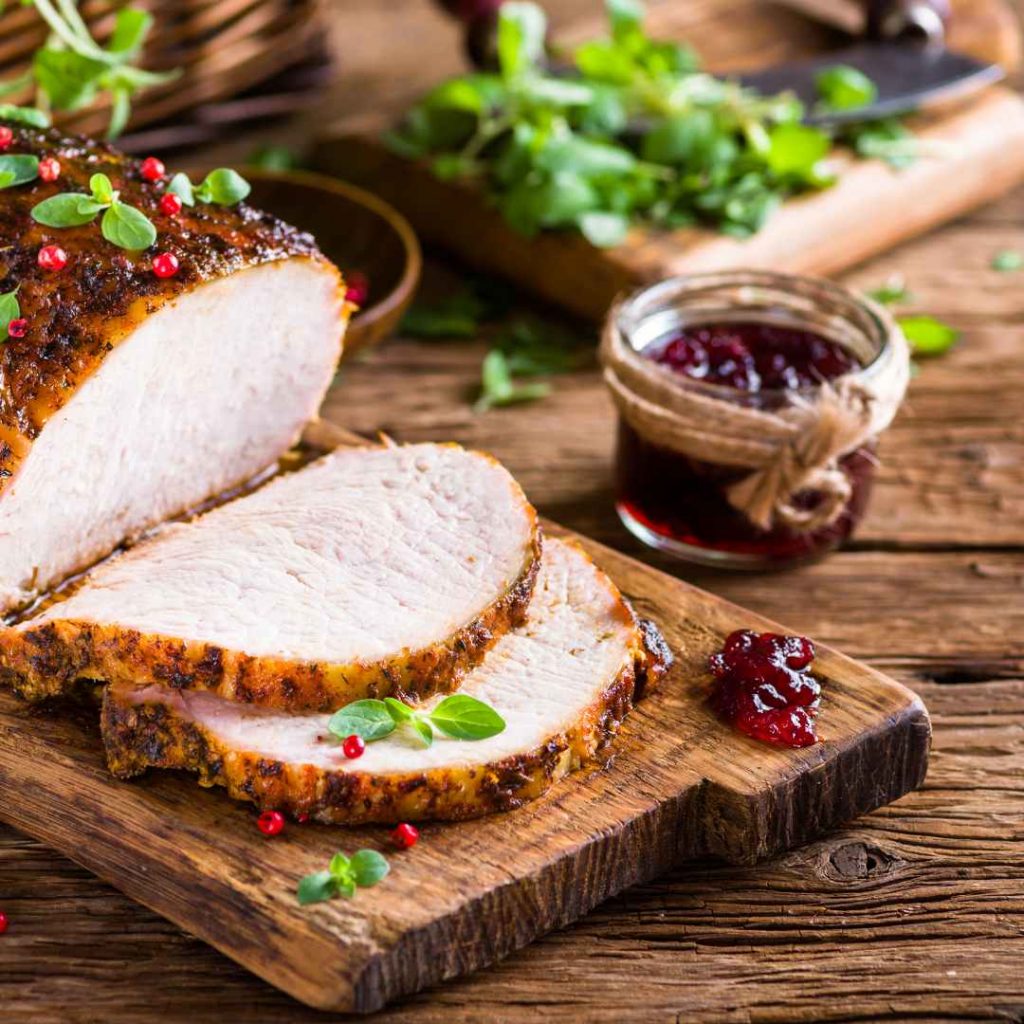 This is very much a fix-it and forget-it cranberry pork roast with minimal prep and an all in one cooking method. It's a simple dinner with easy cleanup that will taste incredible.
The crock pot cranberry dijon pork roast recipe makes a wonderful holiday dinner as you can play up the presentation with fresh cranberries, thyme, and peppercorns to present a hearty, rustic platter.
You can play around with the ingredients if you wish, but we love the simplistic nature of this crock pot cranberry dijon pork roast recipe. It allows the flavorful roast to shine while the cranberry, vinegar and mustard bring a balance to the sweet nature of the meat.
Do you need to brown a pork roast before cooking it in a crock pot?
Browning or searing a roast isn't absolutely necessary, but it will add a beautiful char and wonderful depth of flavor. Searing the meat will also help to lock in the natural juices which can yield a more tender, juicy roast.
To sear the roast, season it lightly and place it in a hot pan with about 2 tablespoons of cooking oil. Allow the roast to sear for two minutes before carefully turning it until all sides have browned. Then, season and prepare the roast for your crock pot.
Adding a bit of liquid to the crock pot will also bring up the moisture, as well as preventing the roast from sticking and burning. The mixture of mustard and apple cider vinegar give the right amount of liquid and flavor throughout the cooking process.
What flavors go best with pork?
This cranberry pork roast slow cooker recipe uses fresh cranberries and thyme, a classic pairing that compliments the sweet flavor profile of pork perfectly. Mustards like dijon or spicy brown add a tanginess, along with apple cider vinegar that plays on the rich, fatty meat.
Pork tenderloin with cranberry sauce and onion soup mix is another popular combination because the full bodied onion soup seasonings elevate and deepen so well. Consider preparing pork tenderloin with cranberry sauce and orange juice for a bright flavor that would be perfect around the holidays.
Does pork roast get more tender the longer you cook it?
Yes, pork roast will tenderize and intensify in flavor the longer it is cooked. This is why it is such a wonderful cut to prepare in your crock pot. The slow and low cook will help lock in the natural juices, and soften the texture of the meat.
We sliced our roast into steaks before adding it to the crock pot. You can do this, or you can leave the roast whole and slice it for serving; however, the flavor may not be as intense as it won't infuse the interior of the roast as directly.
Recipe Notes for Crock Pot Cranberry Dijon Pork Roast
Fresh cranberries and maple syrup blend together with that unique dijon mustard and lemon thyme to make a rich, full bodied sauce that compliments this sweet meat beautifully. This recipe is simple to prepare and presents beautifully.
Slice the pork roast into one inch steaks and layer them in the crock pot with the other ingredients as shown
Set the crock pot on low for four hours
Serve the individual roast steaks with your favorite sides and a drizzle of the leftover sauce
If you enjoy cranberry infused recipes as much as we do, be sure to check out some of our other including our cranberry bundt cake, crock pot cranberry raspberry chipotle pork roast, and homemade cranberry sauce. They are all delicious recipes that feature this healthy berry.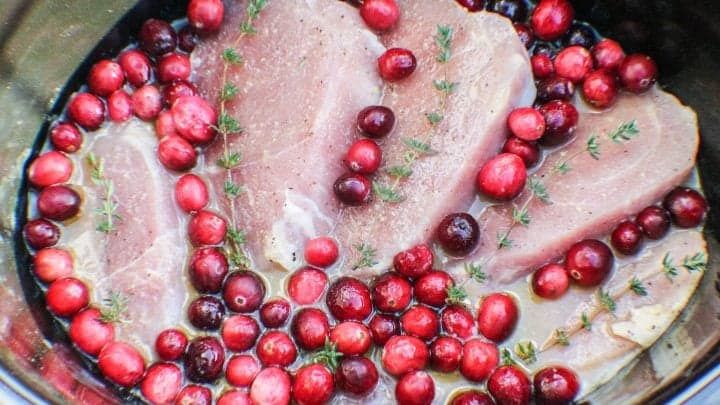 Yield:

5 people
Cranberry Dijon Pork Roast Dinner
Total Time:
4 hours
15 minutes
A cheery winter recipe with interesting flavors. Dijon mustard and cranberries with a bit of maple syrup add a wonderful piquant/sweet flavor to pork roast. This melt in your mouth roast will be a favorite recipe when fresh cranberries are available.
Ingredients
11/2 to 2 lb pork roast
1 cup Pure Maple syrup
11/2 Cups fresh cranberries, extra for garnish
1/4 Cup Dijon mustard
1/4 Cup Apple Cider vinegar
Several sprigs fresh Thyme-extra for garnish
Instructions
Slice pork roast into 11/2 inch steaks and layer into your crock pot
In a small bowl whisk together, mustard, vinegar and maple syrup and pour over steaks.
Pour the cranberries over the top and arrange so they lay partially into the syrup mixture.
Add several sprigs of fresh thyme.
Cover and set the crock pot to high for 4 hours or low for 8 hours
Serve with fresh cranberries and sprigs of thyme for garnish
Nutrition Information
Amount Per Serving
Calories

553
553 Calories / Serving
FATS

23

g
CARBS

48

g
PROTEIN

36

g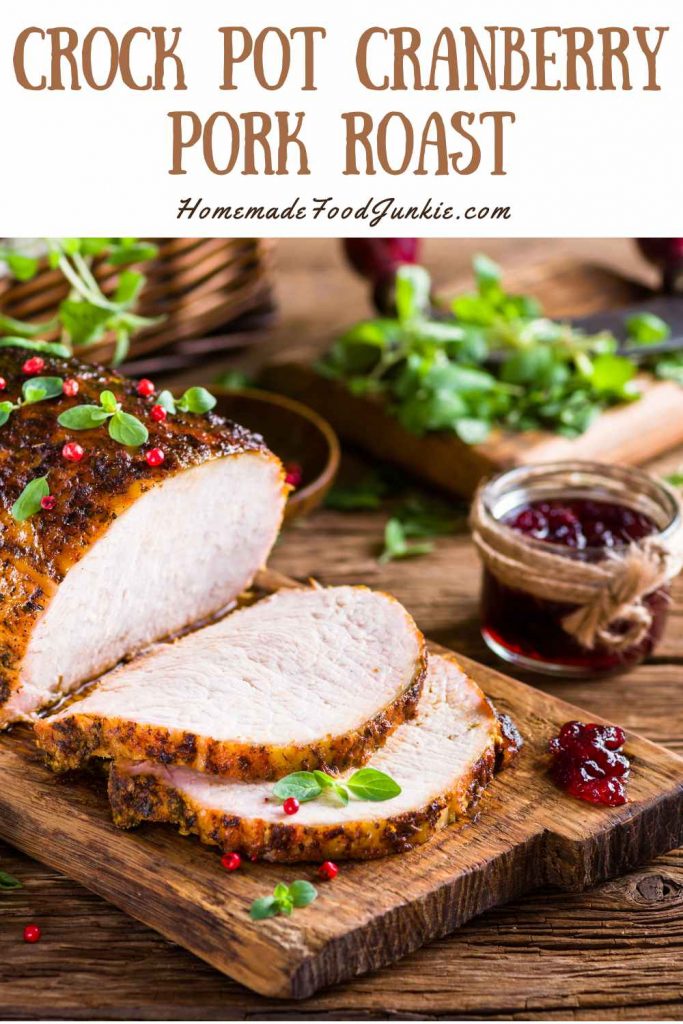 Recipe source: Fine cooking.com