Healthy and delicious! Enjoy the beautiful blend of flavors in this gluten free, dairy free, nutritionally balanced meal. Crock pot Cranberry Dijon Pork Roast takes about 15 minutes to assemble in your crock pot. Fill your home with the enticing, meaty aromas all day . This is an incredibly easy dinner. Our family loves it!
I admit to a boring, stuck in the rut, winter recipe past…It's easy (for me) to make the same family favorite recipes way too often until they beg you to stop. Winter is so dreary and uninspiring. This recipe sparks up our meals with new flavors.
Recently, I've lost the variety of fresh vegetables from our garden. This year we are winter gardening, and there is the greenhouse peppers yet. But still…. lots of horrible weather to slog through to get to them.
The violent winds and rain left our hooped raised beds in disarray and the poor veggies are suffering. The rain this week has got us at flood stage. Our gravel driveway is dissolving into eroded, rutted, mud sucking puddles, and just YUCK!
Poor Dave is out there now trying to repair the driveway so we can navigate it without sinking our vehicles axle deep. Safe, dry and warm in my cozy kitchen, see me happily researching recipes while my homemade French Bread is rising. I only feel a little guilty. He eats well anyway 🙂
Crock pot Cranberry Dijon Pork Roast Recipe is Cozy winter cooking:
Just yesterday I found this intriguing recipe by fine cooking. I have adapted their recipe to an easy crock pot meal using a pork roast. The result is a healthy main dish with a yummy, sparkling blend of mustardy cranberry, piquant flavor. Well balanced flavor in a healthy meal.
My Holiday baking adventures making delicious monkey bread left us a few pounds heavier. It's time to clear our digestive tracks of huge quantities of addicting sweet cinnamon bread with this Crock Pot Cranberry Dijon Pork Roast.
Cranberries offer a healthy zing in our meals. We enjoy the flavor they add to a meal when balanced with other flavorful ingredients. We love cranberry recipes. Cranberry bundt cake, Crock Pot Cranberry Raspberry Chipotle Pork Roast, and Homemade Cranberry Sauce, are a few of my recipes including this healthy berry.
Recipe Notes for Crock Pot Cranberry Dijon Pork Roast:
Fresh cranberries and maple syrup blend together with that unique dijon mustard and Lemon Thyme to make a great flavor team. This recipe is so simple and SO good!
I have put Dijon and honey together in my Honey Mustard chicken recipe and creamy balsamic salad dressing but I've never tried to put cranberries with Dijon and maple syrup, or use this combination on pork.
This recipe opens a new cooking dimension for me. I did mention my tendencies to get rather boring in the winter. Cranberry Dijon Pork Roast offers a new way to wring the boring out of winter cooking. Enjoy.
Instructions:
Slice the pork roast into one inch steaks and layer them in the crock pot with the other ingredients, as shown.
Set it and forget it. Doesn't get much easier than that 🙂
If you Purchase Items from our affiliate links we may receive a small commission at no extra charge to you. Thank you for supporting Homemade Food Junkie.
Do you own an Instant Pot? Use the slow cook function on high heat for 4 hours to make this yummy dinner.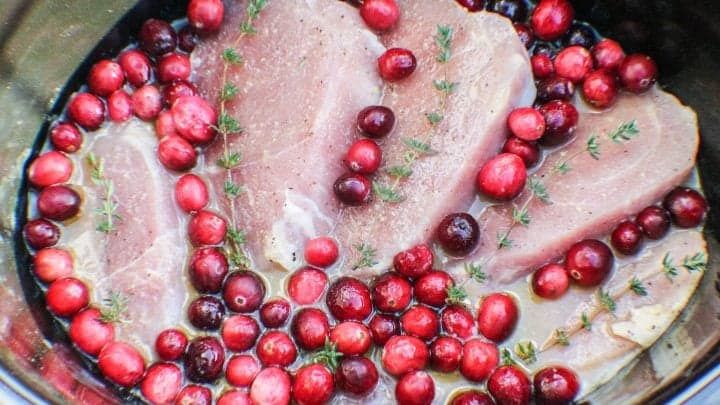 Yield:

5 people
Cranberry Dijon Pork Roast Dinner
Total Time:
4 hours
15 minutes
A cheery winter recipe with interesting flavors. Dijon mustard and cranberries with a bit of maple syrup add a wonderful piquant/sweet flavor to pork roast. This melt in your mouth roast will be a favorite recipe when fresh cranberries are available.
Ingredients
11/2 to 2 lb pork roast
1 cup Pure Maple syrup
11/2 Cups fresh cranberries, extra for garnish
1/4 Cup Dijon mustard
1/4 Cup Apple Cider vinegar
Several sprigs fresh Thyme-extra for garnish
Instructions
Slice pork roast into 11/2 inch steaks and layer into your crock pot
In a small bowl whisk together, mustard, vinegar and maple syrup and pour over steaks.
Pour the cranberries over the top and arrange so they lay partially into the syrup mixture.
Add several sprigs of fresh thyme.
Cover and set the crock pot to high for 4 hours or low for 8 hours
Serve with fresh cranberries and sprigs of thyme for garnish
Nutrition Information
Amount Per Serving
Calories

553
NUTRITION FACTS:
I'm adding this nutrition chart in for you.
553 Calories / Serving
FATS

23

g
CARBS

48

g
PROTEIN

36

g
PIN it:
Recipe source: Fine cooking.com