Honey Oat Bread Bowls make soup into a hearty filling nutritious meal. These delicious bread bowls have lots of flavor and substance. They make a great party bowl for dips too!
These honey oat bread bowls are a delicious blend of rolled oats, flour, and honey. Bread bowls are great ways to enjoy soups, stews, and chilis. A bread bowl makes both a bowl for the soup, and provides a filling dinner roll.
These bread bowls are fairly simple to make. They take a little extra prep time, but they are worth it! We have included some great tips and tricks to help you make the best bread bowl.
This is a bread recipe by master bread baker, Lori Viets. I have her book courtesy of Pleasant Hill Grain Company. This is a REALLY good read for bread bakers that use freshly home milled whole grain flours. I HIGHLY recommend it.
Even with all my years of bread baking behind me I learned new ideas about bread baking with freshly milled whole grains from this book. It's never too late to try new ideas in food land.
What are Bread Bowls Made of?
Bread bowls are typically made of a hearty bread like Sourdough or wheat bread. Panera Bread uses an Artisan Sourdough Bread for their bread bowl. The bread needs to have a lot of structure and sturdiness. The ideal bread bowl will have a slight crunchy crust on the outside and a soft chewy middle.
These bread bowls are made from honey, oil, wheat flour, instant yeast, rolled oats, and hot water.
How do you use a Bread Bowl?
To use a bread bowl for a soup, stew, or chili, simply core out the center of the bread to make a bowl. The bread from the center is saved and used to dip into the liquid. The bread from the middle can also be coated in butter and used as a dinner roll. When the soap has all been consumed from the bread bowl, the bowl can be eaten.
Are you Supposed to Eat the Bread Bowl?
The bread bowl is meant to be eaten. The entire bowl is edible and takes the place of dinner rolls in a meal. Honey Oat bread makes a tasty bread bowl. It's also one of the healthier options for bread. Artisan sourdough bread also makes a delicious bread bowl that can be eaten entirely.
Does a Bread Bowl get Soggy?
Bread bowls can get soggy. There are a few ways to combat a soggy bread bowl. Make sure you are filling the bread bowl right before you are ready to serve it. Do not fill the bread bowl in advance, they can get soggy while they sit and wait. The filling choice should be something that has a thicker consistency. Watery soups are not the best choice for a bread bowl. Choose a thicker soup, chili, or stew to fill the bread bowl with. Make sure you are choosing the correct bread to make a bowl out of. The bread needs to have good structure with a firm crust.
Now that I have a brand new KoMo Mio grain Mill (read the KoMo Mio review here) I'm exploring ways to use freshly milled whole grain flours.
Look at that texture and The flavor!
I wanted to make bread bowls cause…I like the 'eat the bowl' concept. It's a neat and tidy all in one dinner for two. And BELIEVE me. You will be full!
These whole grain bread bowls stand up to my juicy Hamburger soup. I even let the soup sit in it awhile and even had a second bowl of soup before devouring the bread. The bread did not break or disintegrate. It was good too! Great flavor in this bread bowl.
Honey Oat Bread Bowls Recipe is a QUICK bread making method.
Certainly faster than my long slow cold rise sourdough bread recipes which can take up to 24 hours. But this is a very different bread.
I use this quick yeast method for these bread bowls. It's a really quick method (Like under two hours start to finish) and very good for sandwiches, bread bowls and toast.
You can choose to make this recipe with one rise as is called for, or allow the dough to raise twice (if you have the time) for a more developed, tender loaf. For whole grain flours the second rise is beneficial but for these bread bowls I used the single rise and it worked great for bread bowls.
More Delicious Bread Recipes:
This is the first time I have used vital gluten, dough enhancer and Instant yeast. In the distant past when I made huge batches of bread for our family of seven, my dough enhancer for fresh milled whole grain flour was always a Tablespoon or two of soy lecithin thrown into the mix.
I may go back to that method and see how it differs from the results I'm getting here. For now, this is the method I'm following with good results.
Honey Oat bread Ingredients and my KoMo Mio Grain Mill. Here's my ingredients for this recipe. Using the minute oats made the bread bowls denser than strictly necessary.
Whole Rolled oats will help the bread texture lighten up. Rolled Oats will give you a substantially textured bread bowl and it will still hold up to the soup, stew or chili.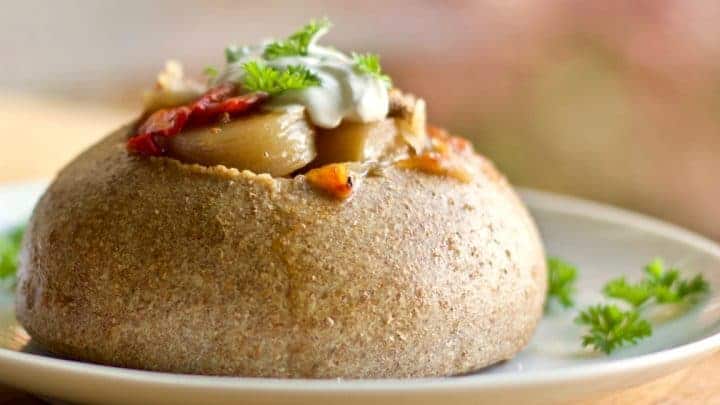 Yield:

2 bread bowls
Honey Oat Bread Bowls
Prep Time:
1 hour
10 minutes
Total Time:
1 hour
45 minutes
A fun, delicious way to serve your soups, stews and chilis AND save some dishes. This recipe is very easy and takes only one rise before baking.
Ingredients
1 Cup Hot Water (hottest tap water temp)
2 Tablespoons good quality olive oil, avocado oil or coconut oil
2/3 Cup Organic Rolled oats
1 Tablespoon Sweetener (honey or organic sugar work well)
vital wheat gluten (optional - enhances dough rise)
1 Tsp. Dough enhancer( helps improve texture of the bread)
2 to 3 Cups Freshly milled hard wheat (either red or white)
1 Tablespoon Saf-Instant Yeast
Instructions
Mill your fresh flour just before making the recipe for best results.
Pour in the Water and oil into your large bowl or stand mixer .
In a separate medium sized bowl add half (or 2/3) of the freshly milled flour.
Add the salt, dough enhancer and vital wheat gluten to the dry ingredient bowl and whisk it all together.
Pour the dry ingredients over the water mixture and NOW sprinkle on the INSTANT yeast.
Mix the ingredients and ADD the remaining flour until the dough clears the sides of the bowl.
Knead the dough until it passes the window pane test. MAKE SURE the gluten is developed enough to pass this test.
Shape the dough into a single round loaf for a large soup bowl or party dip bowl.
For two bowls divide the dough in half and shape into bowls. For 4 bowl divide into four rounds.
Place the bowls on parchment or silpat lined baking sheet and allow to double in size.
Brush with a beaten egg white mixed with a pinch of salt and a Tablespoon of water for a shiny soup bowl.
Bake in preheated oven at 350 degrees F for 30 to 35 minutes or until done.
After the bowls are cooled cut a circle around the bowl edge and cut through the middle in sections as shown. Remove the center part with a fork or sharp knife.
Fill with soup or party dip and enjoy! Us the filling for a dipping bread or save for croutons.
Notes
The nutrition on this recipe is problematic. We had only two bowls. Four bowls would make very small bowls. If you choose to make this into four bread bowls you may need to rise them twice to get bowls large enough to be a good sized soup bowl.
The bowls are created by removing the filling from the baked dough rounds so eating every scrap of the filling is required to get all the calories indicated in the nutrition guide.
Nutrition Information
Yield
4
Serving Size
1 bread bowl
Amount Per Serving
Calories

391
Follow Us:
We enjoy meeting you on our social networks. Follow us on Facebook, Pinterest, Instagram . Tag us with your pictures of our recipes and comment on how it went for you. We would love to see what you do with them.
We often like, comment and share your posts of our recipes on our daily Instagram stories.
Ask questions and rate the recipe in the comments section below. Please share what you did with this recipe. We are always looking for more and better ways to make homemade food. Other cooks love your ideas!
Recent Posts: