Italian cuisine is known for its bold flavors and fresh ingredients, and this Italian-style hamburger recipe is no exception. This recipe combines classic hamburger elements with Italian herbs, bread crumbs and spices, along with other Italian elements to create a unique and flavorful twist on an American classic.
The juicy, seasoned beef patty is topped with melted mozzarella cheese, fresh arugula, and a homemade tomato sauce that's bursting with garlic and herbs. Serve it on a regular hamburger bun like this or on a toasted ciabatta roll. However you want it, this Italian-style hamburger recipe is a perfect meal for any occasion.
Whether you're looking to impress your friends at a barbecue or simply enjoy a delicious burger at home, this recipe is sure to be a crowd-pleaser. So let's get started and make this mouth-watering Italian-style hamburger.
Juicy organic homemade Italian style hamburger recipe. Perfect patties made from organic grass fed beef. These beauties hold together on the grill and have great flavor!
Italian Style Hamburger Recipe:
This is the best hamburger recipe for grilling. Nathan is a grill man and this is his 'go to' hamburger patty recipe. These patties are full of Italian flavors and just make this American favorite, even better.
A burger is only as good as its parts. The cooking method can make a perfectly cooked hamburger that is tasteless and falls apart. For the kind of patty that will hold up on the grill and deliver a juicy flavorful mouth watering experience in the bun, certain ingredients are key in this recipe.
Ingredients:
The Beef:
Beef is the centerpiece of any hamburger and it needs to be right for you if your want the very best burger. So let's look into which beef you should choose and how to tell.
What is the Best Beef for Homemade Hamburger Patties?
The best beef for homemade hamburger patties is ground beef that has a higher fat content. This is because the fat helps to keep the meat moist and juicy during cooking, which is important for a delicious burger.
Ground beef that has a fat content of around 20% is often recommended for making hamburger patties, as it strikes a good balance between flavor and juiciness. However, some people prefer ground beef with a higher fat content, such as 25% or even 30%, for an even juicier and more flavorful burger.
For grilling, when the fat content gets too high the fat drips off the meat and can cause flame ups on the grill. so bring your spray bottle with you to the grill if you love high fat meat. 🙂
You need to choose a good quality beef that is fresh and has been handled and stored properly to minimize the risk of food borne illness. Look for ground beef that is USA grown. processed and packaged, bright red in color(and not dyed) and doesn't have a strong odor.
Some people like to mix different types of beef, such as ground chuck and ground sirloin, for a more complex flavor. Experimenting with different types of beef and seasoning can be a fun way to find the perfect recipe for your taste.
Using Organic Grass Fed Beef for Hamburgers:
Nathan is Using organic, grass-fed beef for his family. Grass-fed beef comes from cattle that have been raised on a natural diet of grass and other forage, rather than grains or other feed, which can result in meat that is leaner and higher in nutrients than feed lot beef.
Organic grass-fed beef is also free from antibiotics, hormones, and other additives that can be found in conventionally raised beef. This can make it a healthier option for those looking to avoid these additives in their diet.
In terms of taste, grass-fed beef can have a slightly different flavor than conventionally raised beef. It may be slightly richer flavor due to the natural diet of the cattle. Some people find this flavor to be more desirable than conventionally raised beef, while others may prefer the milder taste of conventionally raised beef.
The challenge with grass fed beef is it is normally very low in fat so the meat tends to fall apart while cooking and they can get dry. This recipe is perfect for grass fed aficionados since it was built around that meat.
Italian Flavored Breadcrumbs:
These serve several purposes in a hamburger recipe. This Italian Style Hamburger Recipe with bread crumbs has a really excellent texture and flavor with plenty of juiciness. Bread crumbs have a lot to do with the success of this burger recipe.
Bind the patty: Breadcrumbs can help bind the ingredients together in the patty, which can be especially useful if the meat mixture is very moist. The breadcrumbs will help absorb some of the excess moisture and hold the patty together during cooking.
Add texture: Breadcrumbs can add a nice texture to the patty, making it more tender and juicy. The breadcrumbs can also help prevent the patty from becoming too dense or compact during cooking.
Stretch the meat: Breadcrumbs can help stretch the meat mixture, making it go further and creating more patties from a smaller amount of meat.
Add flavor: Breadcrumbs can also add flavor to the patty. Nathan uses Italian flavored bread crumbs. Seasoned breadcrumbs like this add a subtle flavor to the patty, while plain breadcrumbs can add a neutral taste that lets the other ingredients shine.
When using breadcrumbs in a hamburger patty, it's important not to use too much or you will get a dry, crumbly patty. A good rule of thumb is to use about 1/4 to 1/2 cup of breadcrumbs for every pound of ground meat. You can also experiment with different types of breadcrumbs, such as panko or whole wheat breadcrumbs, to see what works best for your recipe.
Parmesan Cheese:
I was surprised by this one. Nathan adds parmesan cheese right into this Patty when he mixes it up. Here's why he does that.
What does parmesan cheese add to a hamburger patty?
Parmesan cheese adds flavor, texture, and moisture to the meat. Either grate a fresh block of parmesan cheese or use fresh, finely shredded parmesan from the store. Leave the sawdust in the can on the shelf. It might say parmesan but it can't measure up to fresh and won't do as good a job in this recipe.
When the parmesan cheese is mixed into the meat, it melts and blends with the hamburger fat. This is one reason why the patty is moist and juicy during cooking. Parmesan adds a salty and savory flavor to the meat, which lightly flavors the burger in a delicious way. Just don't add too much salt on the grill.
Parmesan cheese also acts as one of the meat binders. This makes it easier to form the patties less likely the patty will fall apart during grilling.
More Flavorings and a binder
An egg, Italian seasonings and salt and pepper finish out the ingredients list for this homemade hamburger patty. These are the touches that increase the binding and flavor of the meat.
How do You Make the Perfect Hamburger?
Making the perfect hamburger is all about getting the right balance of flavors, textures, and cooking techniques. Our tips can help you make the best hamburger patty for the grill.
What is the secret to a good hamburger? Start with fresh, high-quality ingredients. Use freshly ground beef and opt for toppings that are fresh and in-season. Use our tips listed below to create your personal storehouse of secrets that lead to the perfect hamburger recipe. This will be your fall back recipe down through the generations.
Choose the right meat: The ideal hamburger meat should be around 80% lean and 20% fat. This will give the burger a good balance of flavor and juiciness.
Season the meat: Season the meat with salt and pepper just before you start forming the patties. Don't overdo it with the seasoning, as it can overpower the flavor of the meat.
Don't overwork the meat: When forming the patties, don't overwork the meat. Handling the meat too much can make the burgers tough and dry.
Make an indentation in the center: Make a small indentation in the center of the patty to prevent it from puffing up when it cooks.
Use high heat: Preheat your grill or pan to high heat before cooking the burgers. This will ensure a good sear on the outside of the patties.
Cook to temperature: Use a meat thermometer to check the internal temperature of the patties. For a medium burger, aim for an internal temperature of 160°F (71°C) Use a meat thermometer to ensure its fully cooked. Don't overcook the burger, as this can make it dry and tough.
Rest the burgers: Let the burgers rest for a few minutes before serving to allow the juices to redistribute throughout the patty.
Keep it simple: Don't overcomplicate the burger with too many ingredients, add ins and toppings. Let the flavors of the beef and toppings shine through.
Choose the right bun and toppings: Choose a soft, sturdy bun that won't fall apart when you bite into it. Top the burger with your favorite toppings, such as cheese, lettuce, tomato, onions, or condiments like ketchup or mustard. Our recipe takes you through everything we use on our burgers. But you do you.
Look at those beautiful, plump burgers cooking on the grill. Full of parmesan cheese blend, Panko bread crumbs and Italian seasonings for fantastic flavor and so they hold together, even cooked.
Nathan has built a hamburger recipe to be proud of. I gobbled it right up with all the trimmings they put on. Mushrooms, cheddar cheese, avocados and other tasty bits.
Italian Style Hamburger Recipe Card:
This is a really easy hamburger recipe. It even has suggested amounts for the condiments and add ons to help you out. But be sure to choose whatever additions you enjoy for your own specialized version of this delicious Italian hamburger. Enjoy this dinner with your favorite veggies or salad.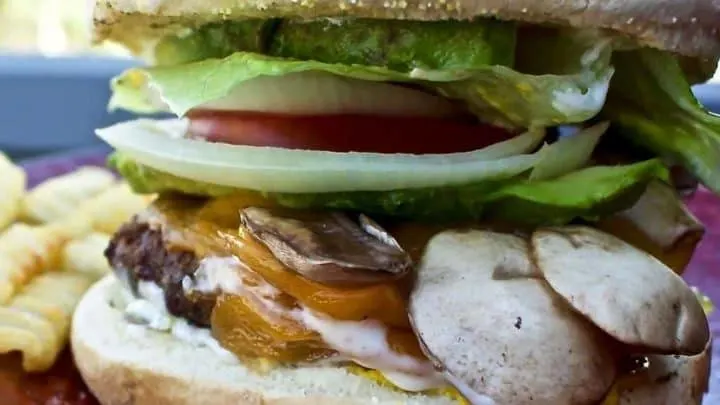 Yield:

6 servings
Nathan's Italian Style Hamburgers
Additional Time:
10 minutes
Juicy organic homemade Italian style hamburgers. Perfect patties made from organic grass fed beef. These beauties hold together on the grill and have great flavor!
Ingredients
For the hamburger Patty
1 lb. ground hamburger
1/2 Cup Italian style bread crumbs
1 egg
1/3 Cup parmesan blend grated cheese
2 Tablespoon Italian seasonings
salt and pepper to taste
For the Hamburger assembly
4 Kaiser rolls
1 ripe avocado,sliced
1 tomato, sliced
1 onion, sliced
1 peppers, sliced
4 Romain lettuce leaves
2 pickles
6 slices cheddar cheese
1 Cup mushrooms, sliced
2 Tablespoon mustard
2 Tablespoon mayonnaise
1 Tablespoon ketchup
1 Tablespoon relish
Instructions
Mix the hamburger meat, cheese blend, bread crumbs, Italian seasoning and salt and pepper thoroughly and press into six evenly sized patties
Press flat to 1/4 inch
Grill on medium about 10 minutes, until the blood rises to the top
Flip and cook another 10 minutes
Last two minutes add the cheese slices and layer the mushrooms on top
Cook until cheese is melted
Remove to plate and allow them to rest while preparing the condiments
Toast buns if desired
Lay the burger on your favorite condiments and layer on the onion, tomatoes, pepper slices and avocado.
Top with lettuce and the top bun. enjoy!
Nutrition Information
Yield
6
Serving Size
1
Amount Per Serving
Calories

529
Total Fat

32g
Saturated Fat

13g
Trans Fat

1g
Unsaturated Fat

15g
Cholesterol

137mg
Sodium

835mg
Carbohydrates

25g
Fiber

3g
Sugar

5g
Protein

35g
This post came out of one of my personal travel adventures. I drove 700 miles to visit my family in Great Falls Montana. I do this occasionally to keep in touch with that branch of the family.
There was a two year old birthday, a rodeo, and my four year old granddaughter, Nora, went Mutton Bustin! I couldn't miss any of that! Those 12 hours on the road zipped right past. I like road trips. Even when I go alone and do all the driving. Western Montana is so beautiful, especially up highway 200. If you ever get the chance It's a lovely drive.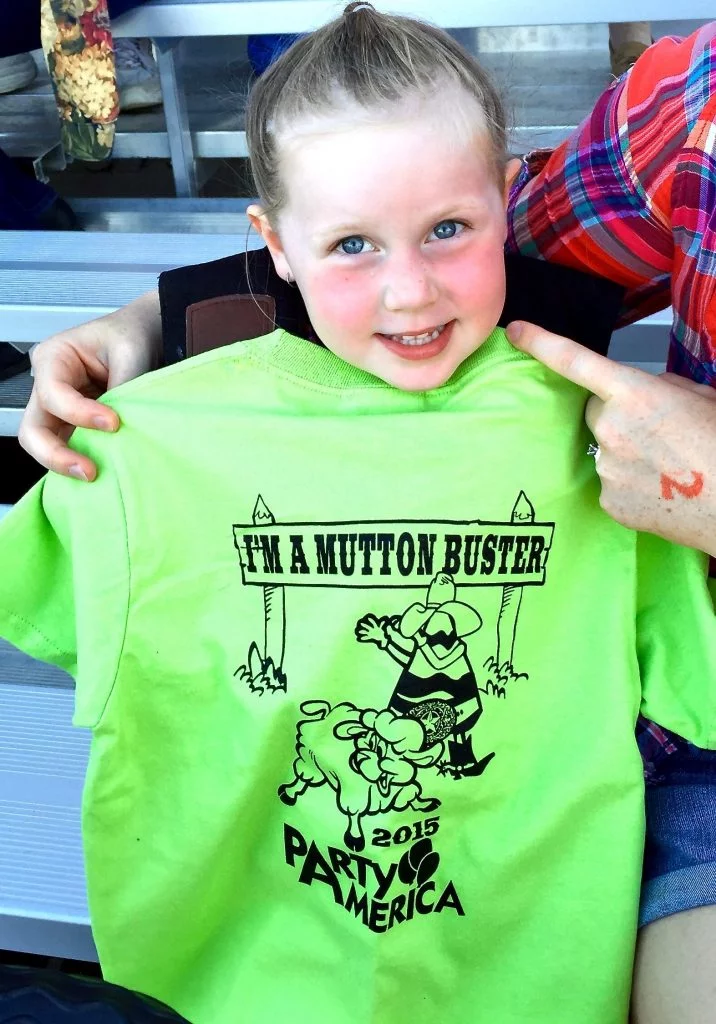 The several days I spent with those special people are treasures in my memory. My daughter, Amanda and I had a chance to catch up and visit long into the night, we visited parks with the kids, experienced the Montana State Fair and Rodeo, and had lots of kitchen adventures too.
Amanda and her husband, Nathan, are both excellent cooks. Check out Amanda's Grilled Chicken Corn Black Bean salad for a tasty summer side. This hamburger recipe is Nathans.
Follow Us:
We enjoy meeting you on our social networks. Follow us on Facebook, Pinterest, Instagram . Tag us with your pictures of our recipes and comment on how it went for you. We would love to see what you do with them.
We often like, comment and share your posts of our recipes on our daily Instagram stories.
Ask questions and rate the recipe in the comments section below. Please share what you did with this recipe. We are always looking for more and better ways to make homemade food. Other cooks love your ideas!
Recent Posts: