Two delicious Mai Tai Recipes with very different ingredients and flavors. We give you both the original Trader Vic's Recipe and the Island version as we call it. This is the fruity sweet Alcoholic drink recipe with Malibu rum and Captain morgans.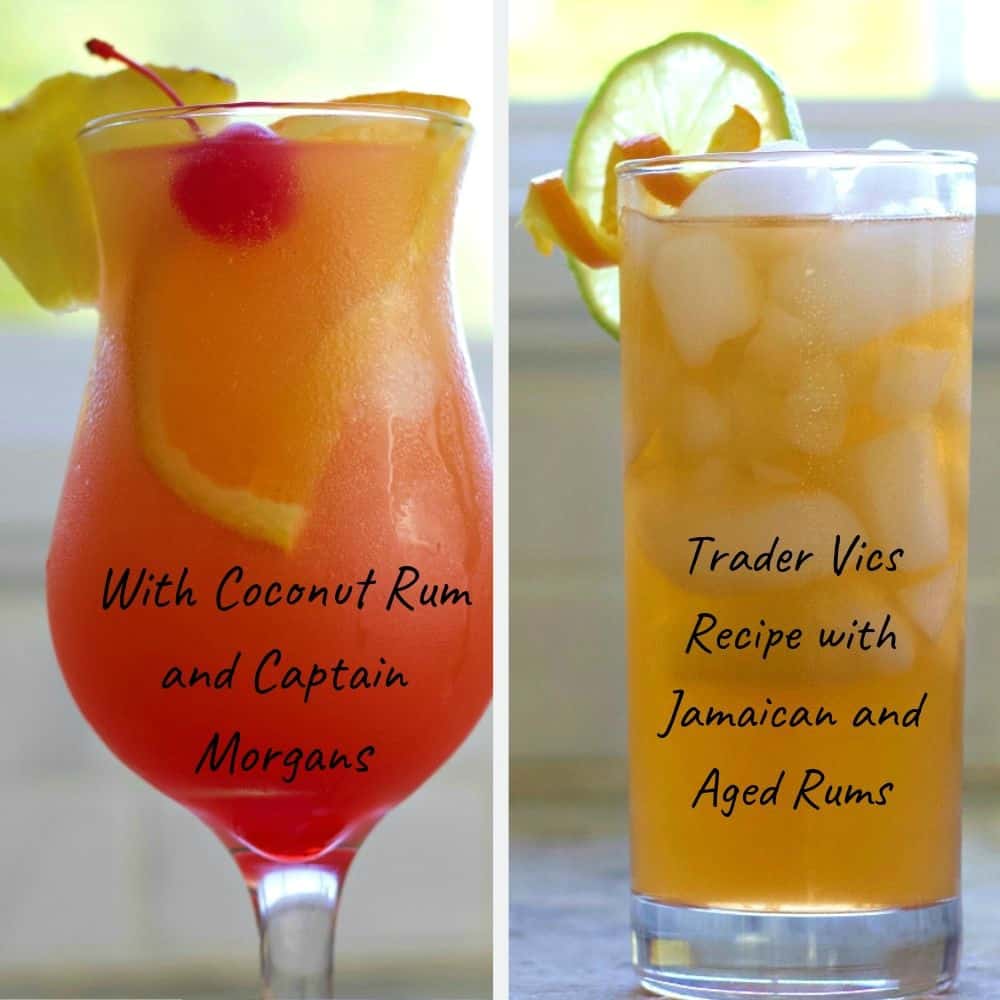 My husband and I went on a caribbean cruise for our honeymoon. I highly recommend the experience. We loved the whole thing. Including the sweet tiki drinks.
This Island Mai Tai recipe reminds me a LOT of the drinks We had on the cruise. That's why I named this the Island Mai Tai.
Sweet fruity alcoholic drinks are my favorites. I'm all in on the sweet pretty drinks.
The original Trader Vic's Mai Tai drink has a LOT of strong rum flavors. let us know which is your favorite!
We have both recipes in their own printable recipe cards for you.
Find all of our rum cocktail recipes in our Cocktail Section
Island Tiki Mai Tai Recipe-Coconut Rum Drink: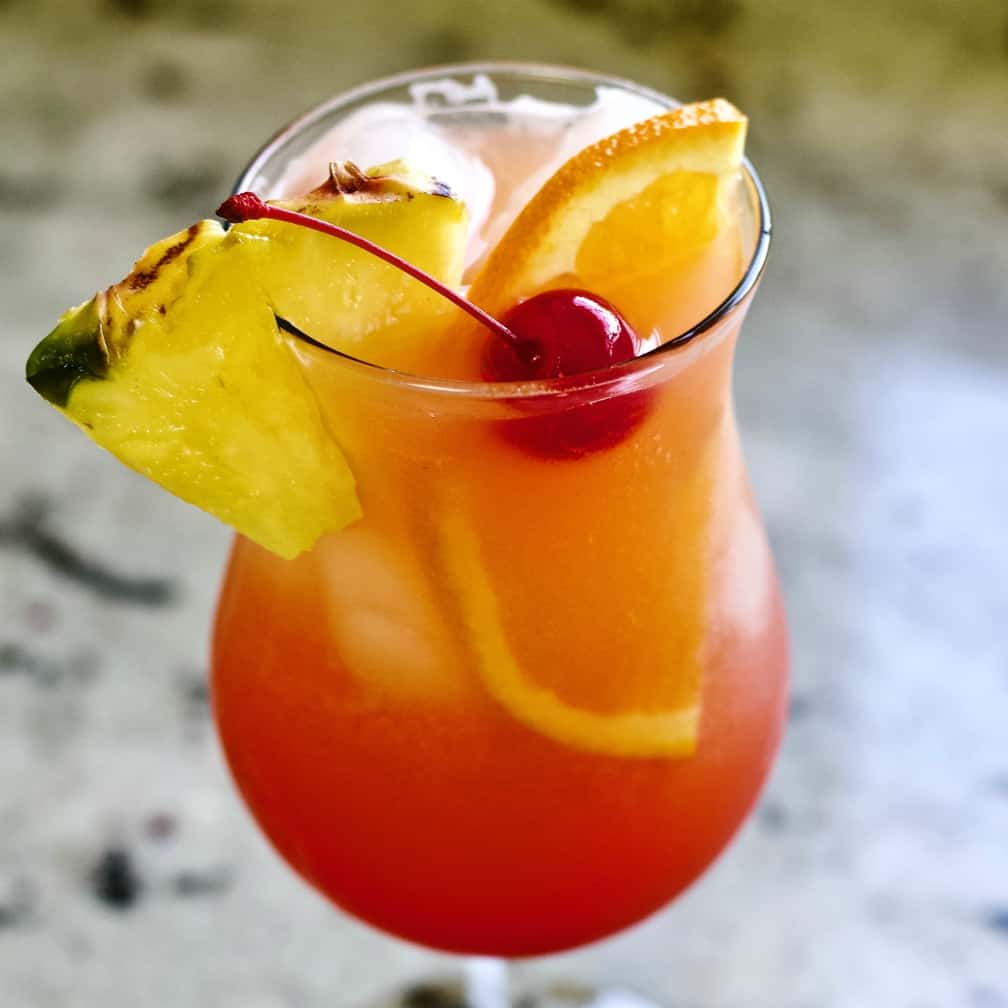 This beautiful tiki drink tastes sweet and fruity with a hint of rum to warm up your taste buds. A much lighter rum flavor and much more fruity drink than the classic Mai Tai. If you love pineapple rum drinks with coconut rum go for this version.
Cruise ships and resort bars often serve some version of this fruity recipe. Sweet drink lovers adore this recipe. It's a dandy Malibu rum and Captain Morgan Drink.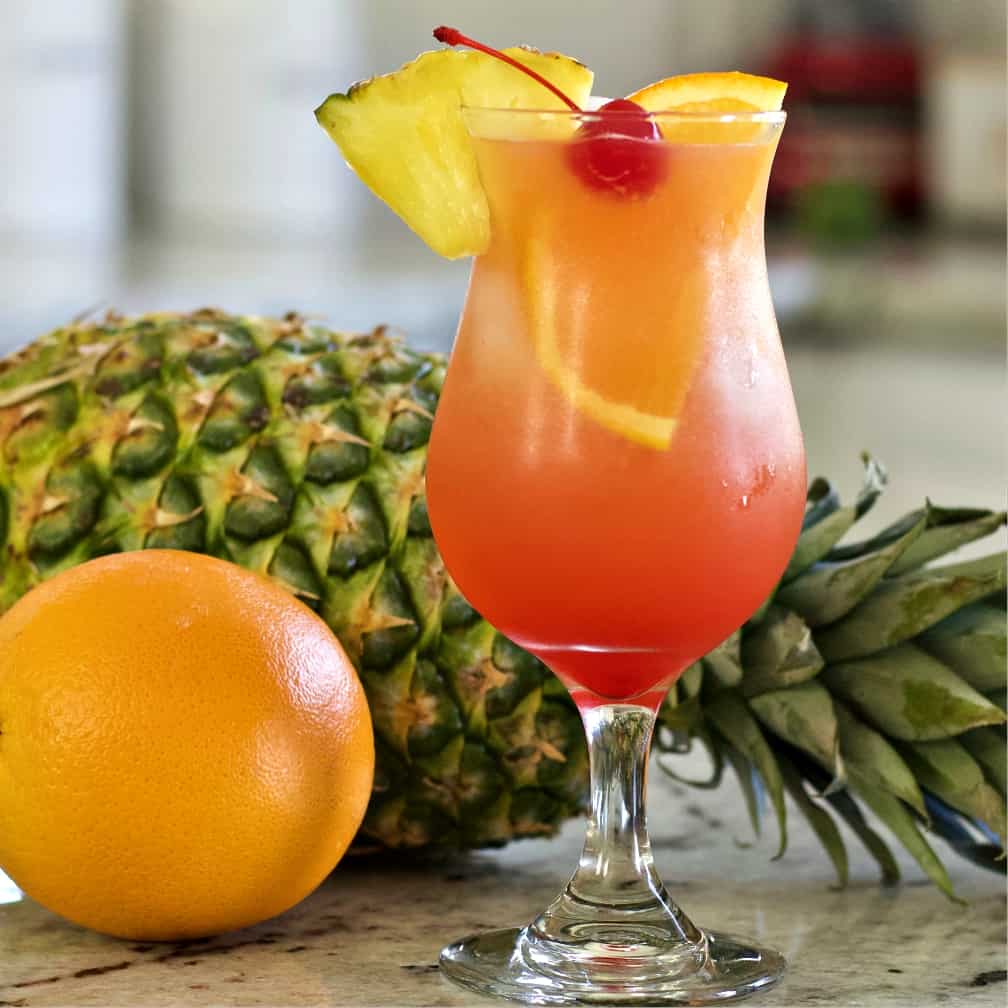 If you order a Mai Tai you'll most often get this sweeter Island Tiki Version. For all fruity mixed drinks connoisseurs this is the ONLY Mai Tai.
We placed the proportions for the single serving for this drink recipe in the printable recipe Card ingredients list.
The Method:
This pineapple drink is VERY easy to assemble in your cocktail shaker. No fresh fruits necessary except for garnish. You can use grocery store orange and pineapple juice for this recipe.
If you feel like squeezing an orange…go for it.
Island Mai Tai Ingredients and volumes for a Pitcher: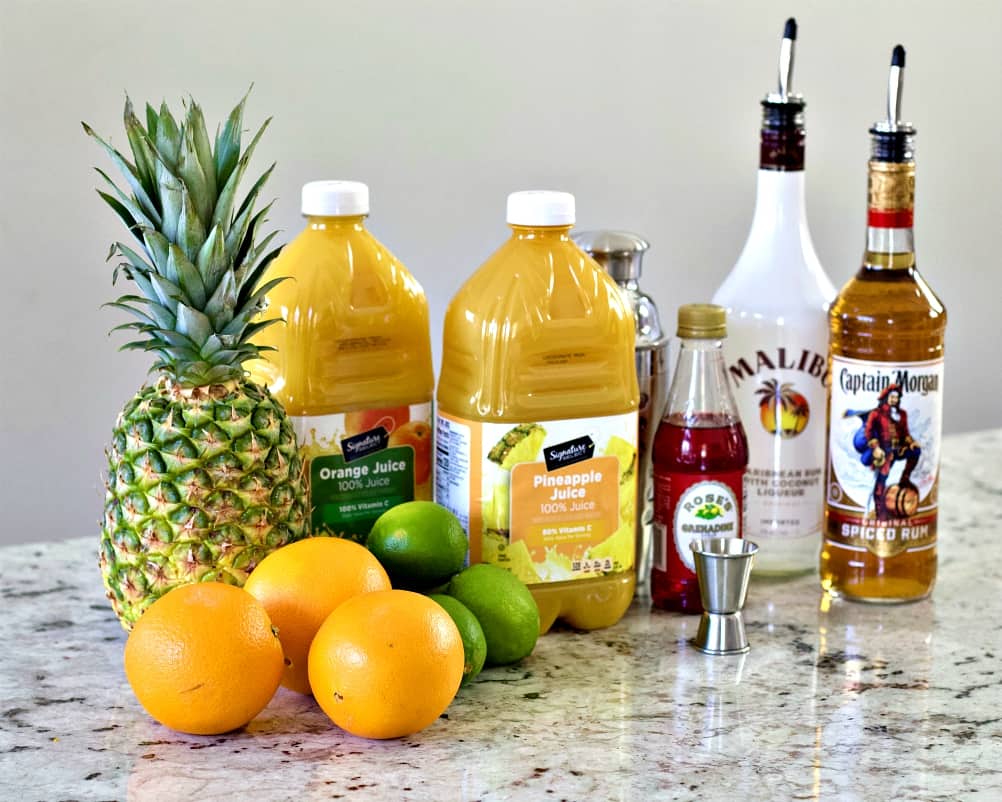 For a Pineapple Rum Punch:
This recipe is very easy to turn into a punch for a crowd. Just multiply the ingredients by the number of serving your punch bowl or pitcher will hold. OR use the number of servings you wish to make.
FOR EXAMPLE: If you wish to make 10 servings of this cocktail in a 3 quart pitcher here is the math breakdown for you.
Captain Morgan rum-spiced 15 oz.
Malibu Coconut Rum-15 oz.
Orange Juice-20 oz.
Pineapple Juice-30 oz
3 1/2 Tablespoons of grenadine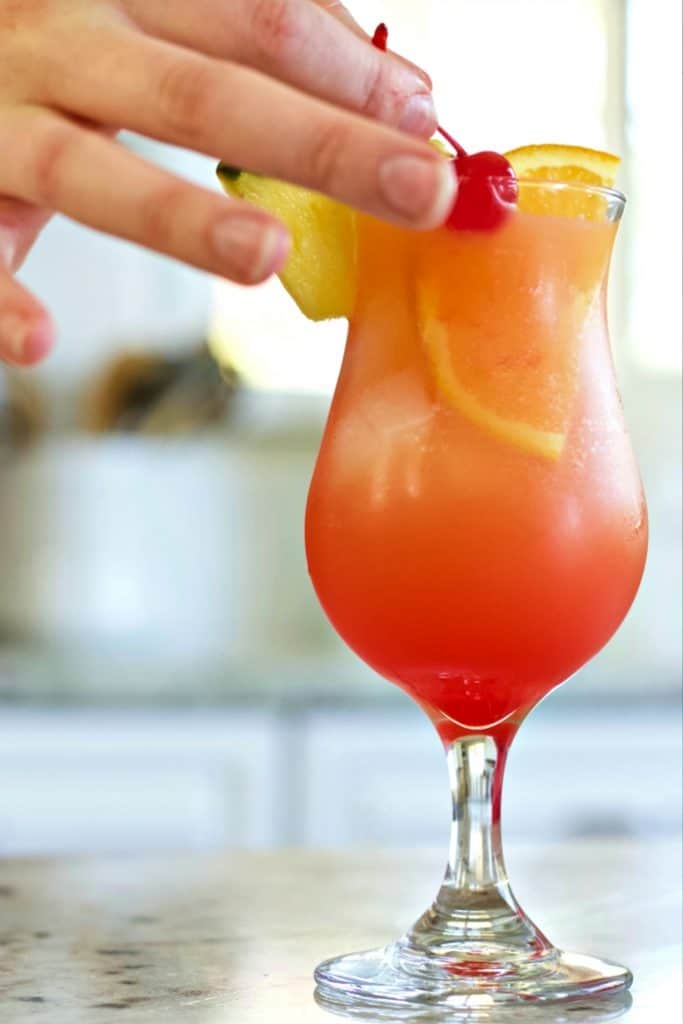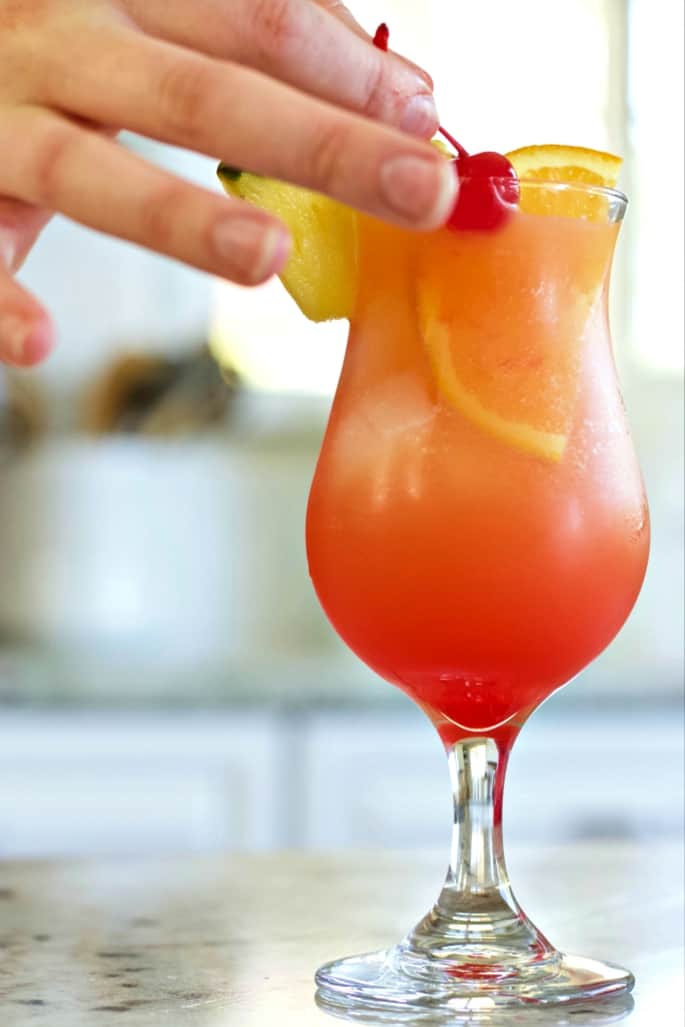 Your Printable Recipe Card: Island Mai Tai: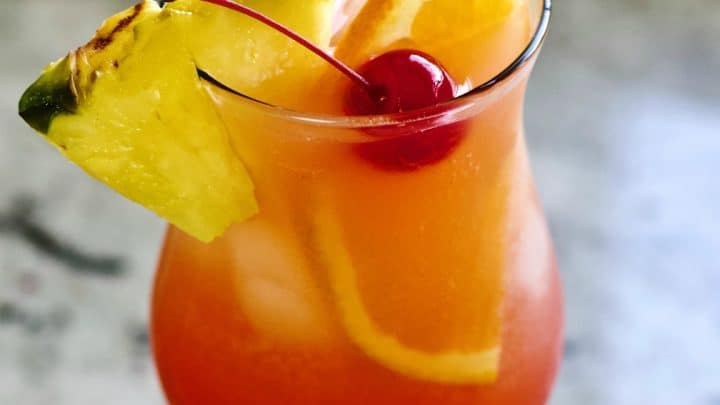 Yield:

1 Mai Tai
Mai Tai Cocktail with Malibu Rum
A Fruity alcoholic mixed drink with coconut rum, spiced rum and pineapple. This tiki drink is sweet and delicious!
Ingredients
1 1/2 oz. Malibu Coconut Rum
1 1/2 oz. Captain Morgan Spiced rum
2 oz. orange juice
3 oz. pineapple juice
1 Tsp. grenadine
Instructions
Fill a cocktail shaker with ice.
Pour in all of the Mai Tai ingredients
Shake the shaker until very cold.
Pour into ice filled glass.
Drizzle the grenadine on top of the poured drink and let it flow to the bottom to create the look you see pictured.
Garnish as desired.
Notes
Garnish suggestions:
pineapple wedge
half slice of orange
Peppermint leaves
Recommended Products
As an Amazon Associate and member of other affiliate programs, I earn from qualifying purchases.
Nutrition Information
Yield
1
Serving Size
1
Amount Per Serving
Calories

251
Total Fat

0g
Saturated Fat

0g
Trans Fat

0g
Unsaturated Fat

0g
Cholesterol

0mg
Sodium

4mg
Carbohydrates

27g
Fiber

0g
Sugar

22g
Protein

1g
For our rum mixed drink lovers with a strong attraction to dark rum drinks the Trader Vic's original recipe might suit you very well.
Trader Vic's Mai Tai Recipe: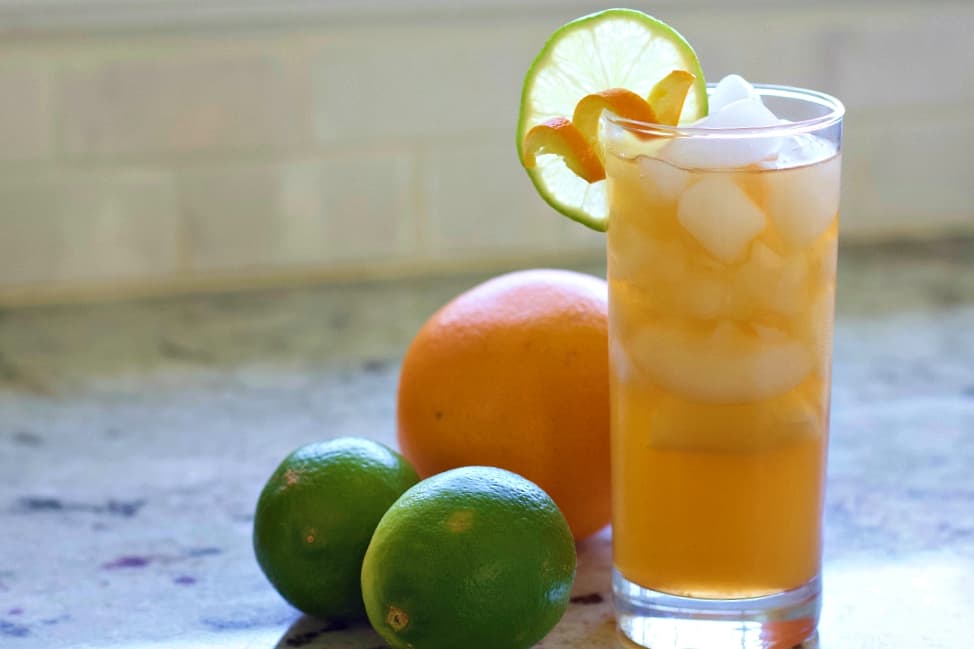 It's a beautiful drink best made with dark Jamaican rum aged in oak casks. This is a Tiki cocktail classic. Give it a try and tell us what you think.
Trader Vic's Original Mai Tai Origins:
Victor J. Bergeron created the original Mai Tai, according to WikiPedia. Donn Beach, also known as Don the Beachcomber also claims recognition for this rum drink. Victor made the Mai Tai for his Trader Vic's Restaurant in Los Angeles way back in 1944 and won the title for the originator.
This original Mai Tai recipe is a strongly flavored rum drink. Now a days the Fruity alcoholic drink version is what we see on cruise ships today.
You may have to request the Trader Vic's mai Tai at a bar or restaurant. Nowadays Mai Tais often taste more sweet with coconut and pineapple flavor than this original Mai Tai with dark and aged rums.
Trader Joe Recipe Ingredients:
Jamaican Rum (we chose meyers rum)
Aged Rum
Simple syrup
Orgeat (an Almond syrup)
Fresh squeezed orange juice
Fresh Squeezed Lime juice
It's a very good rum drink but packs quite the punch!
Yield:

1 Mai Tai
Trader Vic's Mai Tai Recipe
A rum cocktail with lime and orange. This classic Mai Tai blends aged and dark Jamaican rum with lime and oranges.
Ingredients
mai tai ingredients:
1/2 orange-squeezed
1/2 lime-squeezed
1 1/2 oz. Jamaican dark rum (Meyers rum)
1 oz. aged rum (cruzan aged rum)
1/2 oz. orange curacao
1/4 oz. simple syrup
1/2 oz. Orgeat
Instructions
Fill a cocktail shaker full of ice
Add in all the Mai Tai ingredients.
Put the lid on the shaker and shake vigorously for 30 seconds of so until the shaker is very cold.
fill a tom collins glass with ice.
Pour the cocktail through the shaker strainer into the tom collins glass.
Notes
Garnish suggestions:
lime shell
orange curl
lime wheel
mint leaves
Recommended Products
As an Amazon Associate and member of other affiliate programs, I earn from qualifying purchases.
Nutrition Information
Yield
1
Serving Size
8 oz.
Amount Per Serving
Calories

224
Total Fat

0g
Saturated Fat

0g
Trans Fat

0g
Unsaturated Fat

0g
Cholesterol

0mg
Sodium

2mg
Carbohydrates

17g
Fiber

3g
Sugar

11g
Protein

1g