The ever popular Vodka Tonic is a refreshing bubbly drink consisting of vodka, tonic water and a splash of lime. We add a squeeze of lemon for extra brightness.
We created this light vodka tonic for our low calorie alcoholic drink series. It has less vodka and more tonic water.
We add both lime and lemon splashes to increase the bright fresh flavor of this bubbling cold mixed drink.
We also include the traditional proportions of vodka and tonic in this post and the calorie counts.
You make it and let us know if you love it like we do.
If you know me, you'll know I like my cocktails light and sweet. The vodka tonic is challenging for me at full strength.
I have a few tips I share below that made this cocktail palatable even for me. 🙂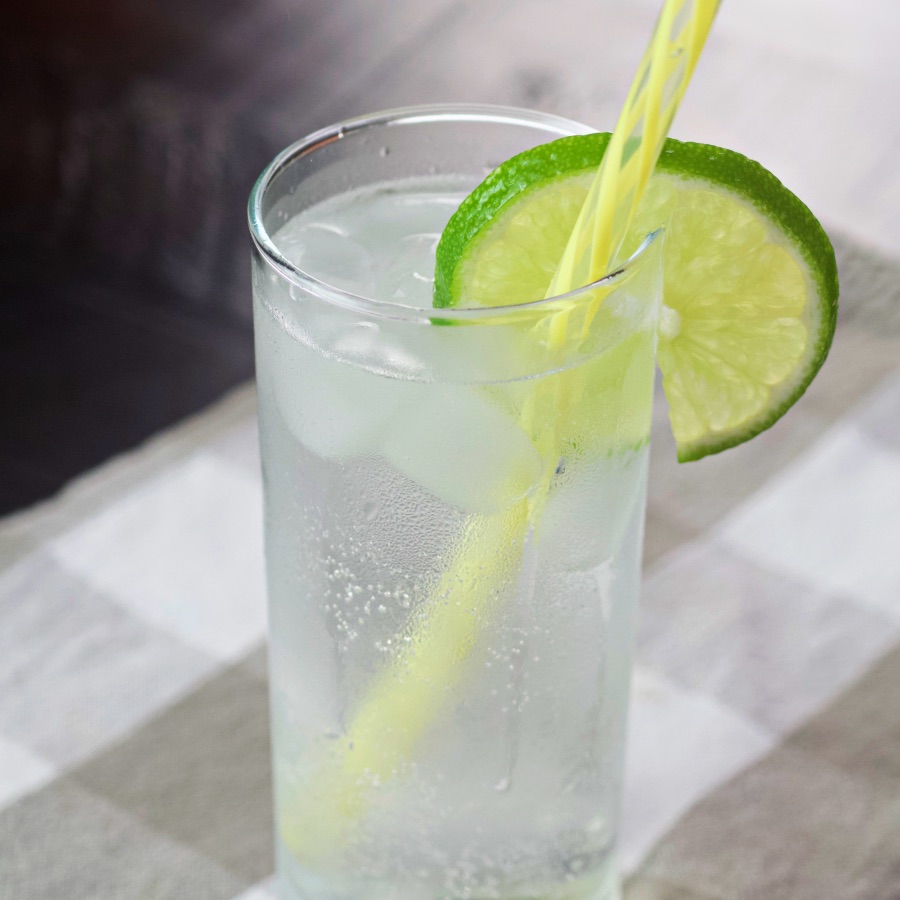 Vodka tonic Calories:
Our Vodka Tonic Recipe with light Q tonic mixer and 1 1/2 ounces of Vodka is 100 calories for a 12 oz. drink.
If you want a traditional mix in your drink and don't care about the calories, use a 50/50 proportion of vodka to tonic water. It's a much stiffer and calorie heavy drink.
Vodka and Tonic Calories:
Vodka Calories:
Vodka calories depend on how much vodka you use in the drink.
All Vodka calorie counts are pretty standard across the brands. An ounce of 40% (or 80 proof) vodka has 65 calories/ounce. For a alcoholic drink with 1 1/2 ounces of vodka you are adding about 96 calories to the drink.
If you want to adjust the stiffness of your vodka tonic, the vodka will add or reduce the calories by about 32 calories per half ounce of vodka.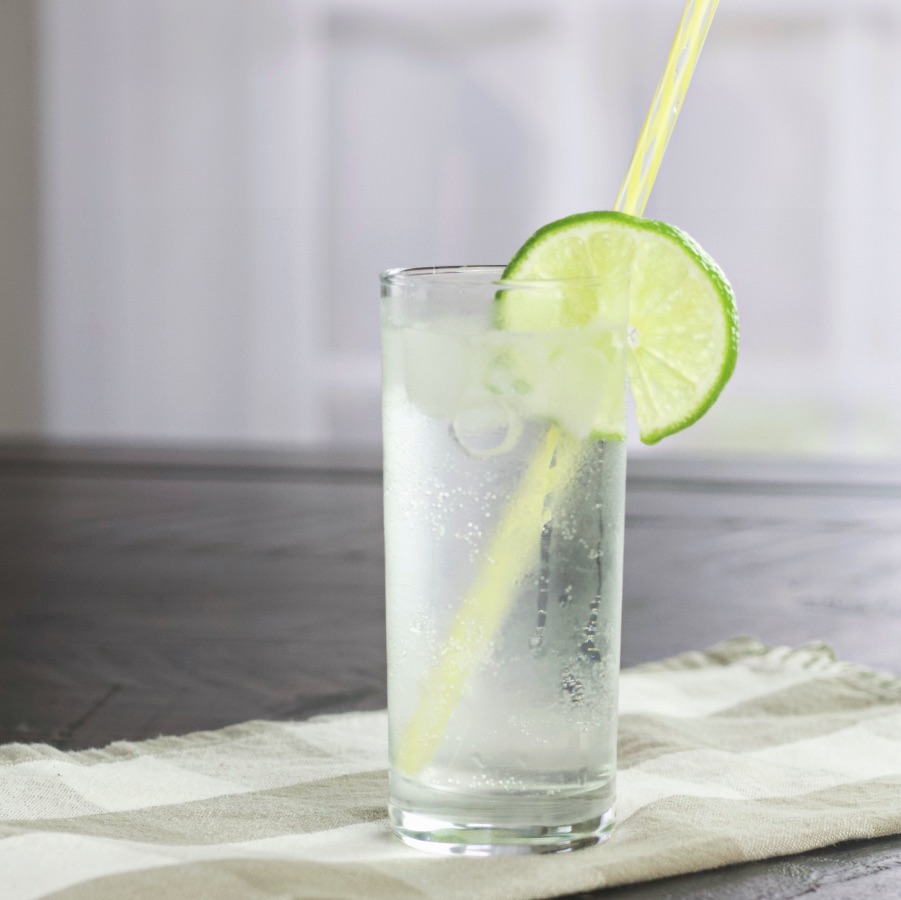 How to Make a Vodka Tonic:
This is a simple stirred mixed drink.
Add ice to a 12 oz. glass. We used a Tom Collins glass.
Pour the vodka over ice.
Slowly add in the tonic water
Squeeze a splash or lime and lemon in to taste.
Stir and serve.
Mixer Calories:
Mixers can really make a difference in the calorie count of your drink. Tonic water has a variety of nutritional profiles depending on the brand you choose.
Our personal preference is Q tonic water. We like the flavor. A few extra calories are not that important if you drink for enjoyment.
There are SO many different brands of tonic water. Be sure to check the label for the calorie count before you buy. If you want to make this drink as skinny as possible you need a zero calorie tonic water. You do you.
Vodka Tonic Recipe:
We used GreyGoose Vodka for this recipe. Since this vodka drink is just vodka and tonic, this smooth premium vodka shines through without a harsh overtone.
You can use any vodka you enjoy for this drink. But remember, the vodka flavor stands out.
So this is a great time to enjoy the best vodka you have. Save the cheaper harsh vodkas for cocktails with lots of flavorful ingredients to blend any harshness away.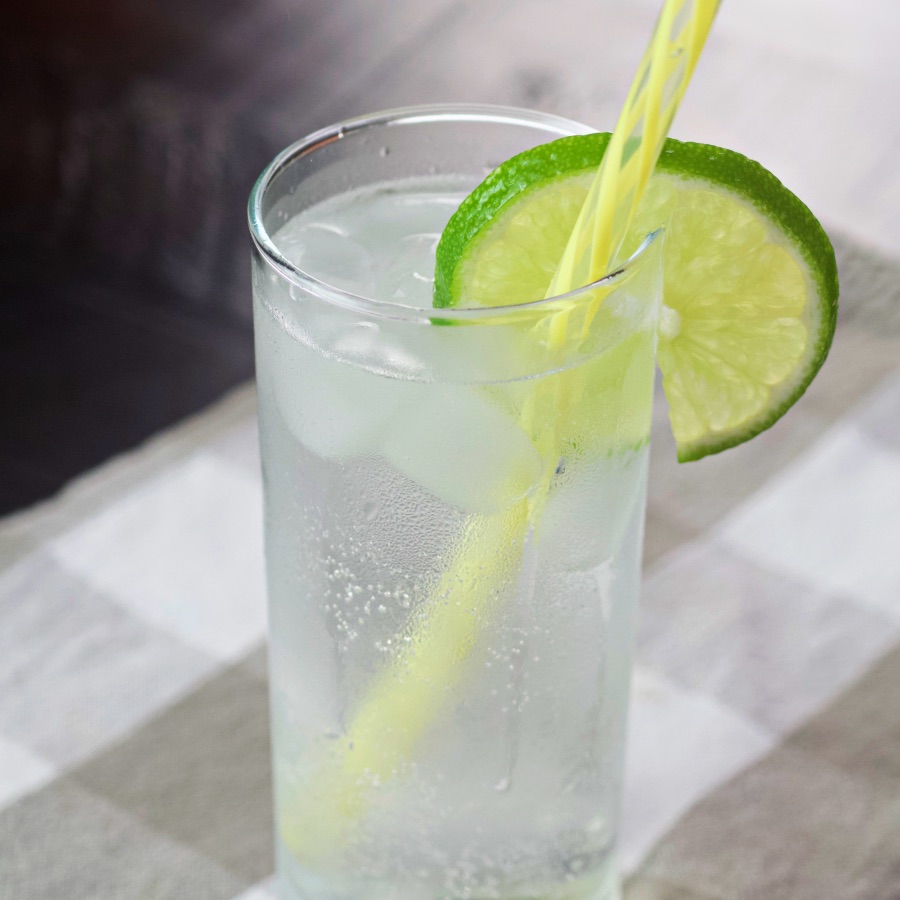 Yield:

12 oz. vodka tonic
Vodka Tonic Recipe
This vodka tonic drink is Light and refreshing. Using a premium vodka improves reduces harshnes and focuses on flavor. This alcoholic drink is so easy to make and you control the calories with your choice of mixers and the amount of vodka you add in. See our notes section for traditional proportions. Enjoy!
Ingredients
1 1/2 oz. vodka (we used premium brand *Greygoose)
6 oz. diet tonic water (we used light Q tonic)
1/4 oz. fresh lime juice (to taste)
1/4 oz fresh lemon juice (to taste)
ice
Instructions
This is a simple pour and stir drink.
Add Ice to a 12 oz. glass.
Measure and pour the vodka over the ice.
Slowly pour the tonic water to fill the glass.
Squeeze in a splash of fresh lime and lemon to taste.
Stir and serve.
Notes
*We recommend a smooth premium vodka for best flavor.
Shweppes Brand diet tonic water is zero calories if you really want to make this drink skinny. We enjoy light Q tonic for best flavor.
Squeeze in as much lime and lemon as you enjoy.
Garnish the drink with a lime wheel.
Traditional Vodka Tonic Proportions:
Our vodka tonic is a low calorie alcoholic drink. We intentionally use a lighter balance with more tonic water.
If you want a stronger, more tradional vodka tonic, the blend is 50 % vodka To 50% tonic water.
For a 12 oz glass with ice try 4 oz. of each. Now sqeeze in the lime and stir.
The video below has a demonstration of making a light vodka tonic as well as several other low calorie alcoholic drinks.
Nutrition Information
Yield
1
Serving Size
12 ounces
Amount Per Serving
Calories

100
Total Fat

0g
Saturated Fat

0g
Trans Fat

0g
Unsaturated Fat

0g
Cholesterol

0mg
Sodium

22mg
Carbohydrates

1g
Fiber

0g
Sugar

0g
Protein

0g
The calories depend on your mixer. A zero calorie tonic water is needed for this calorie count.
More Great Vodka Cocktails:
See Our Entire Selection of traditional and original mixed drinks in our cocktail section. Here's a few vodka drinks we love.
Follow Us:
We enjoy meeting you on our social networks. Follow us on Facebook, Pinterest, Instagram . Tag us with your pictures of our recipes and comment on how it went for you. We would love to see what you do with them.
We often like, comment and share your posts of our recipes on our daily Instagram stories.
Ask questions and rate the recipe in the comments section below. Please share what you did with this recipe. We are always looking for more and better ways to make homemade food. Other cooks love your ideas!
Recent Posts: