CrockPot Venison Stew is a delicious low fat soup made from home canned, fresh or frozen venison game meat. Combining potatoes, beans, carrots and tomatoes with a rich broth made from beef, Worcestershire sauce and fresh spices; this is hearty meal that everyone will love.
Venison is an excellent meat to eat because it carries a rich flavor while having a lower fat content than beef and pork. By using venison in soups, you are able to keep the meat tender and flavorful while preserving the nutrients of this quality meat.
We are walking you through everything there is to know about venison and sharing all of our tips for cooking it.
What cut of Venison is best for stew?
Similarly to other animals, the best cuts of venison for stew come from the front and back legs. They are considered non-prime cuts because they have a a lean, stringy texture as well as gelatinous membranes that add flavor and heartiness to soups and gravys.
By using these cuts in soups and stews you are able to keep them tender and flavorful due to the long cooking time that these meals require.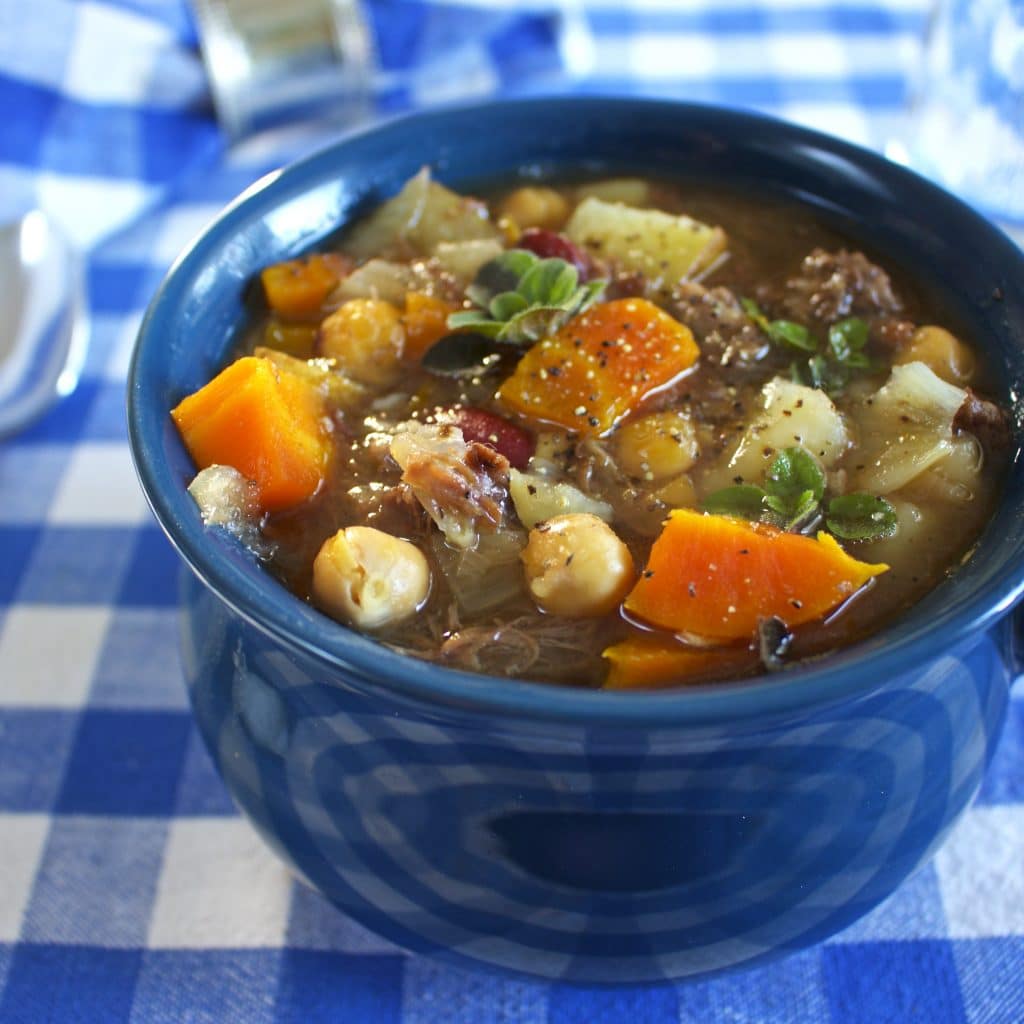 How do you cook Venison so it is tender?
Due to its lean nature, venison can be a tricky meat to cook tender while infusing flavor. This is why soups and stews are a great option, and cooking them slowly in a CrockPot is a great method to use. We recommend cooking on how heat for 6-8 hours for the best results.
Pressure cooking is another method you can use because it locks in nutrients and flavor while tenderizing the meat and retaining moisture throughout the cooking process. We are sharing both methods in this post, so choose whichever you prefer.
More Game Meat Recipes
If you have access to either Pheasant or Moose meat these are both excellent recipes you must try.
Is Venison healthier than Beef?
Venison is considered to be a healthier meat than beef and we are sharing some of the main benefits below.
Venison is a very lean meat and you can read all about it in this article SFGate. Venison contains 3 grams of total fat and only 1 of those grams is saturated.
For comparison, beef has more than three times as much cholesterol per serving than venison.
Fat accounts for only 9 calories per gram of venison.
Venison is also slightly higher in Iron than beef.
Crockpot Method
Utilizing a CrockPot or slow cooker to prepare venison is a great method of cooking. Venison usually requires a substantially longer cook time over beef and pork, it also benefits from long marinades to infuse flavor and lock in moisture.
Prepare the vegetables by cutting into small 1/2 inch chunks.
Slice the venison and season lightly with salt and pepper.
Place all of the ingredients in the Crockpot, stir and cover with the lid.
Set the Crockpot on low and cook for 6-8 hours or high and cook for 4-6 hours.
For serving garnish with a dash of vinegar, sour cream and fresh herbs if desired.
Instant Pot Method
The InstantPot is another great method for cooking venison stew. This will cut down on cook time and lock in the flavor and nutrients of this delicious meat while tenderizing and deepening the flavor.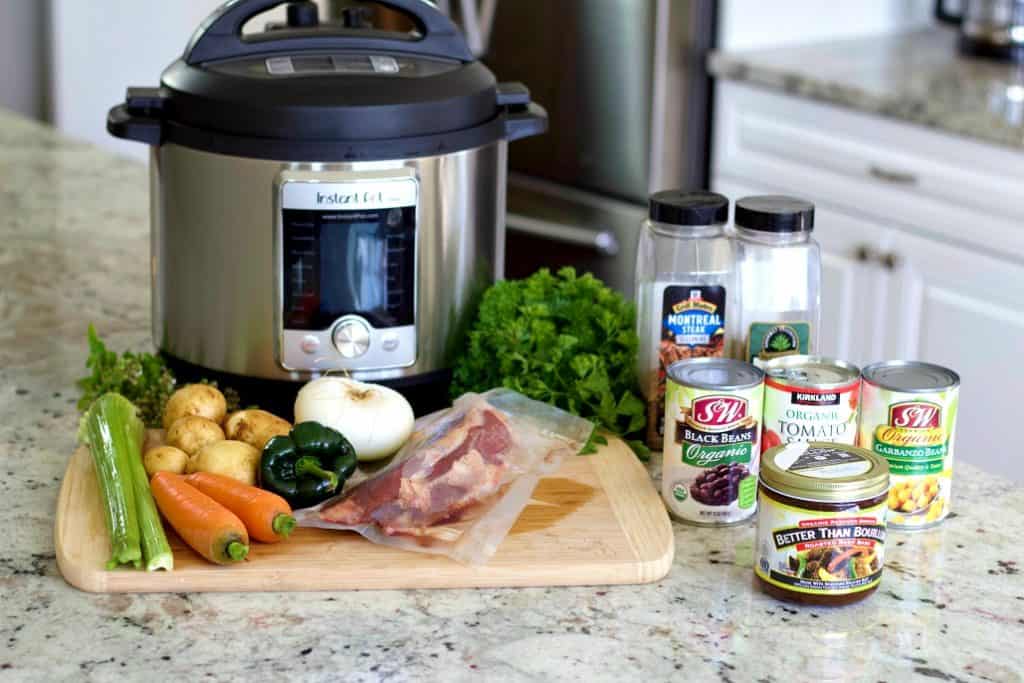 Cut all the vegetables into 1/2 inch chunks.
Add all the ingredients into the Instant Pot.
Stir everything to distribute the seasonings.
Cover and set the Instant Pot to slow cooker high heat for 4 hours to or on low setting for 8 hours.
If you prefer you can use the meat stew function and natural release the valve. This is a much quicker method than slow cooking.
If using fresh venison sear the meat on the saute function before continuing with the recipe. Use a lower saute heat for this low fat meat and add some oil to sear the meat.
At serving, taste and add vinegar if desired.
Garnish with sour cream, more fresh oregano or sage leaves.
If cooking with Raw Venison
If you are using fresh venison in your stews we recommend searing the meat first. This helps lock in moisture and flavor. Be mindful not to over sear the meat, venison is lean and has a tendency to cook fast which will yield a tough texture.
Slow Cooker Function
Set the pressure on high on the slow cooker function and set the time to at least 4 to 6 hours.
The Instant Pot slow cooker function is different from a conventional slow cooker. If you find the meat still needs tenderizing when the slow cooker function is done. Set the pot to manual high heat for 10 minutes to finish the stew. Quick release and serve.
Meat/Stew Function
For a faster meal use the meat/stew function. This takes only 20 minutes once the pressure is built.
You can make this stew on manual high pressure for 20 minutes with a natural release.
The warm function will automatically begin when the function you choose ends. You can be gone as long as you need and your stew will be ready when you are.
What goes good with Venison?
Because venison is considered a red meat it is simple to season the same way you would prepare beef. Salt and pepper, fresh herbs and spices, hearty aromatics like garlic and onion all enhance the flavor of venison beautifully.
Both organic apple cider vinegar and sour cream add a little extra flavor zip as a garnish. This stew is great alone but if you have either of these condiments handy try this.
Printable Recipe Card:
Yield:

8 servings
CROCKPOT VENISON STEW
Total Time:
4 hours
20 minutes
CrockPot Venison Stew is a delicious high fiber, low fat, gluten free soup made from home canned, fresh or frozen game meat. This tasty stew is chock full of good for you venison and veggies in a seasoned broth sure to delight your family.
Ingredients
1 pint canned venison (or 1 lb. fresh venison meat-cubes)
2 large carrots diced
4 medium russet potatoes
2 stalks celery
1 onion diced
2 cloves garlic-minced
1-15 oz. can garbanzo beans-undrained
1-15 oz, can red kidney beans (OR black beans)-undrained
1-15 oz. can tomato sauce
1-15 oz. can diced tomatoes
4 Cups water ( i fill the cans halfway with water and pour it into the soup for more flavor)
1 tsp. salt
1 tsp. pepper
1 Tablespoon dried sage
Tablespoon dried oregano
1 Tablespoon Montreal Steak Seasonings
2 bay leaves
Instructions
Cut all the vegetables into 1/2 inch pieces
Add all the ingredients into the crockpot. Break up the meat into small chunks as you stir the pot to distribute the seasonings.
Cover and set the crockpot on high for four hours or low setting for 8 hours.
At serving, taste and add vinegar to taste (start with 2 Tablespoons)
garnish with sour cream, more fresh oregano or sage leaves and vinegar
Instant Pot Instructions
Add avocado oil to your instant pot and turn on the sautè function.
Set your venison stew meat in the instant pot and season it with Montreal steak seasoning.
Brown the venison stew meat cubes in the instant pot on saute setting turning occasionally to brown all sides of the meat. Add oil as necessary to prevent burning.
Deglaze (add water and stir it until the stuck on bits are mixed in with the meat) the pan with a small amount of liquid. This adds more flavor to the soup.
Add in all the of canned goods, remaining seasonings and bay leaf, water and chopped vegetables.
Cook on meat/stew function for 20 minutes. Natural release to make sure the meat has a chance to tenderize and rest. OR use the slow cooker function on HIGH heat for 4 to 6 hours.
Notes
You may set your crockpot on low setting for 8 hours if you need extra time. This recipe assumes you have canned meat.
If your venison is raw:
brown it beforehand on medium heat with oil (avocado oil works well for this). Watch while it browns and turn the meat often. Venison has little fat so burns easily. Set your crockpot on high heat for raw meat.
Recommended Products
As an Amazon Associate and member of other affiliate programs, I earn from qualifying purchases.
Nutrition Information
Yield
8
Serving Size
1 Cup
Amount Per Serving
Calories

302
Total Fat

3g
Saturated Fat

1g
Trans Fat

0g
Unsaturated Fat

2g
Cholesterol

45mg
Sodium

464mg
Carbohydrates

42g
Fiber

8g
Sugar

5g
Protein

26g
Follow Us:
We enjoy meeting you on our social networks. Follow us on Facebook, Pinterest, Instagram . Tag us with your pictures of our recipes and comment on how it went for you. We would love to see what you do with them.
We often like, comment and share your posts of our recipes on our daily Instagram stories.
Ask questions and rate the recipe in the comments section below. Please share what you did with this recipe. We are always looking for more and better ways to make homemade food. Other cooks love your ideas!
Recent Posts: