Wild Pheasant in creamy Marsala Sauce with mushrooms is the perfect meal for a special occasion dinner, and a great meal for the avid hunter. Pheasant is a perfect compliment for the rich and creamy Marsala sauce. This is a quick and easy 30 minute skillet dinner with almost no meal prep.
It is another wonderful wild game recipe by my daughter in law Heather. This one, and her popular Wild Pheasant in Mushroom Wine Sauce, are both excellent ways to cook up your wild bird. They may seem similar, and do use similar techniques. However, there is a very different flavor profile between the two.
Finish this meal by serving it with a fresh green salad such as our Fall Garden Kale Salad, and some fresh Artisan Sourdough Bread. In this post we are walking you through the specific techniques and ingredients used to make this delicious wild bird dinner.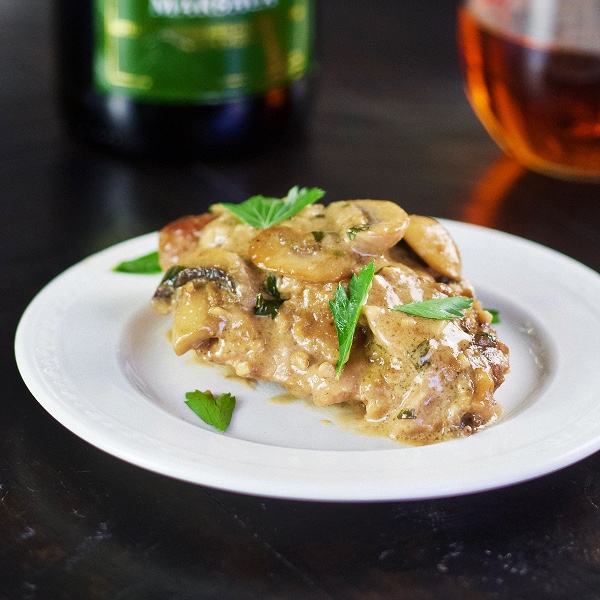 Is Wild Pheasant good to eat?
Wild pheasant is a fantastic meat to add to your diet. It is low in fat and high in protein making it a delicious white meat with its own flavor profile. Some people prefer pheasant over chicken because chicken tends to be bland or mild in flavor.
Pheasant is also relatively easy to prepare making it a suitable choice for home cooks. Once you learn the techniques required for cook time and preparation, pheasant is a great meat to add to your menu.
What Should You Eat With Pheasant?
Pheasant isn't terribly popular in American homes, so it can be intimidating when trying to figure out how to season it and what to serve with it.
Fortunately, pheasant is still a very versatile white meat that pairs well with a variety of other ingredients. Some ideas to get you going are
Alcohols such as ciders, ports, and wine such as madeira.
Fruits like apples, red currents, prunes and figs will add a rich sweetness.
Strong spices like cumin, coriander, paprika and juniper will all support the flavor that pheasant brings.
Herbs such as bay, sage, thyme and rosemary will all balance beautifully with pheasant.
Side Dishes and Appetizers That will work well with pheasant include:
What is the Best Way to Cook Wild Pheasant?
Wild pheasant is a tender meat from a small bird, so it is very easy to overcook. The best method for cooking your pheasant is to brown or sear it in a pan with good quality fats like butter or tallow, then transfer it to the oven and allow it to finish cooking, which will only take a short time.
You want pheasant to remain flavorful, juicy and tender; this method will help lock in the natural juices and prevent the meat from drying out. Other popular methods for cooking this bird include smoking, frying or cooking in a slow cooker.
The Marsala Sauce:
What is Marsala Sauce Made of? Marsala sauce is generally made of meat drippings (most often poultry), butter, cream and marsala wine.
Our creamy marsala sauce uses fresh mushrooms and seasonings to create a perfect flavor and texture blend for pheasant breasts.
The Choosing The Wine:
Marsala Wine is fortified with brandy and other ingredients that create a beautiful deep flavor. Pheasant does have a distinct flavor that chicken and turkey do not have, but it is still a fairly mild meat. The Marsala sauce is perfect for this wild poultry. It elevates pheasant breast with a luxurious depth of flavor that everyone will appreciate.
We use a dry rather than sweet Marsala wine for this savory mushroom marsala cream sauce recipe. Selecting a dry wine is important because you don't want to bring too much floral or fruity sweetness to your savory dinner. Sweet Marsala is used most often in dessert recipes like tiramisu.
A simple Marsala wine sauce adds character, flavor and creamy texture to this meat. If you need a Marsala substitute try a dry Sherry (not a cooking Sherry) or Madeira (not sweet). To find more options for Marsala and more info about this wine, click the link.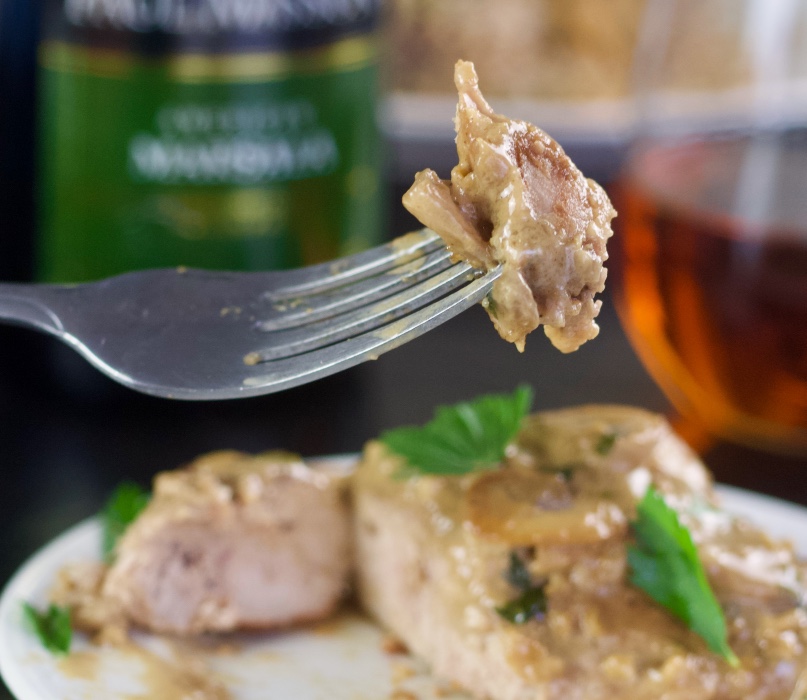 Best tips for cooking your Pheasant Breast:
Wild lean meat like this can be tough and dry if not properly cooked, so you do want to be careful not to overcook this delicious bird. Here are some tips we've learned.
We use an oil and butter combination for browning the meat to add flavor and moisture.
A flour dredge also helps seal in the moisture and flavor.
The meat is usually much lighter and easier to over cook than chicken. Rather than follow the recipe times exactly, we recommend you pay attention to the size of your meat pieces and adjust the cooking temperatures and times as needed for your meat thickness.
Your Printable Recipe:
Watch our video recipe demonstration to see how we made this pheasant recipe. The printable guide below will show you some of the steps. Our video will give you even more tips on creating this recipe and the creamy Marsala wine reduction sauce.
Yield:

4 servings
Pheasant in Creamy Marsala Sauce
Wild Pheasant breasts dredged in flour, pan fried with butter and simmered in a creamy Italian Marsala mushroom sauce. The flavor is deep, rich and delicious.
When properly done your lean wild pheasant breasts will be moist, tender and flavorful. This Marsala sauce is Fabulous with Pheasant!
Ingredients
4 pheasant breasts
1 Cup flour (adjust amount to number and size of breasts)
1/2 tsp. salt
1/4 tsp. black pepper
1/4 Cup olive oil (or avocado oil)
1 Tablespoon unsalted butter (salted can work in a pinch)
8 oz. button mushrooms (either white or brown)
1/2 tsp. onion powder
2 tsp. minced garlic
3/4 Cup DRY Marsala Wine
3/4 Cup chicken broth (or stock or bone broth)
1/2 Cup Heavy Whipping Cream
2 Tablespoons chopped flat leaved parsley
Instructions
Slice the mushrooms and parsley. Set aside.
Rinse pheasant breasts (as needed) and pat dry. Lay them out on a plate.
In a large shallow bowl or 8x8 baking dish whisk together the flour, salt and pepper. Set aside.
Melt the oil and butter In a heavy skillet on medium heat.
Dredge the pheasant breasts in flour mix. shake them off and lay in heated oil mixture.
Brown the breasts a few minutes and turn them to brown on other side. (do not cook them through).
Reduce pan heat to simmer.
Remove the browned breasts to a plate. Cover with foil and set aside.
Mushroom Marsala Sauce:
Pour the sliced mushrooms Into the simmering drippings and oil/butter. NOTE: if your butter is too dark or burned. Wipe out the pan, add more oil and butter and reheat before adding mushrooms.
Add the minced garlic and onion powder. Stir tigether and cook about 30 seconds until garlic is fragrant.
Brown the mushrooms in oil and butter bout 5 minutes stirring often until excess moisture evaproates and mushrooms are browned.
Add Marsala wine. Deglaze and simmer about 5 minutes until it is reduced about 30%.
Add the broth and stir in the heavy cream slowly stirring constantly.
Simmer until sauce is well mixed. Add the pheasant breasts back into the pan.
Spoon the sauce over the breasts and sprinkle the parsley on top.
Cover and simmer until breasts are cooked through ( about Five minutes or so)
Remove cooked breasts to serving plate. Spoon the mushroom Marsala on top of the breasts. Serve.
Notes
TIPS:
Dry Marsala wine is a fortified Italian wine. The flavor is spectacular in this wine sauce. If you have to substitute the wine, choose a Madera or Dry Sherry.
Frozen pheasant works great in this recipe. That is what we used in the video. Just completely defrost the breasts, rinse them and pat dry to prep.
Use however many mushrooms you enjoy in this recipe. We say, the more the better. 🙂
To prevent curdling the cream sauce keep the temperature low and pour the cream over the back of a wooden spoon. Now gently stir the cream into the sauce. (use HEAVY cream for best results).
Do NOT overcook the meat. Pheasant is easily over cooked. Dredge and cook the pheasant breasts until they are browned NOT cooked through. Then rest them covered while you make the sauce. Return the browned breasts to the pan and cook covered on simmer until the pheasant is cooked through. WATCH them so they don't over cook.
Nutrition Information
Yield
4
Serving Size
1
Amount Per Serving
Calories

459
Total Fat

58g
Saturated Fat

20g
Trans Fat

0g
Unsaturated Fat

33g
Cholesterol

268mg
Sodium

858mg
Carbohydrates

8g
Fiber

1g
Sugar

3g
Protein

85g
There will be extra marsala sauce and flour dredging. so the calories in this recipe are somewhat overstated.
More Delicious Dinner Recipes For Game Meats:
Follow Us:
We enjoy meeting you on our social networks. Follow us on Facebook, Pinterest, Instagram . Tag us with your pictures of our recipes and comment on how it went for you. We would love to see what you do with them.
We often like, comment and share your posts of our recipes on our daily Instagram stories.
Ask questions and rate the recipe in the comments section below. Please share what you did with this recipe. We are always looking for more and better ways to make homemade food. Other cooks love your ideas!
Recent Posts: