Homemade White Bread is the staple recipe for all bread bakers. This recipe is simple and quick to prepare, making it a wonderful beginner bread for the novice baker. Perfect for sandwiches and toast this light loaf slices easily and holds its structure.
We are sharing all of our bread baking tips to yield the very best Homemade White Bread that you and your family will love.
This White Bread recipe is one of the easiest yeasted bread recipes that we have ever made. It's also reliable and fast making it a family friendly recipe that is sure to become a staple in your menu rotation.
Is Homemade White Bread healthier than store bought?
Homemade White Bread always has the upper hand over store bought bread because it can offer more nutrients, and always contains fewer additives than commercial bread. Whenever we make our own food we can control exactly what goes in.
Homemade bread contains less sugar and more dietary fiber than store bought bread, no added colors or preservatives, and better quality ingredients like oils used.
What makes Homemade Bread light and fluffy?
The carbon dioxide from the yeast is responsible for the light and fluffy texture of breads. Fresh, homemade breads that have been prepared and risen properly are always fluffier than store bought breads. A strong, good quality yeast is key to delicious, fluffy bread.
Is it cheaper to make your own White Bread?
Home baking is a great way to cut down on your grocery bill. Although it takes time and forethought, making your own bread at home can cost on average half as much per loaf than what you pay at the store.
Once you get a good routine going, baking your own bread can be cost effective for your family and will always yield healthier, tastier breads.
What is the secret to soft bread?
Soft bread texture is achieved by the addition of fats in the bread dough. This recipe uses olive oil and whey (if you are not opposed to dairy) to achieve the light and airy texture. Fats such as oils, milks or whey will lighten breads and yield soft, squishy slices and rolls.
Replacing the sugars in the recipe with liquid sweeteners like honey or agave. These liquid sugars are less prone to crystallization and will help to keep the texture soft and flexible.
Baking Stones for baking bread
Baking your breads on a baking stone enhances the color, flavor and texture of the bread. We want a golden brown color, even texture and delicious flavor.
Baking stones help give the bread a crisp crust and bake more evenly. If you have trouble with hot spots in your oven a baking stone may help you have better results.
Using a Baking Stone
Preheat your baking stone for best results. It will work best when the stone is oven temperature all the way through.
Place the stone on the rack below the baking pans if you are using loaf pans.
Place the bread directly on the preheated stone for your boules.
Homemade White Bread Recipe
This recipe is a delicious 90 minute white bread. It's good bread for sandwiches and toast. It's not as flavorful as our sourdough breads but it's a lot more approachable for the new baker.
This single loaf white bread recipe mixes up in about 15 minutes, rises in 25, and then bakes for another 25 minutes. It is made on a baking sheet, loaf pans or baking stone, or a 9 x 5 loaf pan.
For the quickest and easiest results you need to make this bread in your stand mixer. Hand kneading will make a good bread but it will take more energy and time.
Why bake with whey?
NOTE: This is a suggestion for those comfortable with dairy products.
If you make your own Homemade Greek Yogurt you will have whey on hand. Whey is the liquid that is strained out of your yogurt to give you the thick, high protein Greek yogurt.
Save your whey in a quart mason jar and store it in your fridge for recipes. We use whey in our Greek Yogurt Pancakes, Homemade Breads, and Crispy Light Waffles. It gives a lighter consistency and a deeper flavor.
To bake in bread loaf pans
Preheat the oven to 350 degrees F.
Place your baking stone on the rack below the bread at least 30 minutes before you bake to get the full benefits of your baking stone.
Oil the baking pans.
Form the dough into loaves and rise in the pans for 25 minutes on the counter.
Form the loaves like a fat torpedo. The dough should just touch the ends of the pan and sides. This allows the dough to expand properly when rising in the oven.
Do not slash the top of the loaves when baking this bread in pans like this. Brush with whisked egg whites if desired and bake 25 minutes. Bread is finished when the bread sounds hollow when thumped.
Oil or wet your hands when handling the dough. This is a tender, sticky dough so wet hands, oils, or flour on the counter will be necessary for easy handling.
For Boules
Shape the loaf, and then make three diagonal cuts across the top of your dough. This helps the expansion and rise of the dough while baking. Best scoring is done by a lame scorer. If you don't have a lame use a sharp knife that is wet or oiled.
Heat the baking stone in the oven at least 30 to 60 minutes before you bake your loaves to get the full benefits of your stone.
Place your shaped loaves on your oiled baking sheet.
When the bread is done cool completely before cutting. This allows the crumb to completely form and cool.
PRO TIPS
Always proof the active dry yeast. This recipe depends on a good quality lively yeast. If your yeast is weak your bread will be a dense loaf you won't enjoy.
Use a good quality bread flour. An old flour is also not going to bake up well into bread. Make sure you use a good quality bread or all purpose flour for all bread baking. Higher protein content in the flour helps the recipe be successful.
Uneven baking and browning happens when your oven has hot or cold spots. This makes bread baking challenging.
Check it through the oven door window. Do not open the oven if your loaf is browning evenly and rising well. If your bread is rising or browning unevenly turn the loaf pan so the bread can more evenly bake. This may take some experimentation. All ovens are somewhat unique in their baking ability. We suggest you use a convection bake setting to bake bread if you have one. That will help keep the oven heat more consistent.
If your oven runs hot or cold you may have to adjust the oven temperature up or down by 5 degrees to completely bake your bread through and not have it burn on top.
If you cannot bake your bread completely without burning the top use foil to form a tent over the bread dough after it's lightly browned in the oven. Don't let the foil touch the dough.
How do I freeze Homemade Bread?
Homemade bread freezes so well and is very easy to do. It's a great idea to make extra loaves whenever possible to set one aside for freezing. Homemade bread thaws amazingly well and can be enjoyed weeks later.
Bake your bread as directed and wait until it is completely cooled. Putting warm bread into your freezer is actually not ideal. Freshly baked warm bread loses its elasticity more than cooled bread. After the loaf is baked it needs time to complete its cell structure and firm up the lift it attained in baking.
Wrap your bread in plastic wrap or other plastic bag so no air is getting to the loaf. Ensuring an airtight storage is very important to prevent freezer burn.
Your baked bread loaves should hold well in the freezer two weeks.
When you are ready to enjoy your bread, remove the frozen loaf and let it sit in your fridge, or on your counter completely wrapped until thawed.
NOTE: This recipe is written for a single loaf. Be sure to double the recipe for two loaves.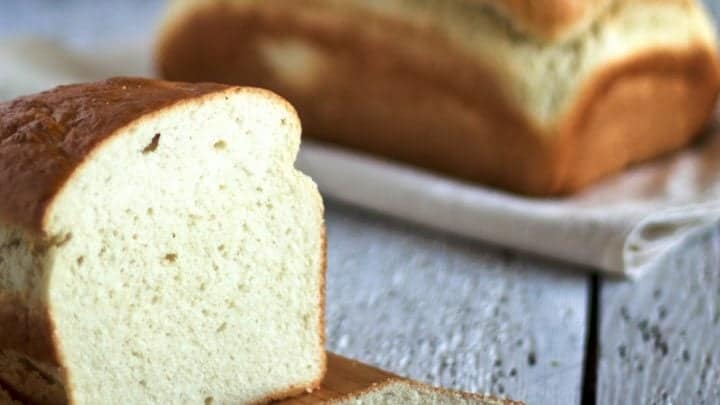 Yield:

1 loaf of bread
Homemade White Bread
Total Time:
1 hour
5 minutes
A deliciously, Even grained, pure white flour bread. This low-​fat, low-​sugar, vegan, vegetarian, dairy-​free homemade white bread. It makes great sandwiches and toast. Make it easily in your stand mixer in about an hour!
Ingredients
3 Cups bread flour (extra flour as needed)
1 Tablespoons yeast
1 1/2 Tablespoons sugar
1 Cups water (or whey if dairy is not a problem for you)
3/4 tsp. salt
3/4 Tablespoon olive oil
Instructions
Preheat oven to 350 degrees
In your stand mixer, Add yeast, sugar, salt and warm water and oil.
Let stand five minutes. The yeast should make a puffy looking grey mass on the top of the liquid. This means it's active. Carry on.
Add in one cup flour and turn mixer to high for three minutes.
Reduce speed to low and add remaining flour until the dough begins to form a ball and come away from the sides of the mixer.
Mix on low for 5 to 10 minutes until the dough easily comes off the paddles with no dough sticking to the paddles.
Oil your hands and pull the dough out of the mixing bowl. Lay out on an oiled counter and knead briefly. The dough should be resilient and pass the windowpane test(click the link to learn more about that).
Shape the dough into a large ball or 2 smaller loaves if desired.
Place the dough balls onto a cookie sheet,or form them for your 9 x 5 oiled loaf pans. Slash the dough with an oiled knife(If rising on the baking sheet) and let rise 25 minutes.
Bake the bread for 25 minutes until done. It should give a hollow sound when thumped.
Recommended Products
As an Amazon Associate and member of other affiliate programs, I earn from qualifying purchases.
Nutrition Information
Yield
12
Serving Size
1 slice
Amount Per Serving
Calories

150
Total Fat

2g
Saturated Fat

0g
Trans Fat

0g
Unsaturated Fat

1g
Cholesterol

0mg
Sodium

152mg
Carbohydrates

27g
Fiber

1g
Sugar

2g
Protein

7g
Follow Us:
We enjoy meeting you on our social networks. Follow us on Facebook, Pinterest, Instagram . Tag us with your pictures of our recipes and comment on how it went for you. We would love to see what you do with them.
We often like, comment and share your posts of our recipes on our daily Instagram stories.
Ask questions and rate the recipe in the comments section below. Please share what you did with this recipe. We are always looking for more and better ways to make homemade food. Other cooks love your ideas!
Recent Posts: