Looking for a delicious and satisfying simple frittata recipe that will transport your taste buds to the sunny Mediterranean coast? Try this mouth-watering Italian style Frittata Dish. It is excellent.
This eggy dish is packed with bold, flavorful ingredients. The rich and creamy eggs are studded with tangy sundried tomatoes, briny Kalamata olives, tender artichokes, and gooey melted mozzarella cheese, creating a harmony of textures and tastes that will leave you wanting more.
Whether you're a seasoned frittata fan or new to this classic Italian dish, This Mediterranean frittata is a true feast for the senses. This Italian frittata recipe is sure to become a new favorite in your kitchen.
Our delicious Mediterranean Frittata is a bright meal with a satisfying flavor profile. This is a healthy savory dish, perfect for a scrumptious breakfast, brunch, or light dinner.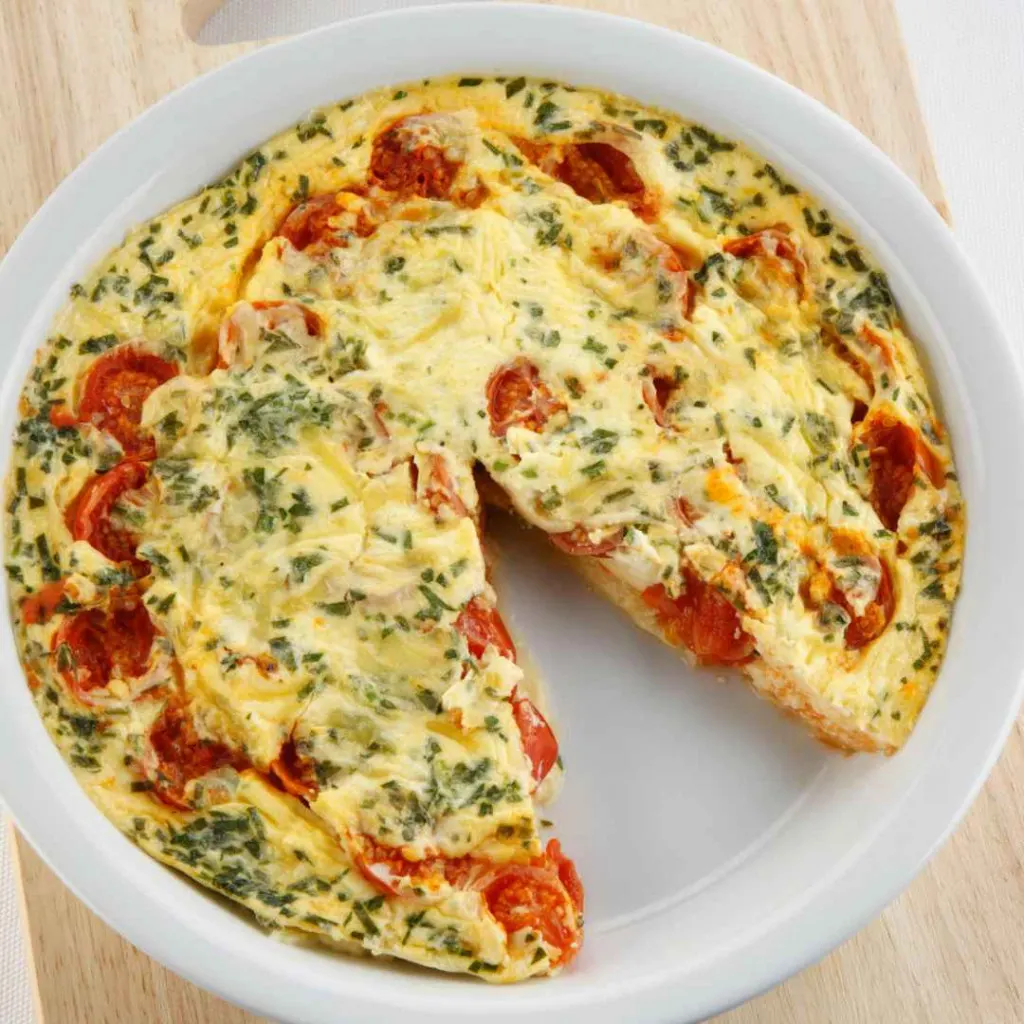 Where to Serve This Frittata Recipe:
Having brunch with friends or family? This frittata would make a great centerpiece as a breakfast frittata recipe or for a weekend brunch, pair it with a side salad or fruit platter, some crusty bread, and your favorite beverages.
You can also make this frittata in advance and store it in the fridge for a quick and easy breakfast, lunch, or dinner throughout the week.
This frittata travels well and can be served at room temperature, making it a great option for a potluck or picnic spread. Just slice it into wedges and pack it up with some fresh veggies or fruit.
You could also serve this frittata as a main course for a romantic dinner for two, accompanied by a glass of wine and some candles. It is really that good.
Frittata Recipe Oven Method:
This is a Classic style of frittata, which is cooked in one pan or pie plate and baked in the oven. This is a great technique for making a frittata with a crispy, golden-brown top, and it's also an easy way to feed a crowd or make a large batch of frittatas at once.
When making a baked frittata, you'll typically start by sautéing any vegetables or other fillings you plan to use in a nonstick oven-safe pan. Then pour in the beaten eggs and any cheese or herbs you want to add.
This is how we make our Bacon Frittata. The pan is then transferred to the oven to finish cooking, usually for about 15-20 minutes or until the eggs are set and the top is lightly browned. You can also finish cooking it on the stove if you have room in your skillet and a good lid.
For a completely different eggy meal experience using this same simple method try our crustless sausage quiche, It's also fantastic, satisfying and extremely easy to make.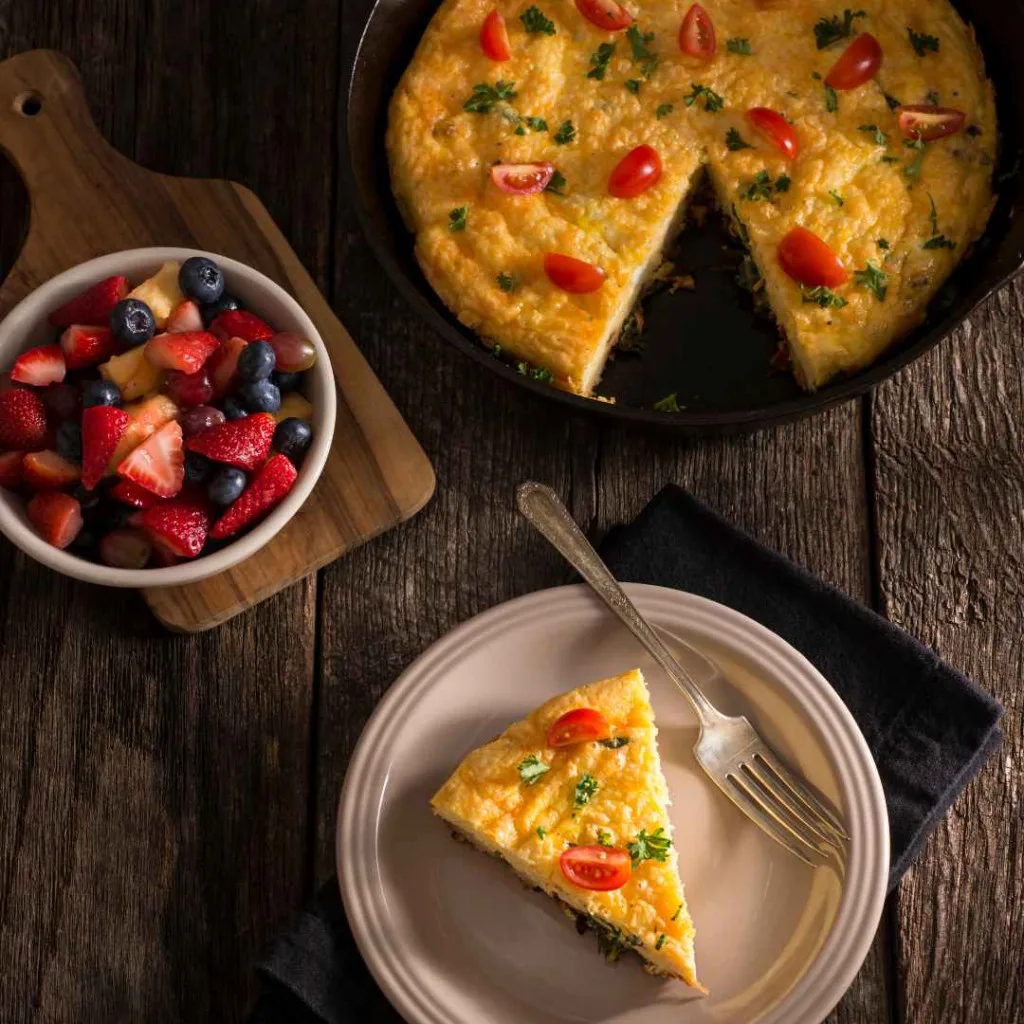 What Makes A Frittata So Different From An Omelet?
Frittatas and omelets are both egg-based dishes. The main difference between an omelet and a frittata is the texture and thickness of the final dish. While omelets are typically thin and delicate, with a filling folded inside, a frittata is thicker and heartier than an omelet. A well baked frittata has a creamy, custard-like texture in the center and a crispy exterior with the filling mixed in with the eggs and cooked in a single layer.
Frittatas can be served hot or cold, while omelets are usually served hot. Because frittatas are more substantial and can be cooked ahead of time, they are often served at room temperature or even cold. This makes frittatas a good option for picnics, buffets, or meal prep. Omelets are best served hot and fresh from the pan.
Even so, the distinction between an omelet and a frittata can be a bit fuzzy, as there are many variations and techniques used for both dishes that blur these lines.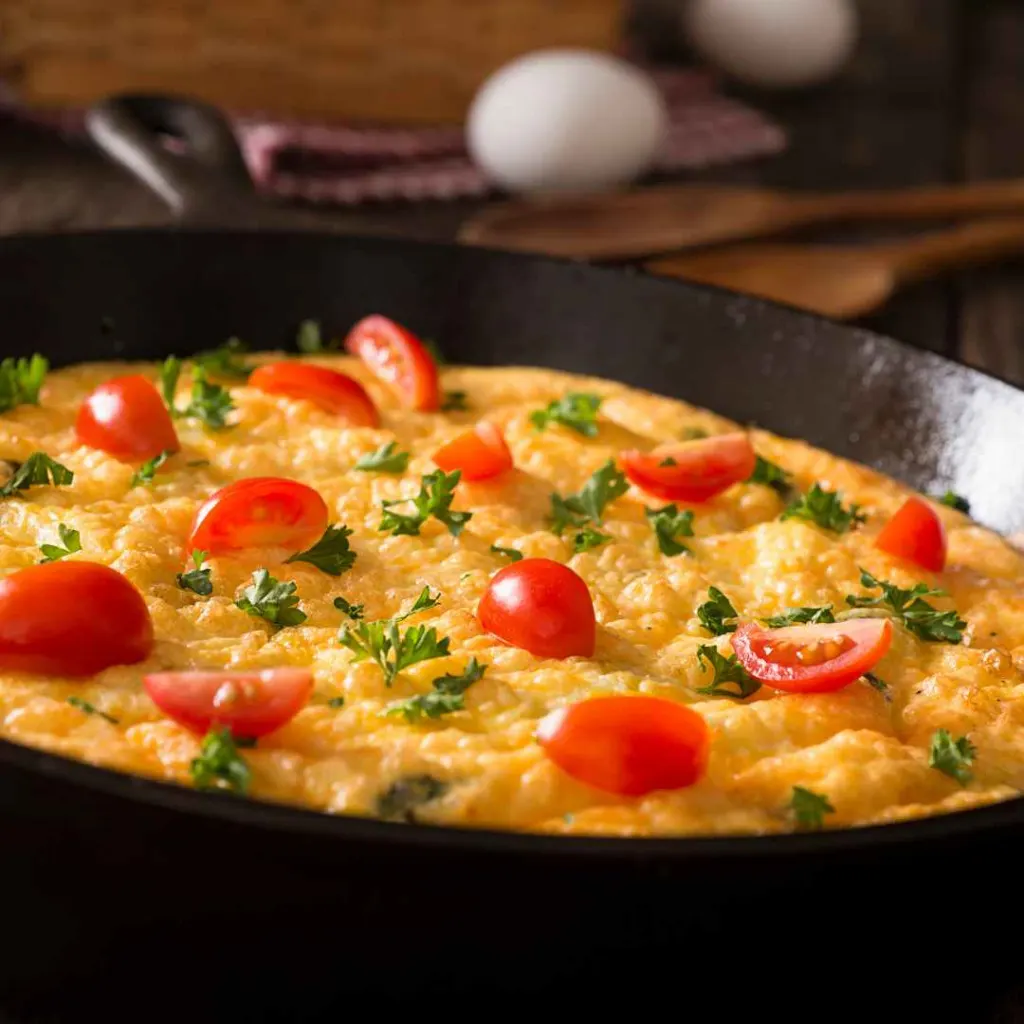 Are Frittatas Hard to Make?
Frittatas are an easy dish to make that can just as easily be ruined. Like any egg dish, they are delicate and susceptible to wet under cooked eggs, dry overcooked consistencies, and burned edges that wreak havoc on the flavor of your dish.
Make sure your pan or skillet is well oiled. We all know eggs will stick, make sure there is a good layer of oil to prevent this from happening. The oil will also protect the bottom from burning.
Be careful to cook at the correct temperature. Cooking your frittata too hot, or too close to the heating element will cause burning. If the frittata has a tough, brown underside reduce the heat or move the rack up and away from the heating element.
Use the right size skillet or pan. If your frittata is flat and dense, you are likely using a dish that is too large. On the contrary, if your frittata is thick and underdone in the middle, you should size up to allow more even cooking.
What is the best pan to make a frittata? an oven safe skillet, casserole dish or pie plate can all make excellent frittatas.
Be sure not to overcook your frittata. If the frittata is dry or crumbly it's a sure sign that the eggs were cooked too long. Remove the frittata from the heat source while the eggs are just slightly moist and allow it to finish cooking on it's own for a few minutes.
Don't skimp on the salt and seasonings. If the frittata is lacking in flavor, or tastes to eggy, increase the salt and seasonings. Use a cheese with strong flavor and salt content, and use fresh aromatic herbs and spices.
How to make a Frittata
How do you make a Frittata? To make a basic frittata recipe like this with the oven method, start by whisking together eggs in a bowl with a pinch of salt and pepper. In a nonstick oven-safe skillet, sauté any fillings you plan to use (such as onions, peppers, mushrooms, spinach, or ham) until tender.
Then pour in the beaten eggs and stir to combine. Add any cheese, herbs, or spices you like, and cook over medium heat until the bottom of the frittata is set and the edges are slightly browned. Transfer the pan to the oven and bake at 350-375°F for 10-15 minutes, or until the frittata is set in the middle and the top is lightly browned.
Remove from the oven and let cool for a few minutes before slicing and serving. Enjoy hot, warm, or at room temperature.
Our Mediterranean frittata recipe oven method comes together quickly with minimal prep and easy clean up. The filling used in this mediterranean frittata don't require any skillet time. Just whisk everything together as directed, pour in a greased casserole dish, sprinkle on the toppings and cheese and bake. Viola. It's ready to serve.
Save time and work while your family enjoys a well rounded meal. Serve this frittata alongside fresh fruit, fried potatoes, or a basket of buttermilk blueberry muffins for a full spread that will leave everyone satiated and content.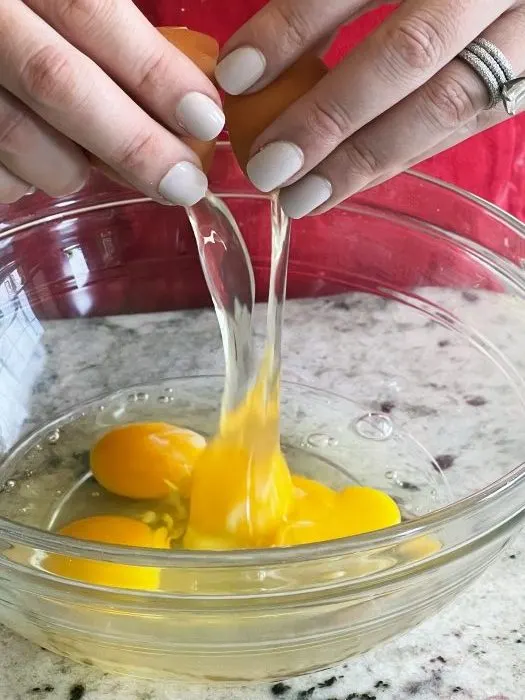 How Do You Keep Frittata Fluffy?
To keep a frittata fluffy and tender, it's important to avoid overcooking the eggs. Overcooked eggs can become dry and rubbery, which can make the frittata tough and unappetizing. Here are a few tips for keeping your frittata light and fluffy:
Don't overbeat the eggs. While it's important to whisk the eggs thoroughly to incorporate air, overbeating them can actually make the frittata dense and heavy. Whisk the eggs just until they're well combined and slightly frothy.
Don't overcook the frittata. Cook the frittata over medium heat until the bottom is set and the edges are slightly browned, but the top is still slightly runny. Then, transfer the pan to the oven and bake until the top is set but still tender. Don't leave the frittata in the oven for too long, as this can cause it to dry out and become tough.
Use milk or cream. Adding a splash of milk or cream to the beaten eggs can help make the frittata more tender and fluffy. The dairy adds moisture and fat to the eggs, which can help prevent them from becoming dry.
Add a leavening agent. Some recipes call for adding a pinch of baking powder or baking soda to the beaten eggs, which can help create air pockets and make the frittata fluffier. Just be careful not to use too much, as this can give the frittata an unpleasant metallic taste.

How can I make my Frittata stand out?
If you are looking to bring your frittata game up, the secret is in implementing the best cooking practices that we shared above, and changing up your ingredient and flavor combinations. Here are some frittata combinations ideas for how you can change up this recipe.
Make it a sun-dried tomato spinach frittata by throwing in some frozen spinach
Prepare a sun-dried tomato potato frittata by adding finely diced potatoes or hash browns
Serve up a feta veggie frittata with vegetables and cheese
Make a mushroom and parmesan frittata with your favorite mushrooms
Serve a rich bacon leek frittata with goat cheese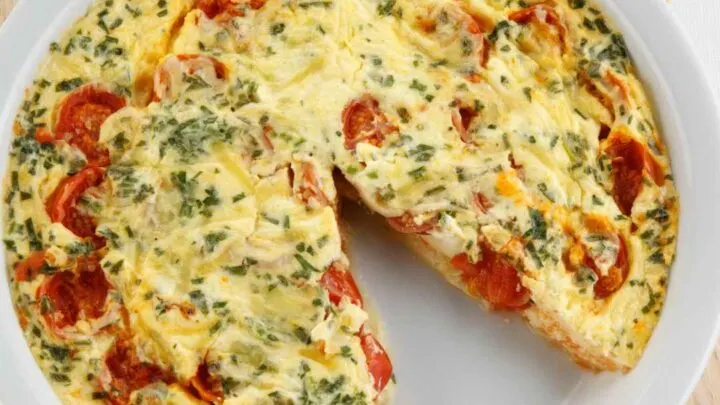 Yield:

12 servings
Mediterranean Frittata Recipe
Sundried tomato kalamata frittata Recipe is a bright yellow, eggy, low-​carb, low-​sugar, gluten-​free frittata. This easy, one pan, recipe is full of flavor for a filling, healthy light meal. Enjoy this frittata as a breakfast, brunch or light dinner.
Ingredients
12 Large eggs
1/2 Cup kalamata olives
1/2 Cup sun dried tomatoes
1 Cup marinated artichoke hearts, chopped
1 1/2 Cup deli ham
1 tsp. Johnny's garlic seasoning blend
1 tsp. onion powder
2 Cups mozzarella cheese
Instructions
Preheat the oven to 350 degrees F
Grease a 9 x 13 baking pan.
Chop ham, olives, tomatoes, and artichokes together. Set aside
Whisk the eggs, onion powder and garlic seasonings together and pour into the greased baking pan.
Sprinkle the ham mixture evenly over the eggs.
Sprinkle the shredded cheese blend over the ham and egg mixtures.
Bake for 25 minutes.
Nutrition Information
Yield
12
Serving Size
1
Amount Per Serving
Calories

189
Total Fat

12g
Saturated Fat

4g
Trans Fat

0g
Unsaturated Fat

6g
Cholesterol

212mg
Sodium

731mg
Carbohydrates

4g
Fiber

1g
Sugar

1g
Protein

16g
Follow Us:
We enjoy meeting you on our social networks. Follow us on Facebook, Pinterest, Instagram . Tag us with your pictures of our recipes and comment on how it went for you. We would love to see what you do with them.
We often like, comment and share your posts of our recipes on our daily Instagram stories.
Ask questions and rate the recipe in the comments section below. Please share what you did with this recipe. We are always looking for more and better ways to make homemade food. Other cooks love your ideas!
Recent Posts: