This Blind Baked Vegan Pie Crust is delicious and beautifully flaky. Perfect for lemon meringue pie, pudding pies, or any unbaked pie filling. If you are looking for a vegan pie crust recipe this one is very simple to make and the flavor is outstanding. The crust is made with flour, salt and coconut oil.
It's a great vegan option for your pie or pastry recipe, and is simple enough that anyone can make it with great success.
We use these pie crusts most often. They are all reliable, delicious and easy to make.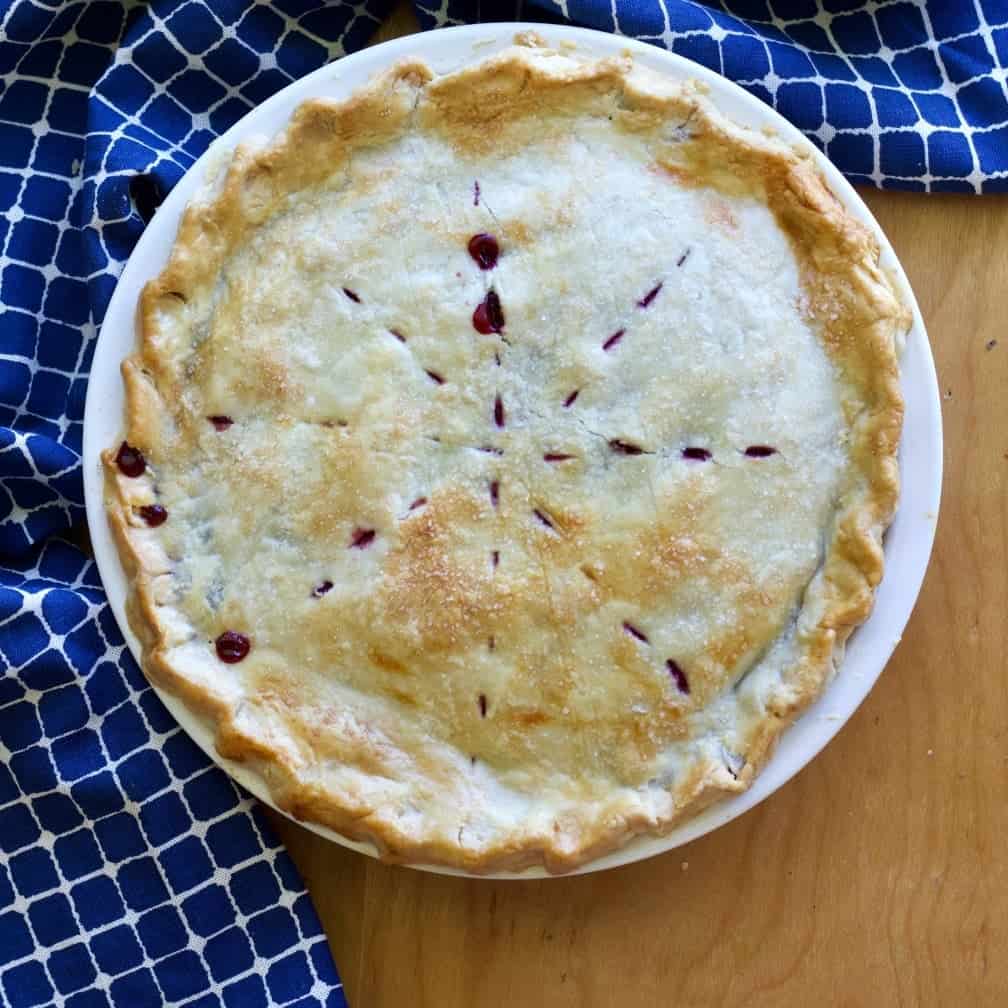 What does it mean to blind bake your crust?
Blind baking may not be a term some of you are familiar with, simply put, to blind bake a pie crust means to pre bake or partially bake the crust before adding the pie filling.
Why is blind baking pie crust important? Blind baking allows the fats and moisture to bake out of the crust in order to prevent it from under baking and getting soft and crumbly. It improves the texture of the crust immensely and will yield a flaky crust. It is also necessary for tarts and fruit pies where the filling will not be baked at all.
Is it a problem to blind bake pie crust without weights? Yes, blind baking with weights, such as dried beans or rice, will help keep the crust from puffing up and creating air holes; it's an important step for blind baked crusts since there is no filling to weigh the crust down.
How long do you bake a pie crust unfilled?
It's a quick process only taking about 10 minutes, and the blind bake pie crust temperature will need to be set at 425 degrees F for most ovens. What temperature to bake a pie crust will vary dependent on many factors including your elevation, oven type, even the weather; so be careful to watch the crust closely to prevent burning.
Do I need to poke holes in a Blind Baked Pie Crust?
Poking holes in a pie crust, also called docking, is done right before you place it in the oven. The holes allow steam to escape and help to prevent the crust from puffing up. It isn't necessary to do if you are weighing down the crust with baking weights or parchment paper and beans.
How to store Blind Baked Pie Crust
If you need to blind bake a pie crust, you can do so several days in advance of when you will be assembling the pie. Once the crust is baked and fully cooled wrap it in an airtight bag and keep in a cool area on your kitchen counter until you are ready to fill and serve it.
Freezing your Blind Baked Pie Crust
If you are wanting to store your par baked crust for an extended period of time, it is recommended to freeze it in an airtight bag. It can remain frozen for up to 3 months without affecting the texture and flavor. When you are ready to use it, remove it from the freezer and allow it to thaw overnight.
If you are curious how to blind bake a frozen pie crust, that process is quite simple. Prepare the crust as you normally would. Roll it out and shape it as desired into your pie dish. Cover it in an airtight wrap or bag and store in the freezer.
When you are ready to bake your frozen pie crust, remove it from the freezer and allow it to thaw at least partially. You can bake a frozen pie crust, but it is recommended to allow them to thaw first. Bake the crust as you normally would then assemble with the fillings.
Making this Coconut Oil Blind Baked Pie Crust
This crust uses coconut oil, almond flour and is sugar free, but you can use sugar if you prefer. We find that the coconut oil brings enough flavor to the crust, and with the addition of a sweet filling, the use of any extra sweeteners isn't really necessary.
We have made our coconut oil pie crust as a single pie crust and a double crust. It is very easy to work with and makes a splendid pie. For most pies this recipe will only need a single crust, but if you do need to double it, it can be easily done.
Watch the video in the sidebar and at the recipe bottom to see how easy it is to roll out this oil crust between parchment paper.
Tips for using Coconut Oil in a Pie Crust
Coconut oil is a fantastic oil to use in baking. It has a pleasant flavor that compliments the sweet ingredients of the baking world and is very easy to source without additives and fillers. Here are few tings to remember when baking a pie crust with coconut oil.
Use coconut oil in its solid form to create a fuller, flakier crust
Blind bake the crust to prevent it from getting soggy
Use refined coconut oil if you are looking to avoid the added coconut flavor
Crust Pie Baking Tips
You can use a pastry cutter but if you have a food processor just add the ingredients and give it a few pulses.
Roll this oil crust out between two sheets of parchment paper or sheets of wax paper to keep it easy. We show you how to do the process in the demonstration video.
Once the pie crust is in the pie plate fluted and ready to bake add a layer of parchment paper on top of the pie crust.
Use something to weigh it down with that will withstand the oven temperature. Beans, rice, or a special baking weight are fantastic options. We used pinto beans and they worked great.
You can make this crust gluten free by using almond flour in place of the wheat flour. We suggest the almond crust from our sugar free Pumpkin cheesecake recipe.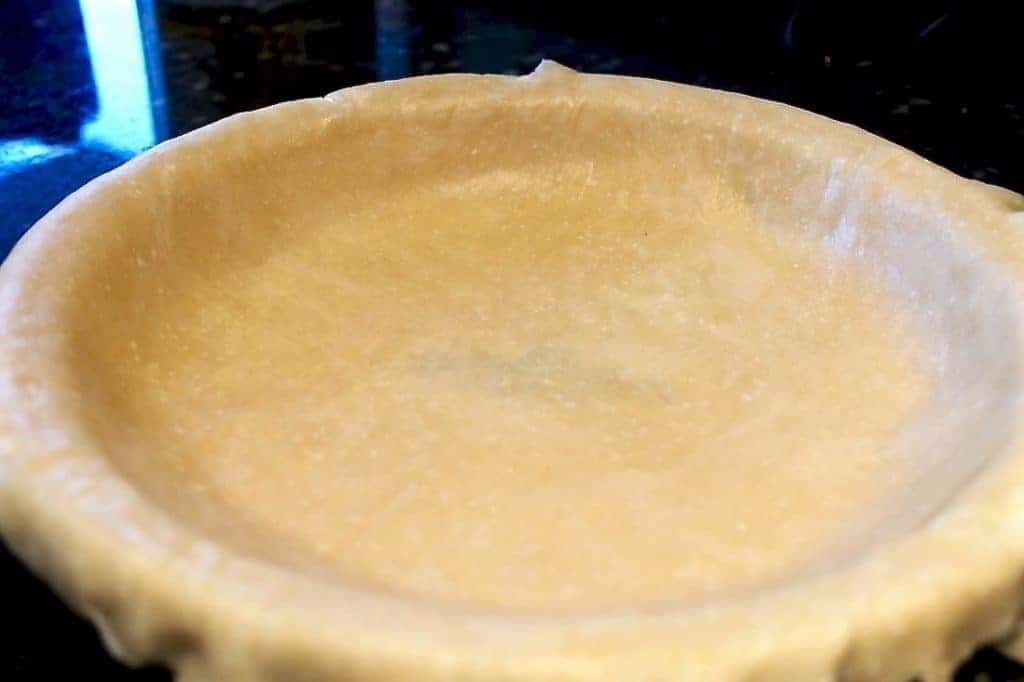 NOTE: Beans, rice and other food weights will not be suitable for cooking afterwards. To avoid food waste, purchase some pie weights. Here are some good reusable choices for pie weights.
Blind Baked Pie filling ideas to try
If you are wanting to play around with the crust and try a variety of scrumptious recipes we are listing some of our favorites. Some fillings would be baked, some would not. Pick your favorite and give it a try! Let us know how you chose to enjoy this delicious Coconut Oil Pie Crust.
No bake pumpkin marshmallow pie
Our no bake chocolate pudding pie
Heath toffee cheesecake pie
No bake cheesecake fruit tart
No bake peaches and cream pie
Simple no bake strawberry pie
Lemon meringue pie
Printable Recipe Card:
Yield:

8 servings
Baked Single Pie Crust Recipe
Delicious baked single pie crust recipe. Easy to make this flaky, flavorful crust. Add your favorite fillings
Ingredients
1 1/4 Cups all purpose flour
1/8 tsp. salt
1/8 Cup coconut oil
2 to 4 Tablespoons water
Instructions
Make the Dough:
Preheat oven to 425 degrees
Stir salt into flour.
Add coconut oil and Stir with a fork into the flour until it makes small pea size crumbles
Add water a little at a time while stirring the flour mixture with a fork.
Stir just until moistened and forms a ball of dough.
Form into a ball with your hands.
Roll it out:
Take the ball of dough and place it in the middle of the oiled parchment.
Flatten the dough into an even, thick, round shape.
Place the upper layer of oiled parchment over the flattened dough.
Roll into a circle 2 inches wider than the circumference of your pie plate.
Remove the top parchment piece and invert the crust into the pie.
Arrange the dough in the pie pan so an even amount of dough falls over the pie plate evenly all around.(this is easiest if accomplished at the first, so try to line it up so it's centered, before laying it in the pie plate)

BAKING INSTRUCTIONS:
Flute the edge of the pie crust. This works best when the crust is strongly anchored to the outer edge of the pie plate.
With a fork poke holes in the pie crust bottom.
Place pie weights evenly on the bottom of the crust to prevent the crust bubbling up when baked. (I used tinfoil in the bottom of the pie with pinto beans on top. it worked great)
Bake at 425 degrees F for 10 minutes.
Lower oven temperature to 350 degrees F and bake another 25 minutes, or until lightly brown.
Cool and fill with your no bake filling.
Notes
The video will help you see how I roll the dough out between parchment paper. It is for a double crust pie but the dough recipe is the same.
Nutrition Information
Yield
8
Serving Size
1
Amount Per Serving
Calories

132
Total Fat

7g
Saturated Fat

6g
Trans Fat

0g
Unsaturated Fat

1g
Cholesterol

0mg
Sodium

36mg
Carbohydrates

15g
Fiber

1g
Sugar

0g
Protein

2g
Follow Us:
We enjoy meeting you on our social networks. Follow us on Facebook, Pinterest, Instagram . Tag us with your pictures of our recipes and comment on how it went for you. We would love to see what you do with them.
We often like, comment and share your posts of our recipes on our daily Instagram stories.
Ask questions and rate the recipe in the comments section below. Please share what you did with this recipe. We are always looking for more and better ways to make homemade food. Other cooks love your ideas!
Recent Posts: