This blind baked pie crust is delicious and perfectly flaky.
Use blind baked pie crusts for lemon meringue pie recipe, pudding pies or any unbaked pie filling.
If you are looking for a vegan pie crust recipe this one is very simple to make and the flavor is outstanding.
I have discovered the joys of baking with coconut oil. Coconut oil improves the taste of baked goods and It adds a nice texture as well.
I'm particularly impressed with the way coconut oil transforms my pie crusts.
This blind baked pie crust is very easy to work with and just hits you with a wonderful 'buttery' taste and flaky texture.
However, No butter is in this crust. the crust is made with flour, salt and coconut oil.
It's a great vegan recipe option. No need to bring in the butter to make a flaky, tender and flavorful crust.
Gluten Free Blind baked Pie Crust Option:
You can also make this crust gluten free by using almond flour in place of the wheat flour. I suggest the almond crust from our sugar free Pumpkin cheesecake recipe .
This crust uses coconut oil, almond flour and is sugar free. But you can choose to use sugar if that is not a problem for you. I like to serve this crust at gatherings for special dieters.
There will be a different result in the finished crust with almond flour. If you try that option please let me know how it goes. I'd love to have your feedback and experience.
Coconut oil Blind Baked Pie Crust:
I have made this coconut oil pie crust as a single pie crust and a double for many years. It is SO easy to work with and it makes a splendid crust.
This is the oil crust my granddaughter used in her first caramel apple pie (pictured above). She had no trouble at 10 years old.
Watch the video in the sidebar and at the recipe bottom to see how easy it is to roll out this oil crust between parchment paper.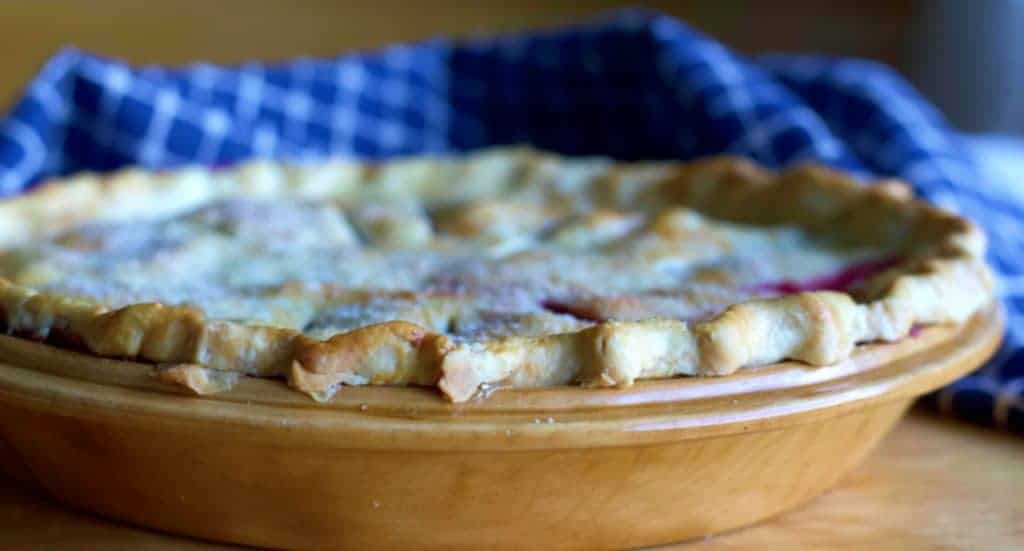 Single Coconut Oil Pie Crust Recipe:
When you want to make a pie that uses a cooked or no bake pie filling you need a single crust baked pie filling like this one.
Single Crust Pie Baking Tips:
You can use a pastry cutter but if you have a food processor just add the ingredients and give it a few pulses.
Roll this oil crust out between two sheets of parchment paper or sheets of wax paper to keep it easy. We show you how to do the process in the demonstration video.
Baking your crust without a filling may cause it to bubble up during baking. That is not desirable. The pie quality will suffer if the crust is misshapen.
To avoid this problem. Once the pie crust is in the pie plate fluted and ready to bake add a layer of tin foil or parchment paper on top of the pie crust.
Now hunt up something to weigh it down with that will withstand the oven temperature. I used pinto beans. they worked great.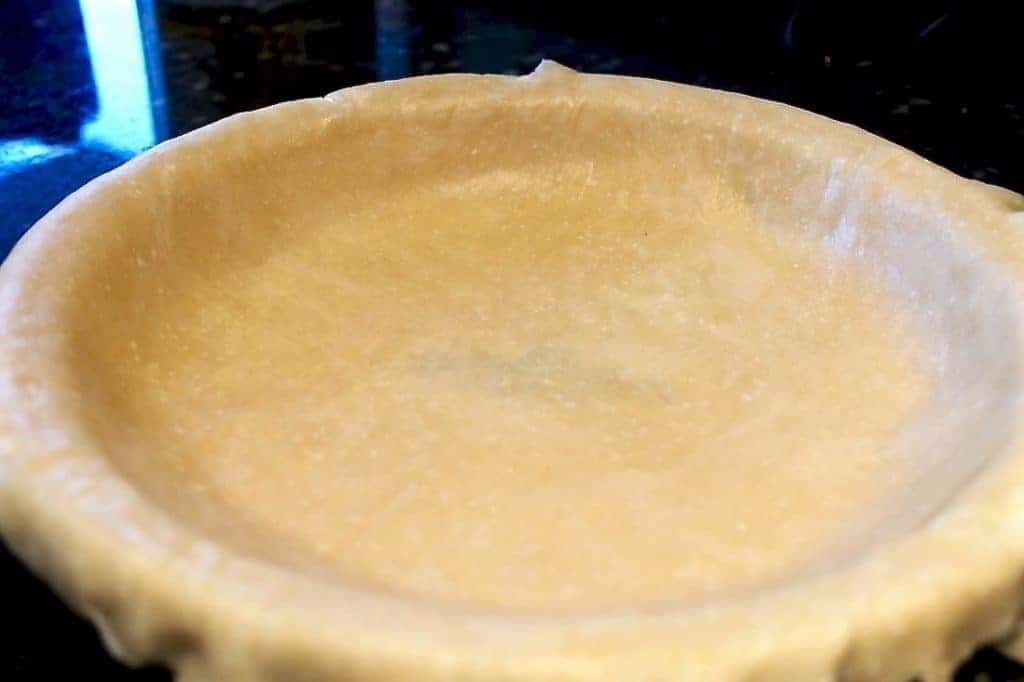 Helpful Products:
NOTE: Beans, rice and other food weights will not be suitable for cooking afterwards. If you don't want to ruin your food you need to buy pie weights. Here are some good reusable choices for pie weights:
Printable Recipe Card:
Yield:

8 servings
Baked Single Pie Crust Recipe
Delicious baked single pie crust recipe. Easy to make this flaky, flavorful crust. Add your favorite fillings
Ingredients
1 1/4 Cups all purpose flour
1/8 tsp. salt
1/8 Cup coconut oil
2 to 4 Tablespoons water
Instructions
Make the Dough:
Preheat oven to 425 degrees
Stir salt into flour.
Add coconut oil and Stir with a fork into the flour until it makes small pea size crumbles
Add water a little at a time while stirring the flour mixture with a fork.
Stir just until moistened and forms a ball of dough.
Form into a ball with your hands.
Roll it out:
Take the ball of dough and place it in the middle of the oiled parchment.
Flatten the dough into an even, thick, round shape.
Place the upper layer of oiled parchment over the flattened dough.
Roll into a circle 2 inches wider than the circumference of your pie plate.
Remove the top parchment piece and invert the crust into the pie.
Arrange the dough in the pie pan so an even amount of dough falls over the pie plate evenly all around.(this is easiest if accomplished at the first, so try to line it up so it's centered, before laying it in the pie plate)

BAKING INSTRUCTIONS:
Flute the edge of the pie crust. This works best when the crust is strongly anchored to the outer edge of the pie plate.
With a fork poke holes in the pie crust bottom.
Place pie weights evenly on the bottom of the crust to prevent the crust bubbling up when baked. (I used tinfoil in the bottom of the pie with pinto beans on top. it worked great)
Bake at 425 degrees F for 10 minutes.
Lower oven temperature to 350 degrees F and bake another 25 minutes, or until lightly brown.
Cool and fill with your no bake filling.
Notes
The video will help you see how I roll the dough out between parchment paper. It is for a double crust pie but the dough recipe is the same.
Nutrition Information
Yield
8
Serving Size
1
Amount Per Serving
Calories

132
Total Fat

7g
Saturated Fat

6g
Trans Fat

0g
Unsaturated Fat

1g
Cholesterol

0mg
Sodium

36mg
Carbohydrates

15g
Fiber

1g
Sugar

0g
Protein

2g
More Pie Crusts:
We use these pie crusts most commonly. They are all reliable, delicious and easy to make.
Follow Us:
We enjoy meeting you on our social networks. Follow us on Facebook, Pinterest, Instagram . Tag us with your pictures of our recipes and comment on how it went for you. We would love to see what you do with them.
We often like, comment and share your posts of our recipes on our daily Instagram stories.
Ask questions and rate the recipe in the comments section below. Please share what you did with this recipe. We are always looking for more and better ways to make homemade food. Other cooks love your ideas!
Recent Posts: