Chocolate Cherry Peanut Butter Truffles are low sodium, vegetarian, gluten free and loaded with healthy ingredients! No processed sugar in these dynamite pops of chocolate cherry peanut butter flavor!
My husband and I LOVE peanut butter chocolate balls! That's what we always called them when they graced my sister in law Linda's christmas goody trays. I pretty much can't stay out of them. They are one treat I WILL make myself sick on! So….I never made them!
I looked forward to overeating on them at Christmas parties, and then stayed far far away. This year, I decided to make a Chocolate Peanut butter recipe healthy enough I could do some discreet gorging and not pay TOO big a price. At least, that's the plan.
My very favorite christmas candy from WAY back when I was little are chocolate covered Maraschino Cherry Cordials (affiliate Amazon link) that you bite into and the center is liquid with an actual whole cherry in it! YUMMY! But SO bad for you! Very rich, luscious stuff, but FULL of unpronounceable ingredients and processed sugar.
I wanted the flavor of those delicious candies, and peanut butter and chocolate. And DATES! Love dates! I thought adding them all together in a filling recipe and covering them with chocolate just might be a great idea. Guess what? It was! I'm so happy with these truffles! My hubby is all over them. He took some to work and they even held up in his lunch box.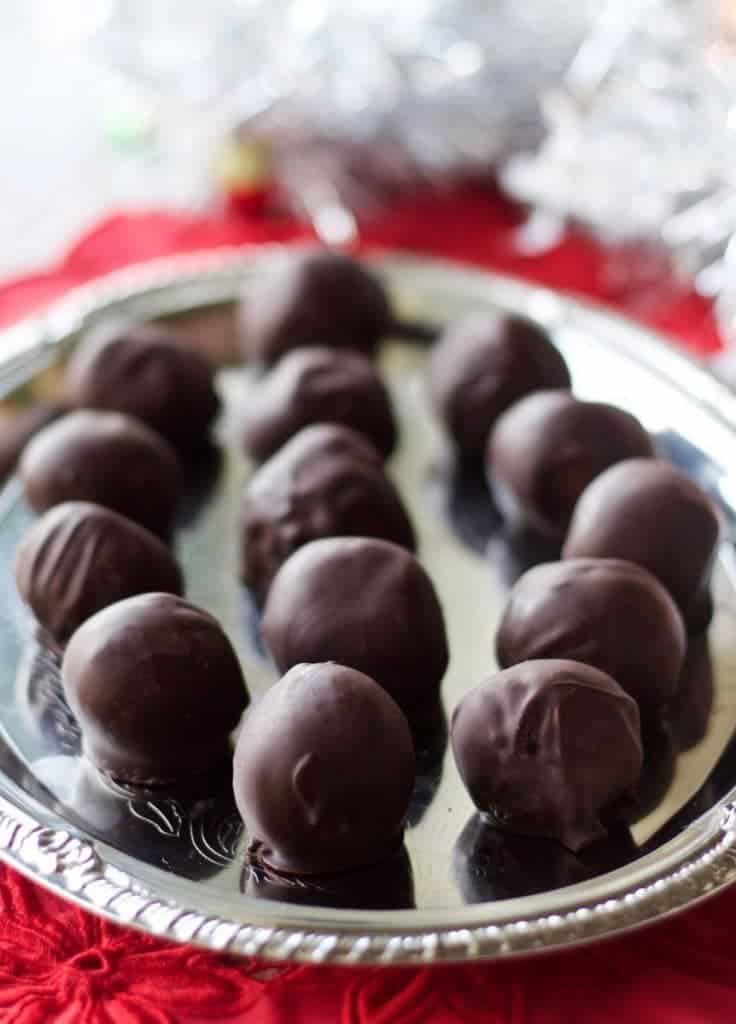 My next guinea pig, I mean taste tester, was my mom. She is tough to please. She knows her chocolate candies! One Chocolate Cherry Peanut Butter Truffle, in her mouth and she smiled and wanted another! I'm delighted to say, I loved them too! They are a great replacement for my old favorite Cherry Cordials.
I love the flavor of these Chocolate Cherry Peanut Butter Truffles and don't feel sick after I eat one. And yes, I can eat just one or two of these, (if I'm not sitting directly in front of a tray of them!)
No, these are not a liquid center, dripping all over and filling your mouth with a really sweet syrup. These are better, In my opinion! I'm a practical person, when all is said and done. I love those drippy candies, but I don't love the results of eating them. They are just too rich and indigestible!
Chocolate Cherry Peanut Butter Truffles are made with real ingredients and No processed sugar. They are still sweet and you need to treat them with the respect a holiday candy deserves. However, these dynamite pops of chocolate cherry peanut butter flavor are more satisfying and filling. Enjoy them without gorging on them much more easily!
More Holiday Party Food Ideas:
If you're looking for other fun holiday treats that look great on a tray, try Kayti's Candy cane cookies, or her holiday candies. My Candy Coated Spoons are a fun way to serve hot drinks(or give as a gift). Maple Date bars and holiday chocolate rolls cookies are a perfect party tray addition! There is lots of great party food on this blog. Go peek at the recipe index for dips and appetizers, like Susie's Stuffed Mushrooms or Cranberry Raspberry Brie Bites, and other goodies! One of our personal favorite party foods is Homemade Hawaiian Meatballs. Make and serve them directly from your crockpot or serve them on a tray with toothpicks. Yummy! Peppermint Milkshakes are also so fun for this time of year. Kids and adults love them! Add a bit of Peppermint Schnappes for the grown ups
Recipe notes on Chocolate Cherry Peanut Butter Truffles:
These are easy to make. I was seriously surprised what a few minutes with my food processor and microwave could accomplish! Chill them, dip them and eat them, after a quick set up time!
Rough chop the dates
Pour half the oats into the food processor and pulse once.
A LITTLE AT A TIME, add the cherries and dates.
Add Remaining oats, flax and almond extract.
Pulse until the ingredients are well combined(mine stuck together in a ball, finely chopped, which is fine if the ingredients are well-distributed)
Remove the date mixture to a medium mixing bowl; and add in the peanut butter and honey. Mix well, by hand. (Like a meatloaf)
Adjust the honey and peanut butter amounts slightly, to give you a mixture that holds together well and rolls into balls easily.(It should not be too sticky or wet, oil your hands a bit if necessary)
Roll the mixture into one inch balls and place on Parchment paper on a baking sheet.
Refrigerate for 30 minutes until firm
Melt the chocolate and coconut oil in the microwave until it stirs into a smooth melty chocolate
Dip the balls of filling into the chocolate(I used a fork)
Place each chocolate covered ball back on the parchment covered baking sheet.
Place back in the fridge until hard (30 minutes)
These hold up well at room temperature once set. Serve and enjoy!
If you purchase items from our affiliate links we may receive a small commission. Thank you for supporting Homemade Food Junkie.
Nutritional Information:
139 calories/serving
Fat 7 g
Carbs 18 g
Protein 3 g
Yield:

24
CHOCOLATE CHERRY PEANUT BUTTER TRUFFLES
Chocolate Cherry Peanut Butter Truffles are low sodium, vegetarian, gluten free and loaded with healthy ingredients! No processed sugar in these dynamite pops of chocolate cherry peanut butter flavor!
Ingredients
1/2 Cup natural peanut butter, I used creamy
1/2 Cup oats
1/2 Cup Montmorency cherries
1/2 Cup Medjool dates
1/4 Cup honey
1/2 Cup flax
1/4 tsp. Almond extract
1 cup Chocolate chips, or good quality dark chocolate bar to one cup chopped
2 tsp. coconut oil
Instructions
In a food processor add oats, and slowly a little at a time add dates, Alternating with the cherries. Pulsing the food processor after each addition until the dates and cherries are minced fine. Add the flax and pulse. Add the extract and pulse.
Dump the food processor contents into a large bowl. Add the honey and peanut butter and mix well with your hands until a nice well mixed clump of dough is formed.
Pull off pieces of the clump and form into one inch balls by hand.
Place them onto a parchment lined baking sheet. Refrigerate 20 minutes until firm.
Melt the chocolate chips together with the coconut oil in the microwave until melted(watch it so it doesn't burn or boil!) About a minute or two depending on your microwave power strength.
Dip the balls into the chocolate mixture.
Return to parchment and refrigerate 15 minutes until the chocolate is firm. Serve.
Notes
Freeze unneeded balls and put them in the fridge for snacks.
Nutrition Information
Amount Per Serving
Calories

139
Pin it: