This is a delicious apple pie filling recipe to freeze ahead. We give you step by step instructions for freezing, defrosting and baking this filling.
Apple pie filling is easy to make ahead and freeze. It requires only a few ingredients and some fresh apples. Freezing apple pie filling can be done in a few simple steps. Frozen apple pie filling is easy to pull out of the freezer and defrost for delicious apple pie.
In this post we will go over a few simple steps to make the most delicious and easy apple pie filling. We have answered a few questions we frequently come across as well.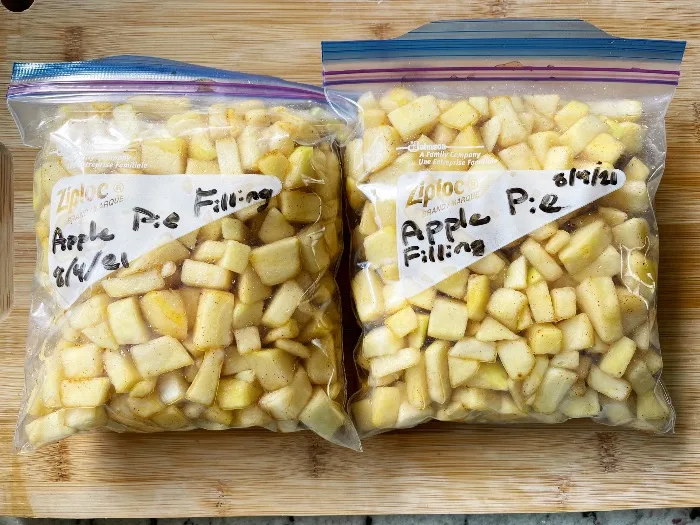 Should Frozen Apple Pie Filling be Thawed Before Baking?
Apple pie filling can be thawed before baking it into a pie. This recipe calls for the filling to be thawed before baking. In this recipe, the cornstarch is added to the filling after it has thawed. Cornstarch works best when it is mixed into the thawed filling.
Some recipes call for the filling to be frozen and then put in the crust. In this instance, the cornstarch is sprinkled onto the frozen filling. If the cornstarch is being added into the pie before baking, it is best to thaw the filling first.
Can you Freeze Apple Pie Filling with Cornstarch?
Freezing apple pie filling with cornstarch is not recommended. Cornstarch absorbs excess moisture which will thicken the pie filling. Added cornstarch will often make the pie filling turn into a thick jelly like texture. The pie filling will fall apart when thawed and not be very appetizing.
For the best frozen Apple Pie filling results, add the cornstarch after the pie filling is thawed. We like to completely defrost the filling and whisk in the cornstarch. This ensures that the cornstarch is evenly dispersed throughout the filling.
Can you Freeze Uncooked Apple Pie?
You can freeze uncooked apple pie. To freeze it simply wrap the entire pie tightly in plastic wrap. Do not put any air slits in the pie dough before freezing it. Properly frozen unbaked pies will last 2-3 months in the freezer.
To bake a frozen apple pie cut slits in the frozen pie crust. put it in the oven frozen do not thaw it. Bake at 425 F for 15 minutes. Reduce the heat to 375 F and continue baking 40 minutes or until the crust is golden brown. The pie filling should be bubbling inside.
Do you Cook Apples before Putting them In a Pie?
Do not cook apples before putting them in a pie. Apples should be kept in cold water until the filling is ready to prepare. Place the raw apples in the filling ingredients and bake immediately in a pie or freeze.
Some recipes call for cooking the apples ahead of time and boiling them in water. This will result in very soft apples that are almost mushy in texture. Canned apple pie filling will also give you this result. If you want crunchier apples, use fresh apples and bake them without cooking them first.
What is Apple Pie Filling Made of?
Apple pie filling is a blend of brown sugar, granulated sugar, ground cinnamon, ground nutmeg, and vanilla extract. Just before the pie is baked cornstarch will be added into the filling to act as a thickening agent. Butter pats are usually placed on top of the filling underneath the pie crust. To make a shiny crust, egg whites are often brushed along the surface of the crust before baking. Sanding sugar can also be sprinkled on the crust before baking.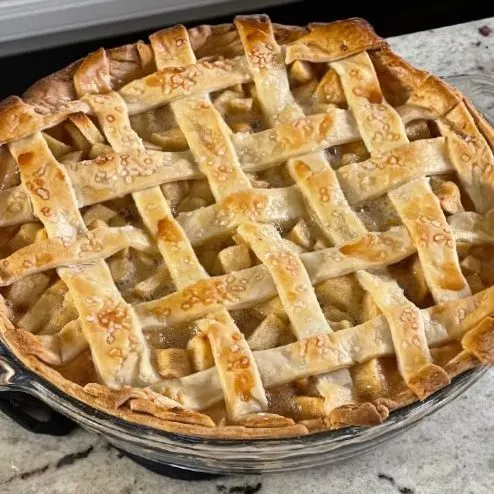 More Apple Pie Ideas:
We love apple pies of all sorts. If you are looking for more ways to use up your fresh apples or wow your Holiday guests, check these out!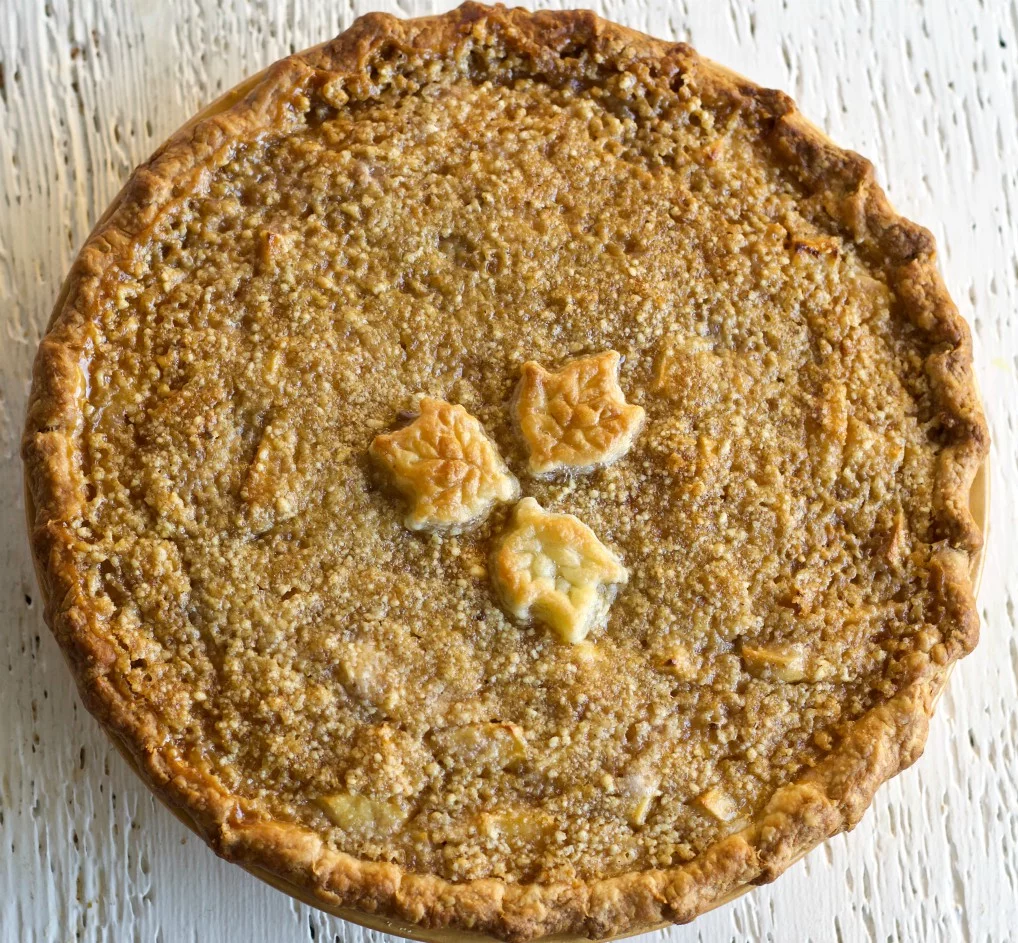 Links to pictured Recipes:
Simple Apple Pie Filling Recipe:
This is a wonderfully simple apple pie filling to freeze. Or use it for batch baking if you have a lot of fresh pies to make at once.
You will get about four quarts of apple pie filling for the freezer. Each bag is enough (if full) for a regular nine inch pie. You can also use it fresh or defrosted for baking up to four 9 inch regular depth pies.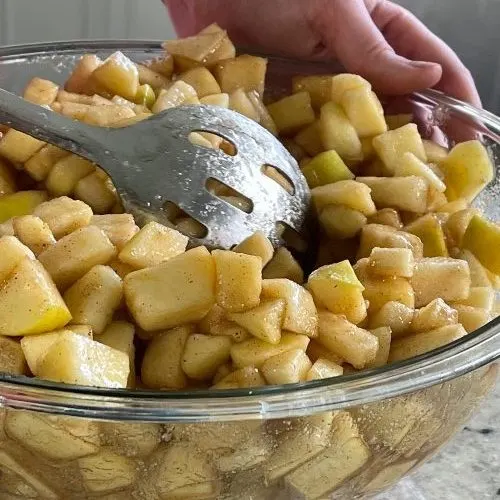 Golden delicious apples are a soft sweet apple that makes a yummy pie and needs very little sweetener. If you are using a tart apple you may want to adjust the sweetener to taste.
Apple Pie Spice Recipe:
We use our own apple pie spice recipe for this freezer filling. Feel free to tweak it your own preference.
The type of apples you use do make a difference. If you use a tart firm apples plan to sweeten and possibly adjust the flavors to complement them.
This apple pie filling is perfect with a crumb topping or pastry as you prefer. Our Sour Apple Pie Recipe has a wonderful crumble top recipe you can use.
The Thickener:
We add cornstarch for thickener in this pie filling recipe at BAKING time. It makes a nice transparent filling that holds together perfectly with great flavor.
In my experience it is best to add the thickener just before baking. Cornstarch might get lumpy in the freezer.
If using flour you will probably need to add more at baking time anyway since it tends to break down with freezing. This can make the pie filling taste a bit floury.
We do NOT add the thickener before freezing the filling. If you are baking pies from this defrosted or fresh apple pie filling add 2 Tablespoons of cornstarch before baking.
We also do NOT recommend cooking this pie filling ahead with cornstarch in it. Cooking and baking cornstarch in any recipe can give you a jelly like and often lumpy result. Not at all what you want to eat.
So defrost the filling, Add the cornstarch and then bake your apple pie filling or best results.
We have complete baking instructions for defrosting and baking this apple pie filling recipe below.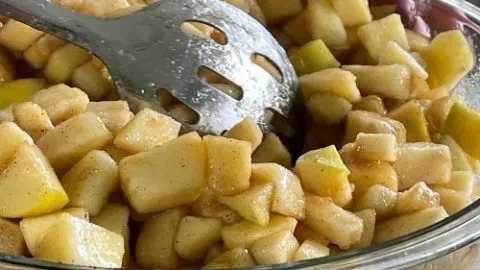 Yield:

4 quarts Pie filling
Apple Pie Filling Recipe
Total Time:
1 hour
5 minutes
This Aple Pie filling recipe is delicious and versatile. Make it and bake it immediately in any crust with whatever topping you prefer. Or put it in freezer bags and freeze for up to six months. Defrost and it's ready for thickener and your favorite pie crust.
Ingredients
16 cups apples peeled and chopped- (golden delicious or other soft sweet baking apple)
2 Tablespoons lemon juice
Apple Pie spices:
1 Cup Brown sugar
1/2 Cup granulated sugar (to taste-more for tart apples)
1 tsp. Ground cinnamon
1/4 tsp. ground nutmeg (to taste)
2 tsp. Pure Vanilla extract
At Baking: For two crust pastry pie
2 Tablespoons Cornstarch
1/4 Cup butter (in pats)
egg white (for brushing the pastry top)
Sanding sugar (as desired)
Instructions
Making Pie filling:
Prepare Apples:
Pour water into a large mixingbowl and stir in lemon juice.
Peel and chop apples. and submerge in lemon juice bath.
Prepare Apple Pie Spice Recipe:
In a medium bowl combine sugars, cinnamon and nutmeg. Whisk Together. Reserve Vanilla.
Completing Pie filling:
Drain chopped apples in a colander so they are mostly dry and not dripping liquid.
In a large mixing bowl pour in the drained chopped apples.
Add the dry spice mix and stir until all the apples are coated.
Pour in the vanilla and stir until completely combined.
How To Freeze Apple Pie filling:
Put the pie filling EQUALLY into four quart size freezer bags.
Suck all the air out of each bag.
Seal the bags (You can also use vaccum sealer if you have one).
Label the bags and freeze for six months and up to a year.
NOTE: You will add cornstarch when the filing is defrosted and ready to bake. This ensures the very best baking results. We don't recoomend any cornstarch in the filling before freezing. I have added flour for the freezer and it won't hurt but you will still have to adjust the amount for the liquid before baking.
Defrosting:
Defrost at room temperature in the freezer bags. I set mine in a large bowl so they don't leak on the counter.
Baking Instructions:
Each quart size bag will make one regular nine inch pie with a double crust or crumble top.
Preheat Oven to 400 degrees F.
Place the defrosted filling in a large bowl and stir it.
Add 2 Tablespoons Cornstarch to the defrosted filling.
Stir until the cornstarch is thoroughly mixed in with no lumping.
Pour the filling into your prepared pie crust.
Options for pastry crust
Set pats of butter on top of the apple pie filling.
Pierce solid top patsry tops with a knife for venting. Or use a lattice crust as we did.
Top crust can be a crumble or pastry with egg white wash and sugar sprinkle as you prefer.
Bake for 45 minutes or until the filling bubbles.
Cool and serve with vanilla Ice cream.
Notes
This filling can be used with any of your favorite nine inch crust recipes.
If you are using tart firm apples:
You may want to adjust the sweetener amount to taste.
The baking time may also take longer.
Be sure the filling bubbles and the apples are soft when checking for doneness.
Nutrition Information
Yield
16
Serving Size
1 cup
Amount Per Serving
Calories

131
Total Fat

0g
Saturated Fat

0g
Trans Fat

0g
Unsaturated Fat

0g
Cholesterol

0mg
Sodium

5mg
Carbohydrates

34g
Fiber

3g
Sugar

30g
Protein

0g
Follow Us:
We enjoy meeting you on our social networks. Follow us on Facebook, Pinterest, Instagram . Tag us with your pictures of our recipes and comment on how it went for you. We would love to see what you do with them.
We often like, comment and share your posts of our recipes on our daily Instagram stories.
Ask questions and rate the recipe in the comments section below. Please share what you did with this recipe. We are always looking for more and better ways to make homemade food. Other cooks love your ideas!
Recent Posts: