Introducing the Creamy Ranch Pasta Pea Salad with Bacon. It's a Delightful Combination of Flavors and textures. Enjoy the creamy textures, vibrant colors, and tantalizing flavors with Creamy Ranch Pasta Pea Salad with Bacon.
This delectable dish combines the freshness of peas, the richness of bacon, and the creaminess of mayonnaise to create a delightful medley of tastes that will leave you craving more.
Your loved ones will savor every mouthful of this Creamy Pasta Pea Salad with Bacon. With its creamy textures, the burst of sweetness from the peas, the smoky bacon, and the subtle tang of the dressing, this salad is a true crowd-pleaser.
This Creamy Pasta Pea Salad with Bacon is sure to be a favorite 'Go To' salad in your repertoire of side dishes.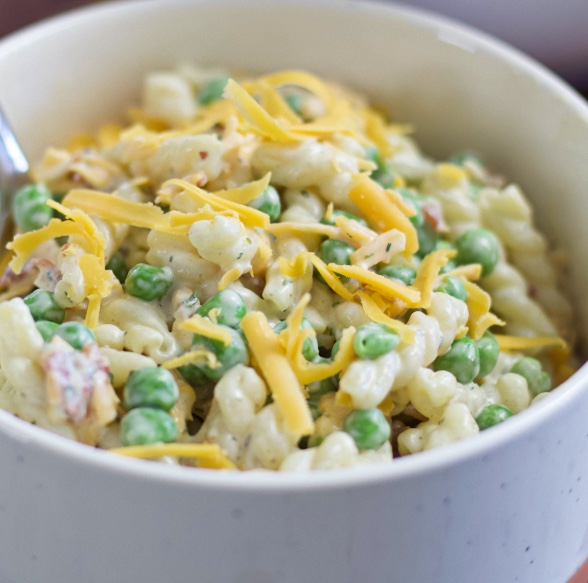 Where to Serve Pea salad with Bacon?
Pasta pea salad with bacon can be served in a variety of settings and occasions. Here are some places where this salad would be well-suited:
Picnics and Outdoor Gatherings: This salad is a great option for picnics and outdoor gatherings due to its refreshing and portable nature. Its cool and vibrant combination of flavors and textures makes it a crowd-pleasing dish that can be enjoyed in a casual and relaxed setting.
Potlucks and Parties: Whether it's a potluck with friends or a larger social gathering, pea salad can be a versatile addition to the menu. Its colorful presentation and customizable nature make it an attractive and appealing dish to share. It can be served as a side dish or even as a standalone option for guests with dietary preferences.
Barbecues and Cookouts: The smoky and savory flavors of the bacon (or bacon substitute) in the salad pair well with grilled meats and other barbecue dishes. It can serve as a refreshing and complementary side dish alongside grilled burgers, hot dogs, or barbecue chicken.
Buffets and Salad Bars: Pea salad can be a standout dish on a buffet or salad bar. Its vibrant colors and combination of flavors can add visual appeal and variety to the spread. It can be served alongside other salads, grilled vegetables, or as a standalone option for guests to enjoy.
Casual Lunches and Light Meals: This salad can be enjoyed as a light and satisfying lunch option. It's suitable for casual lunches at home, office, or even as a make-ahead option for work lunches. Serve it with some crusty bread or as a side dish to accompany sandwiches or wraps.
Family Gatherings and Holidays: Pea salad can be a comforting and flavorful addition to family gatherings and holiday meals. Its versatility allows it to complement a variety of main courses, making it a versatile side dish for occasions like Thanksgiving, Christmas, or Easter.
Its adaptability and wide appeal make it welcome in many settings. Serve it casual, at outdoor gatherings or at more formal occasions.
What are the Benefits Of Pea Salad?
The standard Pea salad with bacon is not a particularly healthy pea salad with its very heavy, fat filled dressing and bacon. But you can adjust the recipe to be healthier with an avocado mayonnaise and some recipe adjustments, like removing the bacon.
But for a yummy pot luck or summer salad, Pea salad with bacon offers several non-nutritional benefits that make this recipe a must make. It's refreshing, crowd pleasing and you can adjust the ingredients for a nice colorful, eye catching presentation. Also…
It's Easy to Make:
Simple Pea salad recipe is a straightforward recipe. It requires minimal cooking (just boil the noodles) and is a snap to put together. It's a convenient option for those looking for a hassle-free dish.
Pea Salad is Versatile:
Pea salad is a versatile recipe. This pasta pea salad is easy to change up. Experiment with different ingredients. Add diced vegetables like peppers, try different herbs and spices to suit your taste. Create variations to suit different occasions.
It's a Make-Ahead Dish:
Pea salad is an excellent make-ahead dish. You can prepare it a day in advance. Let it chill, covered, in the refrigerator. The flavors will meld together and get better! It is a convenient option for picnics, potlucks, or gatherings. You can focus on other preparations while the salad cools and develops its flavors.
Leftover Potential is HUGE!
I make this salad FOR the leftovers. It holds well in the fridge for several days and the flavors just get better over time. If you have any leftover pea salad, enjoy as a tasty, convenient snack or light meal the next day, providing a delicious and quick side for weekly meals.
What is Pea Salad Made Of?
The classic pea salad is made of green peas, red onion, bacon and cheese. The dressing is a combination of mayonnaise, sour cream and vinegar, sugar and salt and pepper.
Our Creamy Ranch Pasta Pea Salad with bacon begins with the old fashioned pea salad ingredients and then heads into new territory with pasta and a ranch flavored creamy dressing we just love. We think you will love this version too. The flavor is amazing and the pasta makes this dish a stand alone meal if need be.
Pea Salad Recipe Without Bacon:
Vegans and vegetarians may not appreciate bacon in your pea salad. If you're looking for a substitute for bacon to add a smoky taste to your pea salad, there are several ingredients to consider. Remember to taste a small portion of the salad with these smoky additions and be careful not to overwhelm the other flavors.
Liquid Smoke: Liquid smoke is a concentrated flavoring made by capturing the smoke from burning wood. It can be found in most grocery stores and can provide a smoky flavor to your salad. Start by adding a small amount and adjust according to your taste preferences.
Smoked Paprika: Smoked paprika is a spice made from dried and smoked red peppers. This is the one I would most likely try first. I use it in my smoky potato salad and it is excellent and easy to adjust the amount to suit your taste. It offers a smoky flavor and can be used to season your pea salad. Sprinkle a small amount over the salad or mix it into the dressing to infuse the dish with a smoky taste.
Smoked Tofu: If you love tofu, Smoked tofu can provide a smoky flavor to your salad. Dice the smoked tofu into small pieces and add it to the salad along with the other ingredients. The smoky tofu will contribute a similar flavor profile to bacon.
Smoked Salt: Smoked salt is a type of salt that has been smoked over a wood fire. It imparts a smoky flavor to your dishes. Sprinkle a pinch of smoked salt over the salad to give it a smoky taste. Keep in mind that smoked salt tends to be more intense, so use it sparingly.
Smoked Cheese: Another option is to use smoked cheese (here a link to a whole page of smoked cheeses on Amazon), such as smoked gouda or smoked cheddar. These cheeses have a natural smoky flavor that can complement the pea salad. Shred or cube the smoked cheese and incorporate it into the salad for a delightful smoky twist.
Remember to adjust the amount of any substitute ingredient. These alternatives help recreate the smoky flavor bacon offers but they are not bacon. Make sure you enjoy the combination before you add too much.
How to Make Pea Salad With Bacon
The Method: Begin by cooking the bacon until it's crispy, then let it cool before chopping it into delectable bits of smoky goodness. Meanwhile, boil the pasta according to the instructions on the package, ensuring it reaches the perfect al dente texture.
While the pasta cooks, whisk together the mayonnaise, salt, pepper, and dry ranch seasoning in a small bowl. This flavorful dressing will enhance every bite of the salad, adding a tangy and savory element.
Once the pasta is cooked, drain it and rinse it with cold water to stop the cooking process. In a large salad bowl, combine the cooled pasta with the thawed peas, chopped bacon, shredded cheese, and chopped green onions. This combination of ingredients will create a delightful color palette and a satisfying crunch.
Finally, drizzle the creamy dressing over the salad and mix it thoroughly, ensuring that each ingredient is beautifully coated. The dressing will bind all the components together, infusing them with its delightful flavors.
For the finishing touch, place the pasta salad in the refrigerator and allow it to cool for a minimum of two hours before serving. This step is crucial as it allows the flavors to meld together and ensures that the salad is served refreshingly chilled, perfect for warm weather or any occasion.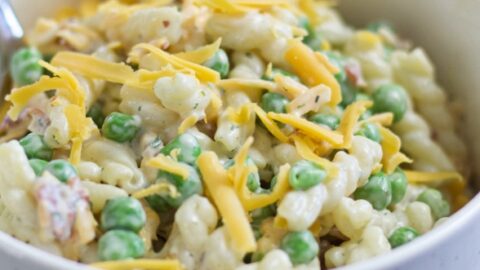 Yield:

10 servings
Creamy Pasta Pea Salad with Bacon
Total Time:
2 hours
35 minutes
Delicous and simple to make. Creamy Ranch Pasta Pea salad with bacon is perfect for gatherings, pot lucks and family dinners.
Ingredients
2 Cups frozen peas
10 oz pasta (I used Gemelli pasta)
1 Cup mayonnaise
1/2 cup fresh shredded cheddar cheese
2 sliced green onions
6-8 strips of cooked chopped bacon
1 packet dry ranch seasoning
1/2 tsp cracked black pepper
1/2 tsp sea salt
Instructions
Cook bacon and let cool before chopping
While bacon cooks, boil pasta according to package instructions
Whisk together mayonnaise, salt, pepper, and dry ranch seasoning in small bowl.
Drain pasta and rinse with cold water.
In a large salad bowl add cold pasta, thawed peas, chopped bacon, shredded cheese and chopped green onions.
Drizzle dressing over salad and mix thoroughly
Place pasta salad in the refrigerator and allow to cool 2 hours before serving.
Nutrition Information
Yield
10
Serving Size
1
Amount Per Serving
Calories

257
Total Fat

19g
Saturated Fat

4g
Trans Fat

0g
Unsaturated Fat

15g
Cholesterol

16mg
Sodium

559mg
Carbohydrates

15g
Fiber

2g
Sugar

2g
Protein

6g
More Delicious Crowd Pleasing Salads:
Even MORE Salads!
Follow Us:
We enjoy meeting you on our social networks. Follow us on Facebook, Pinterest, Instagram . Tag us with your pictures of our recipes and comment on how it went for you. We would love to see what you do with them.
We often like, comment and share your posts of our recipes on our daily Instagram stories.
Ask questions and rate the recipe in the comments section below. Please share what you did with this recipe. We are always looking for more and better ways to make homemade food. Other cooks love your ideas!
Recent Posts: