Juicy organic homemade Italian style hamburgers. Perfect patties made from organic grass fed beef. These beauties hold together on the grill and have great flavor!
Last week I had an adventure. I drove 700 miles to visit my family in Great Falls Montana. There was a two year old birthday, a rodeo, and my four year old granddaughter, Nora, went Mutton Bustin! I couldn't miss any of that! Those 12 hours on the road zipped right past. I like road trips. Even when I go alone and do all the driving. Western Montana is so beautiful, especially up highway 200. If you ever get the chance It's a lovely drive.
The several days I spent with those special people are treasures in my memory. My daughter, Amanda and I had a chance to catch up and visit long into the night, we visited parks with the kids, experienced the Montana State Fair and Rodeo, and had lots of kitchen adventures too! Amanda and her husband, Nathan, are both excellent cooks. Check out Amanda's Grilled Chicken Corn Black Bean salad for a tasty summer side. Today's recipe is Nathan's. He created this hamburger patty recipe and it's their 'go to' hamburger patty. I was so impressed! These patties are full of Italian flavors and just make this American favorite, even better!
Look at those beautiful, plump burgers cooking on the grill. Full of parmesan cheese blend, Panko bread crumbs and Italian seasonings for fantastic flavor and so they hold together, even cooked! My hamburger patties never hold together. My version of Cheeseburger, calls for pre-made frozen hamburger patties. (I know, I feel so guilty!) Nathan's Italian Style Hamburgers are gorgeous!
[tweetthis hidden_urls="pic.twitter.com/1SgRWIk1Dn"] Perfect #Hamburger #patties hold together on the grill. Italian flavor! #burgerlove #burger[/tweetthis]
Nathan has built a patty to be proud of. I gobbled it right up with all the trimmings they put on; like mushrooms, cheddar cheese, avocados and other tasty bits. The recipe has suggested amounts for the condiments. Go ahead and choose whatever additions you enjoy for your own specialized version of this delicious hamburger. Enjoy this dinner with your favorite veggies or salad!
Nathan's Italian Style Hamburgers: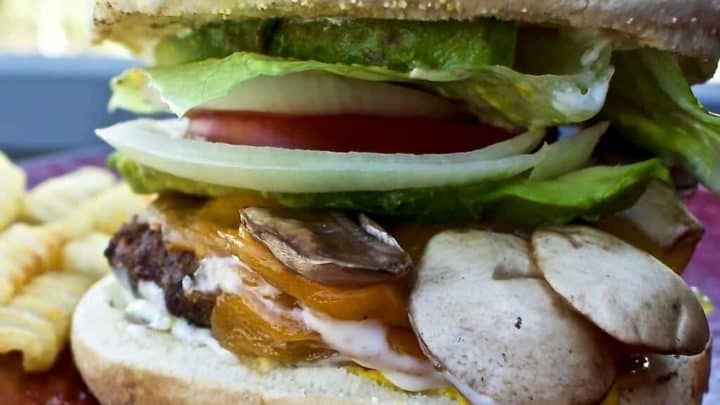 Yield:

6 servings
Nathan's Italian Style Hamburgers
Additional Time:
10 minutes
Juicy organic homemade Italian style hamburgers. Perfect patties made from organic grass fed beef. These beauties hold together on the grill and have great flavor!
Ingredients
(For the hamburger Patty)
1 lb. ground hamburger
1/2 Cup Italian style bread crumbs
1 egg
1/3 Cup parmesan blend grated cheese
2 Tablespoon Italian seasonings
salt and pepper to taste
(For the Hamburger assembly)
4 Kaiser rolls
1 ripe avocado,sliced
1 tomato, sliced
1 onion, sliced
1 peppers, sliced
4 Romain lettuce leaves
2 pickles
6 slices cheddar cheese
1 Cup mushrooms, sliced
2 Tablespoon mustard
2 Tablespoon mayonnaise
1 Tablespoon ketchup
1 Tablespoon relish
Instructions
Mix the hamburger meat, cheese blend, bread crumbs, Italian seasoning and salt and pepper thoroughly and press into six evenly sized patties
Press flat to 1/4 inch
Grill on medium about 10 minutes, until the blood rises to the top
Flip and cook another 10 minutes
Last two minutes add the cheese slices and layer the mushrooms on top
Cook until cheese is melted
Remove to plate and allow them to rest while preparing the condiments
Toast buns if desired
Lay the burger on your favorite condiments and layer on the onion, tomatoes, pepper slices and avocado.
Top with lettuce and the top bun. enjoy!
Nutrition Information
Yield
6
Serving Size
1
Amount Per Serving
Calories

529
Total Fat

32g
Saturated Fat

13g
Trans Fat

1g
Unsaturated Fat

15g
Cholesterol

137mg
Sodium

835mg
Carbohydrates

25g
Fiber

3g
Sugar

5g
Protein

35g
Pin it: