Tasty Pumpkin Cheesecake bars are layered with a nutty crust and topping and pumpkin cheesecake. A good pumpkin dessert for a Holiday party, potluck or Fall family dessert.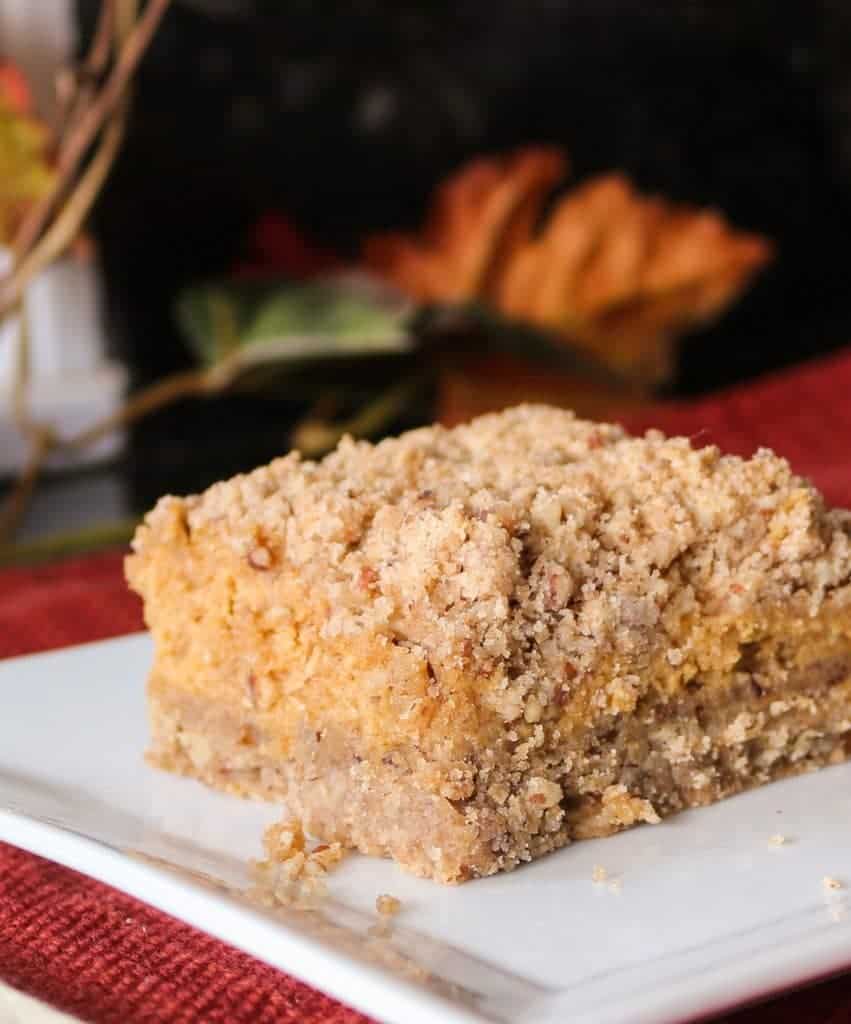 I Made a double batch of these crowd pleasing Pumpkin Cheesecake Bars. We wiped out a large 13 x 9 pan in a day.
More Pumpkin Recipes:
Even my finicky eater youngest son gobbled these right up. He claims they are better than pumpkin pie. That is high praise, coming from him!
These crumbly layered dessert bars are filling, rich and addicting. Great party food.
Recipe Notes on Pumpkin CheeseCake Bars:
You can make this fall dessert as a farm to table recipe with Homemade roasted Pumpkin Puree . It will give you a deeper sweeter flavor than store bought canned pumpkin puree.
This recipe is for an 8 x 8 pan which makes about 9 generous cheesecake bars (unless you cut them VERY small). You will want to Double the recipe for a large crowd.
Pumpkin cheesecake bars are a good traveler for tailgating or a Thanksgiving dessert. Just put a piece of plastic wrap over the dish and off you go.
No worries about squishing pretty toppings or balancing something delicate in the car.
This Pumpkin bar dessert also cuts easily at room temperature and is food safe at room temperature for several hours.
The Process:
Here is a visual walkthrough for you. Please also watch our video demonstration for more details on making this recipe.
Tips for this Easy Pumpkin Dessert Recipe:
Oil your pan. Always. This dessert bar recipe serves like a dream but sticks if you forget this step.
Pulverize the pecans with a food processor, an immersion blender or a lot of patience. Cutting this many nuts so fine is a task I was happy to hand off to my electrical foodie friend.
Use Neufchatel cheese to help reduce the calories if you like. I have made this recipe with it and it works fine.
Replacing the butter with coconut oil is also an option. Coconut oil is a healthier fat than butter and has a delicious flavor that really enhances the flavor of all baked goods.
Coconut oil has a melting point of 76 degrees so it's a bit different to work with than butter and hardens solid in your fridge so these bars are best served at room temperature to easily cut the crust.
This recipe can be easily made ahead a day or so and stored. tightly wrap the dish with plastic wrap in your fridge. These bars have that nice, thick topping which protects them from drying out. Yummy!
Nutritional Information:
206 calories per serving when made with Neufchatel cheese and coconut oil. More detailed nutritional information is in the recipe card.
Your Printable Recipe Card:
Yield:

16 servings
Pumpkin Cheesecake Bars
A simple dessert perfect for Fall and the Holiday season. Full of rich pumpkin flavor and crumbly topping with a press in crust. Your family will enjoy this Scrumptious treat. It's an easy take along dessert for all kinds of Fall and Winter events.
Ingredients
1 cup all-purpose flour
1/3 cup packed brown sugar
1/4 Cup melted butter
1 cup finely chopped pecans
8 ounces cream cheese, softened
3/4 cup sugar
1/2 cup canned pumpkin
2 eggs
1 teaspoon vanilla extract
1-1/2 teaspoons ground cinnamon
1 teaspoon ground pumpkin pie spice
Instructions
The Crust and Topping:
In a large bowl, combine flour and brown sugar. Pour in melted butter and stir until crumbly. Stir in chopped pecans. set aside 1 cup of this mixture for topping.
Press remaining crumb mixture into the bottom only of a greased 8-in. square baking pan. Bake at 350° for 15 minutes or until edges are lightly browned. Cool
The Filling:
In a large bowl, beat cheese and sugar until smooth. Beat in the pumpkin, eggs, vanilla, cinnamon and pumpkin pie spice. Pour over the BAKED crust. Sprinkle with the reserved crumb mixture.
Bake:
Bake for 30-35 minutes or until golden brown. Cool thoroughly. Cut into bars. Store in the refrigerator. Serve at room temperature.
Notes
Substitutions:
Coconut oil or avocado are great substitutes for the butter in this recipe.
Walnuts may be used instead of Pecans if you prefer.
Substitute Nuefchâtel cheese for the cream cheese to lower the calories in this recipe significantly.
Recommended Products
As an Amazon Associate and member of other affiliate programs, I earn from qualifying purchases.
Nutrition Information
Yield
9
Serving Size
1
Amount Per Serving
Calories

382
Total Fat

24g
Saturated Fat

9g
Trans Fat

0g
Unsaturated Fat

12g
Cholesterol

80mg
Sodium

139mg
Carbohydrates

39g
Fiber

2g
Sugar

25g
Protein

6g
Reduce the calories per bar to 206 by substituting neufchâtel Cheese for the cream cheese and using avocado oil rather than butter.
Pin it: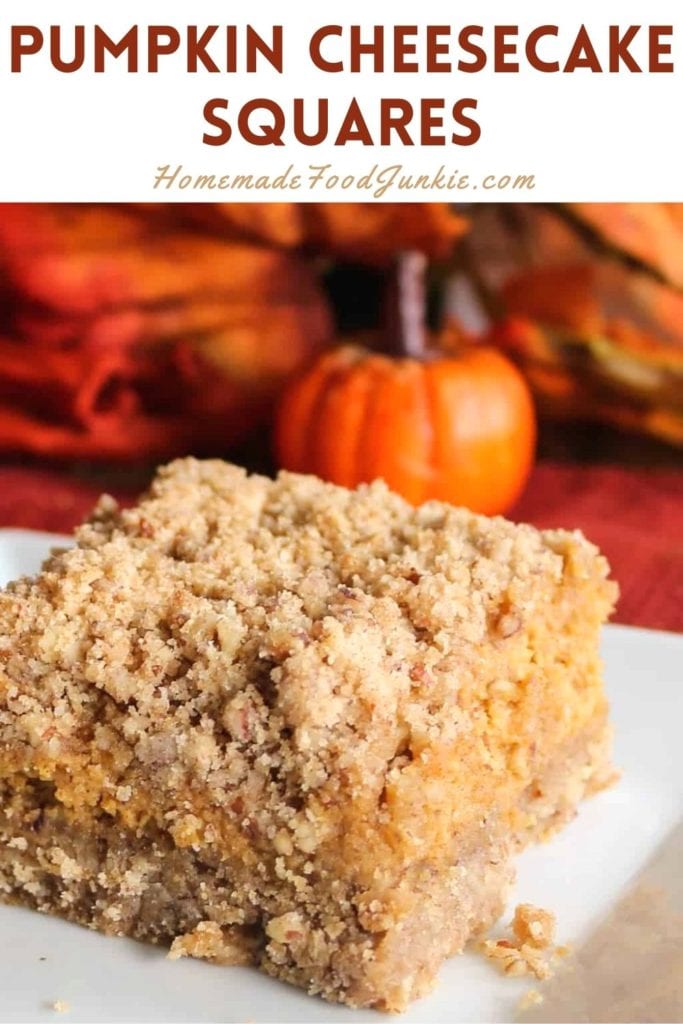 Originally published as Pumpkin Cheesecake Bars in Best of Country Cookies 1999, p 87
I adapted this recipe from Taste of Home