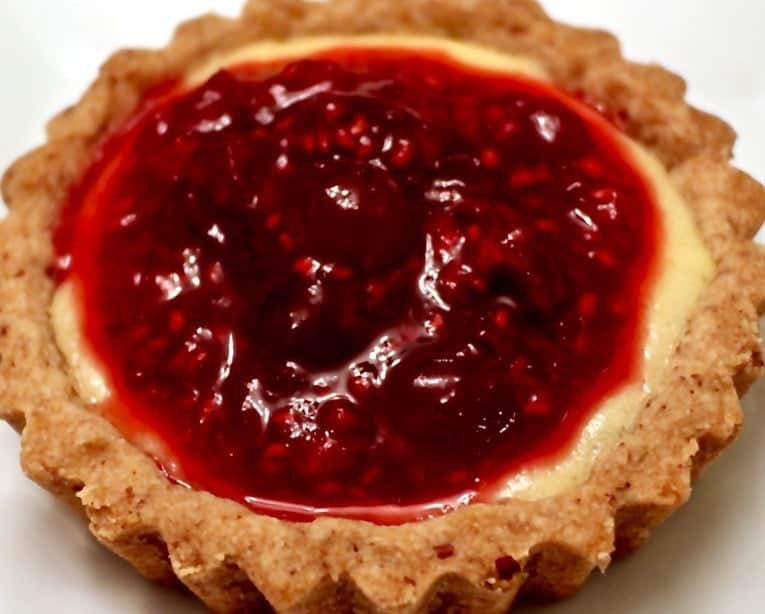 Cranberry raspberry mini tarts are adorable and scrumptious. One tart is the perfect size for a single serving.  Add them to your menu for a  special dessert or upcoming holiday event. They make an impressive display on a side board buffet tray or formal table setting.
Cranberry raspberry mini tarts are made with a nutty pat in the pan crust, a cheesecake filling and topped with a cheerful cranberry raspberry sauce. Not a lot of work really and each stage of this production is easy. So worth it! Here's how to make this delectable dessert!
Recipe Notes for Cranberry Raspberry Mini Tarts:
Start with the crust: Pat in the pan crust* recipe is what I used. Feel free to use any press in crust you prefer. I like this one. It uses coconut oil and nuts for healthy fats and it's easy to work with. Follow the link to give this easy crust a try! After making the crust, just press it into the tart pans (about 6 mini tart pans) and  bake it at 350 degrees for 10 minutes.
While they are baking make the cheesecake filling. When the mini tarts come out of the oven just pour the cheesecake filling into each of the tart pans right over the warm crust and pop them back into the oven for about 20 minutes.
Meanwhile make your cranberry raspberry sauce, when its done set it aside to cool. When the tarts come out of the oven they also need to cool.
Once cooled serve your cranberry raspberry mini tarts with the cooled cranberry raspberry sauce on top! Piquant sweet sauce over luscious rich cheesecake in a lovely crust.
Enjoy your dessert!
Cranberry Raspberry Mini Tarts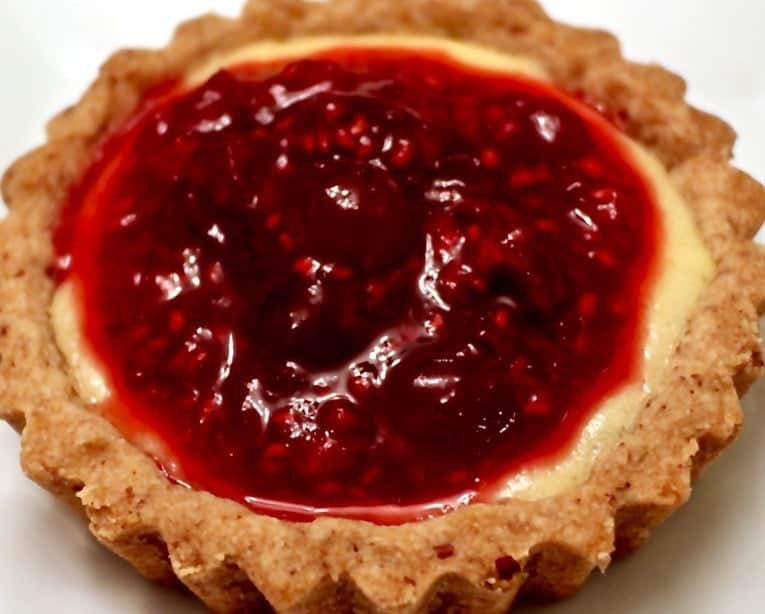 Ingredients
Filling: For the cheesecake filling)
8 oz. softened cream cheese
1/2 cup granulated Sugar
2 eggs
1 tsp. vanilla
(Cranberry-Raspberry Sauce)
1 can whole cranberry sauce
1 1/2 Cup fresh or frozen unsweetened raspberries.
1/4 Cup sugar
Cook over medium heat, stirring often, until the sauce thickens and is bubbly.
Remove from heat and let cool. (Note: taste and add more sugar as needed.)
Instructions
Preheat oven to 350 degrees
Grease six 4 inch mini tart pans
Make the pat in the pan crust, press into your mini tart molds and bake them.
Filling: For the cheesecake filling)
In a large bowl, using an electric or stand mixer, mix the softened cream cheese on medium speed until smooth.
Add the Sugar and blend together.
Add the eggs, and vanilla. Beat until smooth.
Pour cream cheese mixture over warm crust.
Bake at 350 degrees for 20 minutes or until the crust is firm and barely browned
Cool
For the Cranberry-Raspberry Sauce:
In a two quart saucepan combine 1 can whole cranberry sauce and 1 1/2 Cup fresh or frozen unsweetened raspberries and sugar.
Cook over medium heat, stirring often, until the sauce thickens and is bubbly.
Remove from heat and let cool. The sauce will thicken as it cools
Pin it:
Recipe inspired by Joy of Cooking