Delicious, light, creamy, low carb, gluten-free crustless New York cheesecake. This cheesecake is so easy to make and it comes out perfect without a crust.
The recipe I can trust to deliver a great baked New York Cheesecake without cracks in the top, is printed right on Raskas cream cheese 3 lb. box. When I decided to try a crustless cheesecake I followed Raska's New York Cheesecake recipe. Sure enough it came out beautifully.
Testimonies From Our Reader
Our comment section is full of praise for this recipe. Like these comments.
Our reader Kathy, says "The BEST cheesecake I have ever tasted!!! Thank you!"
Ems says "My husband said this was the best cheesecake he has ever eaten. He thinks I am a cheesecake wizard! Thanks for the recipe."
More Cheesecakes:
Cheesecakes are a family favorite for us. If you love them too try some of our other cheesecake recipes. Here are several popular cheesecake recipes your family is sure to enjoy.
FYI: The Sugar free pumpkin cheesecake and Chocolate Raspberry Cheesecake are both gluten free cheesecake recipes with crusts.
I'm always hunting up new recipes for cheesecakes. In fact, I just broke some new ground in cheesecake cooking.
I made both crustless and crusted cheesecake in my instant pot. Go take a Look at my Instant Pot 6 Inch New York Style Cheesecake if you want a REALLY easy way to make a crustless cheesecake without cracking. It's rich and creamy too.
New york Style Cheesecake Recipe:
Baking your crustless cheesecake successfully with the oven method is what this post is all about.
We have several tips and an instructional video with tips (LINKED BELOW) on successfully making this gluten free cheesecake with a KETO option too.
Crustless New York Cheesecake has a velvety, creamy texture and that unique cheesecake flavor we all love. Without a crust this is a pretty, gluten-free, light dessert.
The whole thing is just one solidified step up from eating custard! Top it any way you prefer. Cheesecake is so versatile!
The original Raska's New York cheesecake recipe calls for a crust and gives directions on making one. I reprinted only the cheesecake filling with no crust. Because crustless is what this post is all about!
I'm pretty excited that cheesecake can be made successfully without a crust. Suddenly it's gluten free and lighter in calories. And a beautiful low carb cheesecake recipe. That heavy, rich dessert lightens up to a movie night snack!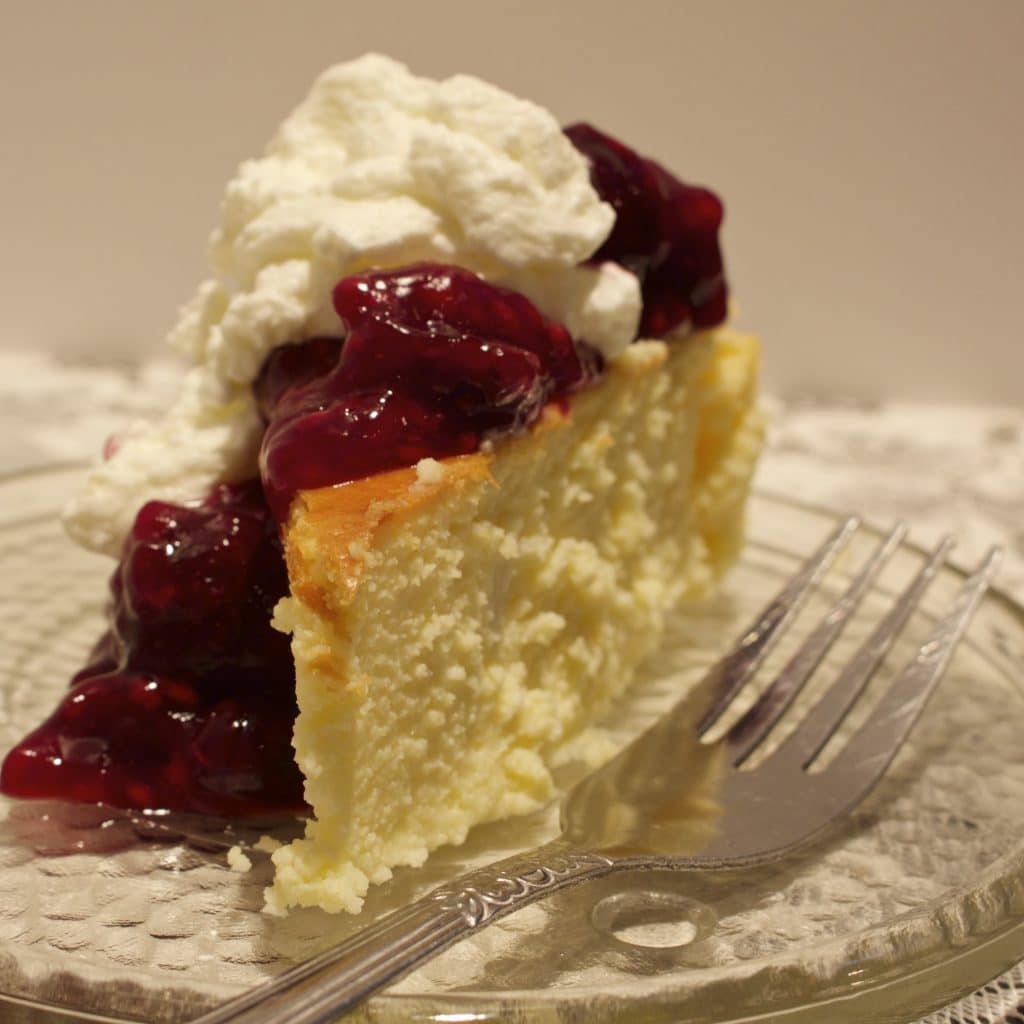 Light, fluffy and sinfully delicious
Cheesecake Topping Idea:
For the topping to this cheesecake as Pictured. I used the Raspberry sauce recipe from my Raspberry cheesecake squares and substituted Frozen Three Berry Blend for the fresh Raspberries.
Recipe Notes on Crustless New York cheesecake:
The nice thing about a crustless cheesecake is the time to make the recipe shrinks since there is no crust to make and bake. This is a really easy cheesecake recipe to put together.
PRO TIPS:
To make a great cheesecake: Watch this video in the recipe card to see this cheesecake made correctly.
Do NOT overmix the eggs. Egg proteins are delicate.

For the best textured cheesecake add the eggs in at the end of the mixing one at a time and mix gently on low speed until just combined.

USE this WATER BATH METHOD when oven baking any cheesecake to avoid the cracking problems cheesecakes often have.
Just whip the few ingredients up in the mixer, pour it into your prepared springform pan and bake it in a water bath.
Let the cheesecake sit in the oven after the timer goes off. I crack the oven door and insert a wooden spoon so the heat can slowly escape. Turn off the oven and let it sit in there about 45 minutes.The water bath and slow cool down help eliminate cracking AND falling problems.
Even heat, during baking and cooling, seems to be the key to a successful cheesecake. Last time I made this recipe I forgot and took it out and set on the counter right after it was done. I put it back in right away but it still fell. So be careful about that!
If you want a little higher cheesecake… try using an 8 inch pan and let it cook another 10 minutes. That is what Amanda did in the video and it worked great with the extra time. Remember the crust layer is missing so this crustless cheesecake will be a little lower in a 9 inch pan.
We absolutely love eating this low carb dessert crustless. The reduction in calories is huge! If you really want to go skinny try using non fat yogurt instead of sour cream like I did last time. Still tastes great!
For the Keto Cheesecake Recipe Option:
This recipe is Keto approved with one ingredient alteration. Simply replace the granulated sugar with granulated Stevia.
This video demonstrates making this cheesecake as a keto recipe with only that ONE ingredient change. It's so easy and SO good! Look at our Nutrition Fact label in the printable recipe card with Sugar free sweeteners for the nutrition details.
Let me know how this recipe works out for you. Anytime I hear from you I'm having a great day. Especially if you have concerns, questions or if something needs changing, in your opinion.
We are always ready to hear thoughtful opinions and suggestions on Homemade Food Junkie's recipes. I have made this one numerous times and NO cracking.
Nutrition Facts With Granulated sugar:
If your not concerned with sugar carbs the nutrition facts are in this label for you 🙂
Your Printable Recipe Card:
Yield:

12 slices
CRUSTLESS NEW YORK CHEESECAKE
Cook Time:
1 hour
15 minutes
Total Time:
5 hours
45 minutes
Delicious, light, creamy, low carb, gluten-free crustless New York cheesecake! This cheesecake is so easy to make and it comes out perfect without a crust!
Ingredients
24 oz. cream cheese at room temperature
3/4 Cups Stevia sweetener (OR sugar as you wish)
3/4 Cups Sour Cream
4 eggs
1 tsp. vanilla OR 1 Tablespoon lemon zest
Instructions
Instructions
Preheat oven to 325 degrees
Wrap the outside of a 9 inch springform pan with heavy tinfoil to make it waterproof.
Thoroughly oil the entire interior of the pan with coconut oil or butter
In a stand mixer, beat the cream cheese. Add the sugar and mix.
Add sour cream, scrape down the bowl as needed, and mix thoroughly.
Crack the eggs and add in one at time, mixing after each addition.
Mix in the remaining ingredients and mix until smooth.
Pour the cheesecake batter into the pan and put the pan into a one/half inch water bath(I used my roasting pan).
Bake for 75 to 90 minutes until set and golden brown. The top should NOT jiggle a LOT when set. But it may move a LITTLE BIT. Turn off oven and crack the door slightly for 30 minutes . Then remove cake to counter and let cool until the cake is at room temperature. Remove the sides of your pan and continue to cool in the refrigerator until completely set. Several hours.
Notes
Cheesecake texture suffers if eggs are over mixed so be gentle with them. This water bath baking method and the long slow cool down in the oven are very important to get the results you see pictured. The chill time in the fridge (best if chilled overnight) is not factored into the recipe time as it's up to you how long to chill it.
For the topping to this cheesecake as Pictured I used the Raspberry sauce recipe from my Raspberry cheesecake squares and substituted Frozen Three Berry Blend for the fresh Raspberries. This recipe would also be EXCELLENT topped with Roasted Raspberries!
FOR KETO VERSION OF THIS RECIPE: Omit the sugar and replace with a KETO approved Sweetener. Calories in this recipe without sugar is 215 per slice. if you want more keto recipes go to Amanda's Youtube channel. She has partnered with us on several KETO recipes and her videos are great!!
Nutrition Information
Yield
14
Serving Size
1 slice
Amount Per Serving
Calories

216
Total Fat

20g
Saturated Fat

12g
Trans Fat

0g
Unsaturated Fat

7g
Cholesterol

110mg
Sodium

177mg
Carbohydrates

3g
Fiber

0g
Sugar

2g
Protein

5g
This nutritional analysis is done using sugar free Stevia.