Our recipe for Homemade Pumpkin spice Coffee Creamer is simple to make, delicous and versatile. Which is great for you since you can easily adjust this creamy condiment's ingredients to suit yourself perfectly.
We love it this way but that's just us. You do you. We offer you ideas on variations and substituions so you can tweak the recipe any way you like. That's the beauty of Homemade.
Why Make Your Own Pumpkin Spice Coffee Creamer?
When you have a yen for creamy pumpkin spice coffee you can make it at home with just a few ingredients. No need for a trip to starbucks or the gorcery store. PLUS, you can have your pumpkin spiced coffee clear through the winter.
Commercial Creamer Facts:
It's so very easy to grab a pumpkin coffee creamer when you're at Starbucks or in the grocery store. But it is a better idea to make your own pumpkin spice creamer when you can.
Commercial Pumpkin Spice Creamer Season:
Your Fall season may not line up with when the stores decide to carry, or discontinue seasonal items like specialty creamers. If your in an area where summer stays late into the Fall months you may miss it altogether since it's kinda wierd to be wearing shorts and halter tops in 90 degree weather while your sipping a pumpkin coffee drink.
When Does Pumpkin Spice Coffee Creamer come out for the Fall season?
Actually, starbucks and the other pumpkin coffee creamers usually come out around the end of August. Maybe a bit earlier than most of us want it. And…Starbucks stop serving their pumpkin spice latte November 1. Now I call that downright stingy. I want pumpkin at LEAST until Thanksgiving. So homemade it is. And Yummm.
Does Coffee Mate Have Pumpkin Spice?
Yes it does. You can buy it in almost any grocery when it's stocked for the season. Does Coffee mate Pumpkin spice creamer need to be refrigerated? The large liquid coffee mate pumpkin spice creamers can sit out for up to two hours on the counter at room temperature, and possibly longer, and still be safe to drink. However, to maintain its flavor and fresh taste store it in the fridge after every use. It should last about 2 weeks or until the expiration date on its container.
Different rules for the singles. The single serving pumpkin creamers do not require refrigeration and have a long shelf life of up to nine months according to the Nestle company. This is due to the unique way single serving coffee creamers are manufactured.
Is Coffee Mate Vegan Friendly? No. Like most commercial coffee creamers, Coffee-Mate's regular creamers contain either sodium caseinate or micellar casein. Both are milk derivatives that make them non-dairy but not dairy-free.
There are several commercially made vegan coffee creamers, Steph sunshine has more on this. Coffee mate is not a good vegan choice. Look for Silk, Chobani, Nutpods, Planet Oat and other specialty brands for vegan creamers. There are some good choices. but we offer you a vegan option further down this post too. Give it a try!
What are the ingredients in Coffee-Mate pumpkin? Want more reasons to make your own coffee creamer? Look at the ingredients list on coffee mate pumpkin creamer:
Water, Sugar, Vegetable Oil (High Oleic Soybean And/or High Oleic Canola), And Less Than 2% Of Micellar Casein (a Milk Derivative) (Not A Source Of Lactose), Natural And Artificial Flavor, Mono- And Diglycerides, Dipotassium Phosphate, Cellulose Gel, Cellulose Gum, Carrageenan.
Your rule of thumb for label reading is: If you cannot understand the ingredients you probably should not be consuming them. Even an indulgence like coffee creamer can be so much better and more wholesome when you make it at home. And where is the pumpkin in this creamer? Its just chemical flavoring.
Does Starbucks have pumpkin creamer? It does. Stabucks coffee creamer ingredients are some better than coffee mate with mostly real ingredients.
Here are the ingredients for Starbucks pumpkin coffee creamer: Nonfat milk, sugar, heavy cream, buttermilk, vegetable oil (high oleic soybean oil), natural flavor, gellan gum. Contains: Milk.
We think our recipe is better with better ingredients and it will last up to two weeks in the fridge when properly stored. You deserve the best. Make your own. 🙂
Pumpkin Spice Coffee Creamer Variations:
There are many variations of homemade pumpkin spice creamers that you can experiment with to suit your taste preferences and dietary needs.
For diabetics or low carb dieters, replace the brown sugar with your favorite zero calorie sweetener.
Coconut Creamer: Use full-fat coconut milk for a rich and creamy base. You can also add a touch of shredded coconut for extra flavor.
Date Sweetened: Instead of maple syrup or agave nectar, blend soaked and pitted dates with your milk to sweeten the creamer naturally.
Pumpkin Spice Syrup: Make a concentrated pumpkin spice syrup by simmering water, sugar (or a sugar substitute), and spices. Mix this syrup with your choice of milk to create the creamer.
Chai Pumpkin Spice: Add a chai tea bag or a blend of chai spices (cinnamon, cardamom, cloves, ginger) to your creamer for a unique twist on the classic pumpkin spice flavor.
Pumpkin Spice Cocoa: For a chocolatey twist, stir in a small amount of unsweetened cocoa powder into your pumpkin spice creamer.
Nut Butter Creamer: Incorporate a spoonful of almond, cashew, or peanut butter into your creamer for extra creaminess and nutty flavor.
Protein-Packed Creamer: Add a scoop of your favorite protein powder to make a protein-enriched pumpkin spice creamer.
Nutmeg-Infused: Increase the nutmeg content for a stronger nutmeg flavor, or consider using freshly grated nutmeg for a more intense aromatic experience.
Cardamom and Orange Zest: Add a pinch of cardamom for a unique twist and a little orange zest for a citrusy note to complement the pumpkin spice.
Iced Pumpkin Spice Creamer: Allow your creamer to cool completely in the refrigerator and use it to make delicious iced pumpkin spice coffee or iced lattes. This is the one you need when summer won't leave and you really want to feel and taste soem Fall. 🙂
Mix and match these ideas to create your own signature homemade pumpkin coffee creamer. With the right balance of spices and sweeteners, you can make a creamer that suits you and your peeps best. And beats the heck out of commercial brands.
Yield:

2 1/3 Cup
Pumpkin Spice Coffee Creamer
Homemade Pumpkin spice coffee creamer is delicous and simple to make with natural ingredients you already have in your pantry. It stores well in your fridge up to two weeks. enjoy!
Ingredients
1/3 Cup pumpkin pureé
2 Cups Heavy Cream (or nut milk option for vegans)
3 Tablespoons brown sugar (or maple syrup or zero calorie substitute)
2 tsp. Vanilla
1 tsp. pumpkin pie spice (adjust to taste)
Instructions
Whisk all ingredients in a bowl. Pour into blender and blend well to thoroughly incorporate the pumpkin.
Serve!
Store in an air tight container for two weeks or until dairy ingredients expiration date.
Notes
Read the post for more ideas on how to change up this recipe.
Nutrition Information
Yield
32
Serving Size
1 oz.
Amount Per Serving
Calories

56
Total Fat

5g
Saturated Fat

3g
Trans Fat

0g
Unsaturated Fat

2g
Cholesterol

17mg
Sodium

4mg
Carbohydrates

2g
Fiber

0g
Sugar

2g
Protein

0g
If you use more or less creamer in your cup this will impact the calorie count.
More Delcious Coffee Drinks and our Original Coffee Creamer Recipe:
Read our post on how to make your own coffee creamer(Pictured and linked below) for a LOT of ideas on how to tweak your coffee in a huge variety of ways. Honestly, you will never run out of ways to enjoy coffee.
And our iced coffee and apple spiced coffee are both fantastic alchol free coffee drinks. And so simple to whip together. Your gonna love em!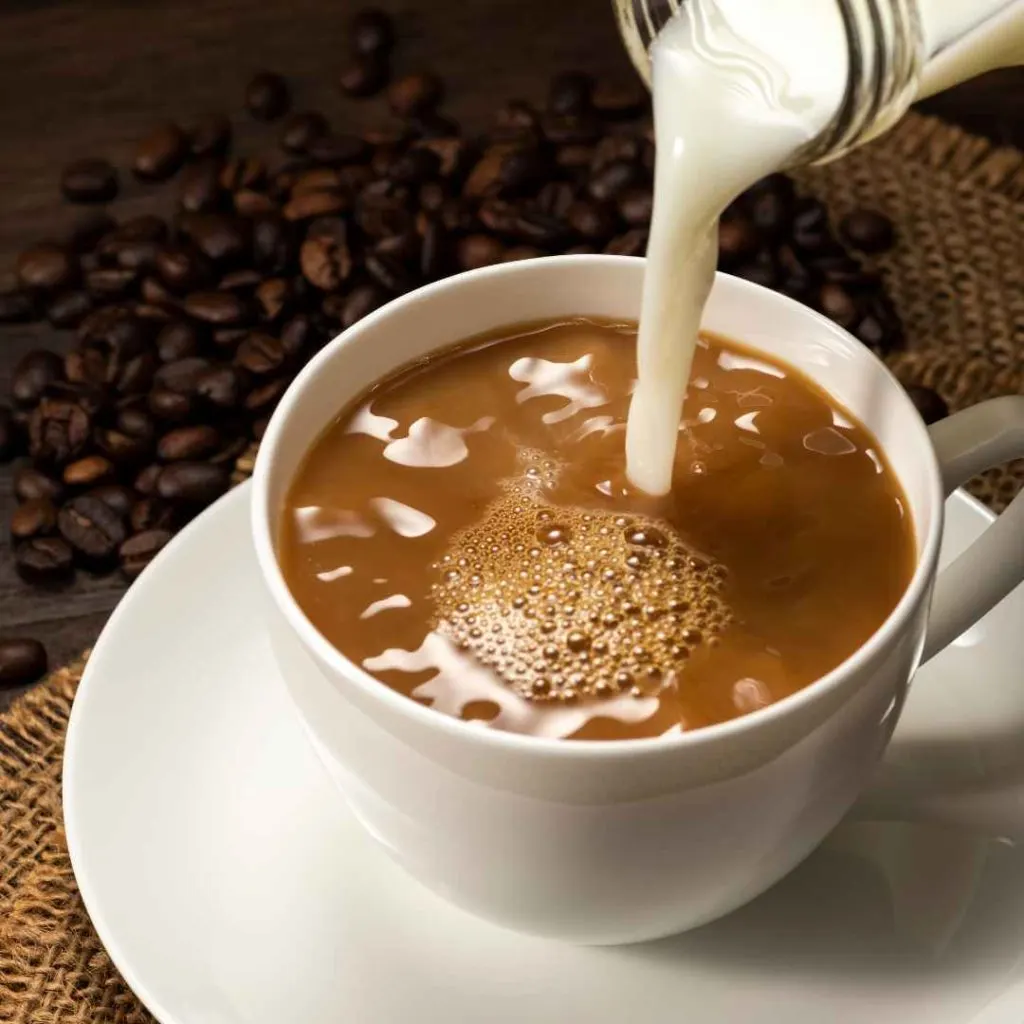 Coffee Cocktails:
Coffee drinks with alcohol add a festive element to Fall parties and winter wingdings. Here's few of our favorite coffee cocktails:
Follow Us:
We enjoy meeting you on our social networks. Follow us on Facebook, Pinterest, Instagram . Tag us with your pictures of our recipes and comment on how it went for you. We would love to see what you do with them.
We often like, comment and share your posts of our recipes on our daily Instagram stories.
Ask questions and rate the recipe in the comments section below. Please share what you did with this recipe. We are always looking for more and better ways to make homemade food. Other cooks love your ideas!
Recent Posts: