Our Valentine puppy chow recipe is a wonderfully simple to make sweet treat. When you're looking for a popular Valentine party snack here it is! This puppy chow recipe is perfectly themed for Valentines Day. It will delight your friends and family. And you can change what you do with it year after year to keep the recipe fresh and new.
This party snack is pretty in a bowl on your Valentines Day party table and easy to serve. Set small bowls to the side and allow your guests to scoop up the puppy chow and enjoy it as finger food. It is a crowd pleasing, addicting snack your guests will love.
Valentines puppy chow recipe has many delicious versions. We'll show you how we made ours so simple and scrumptious. We also have a few more ideas on add ins to make your very favorite valentine party snack with this recipe.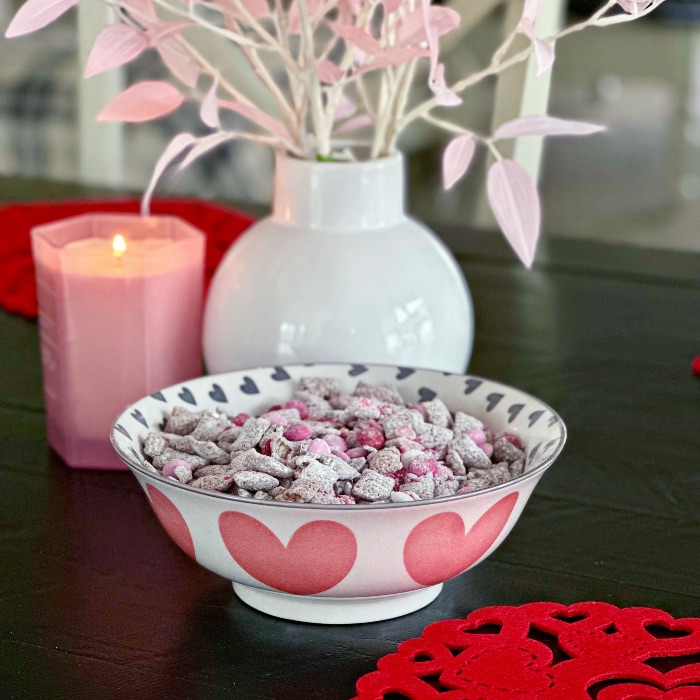 What is Puppy chow made of? The basic Puppy chow snacks are made from Chex cereal and coated in chocolate, peanut butter, butter, a bit of vanilla and powdered sugar. Valentine puppy chow is also known as "muddy buddies,".
For Valentines Day it's fun to flavor the mix with Valentine-themed ingredients such as pink and red candies, or chocolate hearts. Kids gobble up this pretty puppy chow and so do grown ups. This snack is welcome anywhere.
Valentine's Day Simple Puppy Chow Recipe:
This recipe is actually SIMPLER than our basic puppy chow recipe. It has fewer ingredients and is STILL delicious.
We opted out of the butter, vanilla and peanut butter this time. Our Valentines Day puppy chow is only five ingredients. And even with this simplified recipe you have a lot of choices for making this mix.
Valentines Puppy Chow Recipe Variations:
You really can go down some rabbit holes with puppy chow recipes. There is a LOT you can do with this cereal snack. It is easy to do substitutions and get creative.
Choosing The Cereal For Puppy Chow:
Puppy chow is typically made using Chex cereal as the base. We chose Rice chex mix for our recipe. But you can use other flavors or grains in this recipe too.
Chex cereal is a type of corn or rice cereal that comes in several varieties such as Rice Chex, Corn Chex, Wheat Chex, Honey Nut Chex, Cinnamon Chex, and Chocolate Chex. Some people may use other types of cereal, such as Crispix, as a base for puppy chow, but Chex cereal is the most commonly used.
However, it doesn't stop with chex type cereals. You can use any cereal you like, and you can use a combination of different types of cereal to make puppy chow. The total number of different kinds of cereal or cereal mixes used for puppy chow is as big as your tastebuds and imagination want to take it.
The sky is the limit with puppy chow. So think of this as an idea post as well as a recipe. There is just so much you can do with this snack!
Once you determine your cereal, Here are some other ideas to change up your valentine puppy chow with different candies and ingredients. The best puppy chow recipe is always going to be the recipe that everyone enjoys and is well themed for your Valentines day event.
More Valentines Puppy Chow Change Ups:
Chocolate and Raspberry: Mix in some freeze-dried raspberries with the chocolate puppy chow for a pop of color and added flavor.
White Chocolate and Strawberry: Use white chocolate in place of milk chocolate and mix in some dried strawberries for a Valentine's Day twist.
Dark Chocolate and Orange: Add a little orange zest to the puppy chow mixture and use dark chocolate for a richer taste.
Salted Caramel and Dark Chocolate: Mix in some caramel bits and a sprinkle of sea salt to the puppy chow mixture, and use dark chocolate for a sweet and salty treat.
Chocolate and Peanut Butter: Add peanut butter to the puppy chow mixture for a classic chocolate and peanut butter combination.
Chocolate-Covered Strawberry: Mix in some dried strawberry powder or strawberry extract for a chocolate covered strawberry taste.
Red Velvet: Add some red food coloring and cocoa powder for a red velvet flavor.
Chocolate and Coconut: Mix in some shredded coconut for a tropical twist.
Ways To Serve Valentines Puppy Chow:
Puppy chow fits well into all kinds of events and will serve up in a variety of ways. It's all about what you are trying to do.
Depending on the occasion and the preferences of the people you are serving it to. Here are a few ideas:
As a snack: Puppy chow is often served as a snack, and it can be enjoyed on its own or paired with other snacks such as popcorn or pretzels.
As a dessert: Puppy chow can also be served as a dessert, either on its own or as part of a dessert platter.
In gift bags or jars: Puppy chow can be packaged in small gift bags or jars as a homemade gift for friends and family, especially for Valentine's Day, Christmas or other holidays.
At a party: Puppy chow is a popular treat at parties and events, and it can be served in bowls or on platters for guests to enjoy.
At a school event: Puppy chow is a popular snack at school events such as bake sales or fundraisers.
This pink puppy chow will also be welcome served in bowls or cups at bridal showers, baby girl reveals, girls night outs, and in other pink themed events.
In a Cup: You can also add puppy chow to a clear cup and put some icing and sprinkles on top, to make it look like an ice cream sundae.
As a topping: you can use puppy chow as a topping for ice cream or yogurt.
Ultimately, the way you serve puppy chow will depend on the occasion and your personal preferences. The most important thing is to make sure it's in a clean and hygienic way.
Yield:

10 cups
Valentines Puppy Chow Recipe
This Valentines puppy chow recipe is SO easy to make and DELICIOUS. Your guests and family will love munching on valentines puppy chow.
Ingredients
6 cups Chex cereal (any variety)
1 cup semisweet chocolate chips
1/2 cup peanut butter (optional)
1 Tablespoon coconut oil (as needed)
1 1/2 cups powdered sugar
1 10 oz. bag Valentine's Day red and pink M&Ms ( or chocolate hearts, or any chocolate candy you prefer)
1/2 Cup Valentines Sprinkles (optional and to your preference)
Instructions
Heat the chocolate chips over a double boiler on medium low heat, stirring occasionally. OR heat the chocolte chips in a microwavable bowl in the microwave for 1 minute. If the chips are very thick add the coconut oil to make them stirrable and to get to a consistency that is easy to pour over the cereal.
Pour the chex mix cereal into a gallon sized ziplock bag (or large bowl with head room to stir).
Pour the melted chocolate over the cereal.
Seal the bag and shake it vigorously until the chex mix is completely coated with chocolate. .
Open the bag and add the powdered sugar. Shake again vigorously until the cereal is completely coated.
Add the cereal mixture and shake until the cereal is well coated with powdered sugar.
Open the bag and Allow to cool until set (About 5 minutes) if the cereal is still warm and the chocolate is not yet firm.
Pour the coated chex mix into a large serving bowl.
Add the M&Ms and Valentines sprinkles (or other candy you are using). Stir until it is completey blended in the coated cereal.
Serve in bowls or bags as a Valentine's Day treat.
Notes
Store this puppy chow for up to one week in airtight container or ziplocked plastic bags with all air sucked out.
Nutrition Information
Yield
30
Serving Size
1
Amount Per Serving
Calories

162
Total Fat

8g
Saturated Fat

3g
Trans Fat

0g
Unsaturated Fat

4g
Cholesterol

1mg
Sodium

55mg
Carbohydrates

23g
Fiber

1g
Sugar

17g
Protein

2g
This based on approximately 1/3 Cup serving per person
Sharing Is Caring:
Creating a Puppy Chow recipe is endlessly fun with so many variations. You do you. And then come back and let us know how you made your 'perfect' puppy chow recipe for your family or event.
Please comment in the comment section below so all our readers can glean new ideas. We love it when you share your favorite ingredients and methods. We hope you enjoy our simple recipe too!
More Party Snack for Holidays:
Here are some more great ideas for spring party foods and snacks.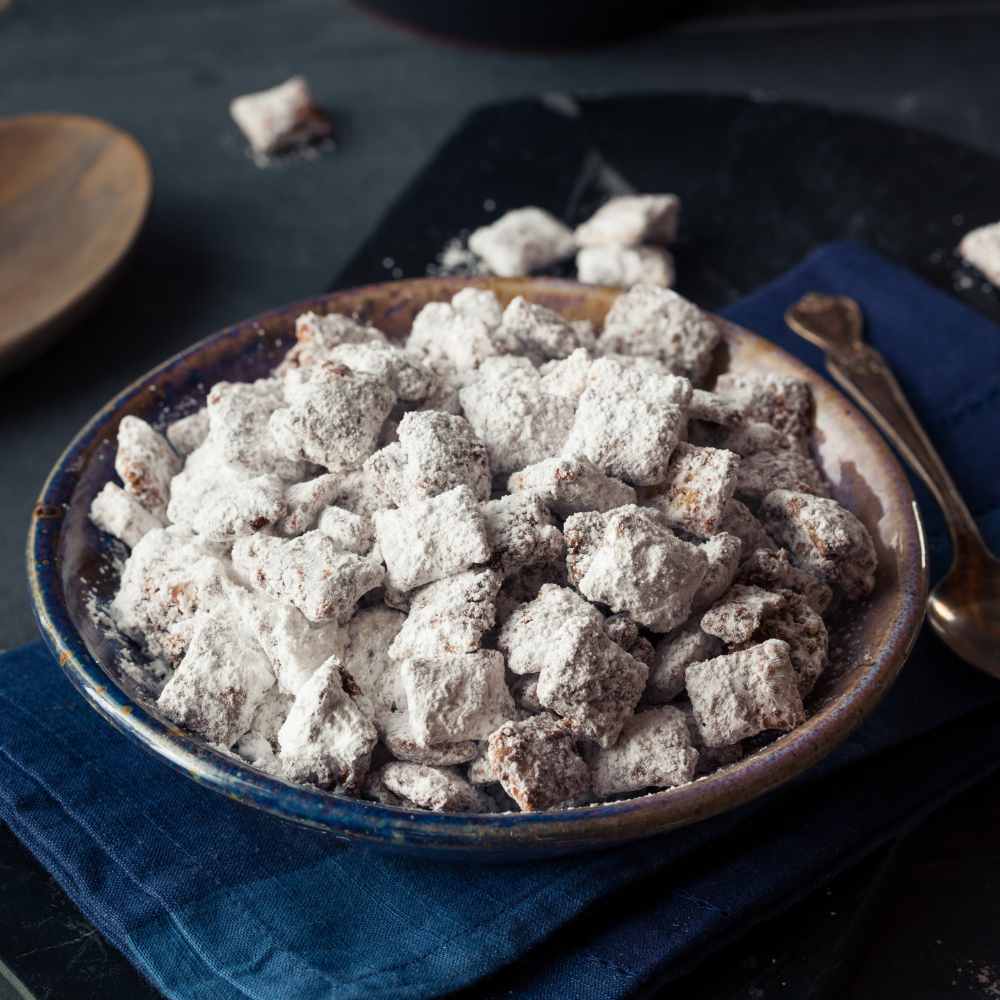 Valentines Day Drinks List:
Here are some ideas for drinks for kids and grown up for Valentines Day Events:
Follow Us:
We enjoy meeting you on our social networks. Follow us on Facebook, Pinterest, Instagram . Tag us with your pictures of our recipes and comment on how it went for you. We would love to see what you do with them.
We often like, comment and share your posts of our recipes on our daily Instagram stories.
Ask questions and rate the recipe in the comments section below. Please share what you did with this recipe. We are always looking for more and better ways to make homemade food. Other cooks love your ideas!
Recent Posts: