This Mediterranean flatbread Pizza recipe is a delicious blend of fresh ingredients including feta cheese, artichoke hearts, tomato, arugula and black olives; all baked with with an olive oil pesto sauce on our homemade flatbread. It makes a delicious vegetarian Italian flatbread pizza recipe your whole family will enjoy.
Making your own easy flatbread pizza recipe is a fun way to enjoy a classic favorite exactly how you want it. It also becomes a fun experience for date nights, bunko gatherings or Friday night family meals.
We are sharing our best tips for creating a scrumptious rustic style pizza right down to the crust. This homemade flatbread crust is very easy to make and well worth the extra time. Our crust is light and packed with flavor. You can always opt to use a pre-made crust if you wish, but nothing beats a fresh, pizzeria style crust.
Is Flatbread Dough the Same as Pizza Dough?
Flatbread and pizza dough are similar in that they are both types of leavened bread, but they have some differences.
Flatbread dough is typically made with simpler ingredients, such as flour, water, and yeast or sourdough starter. It is also often rolled out thinner than pizza dough and is not typically topped with as many ingredients.
Pizza dough is made with similar ingredients, but often includes sugar and oil, and is traditionally topped with a variety of meats, vegetables, and cheeses. The dough is also often thicker than flatbread dough.
Is flatbread pizza healthier?
Flatbread pizza can be considered a healthier option compared to traditional pizza, depending on the ingredients and preparation methods used.
Flatbreads are typically made with simple, whole ingredients such as flour, water, and yeast, which can provide a source of complex carbohydrates, fiber, and protein. They also tend to be thinner and have a lower calorie density than traditional pizza crusts, which can help control portion sizes.
When it comes to toppings, using a variety of vegetables, lean protein sources and healthy fats such as olive oil can make flatbread pizza a nutritious meal. Additionally, using herbs and spices instead of heavy sauces can add flavor while reducing the overall calorie content.
However, it is important to keep in mind that not all flatbread pizzas are created equal. Some may be loaded with cheese, meats and other high-calorie ingredients. It's important to pay attention to the specific ingredients and preparation methods used. Also, if you are gluten intolerant, flatbread pizza may not be a suitable option for you.
Overall, a flatbread pizza made with whole ingredients, lean protein, and a variety of vegetables can be a healthier option than traditional pizza.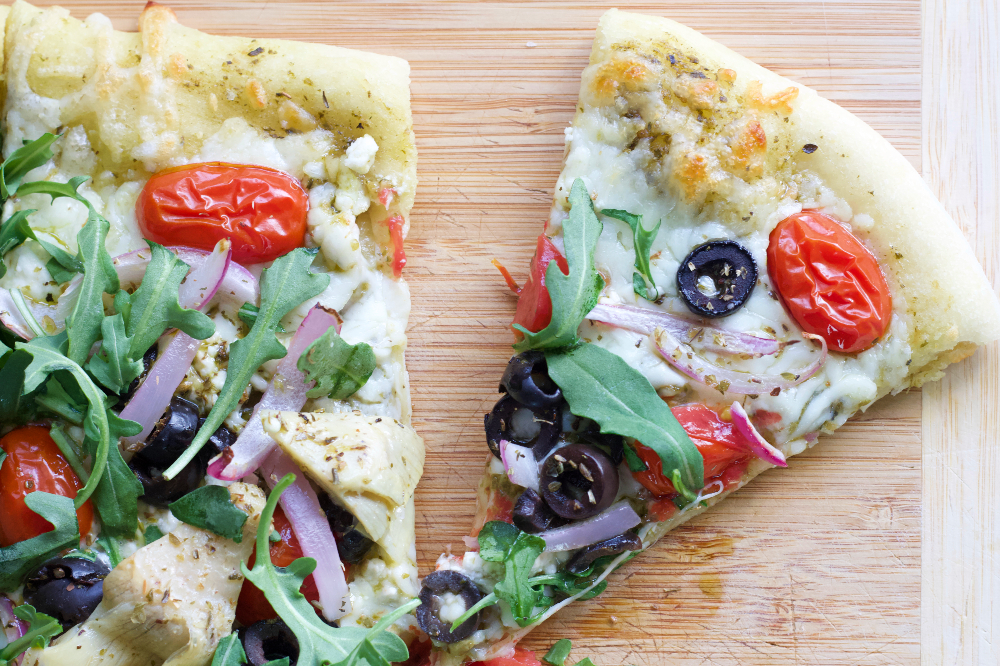 What is Mediterranean pizza made of?
A traditional Mediterranean, or Greek style, pizza is usually made with a light olive oil drizzle and fresh ingredients found in the Mediterranean diet such as tomatoes, mozzarella and feta cheese, artichoke hearts, spinach or arugula, onions sometimes fresh basil. They are most often meatless making them a fantastic contender for a vegetarian pizza option.
Is pizza on the Mediterranean diet? In short, the answer is no.
People following the Mediterranean diet are to avoid refined grains, white pasta and pizza dough containing white flour. Sadly, despite it's name the Mediterranean pizza would not fit into this way of eating. However, it would make a scrumptious cheat meal.
The Mediterranean diet allows for small portions of fish, chicken and eggs, small amounts of red wine, sparkling water, and lots of fruit and veggies.
Does flatbread have sauce? Traditionally, flatbreads do not have sauce, as they are simple breads typically made with flour, water, and yeast. They are often brushed with olive oil or other fats and then topped with various herbs, spices, and other ingredients. The toppings can be savory or sweet, and are often simple and minimalistic, which allows the natural flavor of the bread to shine through.
However, some modern variations of flatbread pizza may include a sauce such as marinara, pesto, hummus or even a yogurt based sauce. The sauce can be spread on top of the flatbread as a base, before adding toppings. The addition of the sauce can add more flavor and moisture to the dish.
Also, some flatbreads, like our easy Mediterranean naan flatbread pizza, which is a traditional Indian bread, are often served with a dip or a sauce on the side.
Can I freeze this Homemade Flatbread Pizza Recipe?
This Flatbread pizza recipe is a great option for longterm storage as it will hold in your freezer for a few months, and can be eaten in many different ways.
You can freeze this flatbread for 3 months, either as an uncooked shaped dough, or after you have baked it. Simply store in a freezer safe, airtight bag and lay flat in your freezer.
Also try our Italian Herbed Crust Recipe. Another favorite Italian Pizza style crust full of herbs and with a tomato sauce added right into the crust.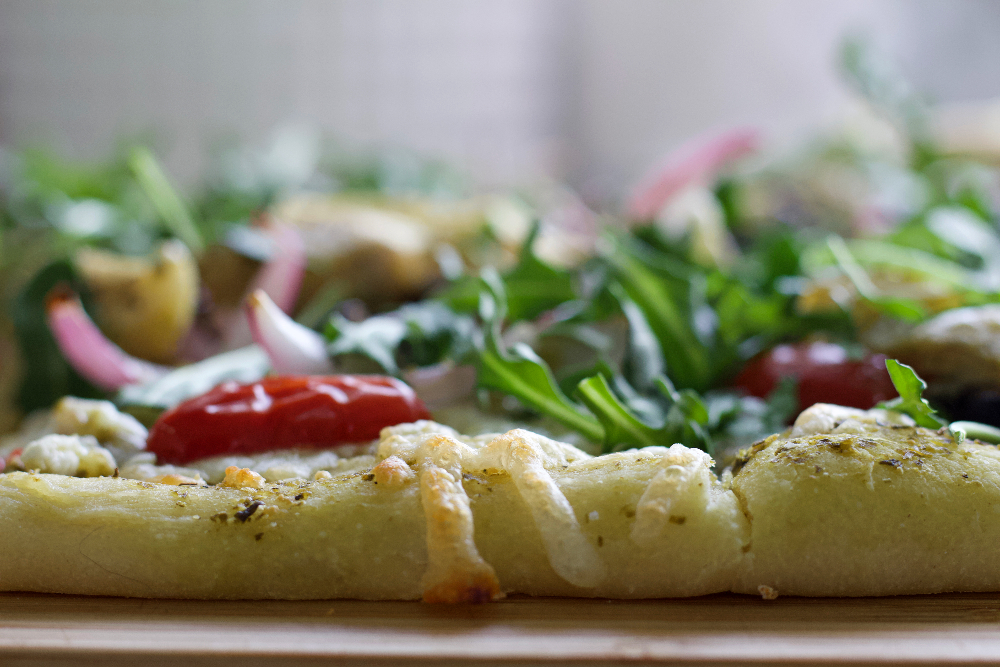 Our flatbread pizza recipe is very easy to make and takes only about an hour total to prepare. It is an investment of time that we feel is worthy of the undertaking.
Flatbreads can be enjoyed in more ways than just pizza making it a versatile style of bread that you can use in so many different meals. Making your own also allows you to control the quality of ingredients used and avoid the added preservatives and fillers that are found in pre-made options.
However, life is busy and we don't always have the option to invest time into each of our meals. If store bought pre-baked flatbread or pizza dough is your best option this pizza recipe makes a very fast dinner for the family. We love pizzas and have used store bought flatbread and sauces many times.
Mediterranean Flatbread Pizza Recipe: Mediterranean Topping ideas:
The topping Ingredients can be any mix of your favorite Mediterranean style foods. We chose what we love, but the beauty of pizza is that you can select your favorites and enjoy it your way.
Here are a few more Mediterranean-inspired flatbread pizza recipe topping ideas:
Mediterranean Veggie: Top flatbread with a mixture of sautéed bell peppers, onions, mushrooms, and eggplant. Sprinkle with feta cheese and fresh herbs such as oregano and basil.
Greek: Spread hummus over flatbread, top with sliced tomatoes, Kalamata olives, red onions and crumbled feta cheese.
Margherita with a twist : Spread a layer of pesto on the flatbread, top with sliced tomatoes and mozzarella cheese, then finish it with some chopped fresh basil and a drizzle of balsamic glaze.
Mediterranean Chicken : Top flatbread with marinated chicken, sun-dried tomatoes, artichoke hearts, red onions and feta cheese.
Za'atar Flatbread : Brush the flatbread with olive oil and sprinkle with za'atar spice blend, add some feta cheese, tomatoes and chopped parsley before baking.
These are just a few ideas to get you started. Feel free to experiment with different toppings and combinations to find your favorite Mediterranean flatbread pizza!
Kalamata olives are an option if you prefer them over black olives. You could even use green Cerignola olives or omit olives altogether.
Consider replacing the olives with figs and adding some prosciutto and a balsamic drizzle. This will take it out of the traditional veggie style but it makes a delicious pizza pie.
Using homemade flatbread you can choose a thick or thin crust. Our flatbread is also leavened but you could use an unleavened recipe too.
Replace the arugula with fresh basil leaves or swap it out for spinach.
Cooking Options:
We use a baking sheet in a hot oven for about 15 minutes to bake this recipe but you can also grill your flatbread pizza on a baking stone for a wood fired oven flavor. Grilling it will definitely intensify the flavors and create a gorgeous firm crunch to your crust.
Your Printable Flatbread Pizza Recipe Card:
Under the notes section you will find our recipe demonstration video.
Yield:

1-12 x 15 inch pizza
Mediterranean Pizza Recipe with Homemade Flatbread
A delicious and healthy vegetarian Italian style pizza. We use our Homemade Flatbread recipe. These toppings are perfect over our chewy flatbread pizza crust.
Ingredients
2 Tablespoons olive oil
2 Tsp. large grain kosher salt-divided
1 Cup Pesto (use your favorite- we chose basil)
2 Cups shredded Mozzarella
1/2 cup Feta cheese
1 cup grape tomatoes-(halved)
3/4 Cup black olives-(sliced or chopped)
1/2 red onion-(thinly sliced)
1 Cup marinated artichoke hearts-(quartered pieces as desired)
2 tsp. dried oregano
1 Cup fresh arugula leaves
Instructions
Prep:
Make flatbread if using homemade
Preheat oven to 475 degrees F.
Prep the toppings as listed.

Make the Pizza:
Form the flatbread dough to your 16 x 13 baking sheet or pizza stone.
Brush oil on the flatbread (or dough)
Sprinkle 1 tsp coarse salt over oil.
Spread pesto evenly over oiled flatbread.
Spread the mozzarella cheese evenly over the pesto.
Sprinkle the feta cheese over the mozzarella.
evenly space out the halved grape tomatoes.
Place the olives, red onions and artichoke hearts over the tomatoes.
Sprinkle oregano and remaining salt over all.
Bake 15 minutes or until the flatbread is done and cheese is slightly browned. (adjust time to 12 minutes for pre-baked flatbread).
Remove the baked pizza from oven.
Cut in pan or remove and serve from wooden board.

Notes
Mediterranean Topping ideas:
Do you prefer kalamata olives rather than black? How about green Cerignola olives? Tell us your favorites in the comment section below.
Want to get 'Out of the box?' Try replacing the olives with figs and adding some prosciutto (not a vegetarian choice) and a balsamic drizzle.
We use red onion, mozzarella cheese with artichoke hearts on top.
Using homemade flatbread you can choose a thick or thin crust. We tend to go thinner to keep the carbs reasonable.
Replace the arugula with fresh basil leaves.
Cooking Options:
We use a baking sheet in a hot oven for about 15 minutes to bake this recipe. But there are other methods.
Try Grilling your flatbread pizza on a baking stone for a wood fired oven flavor.
If you do have a good wood fired pizza oven your in business. We might be a tad jealous. 🙂
More Pizza Ideas:
If you are looking for a more traditional pizza recipe, use our easy Homemade Marinara sauce or Homemade pizza sauce.
Related Content:
Follow Us:
We enjoy meeting you on our social networks. Follow us on Facebook, Pinterest, Instagram . Tag us with your pictures of our recipes and comment on how it went for you. We would love to see what you do with them.
We often like, comment and share your posts of our recipes on our daily Instagram stories.
Ask questions and rate the recipe in the comments section below. Please share what you did with this recipe. We are always looking for more and better ways to make homemade food. Other cooks love your ideas!
Recent Posts: