This delicious Homemade Flatbread Pizza recipe is a simple and satisfying meal that can be enjoyed anyway you desire. The use of yeast brings this crust a soft and fluffy texture that makes a wonderful crust for any assortment of toppings. Because of it's rich flavor and soft, slightly chewy consistency, you can make a pizza with or without a sauce for a simplistic and authentic style pizza pie.
It can be baked on a griddle or in your oven, depending on your preference. While this dough technically isn't a true flatbread, it is made with a flatbread style in mind and is still much lighter than a traditional pizza crust.
We are sharing our tips for making the best pizza crust that won't be dried out, dense or over baked.
Is Flatbread dough the same as pizza dough?
Traditional pizza dough is a heavy crust that uses yeast as a leavening agent to create a thick, chewy crust that is strong enough to hold heavy cheese, sauce, meat toppings and veggies. Flatbreads are unleavened doughs which are much thinner, denser and traditionally do not act as a pizza crust for traditional pizza pies.
Our crust is a combination of the two. We have used yeast as a leavening agent to create a lighter and fluffier crust, but kept it light and in a flatbread style to be used for lighter pizza pies such as veggie and fresh greens with olive oil and pesto sauces; as opposed to a tomato based sauce with heavy meat toppings.
Is Flatbread pizza healthier than regular pizza?
The health factor for most pizzas lie in the serving size and the choice of toppings first and foremost. While you can absolutely opt for toppings that are lighter in calories such as veggies and greens, as opposed to heavy meats and cheeses; pizzas still contain a lot of carb heavy calories simply due to their nature of being bread based.
Using thinner crusts and good quality ingredients that aren't full of additives and low quality fillers, is a great idea if you're looking to improve the health factor of your pizza. Keeping your portion size in mind is also very important. What is the healthiest type of pizza? Thin crust all the way, it uses far less bread and will hold fewer toppings.
What is the secret to a good pizza crust?
A good pizza crust is flavorful and well baked without being tough and dense. The best practices are in the ratio of ingredients and the bake temperature and time. Pizza dough requires a high amount of water, this will keep it from drying out during the baking process. The bake time and temperature is also important as it affects how evenly the pizza crust cooks.
Be sure to follow the recipe and watch the crust for over baking around the edges and underside of the dough. Your crust is done when it reaches a light golden color with a slightly darker bottom.
Flatbread ingredient substitutions
This recipe call for regular all purpose flour which gives a very soft pizza crust. Add whole wheat flour up to 50 percent for a denser, chewier flatbread.
As we do in our Italian herbed pizza dough, add in Italian herbs to bring out the lovely flavors of Italy.
Consider using a pesto sauce for a delicious flavor boost.
This recipe is easy to make, versatile and makes a delicious flat bread style pizza crust. Your family will love it with all your favorite toppings.
Tips on handling the dough
You can make this recipe in either your stand mixer or in a large mixing bowl by hand. This is a soft dough that requires only a little kneading.
We do not recommend using a hand mixer, they are not powerful enough to mix bread dough.
Use your lightly floured rolling pin to roll the dough and prevent it from sticking.
Flour your hands when you form the dough into your baking sheet.
Cooking Flatbread
This flatbread dough can be baked raw with all the toppings on top. No need to bake the flatbread first unless you choose to.
It can be pre baked If you have toppings that you don't want to bake.
Is it better to roll or stretch your pizza dough?
The decision of whether to roll your pizza dough with a rolling pin, or stretch it with your hands comes down to personal choice based on the outcome you are looking for. Rolling the dough will result in a thinner, flat crust style of pizza.
Stretching the dough with your hands will allow the dough to rise more and would be suited for a New York style pizza with a chewier crust.
How to Make Flatbread Pizza Recipe:
If you print out the recipe the pictures will not print. This is to save you ink and paper.
Our Flatbread recipe video demonstration is at the bottom of the recipe below the notes and above the nutritional information.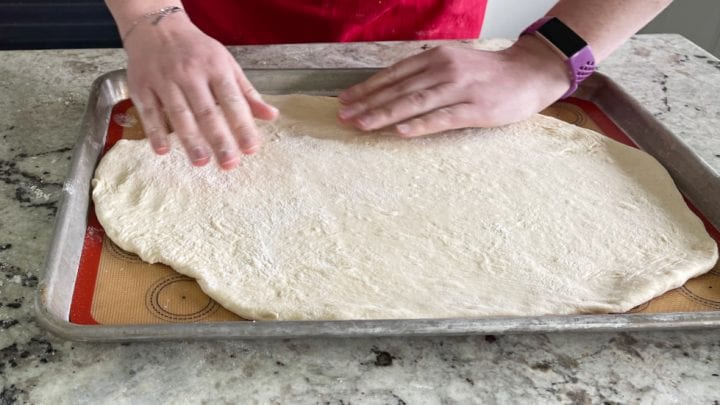 Yield:

1 Large Pizza crust
Homemade Flatbread Pizza Recipe with yeast
Total Time:
1 hour
15 minutes
This Delicious homemade flatbread pizza recipe delivers a soft or crispy crust pizza with little fuss. Make it on a griddle or bake it in the oven. As you wish.
Ingredients
1 tsp. yeast (instant or regular)
1 tsp. sugar
3/4 Cup warm water (105 to 110 degrees F.)
2 Cups All purpose flour
1 tsp. salt
1 tsp olive oil
Instructions
Preheat Oven to 475 degrees F.
In a stand mixer or large bowl add the yeast, sugar and water.
Let stand five minutes to allow yeast to hydrate and bloom. (it should form a foamy patch on top of the water.
Whisk the yeast mixture until it is cloudy.
Add the flour, salt and oil.
Set the stand mixer to low speed and mix until the dough form a shaggy ball. Or use your hands or wooden spoon to mix.
Scoop the dough onto a floured work surface.
Use your floured hands to knead the dough several times.
Knead until the dough is elastic and holds together well in a ball with a smooth surface. (usually under five minutes)
Place the dough ball into an oiled bowl. Cover and let sit for 45 minutes.
Remove the rested dough onto a floured work surface. * (Go here in notes if making small flatbreads)
Roll the dough out to 1/4 inch thickness with a floured rolling pin.
Remove dough to a parchment or silpat lined baking sheet or your preheated baking stone.
Form the dough to approximately fit the form of your baking sheet or pan.
At this point you are ready to bake the pizza dough. If baking without toppings set pan in oven 10 to 15 minutes until crust is browned. Remove from heat. Cool and use for whatever purpose you desire.
If baking now with Toppings:
Brush on olive oil over the dough top
sprinkle additional salt over the oiled surface.
Top with your favorite toppings.
Bake as directed until toppings are cooked.
Remove from heat and Serve.
Notes
To freeze Flatbread:

Set your flatbread in a bag with all the air sucked out. Freeze flat. This flatbread will hold in the freezer up to three months.
*For small flatbreads:
After the resting period cut the dough into equal parts. This dough will make 4-8 inch flatbreads.
To cook Flatbread on a griddle: (oiled cast iron or non stick skillets also work well)
This is recommended for small flatbreads made without toppings.
Set the griddle onto Medium High heat.
Lay the rolled out flatbread dough on the hot griddle.
Cook until bubbles form on top (usually 30 to 60 seconds)
Flip the flatbread and cook until browned on bottom.
Slide off and repeat until all the small flatbreads are cooked.
Nutrition Information
Yield
12
Serving Size
1
Amount Per Serving
Calories

82
Total Fat

1g
Saturated Fat

0g
Trans Fat

0g
Unsaturated Fat

0g
Cholesterol

0mg
Sodium

195mg
Carbohydrates

16g
Fiber

1g
Sugar

0g
Protein

2g
More Delicious Mediterranean Recipes:
These are all great recipes that have a Mediterranean cuisine flare. Let us know how you like them.
Follow Us:
We enjoy meeting you on our social networks. Follow us on Facebook, Pinterest, Instagram . Tag us with your pictures of our recipes and comment on how it went for you. We would love to see what you do with them.
We often like, comment and share your posts of our recipes on our daily Instagram stories.
Ask questions and rate the recipe in the comments section below. Please share what you did with this recipe. We are always looking for more and better ways to make homemade food. Other cooks love your ideas!
Recent Posts: