This Delicious homemade flatbread pizza recipe delivers a soft or crispy crust pizza with little fuss. Make it on a griddle or bake it in the oven. As you wish.
The dough is ready to bake in little more than an hour start to finish. Just add your favorite Toppings and bake.
Make a healthy Mediterranean Pizza or create an indulgent pizza with whatever toppings your family enjoys.
More Pizza Recipes:
All of these homemade pizzas are fun to make and yummy. Also try our quick and easy Tomato Pizza sauce.
Flatbread Pizza Recipe Notes:
This is a great recipe to play with. It's so easy to make as directed and the flatbread pizza is outstanding.
However, home cooks are endlessly creative. Try these ideas and then comment below with YOUR ideas and methods on how you change up this recipe
Flatbread Change ups:
This recipe call for regular all purpose flour. That gives a very soft pizza crust. Add whole wheat flour up to 50 percent for a denser chewier flatbread.
As we do in our Italian herbed pizza dough add in Italian herbs to bring out the Lovely flavors of italy.
Try also adding pizza sauce right into the dough for a richer Italian vibe.
This recipe is easy to make, versatile and makes a delicious flat bread. Your family will love it with all your favorite toppings. or even all by itself.
Tips on Handling dough:
You can make this recipe in either your stand mixer or in a large mixing bowl by hand. This is a soft dough that requires only a little kneading.
Even a stand mixer that can't handle heavy bread dough should be able to work this dough without overheating the motor.
Do NOT use an electric hand mixer. If will just ball up and over heat. Not good for the dough or the mixer.
Use your lightly floured rolling pin to roll the ball of dough to avoid stickiness.
Flour your hands when you form the dough into your baking sheet.
Cooking Flatbread Options:
This flatbread dough can be baked raw with all the toppings on top. No need to bake the flatbread first.
You can also cook this flatbread without toppings on a griddle. If you have toppings or fillings you don't want to bake try this method rather than baking.
How to Make Flatbread Pizza Recipe:
If you print out the recipe the pictures will not print. This is to save you ink and paper.
Our Flatbread recipe video demonstration is at the bottom of the recipe below the notes and above the nutritional information.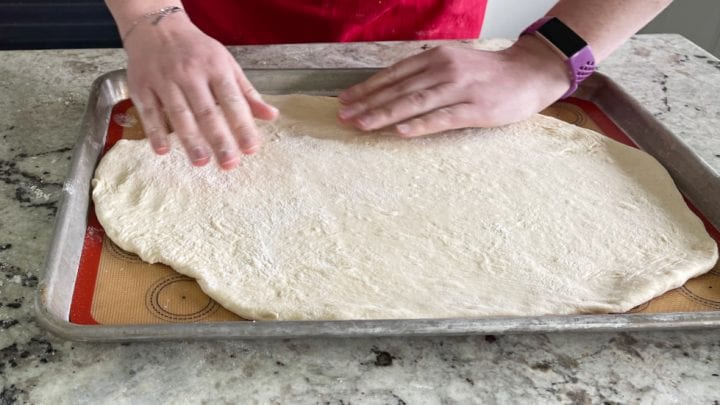 Yield:

1 Large Pizza crust
Homemade Flatbread Pizza Recipe with yeast
Total Time:
1 hour
15 minutes
This Delicious homemade flatbread pizza recipe delivers a soft or crispy crust pizza with little fuss. Make it on a griddle or bake it in the oven. As you wish.
Ingredients
1 tsp. yeast (instant or regular)
1 tsp. sugar
3/4 Cup warm water (105 to 110 degrees F.)
2 Cups All purpose flour
1 tsp. salt
1 tsp olive oil
Instructions
Preheat Oven to 475 degrees F.
In a stand mixer or large bowl add the yeast, sugar and water.
Let stand five minutes to allow yeast to hydrate and bloom. (it should form a foamy patch on top of the water.
Whisk the yeast mixture until it is cloudy.
Add the flour, salt and oil.
Set the stand mixer to low speed and mix until the dough form a shaggy ball. Or use your hands or wooden spoon to mix.
Scoop the dough onto a floured work surface.
Use your floured hands to knead the dough several times.
Knead until the dough is elastic and holds together well in a ball with a smooth surface. (usually under five minutes)
Place the dough ball into an oiled bowl. Cover and let sit for 45 minutes.
Remove the rested dough onto a floured work surface. * (Go here in notes if making small flatbreads)
Roll the dough out to 1/4 inch thickness with a floured rolling pin.
Remove dough to a parchment or silpat lined baking sheet or your preheated baking stone.
Form the dough to approximately fit the form of your baking sheet or pan.
At this point you are ready to bake the pizza dough. If baking without toppings set pan in oven 10 to 15 minutes until crust is browned. Remove from heat. Cool and use for whatever purpose you desire.
If baking now with Toppings:
Brush on olive oil over the dough top
sprinkle additional salt over the oiled surface.
Top with your favorite toppings.
Bake as directed until toppings are cooked.
Remove from heat and Serve.
Notes
To freeze Flatbread:

Set your flatbread in a bag with all the air sucked out. Freeze flat. This flatbread will hold in the freezer up to three months.
*For small flatbreads:
After the resting period cut the dough into equal parts. This dough will make 4-8 inch flatbreads.
To cook Flatbread on a griddle: (oiled cast iron or non stick skillets also work well)
This is recommended for small flatbreads made without toppings.
Set the griddle onto Medium High heat.
Lay the rolled out flatbread dough on the hot griddle.
Cook until bubbles form on top (usually 30 to 60 seconds)
Flip the flatbread and cook until browned on bottom.
Slide off and repeat until all the small flatbreads are cooked.
Nutrition Information
Yield

12
Serving Size

1
Amount Per Serving
Calories

82
Total Fat

1g
Saturated Fat

0g
Trans Fat

0g
Unsaturated Fat

0g
Cholesterol

0mg
Sodium

195mg
Carbohydrates

16g
Fiber

1g
Sugar

0g
Protein

2g