Zucchini squash is easily reinvented into an incredible array of delicious, flavorful zucchini recipes. We've included 15 or our personal favorites, both sweet and savory, in this collection.
You'll find recipes showcasing zucchini for breakfast lunch and dinner. This courgette is a most amazing vegetable. It is so easy to incorporate into your diet.
Recipes with Zucchini noodles replace the carbs of regular pasta. If you have a spiralizer, make pasta recipes zucchini style. We included one for you to try.
This summer squash is a favorite harvest time choice. You'll find zucchini squash in the grocery, farmers market or your own garden.
So load up on it. It's simple to freeze zucchini. You can also make batches of zucchini bread and freeze the loaves to enjoy in the cold winter months. Several of the zucchini recipes listed here freeze well.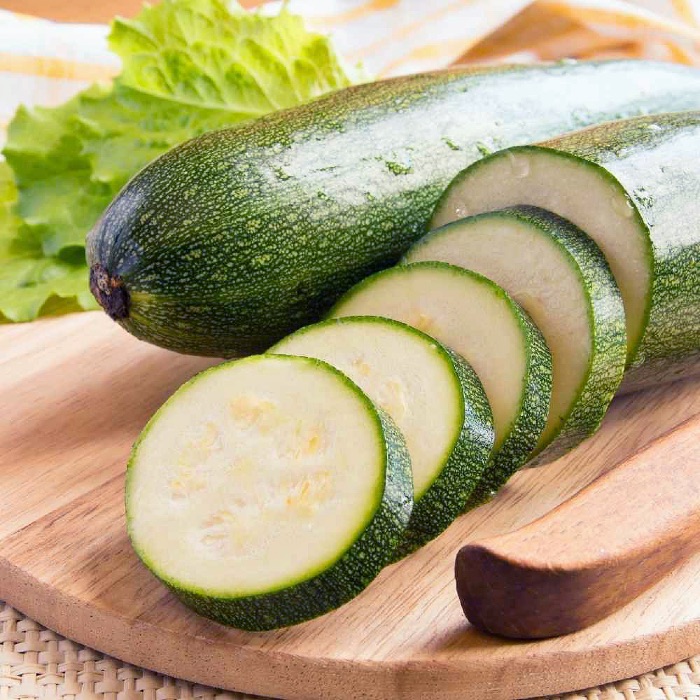 How is Zucchini good for you?
When zucchini season takes off in mid summer, count on a ready supply of this healthy summer squash clear into Fall.
This satisfying and healthy vegetable is one you really want to eat. Zucchini is full of nutrients and antioxidants. It's great for digestion, heart healthy, low carb and yummy.
Zucchini is low in calories. Raw zucchini is higher in vitamin A then cooked. However, raw zucchini has a higher Vitamin C content. So both raw and cooked zucchini offer great nutrients for you.
Eating the zucchini skin is very beneficial. Zucchini skin contains loads of anti-oxidants. Any way you consume this vegetable, it is adding good nutrients to your body.
Why You Should Eat Zucchini:
This table breaks down some of the health benefits of zucchini for you. Include it in your diet and gain these benefits.
| | | |
| --- | --- | --- |
| Zucchini Nutrient Amount | Nutrient | Benefit |
| 1: Calories/Cup (223 grams) | 17 calories | low calorie |
| 2: Zucchini contains 40% daily requirement per cup. | Vitamin A | Supports vision and immune system |
| 3: Around 14% (less cooked) | Vitamin C | Growth and repair of body tissues and supports immune system. |
| 4: Several more vitamins in small amounts and some trace elements | various vitamins and minerals | great for overall body health |
| 5: Skin Contains high amounts of Antioxidants | Carotenoids | Supports eyes, skin and heart |
| 6: Contains high amount | soluble and insoluble fibers | supports digestion |
| 7: Contains high amount | water | supports digestion |
| 8: High fiber lowers blood sugar and insulin levels | fiber | Helps with type 2 Diabetes |
| 9: Low in carbs | low carb | Supports heart health-supports weight loss |
What Can I do With Too Many Zucchinis?
Zucchini is one of the most versatile vegetables. It can be used in SO many cooking methods, grill, oven baked, pan fried, raw…
Zucchini has a mild flavor that works well for both sweet and savory recipes. Use it in casseroles. We have two casseroles in this collection. Bisquick Zucchini Tomato casserole and overnight zucchini breakfast casserole.
Zucchini bacon cheese muffins are another fun zucchini recipe you want to add to the breakfast menu. They are great 'grab and go' food. These muffins are so good.
My favorite way to use up a lot of zucchini from the garden is to make zucchini bread and freeze it. Our collection includes several versions of zucchini bread recipes. Each of these zucchini bread recipes freeze well. It's so handy to pull a loaf out of the freezer for a quick gift, potluck addition, party food or lunchbox snack.
If you are done with the zucchini season and just don't want more zucchini squash to freeze (or turn into recipes), harvest the squash blossoms and make them into a yummy squash blossom stir fry.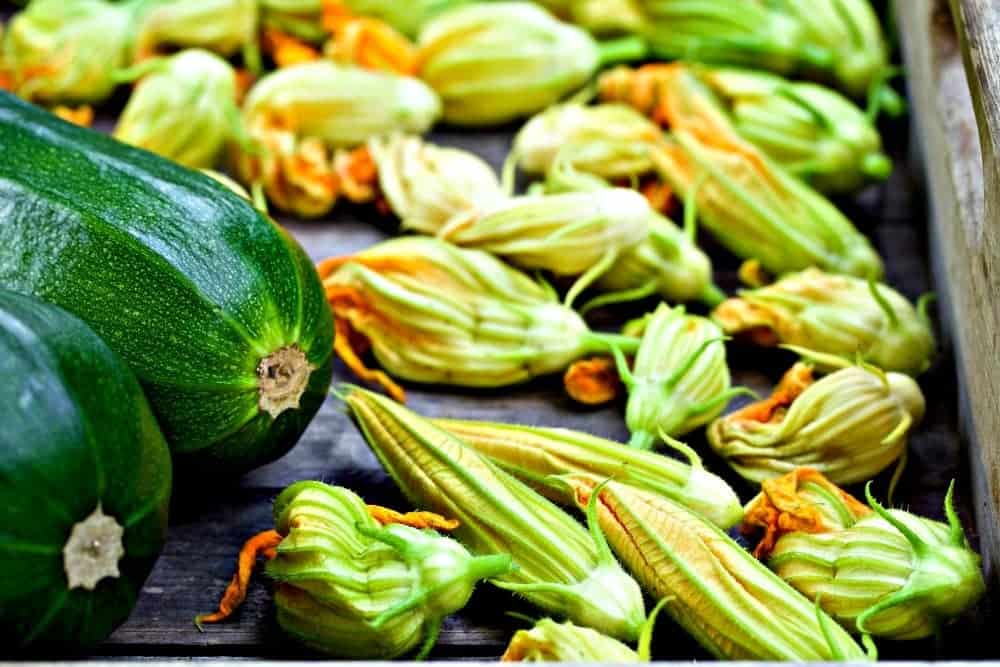 What is the Healthiest Way to Eat Zucchini?
Zucchini is healthy eaten both cooked or raw. It's the other ingredients that make the recipe either healthy or not.
There are so many ways to add zucchini to your diet in a healthy way. Add raw zucchini to salads, cook it into stir fries like the squash blossom stir fry, make healthy zucchini fries and zucchini pasta recipes.
Our Italian zucchini boats are a very healthy zucchini recipe. This easy zucchini recipe will quickly become a favorite when you taste all the flavors stuffed into this baked zucchini. And it really takes only a little time to make.
How to choose a Good Zucchini:
Zucchini season for gardeners runs about a month in most places. As the zucchini matures it goes from young, tender and small to very large (sometimes getting three feet long), dry and tough.
When cooking zucchini or eating it raw you want to keep the skin on if possible. The various antioxidants are mostly found in the skin. With that in mind, choose young, tender zucchini with a soft delicious skin.
Young zucchini also have a higher water content than old zucchini which is better for digestion. And the flavor of a young zucchini is better than a tough old summer squash.
All vegetables lose nutrients through respiration after harvest. For the highest nutritional reward you'll want to use your squash up quickly after harvest, or purchase, to get the most nutritional value.
15 Best Zucchini Recipes:
Below is our collection of zucchini recipes that we go back to year after year. You'll find very simple recipes and at least one that is a labor of love but very worth the work, Hint look for the Tart. 🙂
We included zucchini casserole recipes like bisquick zucchini tomato pie and our overnight zucchini breakfast casserole. You'll find several of the best zucchini bread recipes on the internet, healthy zucchini recipes. Even a zucchini noodles recipe.
15 Scrumptious Zucchini Recipes
These 15 zucchini recipes show case zucchini in marvelously flavorful ways. Here are 15 of our most reliable recipes that use this amazingly versatile vegetable. They are all well tested and well loved. Enjoy!
Follow Us:
We enjoy meeting you on our social networks. Follow us on Facebook, Pinterest, Instagram . Tag us with your pictures of our recipes and comment on how it went for you. We would love to see what you do with them.
We often like, comment and share your posts of our recipes on our daily Instagram stories.
Ask questions and rate the recipe in the comments section below. Please share what you did with this recipe. We are always looking for more and better ways to make homemade food. Other cooks love your ideas!
Recent Posts: