Delicious corn N Sausage chowder is perfect for a tasty fall soup. Use up your fresh corn and vegetables from the garden, or buy fresh, in-season, organic  produce. Either way, this nutritionally Balanced, Gluten-Free corn chowder will warm your tummy with delicious nutrients in the cooler fall evenings.
Our garden corn did not produce corn this year.  This is the time to make soup and freeze corn for winter. But I actually had to make this soup using frozen corn!
For some reason, our garden gave us lots of challenges this year. The corn…nothing! The stalks were late, small and unproductive. Other than a few straggly ears. We had a bust of corn this year. Dave thinks he used bad seed.
Our food bill drops dramatically in August, September, and October right on into winter. We adjust our diet to fit what's harvested out in the garden and greenhouse this time of year. Even with our reduced harvest the year, we still get a breather on the food bill right now!
Entire meals come from the garden and freezer. We cut back on heavy, expensive meats and go for the lighter, vegetable-based, meals. All it's costing us is the time to go pick the produce and the energy to make the meals…And some meat. We don't raise our own meat animals anymore 🙂
Soups are a delicious way to combine many flavors from the garden in unique ways that make each soup special.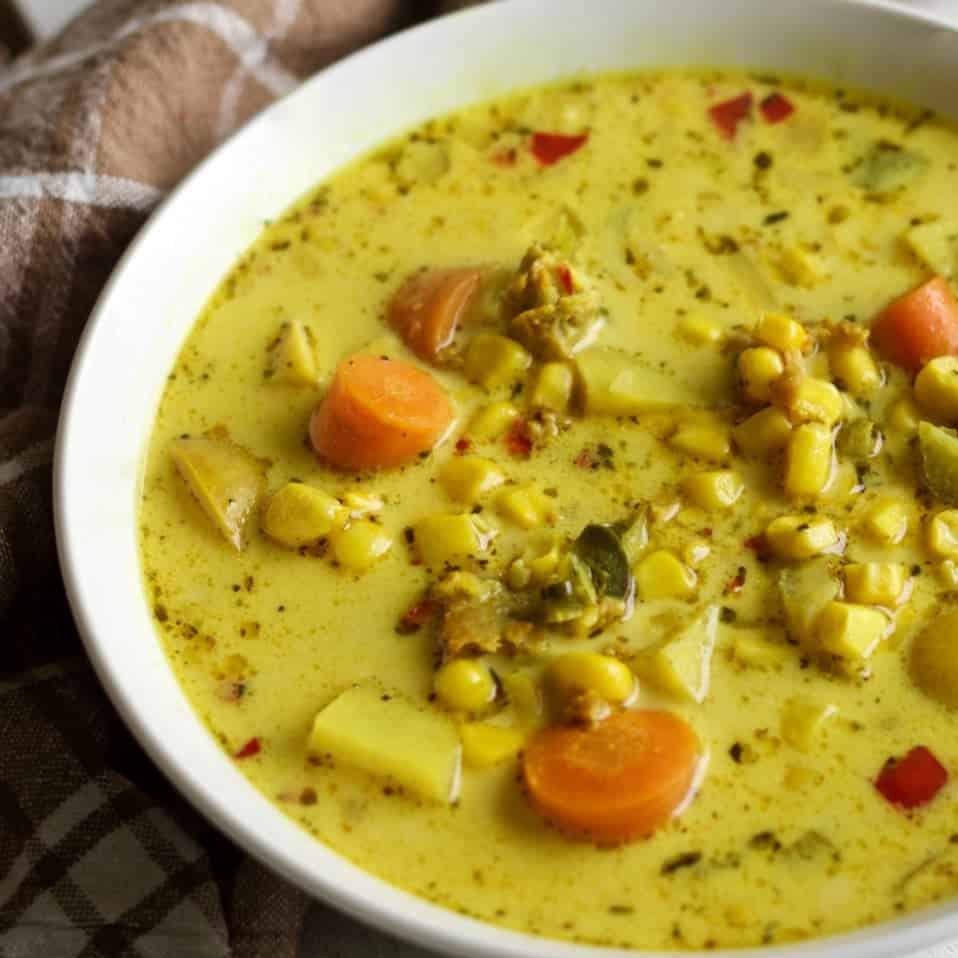 This soup looks REALLY yellow due to the Turmeric in the recipe. That color is a good thing. Turmeric is so healthy!
Corn N Sausage Chowder Recipe Notes:
This is a sweet soup due to the corn and carrots. Adding the turmeric helps increase the savory aspects of this recipe. That gives this chowder a nice savory flavor and a rich yellow color to enhance the corn. Wonderful combination! Turmeric is very healthy too! This recipe is a complete meal. You need nothing else for a nutritionally sound lunch or dinner!
If you don't care for a spicy soup switch the sausage to nonspicy, or use bacon or ham. So many things that you can do with this lovely corn chowder harvest recipe! Try serving this chowder with Mexican cornbread. Delicious!
Corn N Sausage Chowder Recipe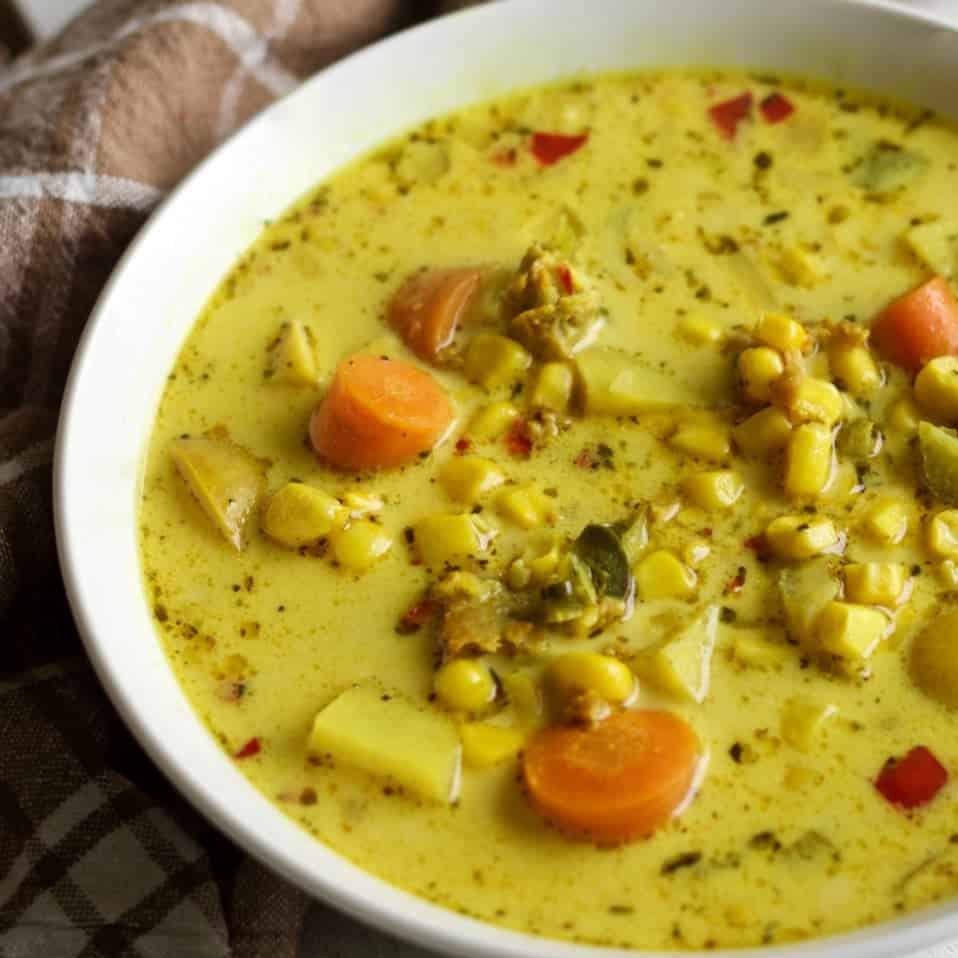 Ingredients
12 oz. package spicy chicken sausage sliced thin( or whatever sausage you prefer)
1 cup chopped onion
2 large ribs celery
3/4 cup chopped sweet pepper (or any type of pepper)
Sea salt and black pepper
1 tablespoon minced garlic
4 cups organic chicken broth
4 cups finely diced potato
1 1/2 cups sliced carrot
2 cups fresh or frozen or fresh corn kernels
1 12 oz. can evaporated milk
1/2 teaspoon dried thyme
1 tsp. turmeric
1 tablespoons Italian seasonings
Instructions
Slice the sausage thin and place in your crockpot. (If using bulk raw sausage you will need to brown it in a skillet before adding to the crockpot)
Add in the diced and chopped vegetables(onion,celery,garlic,carrot,pepper, potato and corn)
Pour in the chicken broth and cook on high for four hours in your crock pot.
Put in the seasonings and evaporated milk and cook another 30 minutes
Adjust seasonings and serve with mexican cornbread or a rustic artisan bread
Pin it:

Recipe adapted from: www.foodnetwork.com/